If you love to eat, it would be (almost) impossible not to love Singapore.
And no one knows Singapore food better than local Singaporeans.
So when I visited Singapore, I knew I needed your help to decide what and where to eat in Singapore.
I decided to publish a video, linking to this blog post, asking you (the Migrationology.com community) for personal recommendations on places to eat.
So many Singaporeans and even non-Singaporeans offered an abundance of restaurant suggestions and tips (check out the comments below). Thank you to all of you, I couldn't have eaten my way through this guide without you.
My wife and I went to Singapore and ate. The result is this Singapore food guide.
Get ready for 25 dishes you should try in Singapore (plus a few extras that I had to add in), and where to eat them!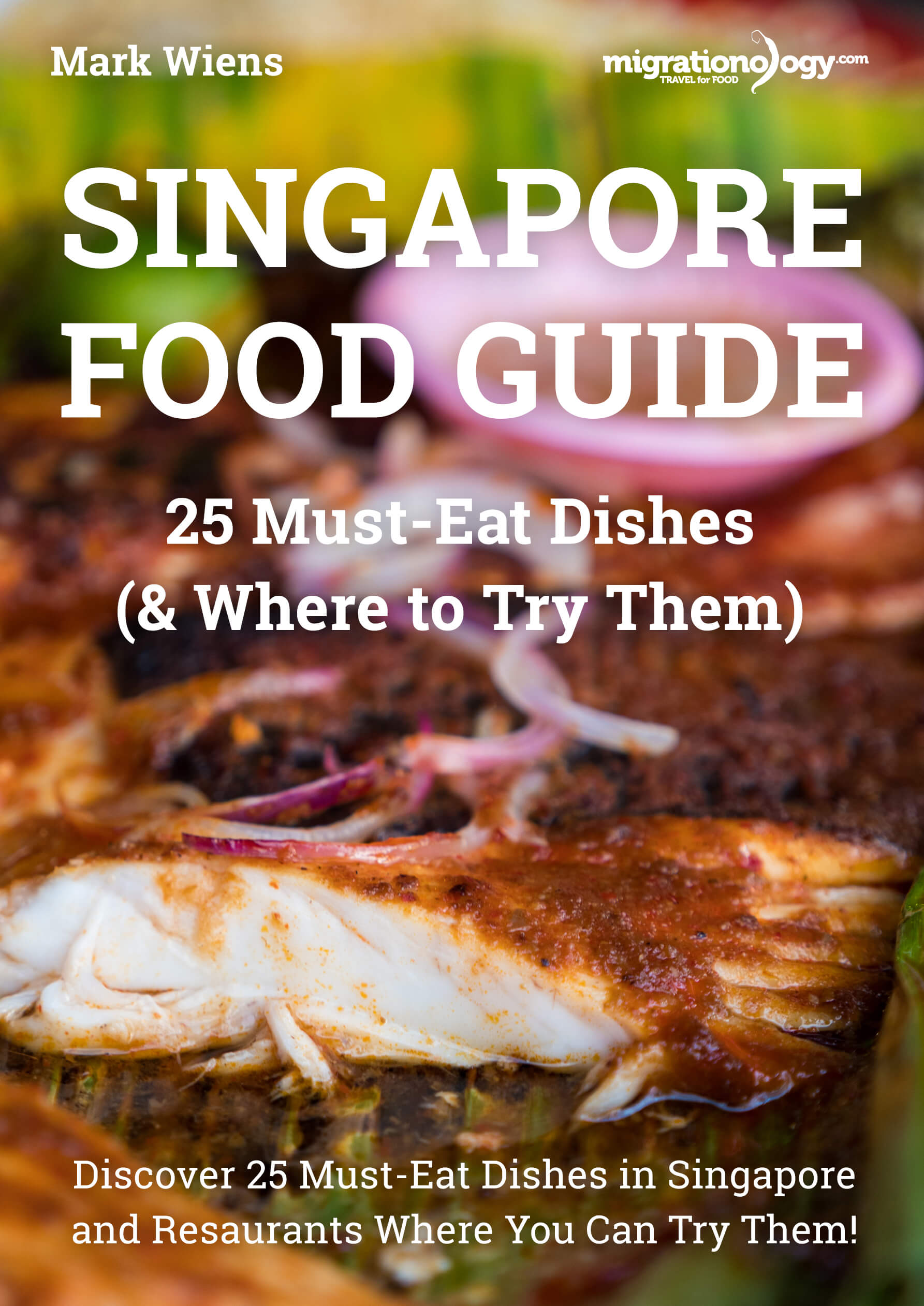 Free eBook (Download Now!):
Since this guide is so long, I decided to make it into an eBook that you can download for free. Just enter your name and e-mail below to download it instantly:
1. Laksa
Laksa is one of the ultimate demonstrations of the combination of Chinese and Malay flavors and ingredients all in a single bowl. Noodles, often rice noodles, make up the foundation and starch of a bowl of laksa, followed by a gravy or curry, some pieces of protein, and often some vegetables and herbs.
There are many different types of laksa, some that include rich coconut milk, and others that are more water based. Laksa is very popular throughout the Malay peninsula, and when you're in Singapore you'll find a number of extremely famous laksa restaurants.
Sungei Road Laksa
Among the list of heritage hawker food stalls in Singapore, Sungei Road Laksa is well known among laksa lovers, and it has an interesting story behind it and how they obtained their recipe from a customer who then disappeared. The stall has been serving laksa for decades in the same way – the curry is cooked in an aluminum curry pot over charcoal. At peak times the line at Sungei Road Laksa can stretch across the food court, although luckily the line goes pretty fast as they only serve one dish with no variations.
The rice noodles were cut up so they were bite sized, and the curry was creamy from the coconut milk, but very mild in spice. Finally, on the top of the laksa was a handful of lightly cooked blood cockles, a sprinkle of chopped Vietnamese coriander, and some extra sambal chili sauce on the side. I enjoyed my bowl of laksa at Sungei Road, however it was quite mild, like cockle chowder.
Address: 27 Jalan Berseh
Open hours: 9:30 am – 5 pm on Thursday to Tuesday (closed on Wednesday)
Prices: $3 per bowl of laksa
How to get there: You can either walk from Bugis or Lavender MRT station, located under a complex near Jalan Berseh
2. Bak Kut Teh
Literally translated to pork bone tea, bak kut teh is a dish that's popular throughout Malaysia and Singapore with Chinese origins. Although one would think the pork is cooked in tea, tea is not actually included in the recipe, but according to Wikipedia, it got its name because strong tea is consumed along with the pork soup to wash down the grease.
The basic recipe for bak kut teh includes pork ribs that are boiled in water along with white pepper, lots of garlic, and salt, until the pork become tender and all the flavor of the pepper and garlic is mingled into the pork bones to create a comfortingly flavorful soup. Bak kut teh is eaten with a bowl of rice, and often some other Chinese side dishes like preserved mustard greens or braised tofu. And of course, when you eat bak kut teh, you need to wash it down with hot Chinese tea.
Outram Park Yahua Rou Gu Cha
There are quite a few bak kut teh restaurants in Singapore, but due to location and open hours, I decided to try out Outram Park Yahua Rou Gu Cha. The restaurant is open air, on the patio of a complex, and what I liked is that it was nice and spacious.
I ordered a bowl of the lean ribs bak kut teh, plus a bowl of kidney soup, both of which were pretty good. The broth of the bak kut teh was nice and peppery, but not too spicy, but just with a slight burn to the throat in a very pleasant way. The meat was also tender, and dipped in just a bit of dark soy sauce, along with rice, it was delicious.
Address: 7 Keppel Rd, PSA Tanjong Pagar Complex, 089053
Open hours: About 7 am – 4 am from Tuesday – Sunday (closed on Monday)
Prices: Ribs cost $7 SGD per bowl, out entire meal for 2 cost $36 SGD
How to get there: It's located along the coast highway, so you can either take a taxi, or take the MRT to Tanjong Pagar and it's about a 10 minute walk.
3. Hokkien Mee
Along with Char Kway Teow (coming up soon), Hokkien Mee is one of the most popular fried noodle hawker dishes in Singapore. It's a dish that has roots in China's Fujian province (which is where the Hokkien people are originally from), that has now been adopted into Malaysia and Singapore.
Hokkien Mee includes a mixture of both yellow egg noodles and white rice noodles that are fried in a wok with egg, often pieces of seafood (usually squid and shrimp), and bean sprouts. Different hawkers prepare it slightly different, some stir frying it more dry, and others making it with a gravy sauce. Hokkien Mee is then typically served with some sambal chili sauce, plus a calamansi to squeeze on top for a extra citrusy sourness.
Nam Sing Fried Hokkien Mee
One of the Singapore food hawker legends when it comes to Hokkien Mee is Nam Sing Fried Hokkien Mee, located at the Old Airport Road Food Centre. I watched the noodles being cooked, and the mixture of noodles and ingredients were cooked in a large wok, by the big batch, and every now and then after doing some stir frying, a big wooden cover was placed on top, so the noodles both stir fried and steamed at the same time.
The noodles had a salty flavor from salt I believe, as opposed to soy sauce. What I most liked about the Hokkien Mee here is that it tasted like a cross between a stir fried noodle and a gravy noodle – it was quite saucy, with lots of flavorful broth so the noodles weren't dry. Also, when I eat Hokkien mee, for myself the calamansi makes all the difference, contrasting the salty noodles with an orange citrus flavor that makes the entire plate refreshing. Although it looks like a big plate of noodles, you'll start eating, and before you know it, your plate will be gone.
Address: Old Airport Food Centre, 51 Old Airport Rd
Open hours: 10:30 am – 3 pm or so from Tuesday to Sunday (closed on Monday)
Prices: $4 SGD for a plate
How to get there: The food centre is near Dakota MRT station
4. Chicken Rice
Although it's just a simple combination of boiled chicken, paired with flavorful rice and sauce, this Hainanese influenced dish, ranks as one of the most popular and beloved dishes to eat in Singapore (it's also extremely popular in Thailand, known as khao man gai).
I think just about everyone in Singapore has their own favorite version or favorite restaurant or hawker stall that serves it, each varying by the way the chicken tastes, the texture, the taste or oiliness of the rice, and then most definitely the different styles of sauces – some more spicy, others more gingery or salty.
When it comes to chicken rice for me, I prefer a chicken rice that isn't too oily, and I like my chicken not too soft, but to still have some texture to it. For the sauce, I'm a bit of a chili and ginger addict, and so the more heat and more ginger that I can add to my chicken rice, the more happy I am.
Tian Tian Chicken Rice
Possibly one of the most famous hawker food stalls in all of Singapore, known by both locals and tourists, is Tian Tian Chicken Rice. Although I would have guessed it's become more of a touristy place to eat chicken rice, Dr. Leslie Tay from I Eat I Shoot I Post, conducted a survey for best hawker stalls to eat chicken rice, with mostly locals I assume voting, and Tian Tian still won – so it's loved by many locals as well. This is the stall that Anthony Bourdain also raved about, especially proclaiming the delicious fragrance of the rice.
For myself, I thought overall the chicken was a little too oily and too soft – I like a little texture to my chicken. However, the rice was indeed excellent – it was fragrant with garlic and chicken broth, and sticky, almost approaching the point of lo mai gai (glutinous rice steamed in a lotus leaf at dim sum restaurants). The sauce was also good, with a nice ginger puree taste.
Address: Maxwell Food Centre, 1 Kadayanallur St
Open hours: 11 am – 8 pm (closed on Monday)
Prices: I had the ½ chicken for $12 SGD, but you can just get rice topped with chicken for much less
How to get there: It's easiest to take the MRT to Chinatown and walk to Maxwell Food Centre
Hup Hong Chicken Rice
Located at Yuhua Village Market & Food Centre, this place is well known in the neighborhood for their roasted chicken rice. The chicken had a firm silky texture, and the sauce was nice and garlicky. Thanks to Daniel for taking me here.
Address: Yuhua Village Market & Food Centre, 254 Jurong East Street 24
Open hours: Morning
Prices: $3 SGD per plate of chicken rice with extra gizzard
How to get there: It's about a 10 minute walk from Chinese Garden MRT station
Yet Con
Yet Con is an old school Hainanese chicken rice restaurant that does wonderful boiled chicken, served with pureed ginger and sour spicy sauce. This was probably the best boiled chicken I had in Singapore, it was simple, not too soft or oily, and great flavor. We only had the chicken rice, but it looks like they also serve other Hainanese dishes similar to the place I loved in Penang.
Address: 25 Purvis Street, Singapore
Open hours: 11 am – 9:30 pm daily
Prices: $18 SGD for ½ a chicken
How to get there: You can easily walk from either City Hall or Bugis MRT station
5. Char Kway Teow
When it comes to stir fried noodles in Singapore, one of the ultimate local favorites is char kway teow, a dish of flat wide rice noodles, stir fried with egg, a sauce of dark soy sauce, shrimp paste, a bit of chili, and often some Chinese sausage and blood cockles to finish it off.
Stir frying batches of char kway teow takes some serious skill… I've tried frying the sticky wide rice noodles before, only to end up with a big gooey lump at the end – so it really takes wok and heat skills, and a knowledge of the ingredients to be able to fry a good plate of char kway teow.
For myself, I'm not a huge char kway teow lover, mainly because it's often a little sweet for me, not spicy enough, and it's too soft of a texture (I think overall I prefer Hokkien Mee as my noodle choice). However, char kway teow is one of the standard and beloved hawkers foods to eat in Singapore.
Hill Street Char Kway Teow
You'll find char kway teow at many hawker centres throughout Singapore, but many major fans of the dish including Dr. Leslie Tay, highly recommend Hill Street Char Kway Teow as one of the best in the city, so I had to make a trip there.
Located in a neighborhood food court, surrounded by some giant flats, the food court is nice and laid back, friendly, and popular especially at lunch time. I joined the continual lunchtime queue, and even though there were about 20 people in front of me, I received my plate of char kway teow within about 15 minutes.
The noodles were sticky and quite moist, and gooey, yet not stuck together, while the bean sprouts were crisp and juicy. The noodles had a slight shrimp paste flavor mixed with dark soy sauce, and were a little on the sweet side (which is typical for char kway teow), while being salty at the same time. Again, I'm not a big char kway teow fan myself, but it was good, especially if you enjoy char kway teow.
Address: #01-41,16 Bedok South Rd
Open hours: 10:30 am – 5:30 pm on Tuesday – Sunday (closed on Monday)
Prices: $4 for a plate
How to get there: It's located at Bedok South Market and Food Centre, about a 10 minute walk from Bedok MRT station
6. Carrot Cake (Chai Tow Kway)
Another one of the standard Singapore dishes that you'll find at just about every hawker food centre throughout the city is chai tow kway, which is very commonly referred to as a carrot cake.
It's a snack type of dish that also popular throughout Southeast Asia, like in Thailand and Vietnam. As opposed to the Western style sweet carrot cake (made with orange carrots), carrot cake in Singapore doesn't actually contain any carrots at all, but it got its name because it's made with daikon radish, which in a Chinese dialect can refer to both daikon radish and carrots.
Chai tow kway is made with rice flour and shreds of daikon that are formed into rice cakes, fried in lots of pork lard, and eggs. The result is a greasy salty snack food that's gooey and crispy all at the same time. For myself it's not the type of thing I always like to eat as it's a bit on the heavy and greasy side, but it sure does taste good every now and then.
Song Zhou Luo Bo Gao
Located at the Bedok Interchange Food Centre, which is a big transportation hub that caters to a lot of people on the go, Song Zhou Luo Bo Gao is well known for serving carrot cake in Singapore.
They have both the black and the white versions, and I much preferred the white version for being less sweet, and more crunchy. The white carrot cake was soft and slightly grainy, with plenty of crunchy bits mixed within egg to make it richer and even tastier.
Address: #01-18, Bedok Interchange Food Centre, 207 New Upper Changi Road
Open hours: 6:30 am – 8 pm from Monday to Saturday
Prices: $3 SGD per plate
How to get there: Take the MRT to Bedok station, and the interchange food centre is right outside the station
7. Wanton Mee
One of the popular Chinese Cantonese dishes that's available at just about all hawker centre food courts throughout Singapore is wantan mee, the familiar combination of yellow egg noodles, wanton dumplings, some small boiled vegetables, and often some slices of char siu. Given a choice of noodles, egg noodles are one of my favorites.
I enjoy the texture and the tangliness of freshly made egg noodles. For the dumplings, usually a mixture of minced pork, and sometimes bits of shrimp, sesame oil, and some other seasonings are mixed up, added to the center of a dumpling wrapper, wrapped into a little bite sized parcel, then blanched to go with the egg noodles.
Guangzhou Mian Shi Wanton Noodle
Located in the Tanglin Halt Food Centre, Guanzhou Wanton Mee is a family run wanton mee stall that serves great quality, home-style egg noodles and dumplings in soup. Lucas and his family contacted Ying and I and invited us one evening to go to the stall, to try one of their longtime family favorite places in Singapore for wanton mee. I knew I was immediately going to like it when Lucas ordered extra sambal chili sauce, which I'd highly recommend you do as well when you go there.
Get exclusive updates
Enter your email and I'll send you the best travel food content.
The noodles were thin and tangly, but had a nice chewy texture, all topped with thin slices of lean char siu, very similar to the style of char siu you get in Thailand, plus some strands of choi sum, and finally a big scoop of chili sauce. Before taking a bite, I mixed all the sambal into the noodles, coating them all in a slightly oily, and very fragrant chili sauce, with a smoky undertone, and a hint of shrimp paste. It was marvelous, both the noodles and the sambal.
Address: Tanglin Halt Food Centre. 48A Tanglin Halt Road, Stall 01-04
Open hours: 5:30 pm – 3 am from Tuesday to Saturday (closed on Sunday and Monday)
Prices: $3 SGD
How to get there: It's just a short walk from Commonwealth MRT station
8. Fish Bee Hoon
Yet another popular noodle dish that's commonly found as a Singapore food is fish bee hoon, fish with noodles.
Bee hoon is a type of rice noodle, which as I was eating, reminded me specifically of some bowls of noodles I ate when I was in the Guangxi province of China… and only to look them up online, and they are the same version, originally from Guilin, China, and quite popularly served at hawker stalls in Singapore.
The broth is made with fish and fish bones, an assortment of vegetables and light herbs, and although there are some restaurants in Singapore that serve a clear version of fish soup bee hoon, most of the time milk is added to thicken the soup and make it more hearty and flavorsome.
Jing Hua Sliced Fish Bee Hoon
Along with Tian Tian Chicken Rice, another heavyweight hawker stall at Maxwell Food Centre is Jing Hua Sliced Fish Bee Hoon, known for their fish noodle soup. I ordered #5 off the menu, sliced fish bee hoon. As I waited for my order, I could see the chef in the back slicing up the fish, almost like he was slicing sashimi. In a separate pot, he boiled up a number of ingredients in a milky soup, and once it was ready, the soup was poured over a bowl of noodles, topped with crispy fried shallots and served.
The fish bee hoon here was pure, simple, fresh, and extremely good. The broth had a nutty, maybe sesame oil fragrance. The line here can be extremely long and take quite a while to get your order, but if you come at around 11:15 am like I did, there was almost no line, so I just had to wait about 2 minutes to get my bowl.
Address: Stall #77 at Maxwell Food Centre, 1 Kadayanallur St
Open hours: 11 am – 8:30 pm (closed on Thursday)
Prices: $5 SGD
How to get there: It's a short walk from Chinatown MRT station
9. Bak Chor Mee
Although there are similar versions of the dish served in China and throughout Southeast Asia, according to this article on Yahoo, bak chor mee is a true Singaporean dish. Bak chor mee, meaning minced pork and noodles, usually consists of egg noodles, topped with minced pork, some other pork ingredients, and a sauce made with vinegar, chili, and soy sauce.
The noodle dish is served dry (just coated with all the flavor of the chili oil and sauce), but with a light broth soup on the side. What I highly enjoyed about Singapore bak chor mee was the flavor of the sauce – it was slightly oily, with a wonderful vinegar sourness and chili fragrance. There are a number of legendary hawkers that serve bak chor mee, and it's a must eat Singaporean food.
Hill Street Tai Hwa Pork Noodles
Originally started back in 1935 (though at a different location), and easily one of the most well known bak chor mee hawker stalls in Singapore, is Tai Hwa Bak Chor Mee. And while I read that at nearly all times the stall has a long queue, sometimes with a wait time of up to 1 – 2 hours, the mid-afternoon weekday that I went, there were just five people ahead of me in line.
The noodles were slightly chewy, and the chili oil seasoning had a wonderful roasted, almost chili jam, flavor to it. The entire mixture of noodles was delicious, and although I can't guarantee you'll be as lucky as I was to only have to wait five minutes, it's definitely a bowl of noodles that's worthy of standing in a line for.
Address: Block 466 Crawford Lane #01-12 Singapore 190465
Open hours: 9:30 am – 9 pm daily (closed on first and third Monday of each month)
Prices: You can choose from $5, $6, $8, or $10 SGD. I had the $6 SGD bowl
How to get there: Take the MRT to Lavender station
10. Oyster omelette (Orh Luak)
Popular and available throughout much of Asia and Southeast Asia, and also a favorite of mine in Thailand, is an oyster omelette, known in Singapore as orh luak.
Typically a mixture of batter made with potato starch is fried in lard on a hot skillet, then combined with eggs, which sizzle into crispy goodness. The mixture is then combined with bean sprouts and topped with fresh oyster, served mostly raw.
Due to the richness and oiliness of oyster omelettes, it's not something you'd typically eat on a regular basis, but more of a once in a time special occasion type of a food, and it's so good every now and then.
Ah Chuan Fried Oyster Omelette
On my latest eating trip to Singapore I actually had really bad luck going to eat oyster omelettes. There were a couple places I tried to go to and they were all closed for no apparent reason and due to time and location I had to settle for a mediocre version at a Chinatown food court.
But on a previous visit to Singapore, from the advice of Catherine Ling, I headed over to Ah Chuan Fried Oyster Omelette, considered one of the oyster omelette hawker legends in the city. The omelette was fried crispy, yet still gooey from the starch and the oysters were plump and fresh.
Address: Toa Payoh Lor 7 Food Centre Stall #01-25, Singapore
Open hours: 3 pm – 8 pm (closed on Tuesday)
Prices: Depending on the size you get, $4 – $8
How to get there: It's not the most convenient food court to go to. It would be easiest to take a taxi, otherwise you can walk from
11. Yong Tau Foo
Yong tau foo, which literally translates to stuffed bean curd, is a traditional Chinese dish, that's especially common among Hakka Chinese, who are very well represented throughout Singapore. There are many different kinds of yong tau foo, and I think many vendors have their own mix and style.
For the most part, as the name suggests, yong tau foo includes a mixed variety of different stuffed pieces of tofu, which are often paired with minced pork or fish cake paste, and served in a light broth soup. Sometimes the tofu pieces are served alongside a plate of egg noodles seasoned with chili paste, but not all the time. Yong tau foo is what I would consider a lighter meal or snack to eat in Singapore, and it's a food that's very soothing and comforting.
Yong Xiang Xing Tou Foo
Located at the fantastic food court at the People's Park Food Centre in Chinatown, Yong Xiang Xing Tou Foo is one of the most legendary yong tau foo hawker stalls of Singapore. For the entire time the stall is open, there's a line that snakes around through the tables, everyone waiting for their mid-afternoon tofu snack.
I was happy the line went by really quickly, mostly because there's only one thing on their menu – their signature bowl of yong tau foo. The yong tau foo came with a number of different tofu pieces and fish balls, all of which tasted very fresh and handmade. The soup was mild and soothing, seasoned with just a sprinkle of pepper, and a handful of green onions. It made a good afternoon snack.
Address: 32 New Market Rd, 01-1084 People's Park Food Centre
Open hours: Around 1 pm – 5 pm or so (closed on Monday)
Prices: $4 per bowl
How to get there: The stall is located right in the middle of People's Park Food Centre right off Chinatown MRT
12. Roast Meat / Roast Duck
Different types of roast meat, typically including pork, pork belly, duck, and chicken, are widely available in Singapore at Cantonese style roast meat restaurants. The meat, is all marinated in a variety of different seasonings and roasted until the skin is golden and slightly charred for ultimate tender and juiciness and that amazing smoky flavor.
You can either order a single plate of rice topped with a variety of different Chinese roast meats, or you can go with a bigger plate and order separate meat and plates of rice to go with it. While I do love char siu and roast pork, probably my personal favorite is roast duck – I love the leanness of roast duck meat paired with the crispy fatty skin.
Kim Heng Roasted Meat
If you're dreaming of the most incredible cabinet display of all things Cantonese roast meat, there's no way you can miss a trip to Kim Heng Cafe. As soon as I arrived, I felt like I was either in Hong Kong or back in Hawaii at one of my favorite local restaurants in Honolulu.
The cabinet was absolutely stuffed full of roasted meat, all glistening in the light and begging to be devoured. The menu, which is written on the top of the hawker stall, includes every kind of mixed meat combination available. I went with the char siu and roast duck combo plate, which came with rice on the bottom, a generous helping of meat, and a spoonful of sauce poured all over it. The char siu was incredibly good, juicy and smoky, while the duck was equally magnificent. For meat lovers, especially Cantonese roast meat lovers, it can hardly get better then Kim Heng Cafe.
Address: 214 Serangoon Avenue 4, #01-88, Singapore 550214
Open hours: 8:30 am – 7 pm daily
Prices: $5 per plate, but more for plates of meat
How to get there: I took the MRT to Serangoon station, and it was about a 10 minute walk from there.
13. Peranakan Food
The word Peranakan refers to a group of people, most originally Hokkien, Hakka, and Teochew, that were born somewhere on the Malay Peninsula and the surrounding islands – within the Straits of Malacca. Peranakan people have a unique culture that blends Chinese, Malay, and even Western influences. There's no better way to learn about the Peranakan culture than through food, and it's a thrilling cuisine that's as diverse and flavorful as their history.
Many of the recipes used in Peranakan cooking are still passed down from generation to generation and often each Peranakan family has their own speciality recipes for certain dishes. Many dishes include chilies, curry pastes for flavor, shrimp paste, and then an abundance of local vegetables and fruits used in cooking. When in Malaysian and Singapore, Peranakan food is one of my favorites types of food to eat.
Daisy's Dream Kitchen
What you'll immediately taste in your meal at Daisy's Dream Kitchen is the passion and love that goes into the cooking. Daisy learned many of the Peranakan dishes that she prepares from her mother, and she always loved cooking for her family. But it was her "dream" to open a restaurant and to share her love for food and people by serving Peranakan food. At Daisy's Dream Kitchen I had one of the best meals I had in Singapore, including a range of home cooked dishes that were so flavorful, I could hardly hardly believe my taste buds.
The assam prawns, big jumbo prawns served with a sweet fruity and sour tamarind sauce were excellent, as were the ngo hiang, small deep fried pork and shrimp balls packed with water chestnuts. But the real winner of the meal for me was one of the most special Peranakan dishes called babi buah keluak, pork prepared in a curry with the keluak nut – a nut that's native to Indonesia that's poisonous off the tree and must be buried in the ground for 40 days and washed for 11 days until it's ready to safely be consumed. Daisy's Dream Kitchen is a wonderful Peranakan restaurant in Singapore, and you can truly taste the love and care in the cooking.
Address: Block 517 West Coast Road #01-571 S120517, Singapore 120517
Open hours: 11 am – 2:30 pm and 6 pm – 10 pm on Tuesday to Sunday (closed on Mondays)
Prices: Most dishes range from $10 – 15 SGD
How to get there: I took the MRT to Clementi station and it was about a 15 minute walk from there. Or alternatively take a taxi or bus from the station.
14. Zi Char Meal
Zi char (also spelled cze char) is the Hokkien Chinese word for cooked food, usually made to order. In less complicated terms, it refers to any Chinese style restaurant that has a big menu of mainly stir fried and deep fried dishes that are prepared and eaten family style.
Zi char can include dishes like stir fried kangkong, fried crispy prawns, braised tofu, beef fried with spring onions – just a few dishes as examples – but many zi char restaurants serve anything they can cook in a wok.
My mother being Cantonese, this is the type of food I grew up eating, and so zi char dining in Singapore, is one of my favorite meal styles. I could sit around a round table with family or friends every evening for a few bowls of rice and tasty wok fried dishes.
Kok Sen Restaurant
I had one of the most satisfying meals in all of Singapore at Kok Sen Restaurant – partly because the food was so good, and partly because it was exactly the type of food that I grew up eating and loving. Kok Sen is a well known Cantonese zi char restaurant, located in one of the trendy areas of Chinatown, yet the restaurant still remains local and authentic.
I wanted to order the whole menu, but finally had to narrow it down to a couple of dishes as it was only my wife and I who were eating. The beef with spring onions was excellent, tender slices of beef with crisp green onions. I also highly enjoyed the claypot yong tau foo, a mix of veggies and tofu stuffed with fish paste and braised in brown sauce. Excellent food, great environment.
Address: 30 Keong Saik Rd, Singapore
Open hours: 11:30 am – 2 pm and 5 pm – 11 pm daily
Prices: Prices are quite reasonable for being in the heart of Singapore. Our total bill for 2 came to $34 and we had a good mix of food and finished happy and stuffed.
How to get there: It's a short walk from Outram Park MRT station
Two Chefs Eating House
Hanging out with my friend Tim Ong, one evening for dinner we went to Two Chefs Eating House, another legendary zi char restaurant located in the Commonwealth area of Singapore.
One of the dishes I really liked was the coffee boneless pork ribs, pieces of pork fried and glazed in a coffee sweet and sour syrup. Additionally we tried their cereal shrimp, big shrimp coated in Nestum cereal flakes. We didn't order it, but another classic dish served at Two Chefs Eating House is butter pork ribs, ribs coated in butter powder. Again, I wanted to try more dishes, but couldn't try them all in one meal!
Address: 116 Commonwealth Crescent #01-129, Singapore
Open hours: 11:30 am – 2:30 pm and 5 pm – 11:30 pm daily
Prices: Dishes are around the $8 – $12 range, and can range depending on size
How to get there: From Commonwealth MRT it's about a 10 minute walk through the neighborhood
15. Kaya Toast, Coffee, Soft Boiled Egg
Blending the Malay and Chinese culture, Singapore has a strong traditional social coffee shop culture. Traditionally known as kopitiams, open air coffee shops are a place to have a cup of coffee or tea, a few snacks, and just sit and chat or spend time with friends.
Kaya, which is a spreadable sweet jam made from coconut cream, sugar, and often flavored with pandan leaves, is popularly served on toast to accompany a cup of coffee for a snack or breakfast. Additionally, and my personal favorite thing to eat for breakfast at Singapore kopitiams are soft boiled eggs, that are smooth, creamy, and rich, and go so well together with a sprinkle of soy sauce and white pepper.
Apart from the regular Chinese and Indian standard dishes, if there's one combination of things to consume for breakfast in Singapore, this would be it.
Chin Mee Chin Confectionary
Stepping into Chin Mee Chin Confectionary in the morning, you feel like you've taken a step back in time. Everything from the tables to the floor tiles, to the coffee and kaya toast they serve, appears that it hasn't changed since they first opened in 1925.
At the front of the coffee shop they have a cupboard full of baked goods which you can serve yourself, and then you can order soft boiled eggs, kaya toast, and beverages. The kaya toast, which is made with buns toasted over charcoal, was a little sweet for me, but I enjoyed the soft boiled eggs.
Address: 204 E Coast Rd, Singapore
Open hours: 8:30 am – 4 pm from Tuesday to Sunday (closed on Monday)
Prices: Our total bill for kaya toast, drinks, and soft boiled eggs came to $8.20 SGD
How to get there: The coffee shop is located in the historic Katong area, and you can walk from Eunos MRT station, but it's a little far, about 20 – 30 minutes.
Tong Ah Kopitiam
On a previous trip to Singapore, Ying and I had breakfast at Tong Ah Kopitiam, recommended on FoodieHub, another legendary coffee shop in historic Singapore. Although they are not in the original building they used to be in, they still serve great kaya toast and coffee, and even serve a menu of zi char dishes as well. The kaya toast was heavy on the butter, but nice and crispy, and the soft boiled eggs were delicious.
Address: 35 Keong Saik Rd, Singapore
Open hours: 11 am – 2:30 pm and 5 pm – 10 pm (closed on Wednesday)
Prices: About $3 – $5 SGD per person
How to get there: You can walk from Outram Park MRT station
16. Rojak
Truly a contrasting combination of both textures and flavors, rojak is the ultimate concoction for throwing your taste buds into a sweet and salty frenzy. Since rojak literally just means "mixture," there are all sorts of different types, and in Singapore both Chinese rojak and Indian Rojak are common at food hawker centres.
The Chinese rojak often includes slices of fruit like pineapple or guava, Chinese youtiao, bean sprouts, water morning glory, among other ingredients, all tossed in a shrimp paste and palm sugar glaze, and finally finished with crushed peanuts. The Indian version of rojak can include a chopped up mix of deep fried fritters, potatoes, and vegetables and fruit, paired with a peanut sweet and spicy sauce.
Toa Payoh Rojak
One of the most famous names in Chinese rojak in Singapore is Toa Payoh Rojak, located at the Old Airport Road Hawker Centre. From the moment the stall opens, they have a continual line that never seems to stop. But luckily, they have a number queuing system so nothing gets unorganized.
Every single ingredient that gets added to the rojak is cared for, and you can see the passion that goes into each plate. The rojak was sweet, salty, and sticky, and heavy on the fried tofu and youtiao, with bean sprouts and water morning glory to balance. I also loved how they added in some calamansi lime peel and torch ginger flower for fragrance.
Address: 51 Old Airport Rd, Singapore
Open hours: 12 pm – 8 pm (closed on Sunday)
Prices: You can choose your plate size, I got the $3 SGD size
How to get there: The hawker centre is a short walk from Dakota MRT station
17. Satay
Although originally from Indonesia with influence from India and the Middle East, satay (or sate) is very popular throughout Southeast Asia, and common to find at hawker food centres throughout Singapore.
Any type of meat, most typically chicken, beef, or mutton, are marinated in a mixture of spices and lemongrass, skewered, then grilled over charcoal. Satay's are served with a sweet and mildly spicy peanut sauce, along with cucumbers and onions, and sometimes rice cakes.
Alhambra Satay
Located at Geylang Serai food centre, Alhambra Satay is a halal stall that specializes in an original style of Indonesian satay. I ordered a mixture of both beef and chicken, both of which were freshly grilled and hot. The taste was a little too sweet for me, but I did appreciate the smoky flavor and texture of the meat.
Address: Blk 1 Geylang Serai #02-145, Geylang Serai Food Centre, Singapore
Open hours: Unsure, but open during lunch time for sure
Prices: I paid $6.50 SGD for 10 skewers
How to get there: Alhambra Satay is located at Geylang Serai market and food centre, about a 10 minute walk from Paya Lebar MRT station.
18. Ice Kacang
It seems that just about every country throughout the world has their own version of a crushed or shaved ice dessert, and in Singapore that treat is called an ice kacang.
At the bottom of the bowl, a selection of different jellies and red beans are added, followed by light packed shaved ice, which is then covered in a variety of different syrups, and topped with condensed milk and sweet cream corn.
There are also other variations of Singapore ice kacang, and the menus are usually pretty good at showing you the picture of what you're about to get. You'll find an ice kacang stall at just about every food hawker centre you visit in Singapore.
Berseh Ice Kacang
You know how the picture of the food on signs or on menus is never how it actually looks in real life when you get it?… and usually it's not even close to as good? That's not the case with the ice kacang at Berseh Food Centre. The ice kacangs they serve were even better than in the photos, and they generously pile on the ice and toppings.
Daniel brought me to try the ice kacang here, saying it was the best in Singapore for its finely shaved ice. He was right, the ice was shaved so fine, that when mixed with condensed milk, it felt more like ice cream than shaved ice. It tasted very similar to one of my favorite shave ice spots in Honolulu, Hawaii.
Address: Berseh Food Centre, 208877, 166 Jalan Besar, 208877
Open hours: Daytime
Prices: $1.50 SGD for ice kacang
How to get there: It's located right on the corner of Jalan Berseh and Jalan Besar
19. Durian
Although durian is the only food on this list that needs no cooking preparation and is perfect in its all natural state of being, I had to include it because it's such an obsession in Singapore, and it can be treated like an entire meal… and if I'm being honest with you, it was an excuse so that I could justify eating durian in Singapore. Luckily, I didn't have any trouble convincing my wife that we needed to have during in Singapore, her being a lover of the King of Fruits as well.
There's no other way to put it that durian is one of the most phenomenal natural things in the entire world. It's a fruit that grows in a dangerously spiky circular-ish shape, with a pungent aroma of sweet jungle honey, and that can be so sweet, creamy, buttery, and rich, that nothing, not even a block of butter itself, can compare to it.
In Singapore, much of the durian is actually grown in Malaysia, but why durian can be so good in Singapore is because some of the best quality, and even some farms owned by Singaporeans who bring their entire stock of durian to sell in Singapore, is available in Singapore where people are often willing to open their wallets for the best of the best.
Combat Durian
You have to be careful choosing where to eat durian in Singapore, because there's a reputation for certain stalls and fruit shops that are dishonest in their business practice and sometimes sell lesser quality varieties and higher quality varieties. So I think it's best to go to a reputable durian seller in the first place, and though you may pay a few bucks more, it's worth it so that you know what you're getting and so you don't get ripped off.
One of the long time reputable durian stalls in called Combat Durian, a name that comes from their desire to have you Come-Back. My nose lead me to the stall, which is a red tent right next to a Chinese temple. Ying and I chose a smallish 2 kg Mao Shan Wang (also known as the Cat Mountain King), one of the prized durian cultivars.
It was a durian of my dreams – so ridiculously sweet and creamy, with a bitterness all the way through to offer a contrast from the sweetness. My wife and I sat in silence, with occasional moaning until our spiky shell was gone. Although pricey, I can say with certainty that it was worth it.
Address: 249 Balestier Rd, Singapore
Open hours: 12 pm – 12 am midnight daily
Prices: For a Mao Shan Wang the price was $20 SGD per kg, and ours cost a total of $32 SGD
How to get there: The closest MRT station in Novena, and I walked from there in about 15 minutes. But alternatively you can jump on bus #154.
20. Nasi Padang
Back in 2009, I took my first trip to Sumatra, Indonesia, and I was introduced to Nasi Padang, rice with a selection of different dishes originally from Padang in Sumatra.
Being a lover of spicy foods and curries, I completely fell in love with Nasi Padang, and it's been one of my favorite meals in the world for years now. Typically you get a plate of rice, and can then choose a variety of different dishes like rendang, a selection of different curries and vegetables, and plenty of sambal chili sauce.
Singapore is located less than 100 Kilometers from the coast of Sumatra, Indonesia, and therefore there is a lot of Indonesian food influence and many Indonesians living in Singapore. There is a good selection of restaurants in Singapore that serve excellent Nasi Padang.
Sinar Pagi Nasi Padang
Located at Geylang Serai Food Centre, one of the main Malay and Indonesian hawker food courts in Singapore, is Sinar Pagi Nasi Padang, a well known stall that serves Nasi Padang. When I ate there, I got the beef rendang, petai with sambal and ikan bilis (anchovies), a coconut milk jackfruit curry, and brinjals in sambal chili.
The food was excellent, and I especially enjoyed the beef rendang, that had an unmistakably roasted coconut flavor to it, with a hint of cumin and chilies. The petai (stink beans) dish was also very good, with just slightly sautéed stink beans so they were still crunchy and fresh – one of my personal favorite ingredients in the world.
Address: #02-137, Geylang Serai Market & Food Centre
Open hours: 9 am – 10:30 pm daily, but closed two weeks on Monday and Thursday
Prices: It depends on how many dishes you take, but my plate was $7 SGD
How to get there: Take the MRT to Paya Lebar, and the food centre is just a 10 minute walk from there.
21. Nasi Lemak
Nasi lemak is one of the most well known Malay dishes, and when I'm in Malaysia, it's one of the first meals I try to seek out as soon as I arrive. So I was also excited to taste a Singapore version of nasi lemak.
The key most important part of any plate of nasi lemak is the rice, which is not just plain steamed rice, but it's fragrant rice cooked with coconut milk, salt, and sometimes pandan leaves to give it a wonderful fragrance.
In addition to the rice, nasi lemak is often served with some type of sambal chili sauce, plus fried anchovies (bilis). But after that, it's really up to the restaurant what is additionally served – sometimes it's a variety of different curries like rendang, and sometimes it's lighter, less spicy things like fried chicken and fish. Nasi lemak is traditionally eaten for breakfast as it's aromatic and soothing, but nowadays it's common for other meals as well. Throughout Malaysia and Singapore, nasi lemak is a very popular dish, and provides a twist from just an ordinary plate of steamed rice with side dishes.
Selera Rasa Nasi Lemak
When I ask where to eat nasi lemak in Singapore there was an overwhelming response that I needed to try the version at the incredibly popular and well known Adam Road Nasi Lemak stall – known officially as Selera Rasa Nasi Lemak. I think the stall itself is so popular in Singapore that it's almost synonymous with nasi lemak.
I read, and was told that there would always be a line – and due to the time when I happen to have the chance to go there, on a Sunday right at noon – it was packed. There were about 50 people in line in front of me, and it took a bit over an hour to get to the front.
It was a true test of patience and endurance, but I finally arrived to the front of the line, and along with my friend Tuah, we each ordered a "Royal Rumble" – the word they use for the deluxe plate of nasi lemak that includes everything – coconut milk cooked rice, sambal, fried chicken, fried fish, anchovies, egg, otah, and possibly a few other things I'm forgetting. All the surrounding toppings, like the fried fish and fried chicken, were all pretty standard, but the rice, which was extremely fragrant and fluffy (made with basmati rice), was excellent. The rice is what really made the nasi lemak good, and I would guess the reason why so many people are willing to wait out the line.
Address: 2 Adam Rd, #01-02, Adam Road Food Centre, Singapore
Open hours: 7 am – 5 pm (closed on Friday)
Prices: Depending on what size or combination your order. I had the biggest plate for $5.50 SGD
How to get there: Take the MRT to Botanic Gardens, and Adam Road Food Centre is just a 5 minute walk
22. Murtabak
Originally an Arab food, but popular throughout Singapore and influenced by Indian flavors as well, a murtabak is yet another example of a beautiful fusion of cultures through food. Murtabak is essentially a stuffed roti, that can be filled with a choice of different fillings.
A ball of dough is slapped until it's thin, then an egg gets spread on the inside, followed by a mixture of meat and spices and onions. It's then wrapped up into a rectangle, with the dough on all sides like a package, and goes onto a big hot oiled griddle to cook until golden brown and crispy on the sides. What I really liked about murtabak in Singapore is that, even while the entire murtabak is delicious and spiced all the way through, it's served with an additional Indian style curry on the side for extra flavor.
Singapore Zam Zam
Having been around since 1908, Singapore Zam Zam is one of the most well known names in Singapore when it comes to murtabak. In the comments section below, when I asked you where to eat in Singapore, Zam Zam also happened to be one of the most recommended places, and so I knew it was necessary to eat here on my trip to Singapore.
You could choose from about 5 different sizes, and with deer, mutton, beef, or chicken. I got one mutton and one beef, and choose both the medium size. Both were delicious on their own, but I think the chicken was the winner with nice bite size pieces of seasoned chicken within the the crunchy and sticky roti wrapper. Singapore Zam Zam is a must for any murtabak or roti lover.
Address: 697-699 N Bridge Rd, Singapore
Open hours: 7 am – 11 pm daily
Prices: Depending on what size you order, I had the medium for $8 SGD per murtabak
How to get there: Take the MRT to Bugis station, walk towards Arab St., and Singapore Zam Zam is across the street from Sultan Mosque.
23. Chili Crab / Black Pepper Crab
Often referred to as one of the national dishes of Singapore, chili crab is one of the most beloved special family dishes in Singapore, and it's among the most famous things to eat in the city when you're visiting as well.
Crabs, which are often black mud crabs, are cooked in a thick goopy sauce that's sweet and salty with a hint of sourness. Many versions of Singapore chili crab include egg in the sauce to make it thick and richer, plus some blended chilies for flavor, and tomatoes. Despite the dish being called chili crab, it's really actually not spicy, but the chilies give more of a fragrance to the dish (at least in my opinion).
In addition to chili crab, black pepper crab is another crab favorite in Singapore, and it's actually probably my preferred method of ordering crab. A fine blend of black pepper, coats each piece of crab, with butter to hold it altogether. The pepper is strong, but not strong enough to be too spicy, just offering a slight kick that complements the sweet meat of the crab. Finally, yet another version of crab that's well known and popular to eat in Singapore is salted egg yolk crab, which takes on the salted richness of the egg yolk, and is often paired with curry leaves for a burst of curry to contrast the saltiness. Eating crab in Singapore isn't cheap, but if you're a crab lover, it can be well worth it to splurge on a crab session.
Long Beach
Along with my friends Dan and Charles, who were visiting from LA one evening, we headed to Long Beach Seafood, one of the legendary names in seafood restaurants in Singapore. There are a number of branches, and we ate at the Seafood Centre branch, along East Coast Road.
The chili crab was wondrous, big fresh meaty crab, drowned in a thick sticky and goopy sauce that was sweet and tangy, with a hint of a sourness, and just a touch of spiciness. Like most chili crab, it wasn't spicy, but really pleasant. Long Beach Seafood claims to be the serve the original black pepper crab in Singapore, and I can say it was absolutely breathtakingly good. Again, the crab itself was amazing, and the black pepper glaze wasn't sweet at all, but it was rather like a fine buttery pepper paste. I thought the black pepper crab was superb.
Address: #01-04 East Coast Seafood Centre Singapore
Open hours: 2:30 pm – 12:15 am on Monday to Thursday, 1:30 pm – 12:15 am on Friday, 11:30 am – 1:15 am on Saturday and Sunday
Prices: Expect to pay around $100 SGD per person
How to get there: I ate at the branch at East Coast Seafood Centre.
Eng Seng Restaurant
Famous mostly for their black pepper crab, Eng Seng Restaurant (also officially known as First Grade Seafood Restaurant) is another legendary crab spot in the Joo Chiat area of Singapore. In order to beat the dinner time crowd and avoid having to make a reservation or call ahead to reserve crab, Ying and I arrived in the late afternoon at about 4:30 pm, and they still had plenty of crabs to go around.
You can only order crab by the two's and so we got two black pepper crabs. The crab was undoubtedly fresh and good quality, with sweet fleshy meat. The pepper sauce was honestly a little too sweet for me, and despite its black appearance it wasn't all the peppery, but it was still good, especially because of the crab itself. I also had a plate of mee goreng, fried noodles, which was incredibly tasty.
Address: 247 Joo Chiat Place
Open hours: 4 pm – 8:30 pm (closed on Wednesday)
Prices: Ying and I ate a full meal for $92.50 SGD, and our two crabs cost about $80 of our bill.
How to get there: Eng Seng is located in the Joo Chiat area, a 10 minute walk from Eunos MRT station.
24. Sambal Stingray
Known for being served at open air bbq restaurants and food stalls in Singapore is sambal stingray. The stingray is cut into steak sizes pieces, marinated in a sambal sauce made from chilies, shallots, cane sugar, sometimes tamarind, and calamansi juice. The stingray is then wrapped in a banana leaf and grilled over, nowadays a hot griddle, while remaining in the banana leaf.
The result is that the stingray is grilled and kind of baked in the sambal and its own juices all at the same time. For the finishing touch, the stingray is garnished with a handful of chopped red onions or shallots, and served with an extra sauce, plus some fresh calamansi to squeeze on top.
When I'm in Singapore, one of the dishes I just can't get over is bbq sambal stingray, I think it's one of those dishes I could be pretty happy eating everyday of my life. Stingray is very firm in texture, yet at the same time it has an almost crab like stringiness to it, without being quite so silky. And along with the sambal, I love how you can taste the essence of the banana leaf embedded in the stingray from the grilling process. It's truly something you have to eat in Singapore.
Chomp Chomp Food Centre (Stall #1)
When I asked you all in the comments where to eat sambal stingray in Singapore, by far the winning vote was for Chomp Chomp Food Centre, and so I knew that no matter what we ate while in the city, we absolutely needed to pay a visit to Chomp Chomp.
Ying and I arrived in the late afternoon to try and beat the main dinner crowd (which we did), and I was happy to see a small and neighborhood like food court, with a bunch of amazing looking stalls.
For the bbq dishes, I headed straight to stall #1, right at the entrance of the centre, where many of you had recommended. I had the large sized piece of stingray for $15, and it was worth every cent. The stingray was grilled to perfection, fragrant from the banana leaf, with a roasted sambal flavor, and just superb fresh meaty stingray. The entire Chomp Chomp Food Centre in Singapore is a gem of a food lover's paradise.
Address: 20 Kensington Park Rd, Singapore
Open hours: 5 pm – Midnight or so daily
Prices: A range of hawker food prices, stingray ranges from $10 – $15 SGD
How to get there: Take the MRT to Serangoon Station, and catch the bus that goes directly to Serangoon Gardens.
Leng Heng BBQ & Claypot Deluxe
As a suggestion from Catherine Ling for Foodiehub, on a previous trip to Singapore I had the chance to eat at a place called Leng Heng BBQ, located at the laid back East Coast Lagoon Hawker Centre. The stingray was cooked so it was juicy and fresh, with plenty of flavorful sambal, and lots of sliced onions on top. In addition to the good food, the owner was extremely friendly, and the environment, near the beach, was a nice addition.
Address: 1220 East Coast Parkway, Singapore
Open hours: 3:30 pm – 11 pm (closed on Thursday)
Prices: Typically hawker seafood prices, expect to pay around $10 – $20 SGD per person, or more for bigger seafood dishes
How to get there: The easiest way to get to East Coast Lagoon Hawker Centre is by taxi or bus.
25. Fish Head Curry
As you probably know by now, I'm a huge food lover, and while I enjoyed eating everything on this list of Singapore food, there are a couple dishes that top all the rest (for me), one of them being fish head curry.
Just like many other Singaporean dishes, fish head curry is the result of a combination of cultures, and it's a dish with an interesting history.
As the story goes, there was an Indian chef who was faced with the challenge of cooking for a group of Chinese. Since the fish head is one of the most loved parts of the fish for many Chinese, the chef decided to cook an Indian style curry, and include the fish head. It was a genius idea, and it's one of Singapore's iconic and uniquely Singaporean dishes – and one of my personal favorites as well. Nowadays in Singapore there are generally considered two main different types of fish head curry, the south Indian style, and the Chinese style.
The Banana Leaf Apolo
The Banana Leaf Apolo (Race Course Rd branch) is one of the legendary Indian style fish head curry restaurants in Singapore, and you can choose the small, medium, or large fish head.
My wife and I ordered the large head, and it was packed full of meat. The curry was incredible, with a wonderful sourness to it, an unforgettable taste of curry leaves, and what I really liked was that the curry gravy wasn't too rich or oily, but it was light and packed with flavor.
Address: 54 Race Course Rd, Singapore 218564
Open hours: 10:30 am – 10:30 pm daily
Prices: Full menu range of prices, we had the large fish head curry and a few other dishes for $61.10 SGD ($42.57 USD)
How to get there: The restaurant is located in Little India, about a 5 minute walk from Little India MRT station.
Samy's Curry
While the fish head curry at The Banana Leaf Apollo was more water based and not as heavy, the fish head curry at Samy's was thicker and more buttery tasting – also maybe more oily. However it was also superb, just sort of depends on what type of curry you're in the mood for.
Served in a claypot, the fish head I ate at Samy's was also extremely meaty, and the curry was rich, buttery, and flavorsome. I also had some squid curry and prawns at Samy's that were superb. Overall, it's a very nice, laid back Indian restaurant, located in the quiet Dempsey District of Singapore.
Address: 25 Dempsey Road
Open hours: 11 am – 3 pm and 6 pm – 11 pm (closed on Tuesday)
Prices: Expect to pay around $20 – $30 SGD per person for a fish head feast
How to get there: Samy's is located in the Dempsey area of Singapore, and it's best to catch a taxi.
A few extra Singapore restaurants
Here are a few extra restaurants and dishes I ate in Singapore that aren't on the 25 list, but they are too good to leave out:
Beach Road Scissor Cut Curry Rice
This Hainanese curry rice is an absolute mess of crispy deep fried and braised things, all chopped up with scissors, topped over rice, and drowned in a nutty mild curry gravy, and it's awesome.
Address: 229 Jln Besar, Singapore 208905
Open hours: 11 am – 3:30 am daily
Prices: About $3 – $5 SGD depending on how many toppings you order
How get there: You can either walk from Farrer Park or Lavender MRT stations
Lian He Ben Ji Claypot Rice
I had never seen such a spectacular display of claypot rice as at Lian He Ben Ji Claypot Rice, located within the always bustling Chinatown Complex Food Centre. They literally have bleachers of claypots set up in their hawker stall, all cooking away. An amazing place.
Address: 335 Smith St, Chinatown Complex Food Centre
Open hours: 4 pm – 11 pm (closed on Thursday)
Prices: Depending on the size of claypot you get, I had the $12 pot
How get there: Just a short walk from Chinatown MRT
Tian Wai Tian Fish Head Steamboat
This restaurant is my kind of place, known in Singapore for its lack of service, but delicious food. The pomfret steamboat, which I like to call a fire pot, was wonderful.
Address: 1382 Serangoon Rd
Open hours: 5 pm – 11 pm daily
Prices: Our total bill for 3 for everything was $59 SGD
How get there: It's about a 5 minute walk from Potong Pasir MRT station
Allauddins Briyani
I typically avoid chicken biryani and love mutton biryani, but at Allauddins Briyani stall at Tekka Centre in Little India, the chicken biryani was incredibly good, with well spiced rice and tender, but not mushy, chicken.
Address: 665 Buffalo Rd, Tekka Centre, Little India
Open hours: 8 am – 3 pm daily
Prices: $5.50 SGD
How get there: Take the MRT to Little India and follow the signs to Tekka Food Centre
Rubiah Muslim Food
When I went to Whampoa Food Centre, I actually wanted to try a famous oyster omelette place, but unfortunately it was closed. So I had a plate of rice and curries at Rubiah Muslim Food. The sambal squid in particular was delicious.
Address: 90 Whampoa Drive, at Whampoa Food Centre
Open hours: 10 am – 6 pm (closed on Sunday)
Prices: Depending on what you take, I think my plate cost about $7 SGD
How get there: It's about a 15 minute walk from Boon Keng MRT station
Soon Soon Teochew Porridge
I received so many recommendations to try Soon Soon Teochew Porridge, so there was no way I could not try it. Along with a bowl of rice porridge I had a steamed fish, eggplant, chicken, and some longbeans. Another excellent meal and top recommendation in Singapore.
Address: 13 Simon Rd
Open hours: 8 am – 9 pm (closed on Tuesday)
Prices: All depending on how much you order, side dishes are about $4 SGD per plate
How get there: It's about a 5 minute walk from Kovan MRT station
Food Videos:
Many more Singapore food videos coming soon:
(Or watch the Singapore videos on YouTube here.)
Additional Resources:
Here are a few resources that I used during my trip to Singapore, and I hope they will be helpful for you as well.
Singapore Food Map:
Singapore Food Map – It includes everything in this guide (Green points are in this guide, Purple points are places I wanted to go, but didn't make it.)
Accommodation:
Ibis at Bencoolen – On this trip, my wife and I stayed at Ibis Bencoolen, small rooms, but great location.
Carlton City Hotel – On a previous business trip to Singapore, I stayed at Carlton City Hotel, an excellent luxury hotel.
Also, I often use Agoda or Booking.com to book hotels when I travel.
*Note: These are affiliate links, so if you make a booking, at NO extra cost to you I will receive a commission.
Singapore Food Blogs:
In addition to all of your amazing Singapore suggestions, I also want to thank a handful of awesome Singapore blogs that are very helpful:
Conclusion
Before going to Singapore I asked for suggestions on the best hawker stalls and local restaurants to eat at.
The response blew me away – so many of you gave helpful and delicious suggestions about your favorite food spots in Singapore… so many in fact, that in two weeks of full on eating, I barely scratched the surface.
The result of this Singapore food guide was created directly from all of your Singapore food suggestions (in the comments below). Thank you for all of your help and for your willingness to share so many of your favorite places to eat.
I hope this food guide, will be extremely helpful when you're in Singapore and looking for some of the most delicious food in the city.
Exclusive Bonus: Because this post is so long, I decided to create an eBook, which you can download for free!
Where can I send it?
Enter your name and e-mail below to download your free Singapore Food Guide eBook now!
What's your favorite Singapore food? Leave a comment below!
Get exclusive updates
Enter your email and I'll send you the best travel food content.