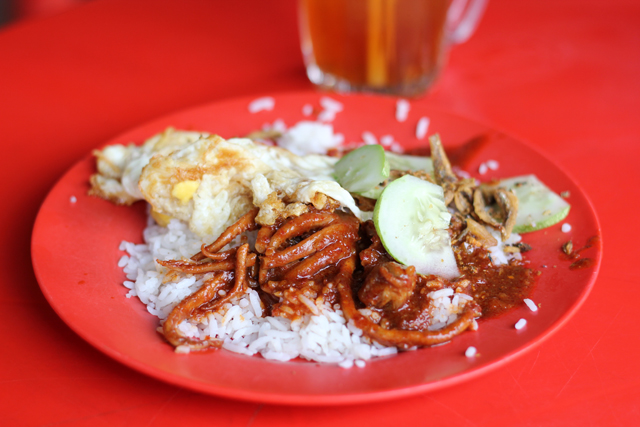 While there are many foods that have power to arouse happiness, Malaysian nasi lemak takes satisfaction to the next level.
For local Malaysians that leave their home country, nasi lemak is THE MEAL they crave, the comfort food they long for most.
And once you've had it, it's entirely understandable.
In Kuala Lumpur, one of my main objectives was to explore nasi lemak – to dig in a little deeper and get a flavor for one of Malaysia's most beloved foods.
What is Nasi Lemak?
Nasi lemak literally translates to "fatty rice."
The rice is initially soaked in coconut milk and pandan leaves before being steamed to give each grain a fragrant light coconut creaminess.
Nasi lemak is traditionally served in small cone shaped banana leaf packages filled with rice and a variety of spicy toppings, but you can also find nasi lemak set up similar to a nasi campur style feast.
Antarabangsa Nasi Lemak
While exploring Kampung Baru, a local Malay area of Kuala Lumpur located near the center of town, I stumbled into Antarabangsa Nasi Lemak.
At the time, I didn't know it was so famous, but the tables were full, and as I ate there was a continual stream of takeaway customers.
By the time I arrived, at about 11 am or so, there was evidence that a few of the dishes had already run out.
Get exclusive updates
Enter your email and I'll send you the best travel food content.
All was good though, they still had my favorite nasi lemak supplement, sambal sotong, squid cooked in chili sauce.
A fried egg, a few spoons of crunchy ikan bilis (fried anchovies), a scoop of chili sauce and a few slices of cucumber to garnish and I was ready to dine.
Just like loco moco, the sloppier and saucier things get with nasi lemak, the better!
The squid was a little sweet, reminded me of Korean nakji bokkeum, and had amazing flavor. But the real hit was the simple fried egg smothered in sambal chili sauce with the coconut fragrant rice.
Price: 6 MYR ($1.96)
Open: Many say 6 pm – 5 am daily… but I went at 11 am and it was open.. so not entirely sure?
Address: 7C Jalan Raja Muda Musa, Kampung Baru, Kuala Lumpur
RA Nasi Lemak
The next day I wanted more nasi lemak.
After digging through a number of Kuala Lumpur food blogs, I decided to try a famous stall near Dang Wangi LRT station known as RA Nasi Lemak.
Yet again served from a home and shaded by pop-up umbrellas, RA Nasi Lemak seemed to attract a diverse demographic of hungry locals – businessmen, construction workers, BMW drivers, bicycle riders, hair salon stylists, and a random foreigner (myself) pursuing nasi lemak.
As soon as I got in line, the lady opened the wooden barrel of rice which unleashed a puff of steam that literally made me drool.
Though busy, the homely restaurant had a comforting motherly atmosphere to it, kind of like the local Zanzibari mix restaurant in Dar Es Salaam.
Unlike Antarabangsa Nasi Lemak where you point to the topping and they serve you, to my delight RA Nasi Lemak was self service.
Yet another challenging Malaysian food choice… but a great challenge. I was hoping to see some stink beans in the mix, but they weren't available.
I can state with 100% certainty that nothing served at RA will be even close to a bad choice.
A pile of steamed coconut infused rice, more sambal sotong (squid in chili sauce), stir fried morning glory, ikan bilis, cucumbers, and a generous anointing of chili sauce was the outcome.
For the main course I chose a succulent piece of chicken rendang (chicken stewed in coconut cream and spices).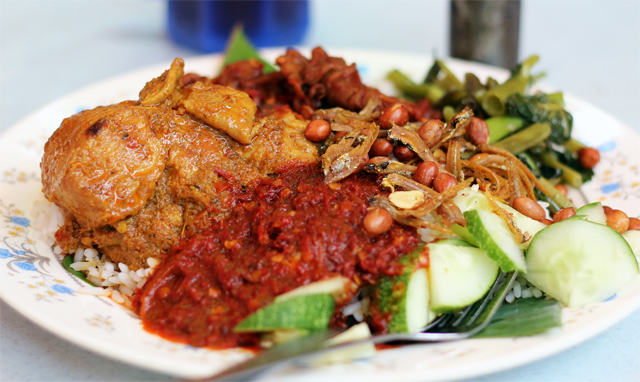 The nasi lemak was honestly unbelievable.
Each spoonful was among the most precious bites I've ever chewed in my life.
Price: 7 MYR ($2.30)
Open: 6:30 am – 10 pm daily
Address: 15 Jalan Raja Abdullah 50300 Kuala Lumpur, Federal Territory of Kuala Lumpur, Malaysia
If I had to choose one nasi lemak restaurant over the other I'd probably go with RA Nasi Lemak due to the self service and the amazing sambal chili sauce. But both restaurants were stunning.
One thing is certain – at either Nasi Lemak restaurant, the dish washer will love you because you're going to lick your plate completely clean.
Do you love Nasi Lemak?
Here's a map so you can find both of the restaurants.

View Migrationology World Map in a larger map
Get exclusive updates
Enter your email and I'll send you the best travel food content.