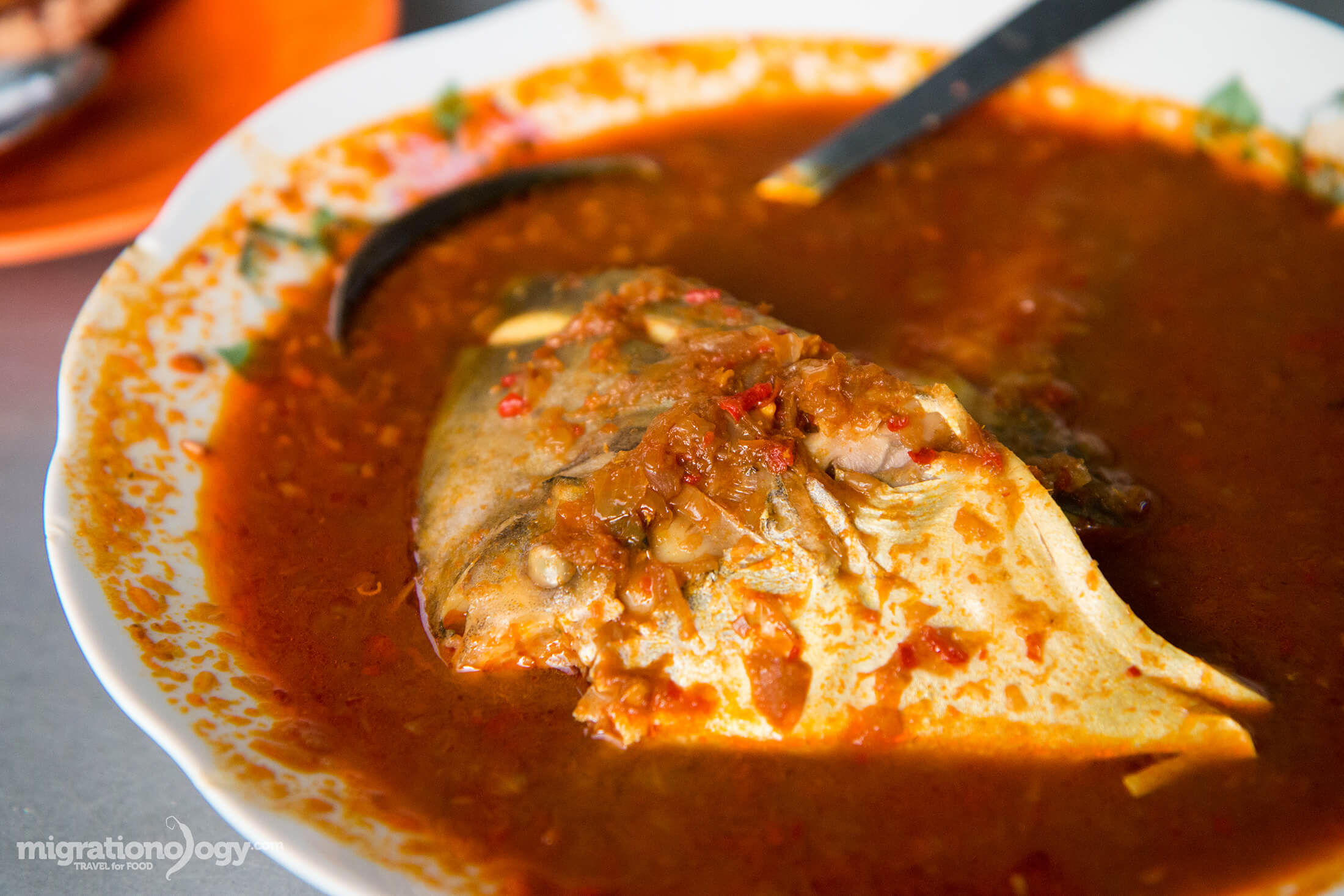 It seems that you can walk right past some of the best restaurants in Penang without knowing they are restaurants.
That was certainly the case for a restaurant, located just off Chulia Street in the center of Georgetown, known as Shing Kheang Aun (新琼安饭店).
Just like the old school charcoal steamboat restaurant (more about this place coming soon), which you could easily pass in the daytime and have no clue it was a restaurant, Shing Kheang Aun was the same.
Serving a mix of Hainanese and Nyonya food, everything was pretty good, but one of the dishes they serve was one of the best things I ate in Penang…
First off, I have to say thank you to the community at Foursquare for the tip to find this restaurant.
It was coming to the end of our time in Penang, and I was searching for more places to eat by using the location search function.
Not far away from where we were staying, I saw a restaurant right off Chulia Street.
There weren't a lot of reviews or comments, but the ones that were there said the food was old school and delicious, and one of the few remaining Hainanese food and Nyonya restaurants in Penang.
Just about everything at Shing Kheang Aun was old school, from the non existent menu, to the spoons and forks.
I also really loved how they brought me a glass of water in and old antique Guinness cup. That's classic.
The menu
One of the best things about eating at Shing Kheang Aun is that there is no menu.
When you sit down to eat, the owner of the restaurant just kind of comes over to your table and takes your order.
That means you can either:
Have some of the dishes in your head or written down and then tell him your order, or
He will recommend some dishes to you and you accept whatever he mentions
Both ways work pretty well I think.
When I showed up to eat at Shing Kheang Aun, from reading the reviews, I knew exactly what I wanted to order.
Tofu with leek
Let's begin with the tofu and leek.
The tofu was soft and silky, almost the texture of pudding, yet less rich or creamy. The big chunks of soft tofu were stir fried with slices of leek, some minced pork and a few shrimp.
Although it sounds very simple, and it was, it was also incredibly good.
Different from the fried braised tofu at Tek Sen (which was very good also by the way), this dish was stir fried, had just the right soy sauce saltiness to it, and all the textures went beautifully together.
Additionally the tofu had a wonderful smoky flavor, perhaps it was stir fried over a charcoal fire instead of gas – which is quite possible, considering the old school-ness of this restaurant.
Dark soy sauce pork
The reason I ordered the dark soy sauce pork was because many people had recommended it, saying it was a must eat and signature dish at Shing Kheang Aun.
The pork was cut into big bite sized thin strips, then cooked (possibly stir fried) with a thick dark soy sauce that had a sweetness to it.
The sauce almost had a slight burnt molasses flavor that also tasted like hoisin sauce to me, and the pork was nice and tender and lean.
It was a little on the sweet side for my personal preference, but I still enjoyed it, and my wife really liked it.
Assam prawns
Assam prawns is a popular Malaysian Nyonya way to cook prawns.
Assam means sour, and these prawns were cooked in a sour glaze – the sourness being from sour tamarind with soy sauce.
I'm not totally sure of this, but I think the prawns were deep fried. They were marinated in a combination of sour tamarind fruit, and probably some soy sauce and then fried.
By the way, this recipe looks excellent if you want to make it.
The prawns were dry, and the black glaze was kind seared onto the shell of the prawn and meat of the prawns.
The flesh of the prawns was extremely meaty and muscular, just as wild caught ocean prawns should be, and although some of the glaze was on the outer shell of the prawn which I peeled, the flavor did come through to the prawn.
The glaze had a light fruity sourness from the tamarind and a it was salty from soy sauce. Excellent. There was also a sour chili sauce which also went well with the prawns.
Assam tumis fish curry
Although fish curry is one of my favorite things in the world, I have to admit that I almost didn't order it here.
The reason is:
I had been eating so much food in Penang, and I wanted to order less this meal, know that just being my wife and I eating, we didn't need that much food.
But as I took the first few bites of the food and I saw another table eating, there was nothing I could do from holding myself back from ordering a plate of the fish curry.
I'm glad I didn't hold back.
It was the dish that literally made Shing Kheang Aun one of the best restaurants in Penang for me. The fish curry had to be one of the best dishes I ate in the city. Period.
The fish, which was a good sized pomfret, was curried in an incredible blend of spices, herbs, and ingredients.
It was salty, filled with onions, and there was one distinct herby earthy flavor that I had tasted before, but it took me a few minutes to figure out what it was: torch ginger flower.
In Thailand, torch ginger flower is commonly used in rice salad in southern Thailand, but I don't think I had ever had it in a curry.
The flower gave the curry a nice sourness and unique earthy aroma.
This fish curry was seriously was one of the best dishes I ate in Penang.
Sour pork soup
Mentioned above was all we ate during our first meal here, but Ying and I loved the food so much, especially that fish curry, that we returned the next day.
Along with ordering the tofu and leeks and the fish curry, we also tried a few other dishes.
One of the dishes we tried the next day was a sour pork soup, made with pickled mustard greens and big hunks of fatty pork.
The pork included the skin and all, and the soup was sour and rich. The pickled mustard greens were crisp and the pieces of pork that weren't fat were tender and meaty.
It was plain, just sour, but pretty good.
Hainanese chicken chop
The Malaysian Hainanese chicken chop is a dish that has some history attached to it.
From what I understand, it came about in Malaysia during the British colonial period when there were many Hainanese working for the British who adapted some of their recipes.
A chicken chop is basically a thin piece of chicken, deep fried to a crisp, then smothered in some kind of gravy sauce, and perhaps topped with some extra goodies like carrots and peas.
The chicken chop at Shing Kheang Aun had a sweet tinge to the gravy, which I didn't care for, but the meat was excellent and the mix of crispy fried pork paired with the gravy which made it a bit soggy was excellent. I just wish it had been less sweet.
Conclusion
Shing Kheang Aun is yet another old school restaurant in Penang.
Located just off Chulia Street in the heart of Georgetown, it's the type of restaurant you could just stroll right past without knowing they serve food.
But in reality, they serve some seriously good food – a combination of both Hainanese and Malaysian Chinese, known as Nyonya food, and everything about the restaurant is old school.
I really enjoyed the tofu fried with leeks, the crispy assam prawns, and the dish that took my breath away, the assam tumis fish curry.
The flavor of that fish curry will forever be on my tongue until I re-visit Penang!
Shing Kheang Aun – Penang, Malaysia
Address: 2 Chulia Lane, 10200 George Town, Pulau Pinang, Malaysia
Open hours: It's hard to predict, so don't take these hours too seriously. Typically for lunch from about 11 am – 1 pm and for dinner from about 5 or 6 pm – 7 or 8 pm (closed on Monday I think). For dinner come about 5:30 pm or 6 pm at the latest, we arrived about about 6:30 pm and we were the last table they served. They literally closed their gates and locked up right at sunset.
Prices: Our total meal for the first 4 dishes in this blog post cost 58 MYR, and our next meal which included 4 dishes cost about the same. Not cheap and not expensive, but similar to other restaurants in Georgetown.
How to get there: If you're staying anywhere in central Georgetown, it shouldn't be too much of a walk to get here. Where I was staying in Penang, at Armenian Heritage Street Hotel, it was less than a 10 minute walk. The restaurant is located just down Lorong Chulia from Chulia Street.
Get exclusive updates
Enter your email and I'll send you the best travel food content.