You'll find plenty of wonderful restaurant in Addis Ababa, most of them, usually marked by signs sponsored the classic yellow St. Georges beer company.
Step into anyone of these delicious restaurants and you'll likely find a pretty delicious meal throughout the day.
But there's one place that I ate at, and kept eating at over and over again when I was in Addis Ababa, because the food was so insanely good (it also helped that the restaurant was located right around the corner from Toronto Guest House where I was staying – great hotel by the way).
I was browsing through the articles on Addis Eats, and came across their recommendation for a small restaurant named Grand.
I saw that it was right on the street I was staying at, in the Chechnya area of Addis, and so as soon as it was lunchtime, I wen to check it out.
You may be a little skeptical about the restaurant from the beginning, because the entrance appears to just be a dark entrance to a bar…
… But just enter, the friendly staff will greet you, and you can walk to the back of the restaurant, where the atmosphere opens into a circular dining room with Ethiopian paintings covering the ceiling.
It's actually quite a pleasant dining room surprise in the back!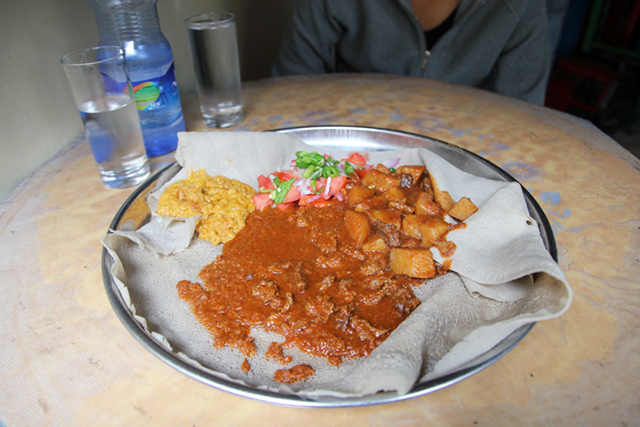 Mahaberawi at Grand
The first time I went to Grand restaurant, I had no clue what to order, so I just did my best to order the mixed plate – known as a mahaberawi.
Get exclusive updates
Enter your email and I'll send you the best travel food content.
My platter came with a base of injera, and topped with the dishes of the day, this time being key wat, a wonderful beef stew, shiro wat, the popular Ethiopian chickpea curry, and salata, a simple and refreshing tomato onion salad.
Let me tell you, I wasted no time getting started devouring this beautiful creation.
The key wat was lovely, nicely spiced with just the right amount of berbere seasoning, and with good meaty chunks of beef that had some great texture.
But the dish that really impressed me the most at Grand Restaurant was the shiro wat.
Shiro wat is easily one of the most common and widely consumed dishes in all of Ethiopian cuisine, and I think I ate it every-single day I was in Ethiopia (and I absolutely love it).
The version at Grand Restaurant, I thought, was one of the absolute best I had.
Shiro is made with chickpea and broad bean flour, mixed with butter and oil, some light seasoning, and in this case, a ton of garlic.
The wonderful garlicky flavor was what really made their shiro wat shine.
Another wonderful item on the menu at Grand Restaurant in Addis Ababa is their simple salata, or Ethiopian style tomato salad.
It's actually quite similar to a Kenyan or Tanzanian kachumbari: just good fresh tomatoes, onions, and chilies, all sliced and diced and seasoned with salt and lime juice.
Eating the tomato salad along with that shiro wat, I was actually speechless.
It didn't take long for me to polish off everything, and since I probably ate too fast, I still wanted more.
So that's when I decided to order the full bone-in piece or meat key wat curry.
I actually thought the meat was goat, but then according to the name it was beef and potatoes (dinech besiga) – so I'm still not sure what type of meat it was – but one thing I'm sure of was that it was lip-licking tasty.
Here's a video from the restaurant…
(If you can't see the video, with it here: http://youtu.be/eReSfFDlFO8)
Along with a few more orders of shiro wat and a few more scoops of tomato salad, I was incredibly satisfied, and probably too full as well, but it was so unbelievably good.
Total bill came to 95 ETB ($4.84), which included the first full mahaberawi, a few extra scoops of both shiro and tomato salad (which is normally included), and an extra big dish of dinech beseg, plus a bottle of water.
Grand Restaurant in Addis Ababa is just a normal restaurant, but they serve incredibly good food – food that has home cooked love in it.
I ate at Grand Restaurant at least 5 or 6 times during my time in Addis Ababa. Big shout out to Addis Eats for the suggestion!
How to Get to Grand Restaurant:
Grand restaurant in Addis Ababa only has a sign written in Amharic, but it's directly across the street from "3 Days International Hotel" right along Mike Leyland street in an area of Addis Ababa known as Chechnya (yes, you read that correctly!).
Get exclusive updates
Enter your email and I'll send you the best travel food content.