No matter where you travel, one of the best ways to experience local life is to explore the local fresh market.
Markets are not only where things are sold and traded, but they are also where people congregate to socialize, meet friends, and eat.
Located just on the edge of the ancient lanes of Stone Town is Darajani Market, one of the central markets in the Zanzibar.
Though the market sprawls outside of the main building and throughout the surrounding lanes and side streets, the original building (pictured) that houses the small indoor section was built in 1904.
Getting to the Market
When you're walking around Stone Town, you might suddenly emerge and find yourself at the market – this has happened to me many times – or otherwise, if you just look at a Stone Town map, you can find the market pretty easily and navigate your way there.
Getting to Darajani Market after walking around the narrow lanes of Stone Town, is sort of like emerging from a cave.
The lanes are so narrow and confusing, and once you reach Darajani Market, space opens up despite there being many more people.
Before actually entering the market, on the outside streets surrounding the market, is often where some of the best actions takes place.
You'll find pop-up vendors selling all sorts of interesting things, from plastic toys directly from China to local Zanzibari spices and delicacies.
Date vendors
Dates are commonly grown in Zanzibar, and on the outskirts of the market, you'll find a number of vendors lined up selling their sweet treats.
If you love dates, you can pick up some fresh Zanzibari dates to snack on.
Get exclusive updates
Enter your email and I'll send you the best travel food content.
Also bread is widely available on the outskirts of the market. Most of the bread vendors travel by bicycle, with big baskets of bread attached to the back of their rides.
At the market, they park their bicycles, and then artfully stand their loaves in a pyramid display to showcase them.
Other vendors surrounding Darajani Market don't sell food at all.
You can find just about anything you're looking for if you look in the right place. Shoes and clothes are common, as well as toys, knick knacks, and cooking supplies.
There are also quite a few vendors selling traditional Islamic Zanzibari hats, known as kofia. Quite a large percentage of men wear kofia hats on a daily basis in Zanzibar and along the East Coast of Africa.
Keep walking around the outskirts of the market and you're bound to bump into some interesting sights, sounds, and smells.
Inside the market
Inside Darajani Market, things are actually quite organized.
There's a section for fresh vegetables, fruits, meat, and seafood. Though the building is quite old and not the best maintained, it has some character to it, and many of the vendors were very friendly.
Though sometimes fruits can be a little overripe sitting at the market, there's a great and beautiful variety of tropical fruit available on any given day at Darajani Market.
Soursops are quite common throughout Zanzibar, often made into a delicious juice.
You might even find Zanzibar durian if it's in season when you visit.
Other fruits like bananas, jackfruit, avocados, certain types of oranges, and pineapples are common and widely available.
You'll also find vendors selling Zanzibari spices, some of them catering to tourists (selling little spice boats), but others deep in the market selling quantities of real spices (if you want to buy spices in Zanzibar, avoid the cute little "spice boats").
The meat section, which mostly includes beef and goat, is not the best smelling place in the market, but you should definitely take a quick stroll through it.
Fish auction
One of my favorite areas of Darajani Market is the fish market auction area.
If you go in the early morning, or if you're lucky, you might see some huge exotic looking sailfish or sharks, or something crazy things from the sea – but normally only if you go in the morning.
A few years ago, I went at about 6 am and saw some pretty interesting things like an angel shark, but this time when I went in the middle of the day, there's wasn't anything overly special.
Octopus is popular in Zanzibar, widely available and widely consumed. It is often served grilled, or eaten in a delicious coconut milk based curry.
One of the most popular fish in Zanzibar is called changuu.
It's also a very common fish eaten on the coast of Tanzania, and when I was in Dar Es Salaam, we actually bought a few of them at the Dar fish market to cook at home.
Changuu is a wonderful fish, nice and meaty, firm, and flavorful.
The early morning is when the biggest fish market auction at Darajani takes place, but throughout the day, they still have smaller auctions.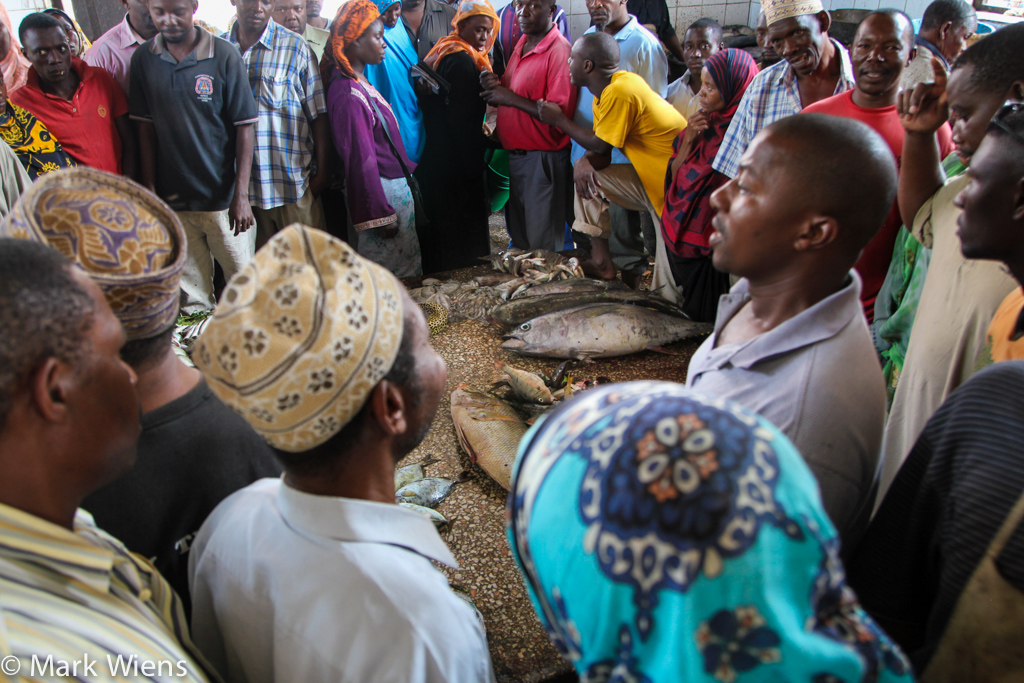 When I went at about 10 am, there were still some people bidding for fish, mostly smaller fish like changuus, some tunas, and then other really smaller fish, and octopus.
The action and energy at the fish auction in Zanzibar is always interesting to observe.
Conclusion
Though pristine beaches are what most people think about when they think about Zanzibar, spending some time walking around the local markets is a fantastic way to learn about the culture of Zanzibar and to observed local life.
If you visit Stone Town, spend an hour navigating Darajani Market for an awesome experience.
If you're hungry after visiting Darajani market, go to Lukmaan restaurant for an amazing octopus curry, or to Passing Show for marvelous Zanzibari biryani.
For more information about visiting Zanzibar, check out my article here.
Get exclusive updates
Enter your email and I'll send you the best travel food content.