Ayutthaya (พระนครศรีอยุธยา) is one of the most famous historical and culturally significant cities in all of Thailand. After Sukhothai, Ayutthaya was the second capital city of the Siamese Kingdom, founded in the year 1350. With a long history of violence, in the mid 1700's Ayutthaya was overthrown by the Burmese army. The gems and gold in the Shwedagon Pagoda (a temple in Yangon) are supposedly originally from Ayutthaya. Now, Ayutthaya is a popular tourist destination for both foreigners and local Thais. Just an hour drive from Bangkok, Ayutthaya makes a great day trip, or a short getaway from the "Big Mango."
The Ayutthaya historical park is a UNESCO World Heritage Site, and it's most well known for its historical temples, museums, and palaces. Wat Yai Chai Mongkon (วัดใหญ่่ชัยมงคล), in one of the most interesting complexes to visit. The center of the temple is the tall chedi (or stupa) made from red brick, wrapped in orange cloth, and leaning like the Tower of Pisa.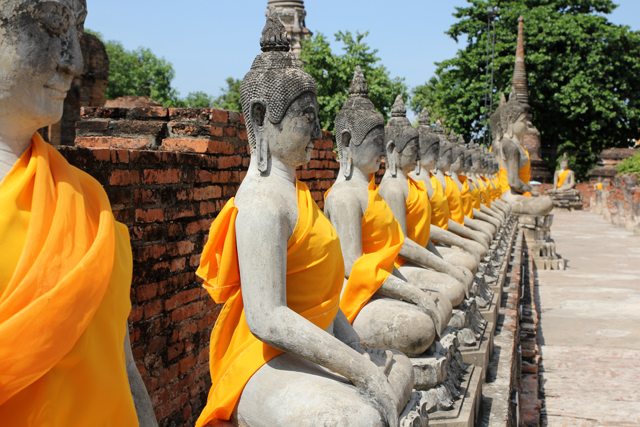 Just like Wat Arun, you can climb to the middle section of the stupa to get a view of the surrounding area. Surrounding the stupa are a series of Buddha statues that are all clothed in bright orange fabric.
Though it's a replica of the original, there's also a reclining Buddha on the same site.
Many people attempt to place coins on the bottom of the foot and press them to try and get the coin to stick – I think it's for good luck.
Get exclusive updates
Enter your email and I'll send you the best travel food content.
I had visited Wat Yai Chai Mongkon (วัดใหญ่่ชัยมงคล) years ago when I first came to Thailand, but somehow I missed the palace of King U-Thong and the amazing display of roosters. Cock fighting was a significant part of the growing up years of King U-Thong and so you'll find a mind boggling amount of rooster statues. There's probably an entire stadium full of roosters all neatly set up in rows, it's quite a unique sight. Entrance fee – 20 THB
Wat Phanan Choeng (วัดพนัญเชิงวรวิหาร), located in the Ayutthaya historical park, is especially famous for housing a giant golden Buddha statue that's 19 meters high. It's quite similar to Bangkok's Wat Pho and reclining Buddha, but this one is in the seated form.
Wat Phanan Choeng (วัดพนัญเชิงวรวิหาร) is part Thai and part Chinese, so there's an entire section of Chinese statues as well. Entrance fee – 20 THB
Just like most places in Thailand, Ayutthaya is known for its heat and harsh sun (but that's probably because most people who visit tend to walk around outside touring different sites and walking in the sun). That being said, it's never hard to find cold beverages in Thailand, and there's always a wide selection of icy refreshments available.
Along with lots of water, I settled for a fresh coconut that was sweet and packed with energizing electrolytes!
What remains of Wat Mahathat (วัดมหาธาตุ) is mostly in crumbles, but that's sort of what makes the site so interesting. The main stupa is surrounded by all sort of small structures, statues, and ancient monuments.
Perhaps the most iconic image of Ayutthaya is the head of Buddha wrapped within the banyan tree at Wat Mahathat (วัดมหาธาตุ). How the tree grew to surround the statue remains a bit of a mystery, but many think that during the period when Ayutthaya was overthrown by the Burmese and then abandoned, nature took over, eventually creating this world famous attraction. Entrance fee – 50 THB
If you're Thai and you visit Ayutthaya without eating and bringing roti sai mai back to Bangkok with you, you've made a huge mistake – nobody goes to Ayutthaya without buying roti sai mai (โรตีสายไหม) – it's the most famous kanom wan the city has to offer. There are two parts to a roti sai mai, a thin crepe, and sugary strands of candy floss.
The candy floss is added to the crepe, rolled up, and eaten like a taquito. You'll find an abundance of roti sai mai (โรตีสายไหม) vendors throughout Ayutthaya, and it's something you must sample when you visit, especially if you enjoy Thai desserts. Whether you choose to visit Ayutthaya (video) for just a day trip, or if you decide to spend a few days there, it's worth a trip. Here's my Ayutthaya video of the entire trip. Watch it now… (If you can't see the video, watch Ayutthaya on YouTube here)
How to Get to Ayutthaya from Bangkok
If you're in Bangkok, the easiest and most convenient way to get to Ayutthaya is by taking a public mini-van. Take the BTS to Victory Monument station and exit towards Century Shopping Mall (located right below the BTS station). At the ground level of Century mall, you'll find van stands where you can purchase a ticket to Ayutthaya. Vans leave frequently and you can just show up, purchase your ticket, and be on your way.
Get exclusive updates
Enter your email and I'll send you the best travel food content.