Day 6 – Bangkok to Ayutthaya
After a long Day 6 in Bangkok, we woke up and left even earlier (4:30 am) on Day 7.
The van picked us up at home in Bangkok, and we drove out to Rangsit (รังสิต a suburb on the edge of Bangkok). The van dropped us off at the Rangsit railroad station at the crack of dawn, and we got tickets on the train to go to Ayutthaya (อยุธยา).
(Note – We could have driven in just an hour to Ayutthaya, but for the TV show, they wanted some footage taking the train – and it's a pretty nice way to get to Ayutthaya).
From Rangsit, the local train ride to Ayutthaya took just 40 minutes, so we arrived just as the sun was fully rising, and it was still nice and cool.
Wat Chaiwatthanaram Temple (วัดไชยวัฒนาราม)
Arriving at the Ayutthaya train station, I hopped in a tuk tuk, and we drove to Wat Chaiwatthanaram Temple (วัดไชยวัฒนาราม), filming all along the way.
I have been to quite a few temples in Ayutthaya, but it was my first time to go to this temple. It was just 7 am, so the cool morning air made it quite an enjoyable experience.
After filming a few scenes walking around the temple, it was time to start eating!
Ruay Goong Pao (ร้านรวยกุ้งเผา)
We hopped into the van, and drove to Ruay Goong Pao (ร้านรวยกุ้งเผา) restaurant, famous for serving roasted freshwater prawns.
The restaurant was amazing.
There was a section of seating in the main house, and then another section of the restaurant floating in the water on rafts. We chose to eat and film on the raft section.
The peacefulness of the calm river and the entire atmosphere was beautiful.
Pad sai bua nam man hoy (ผัดสายบัวน้ำมันหอย)
Before filming, we were all quite hungry, so we decided to have brunch.
The first dish Ying and I ordered was pad sai bua nam man hoy (ผัดสายบัวน้ำมันหอย), lotus flower stems stir fried with garlic and oyster sauce.
I'm a huge fan of lotus flower stems, both stir fried and in curry.
But the most famous thing to eat at Ruay Goong Pao (ร้านรวยกุ้งเผา), and also the most famous thing to eat in Ayutthaya, is freshwater prawns (กุ้งแม่น้ำ).
Get exclusive updates
Enter your email and I'll send you the best travel food content.
Bangkok Thais sometimes drive to Ayutthaya just for their fix of the freshwater beauties.
I had eaten plenty of freshwater prawns before, but never as good as the ones I had this day.
The prawns were first sliced in half, then roasted over charcoal, only on the shell side.
I think it took about 10 minutes until they were finished cooking, and I could see the juices and oils melting from the heat.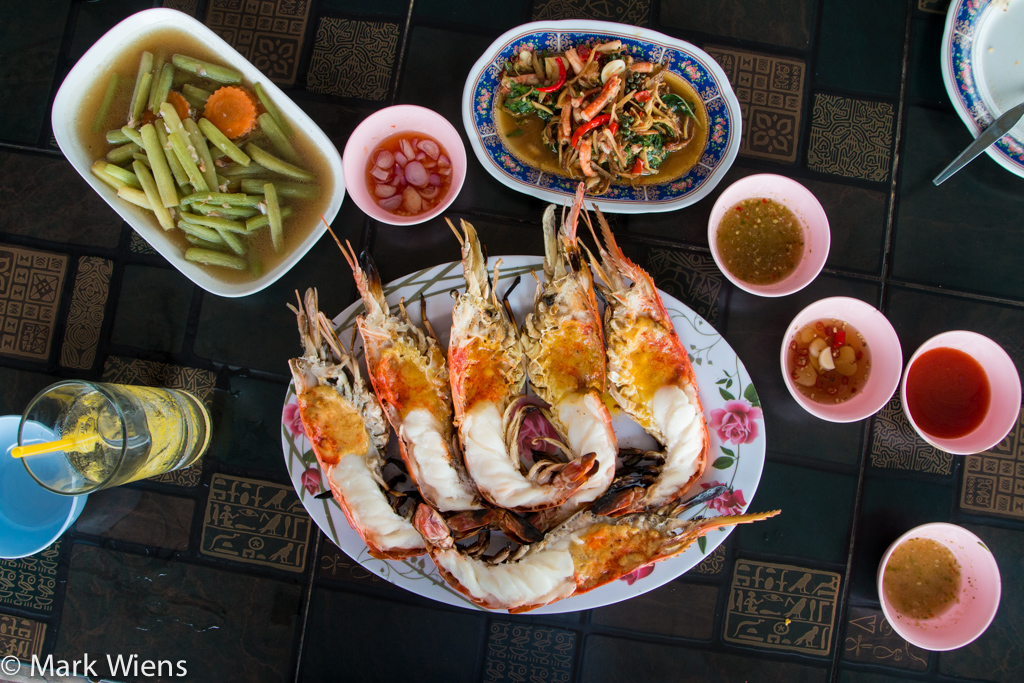 Goong Pao (กุ้งเผา)
Before filming, Ying and I ordered a plate of their biggest roasted prawns, goong pao (กุ้งเผา). There were 3 prawns on the plate, equalling 1 kg. and they cost 1,500 THB – a bit of a splurge, but well worth it.
The meat of the freshwater prawns was so incredibly luscious and sweet, and along with that head oil, it was unbelievably delicious. I thought they were even better than the lobster in Hua Hin.
Just check out all that buttery head oil… WOW, it was unbelievably good. So good I could hardly contain myself, I almost fell out of my chair.
Kam goong pad cha (ก้ามกุ้งผัดฉ่า)
I also ordered the kam goong pad cha (ก้ามปูผัดฉ่า), which was the meat from the freshwater prawn claws, stir fried up with green pepper corns, garlic, chilies, and finggerroot.
It was marvelous.
After our insanely delicious feasting of freshwater prawns, we then did a bunch of filming, both the preparation of the freshwater prawns, and myself eating again!
Ban Phaen Market (ตลาดบ้านแพน)
After the most insanely delicious prawns I had ever eaten in my life, we then drove into the small town of Ban Phaen (บ้านแพน), about 20 – 30 km. from central Ayutthaya town.
60 or so years ago, Ban Phaen (บ้านแพน) was home to a flourishing market, where traders came from all over to conduct business. Nowadays, it's a little on the sleepy side, but home to some classic, and old-school restaurants.
Joong Borikan (จุ้งบริการ)
Our first stop at Ban Phaen Market (ตลาดบ้านแพน) was Joong Borikan (จุ้งบริการ), an absolute classic of a restaurant, with some serious character to it – it was the exact type of restaurant I love and search for.
The house was old and made of wood, with some nice clutter and just everything was old and antique, kind of the like Wattana Panich in Bangkok, but even more old-school.
The owner of the restaurant had been cooking for around 40 – 50 years, serving up traditional Ayutthaya recipes.
We came to film a scene in the TV show for tom yum sai bua goong mae nam (ต้มยำสายบัวกุ้งแม่น้ำ), a traditional version of Thai tom yum soup… and little did I know it was going to be the BEST dish of tom yum goong I'd ever eaten in all of Thailand. Period.
He was an absolute wizard in the kitchen, tossing in the ingredients like second nature.
Tom yum sai bua goong mae nam (ต้มยำสายบัวกุ้งแม่น้ำ)
He started by heating some soup stock in a wok, and then proceed to add in the combo of tom yum herbs like chilies, galangal, lemongrass, and kaffir lime leaves.
Then he took a couple of jumbo freshwater prawns, chopped them into pieces and added them. The next ingredient, which you won't normally find in tom yum, was sai bua, or lotus flower stems.
He loaded the lime juice, cilantro, salt, and extra dry chili flakes into the dry pan, and then scooped the hot soup into the pan (so he didn't cook the lime juice at all).
All the creaminess was from the head oil of the freshwater prawns, he didn't add any evaporated milk, like is typical in lots Thai food throughout Thailand these days.
Next time I make tom yum goong, I'm going to try his recipe.
This tom yum goong, actually blew my mind.
It was unbelievably good, by FAR the best tom yum goong (ต้มยำกุ้ง) I have ever had in Thailand, ever.
The shrimp were cooked perfectly, not overdone, and not rubbery, and the broth was rich and oily, sour, and spicy.
Ayutthaya is famous for lotus stems, and it was an outstanding addition to the tom yum goong (ต้มยำกุ้ง). The stems were like sponges, acting to soak up all the amazing broth.
This man, the chef and owner of Joong Borikan (จุ้งบริการ) is one of my heroes.
The tom yum goong (ต้มยำกุ้ง) was unbelievably good – I can say without doubt, it was the best I've ever had.
Nope, the delicious food was not over for the day yet…
We drove back to central Ayutthaya town, and stopped at a small restaurant to eat a dish known in Thai as miang pla pao (เมี่ยงปลาเผา), roasted fish, served with leafy herbs and vegetables, rice vermicelli noodles, and sauce.
When we arrived, there were already some fish ready to go.
They used pla tabtim, a type of tilapia freshwater fish. Fish is a very common food in Thailand, and especially in places like Ayutthaya, which is surrounded by rivers, freshwater fish and prawns were, and still are, a typical part of the local diet.
Miang pla pao (เมี่ยงปลาเผา)
One of my favorite ways to eat fish is grilled Thai style, rubbed in salt, and roasted over charcoal.
For miang pla pao (เมี่ยงปลาเผา), the fish is served with a basket of veggies, herbs, vermicelli noodles, and sauce. You normally take a leaf of cabbage or lettuce, add in some noodles and fish, and drench it in sauce.
I'm a huge fan, I think it's one of the great ways to eat fish.
After eating again, and filming a few extra scenes, headed to an evening market for a few more shots, and by around 8 pm, we called it a night and headed to the hotel (we stayed in Ayutthaya for the night).
Bann Baimai Boutique Room (บ้านใบไม้)
In Ayutthaya we stayed at Bann Baimai Boutique Rooms (บ้านใบไม้)*, a very nice and clean hotel in Ayutthaya. It was nice and small and very relaxing place, with a lovely garden. It's was a great place to stay in Ayutthaya.
That was it for the day, I was quite exhausted, so just took a shower and went straight to sleep.
(NOTE: I was hired by a Thai TV production company to be the host of a Thai food TV show series (10 episodes), about eating Thai food and traveling in Thailand. You can read the full series of updates here).
Get exclusive updates
Enter your email and I'll send you the best travel food content.