Day 8 – Ayutthaya, Thailand
There are few things in this world greater than Grandma's cooking.
And I'm talking about Grandma from Mexico, Grandma from Ethiopia, Grandma from China, Grandma from Italy, Grandma from Thailand etc.
Restaurant OR Grandma? I'll go for Grandma!
Thai Massaman Curry (มัสมั่นไก่)
Honestly I've never been the biggest fan of Thai massaman curry. It's not that it's bad, in fact it is good, it's just not my personal preference of a Thai dish most of the time.
My taste buds are usually most excited with things that are spicy and sour, but not foods that are sweet or too oily; Massaman curry is usually too sweet, and too oily for me – a combo of the two things I usually don't like too much.
Anyway, on Day 7 filming the Thai food documentary series we were still in Ayuthaya, and on our way to prepare and eat an original recipe for massaman curry…
…Little did I know, it would turn into one of the best days so far, and one of the most amazing all around local experiences I've had in a very long time.
We spent the night in Ayutthaya at Bann Baimai Boutique Room (บ้านใบไม้)*, and woke up at 5 am.
After getting ready, we left in the van at about 5:30 am to go to a small town about 30 minutes from Ayutthaya town central (but the town was still in Ayutthaya province).
We arrived at the crack of dawn to the most amazing house, situated along the river, and the most amazingly kind family – including Grandma and Mom, who would be hosting me for the entire day.
After taking a bunch of photos off the veranda of the gorgeous sunrise over the river, we then headed to Ban Phaen Market (ตลาดบ้านแพน), which was just about a 10 minute walk from the house.
Ban Phaen Market (ตลาดบ้านแพน)
For the next couple of hours, we walked around Ban Phaen Market (ตลาดบ้านแพน, near the restaurant where I ate the best tom yum goong of my life the day before), buying all the ingredients we needed to make Grandma's authentic Ayutthaya recipe for massaman curry.
We first bought a chicken, which was a type of chicken known in Thai as a "gai baan", a chicken that has meat that's a little tougher than a regular chicken – and that's good because in the curry the chicken will boil for a long time, so you don't want it to get too soft.
This cat was protecting the durian!
Next we bought other ingredients, some that you don't usually find in massaman curry nowadays in Bangkok, like sweet potato (usually regular potato is used now), and pineapple.
There were also some other cool ingredients at the market, like het dab dao (เห็ดตับเต่า), in Thai the turtle liver mushrooms, in English as boletus edulis or porcini. The last time I ate them was in a curry at Baan Silapin.
The last step at the market was to visit the Chinese medicine and spice store, which was one of the highlights of the market trip for me.
We bought a few different spices, including bay leaves, Siam cardamom (ลูกกระวาน), and a mixture of dry spices used to make the massaman curry (I think it was mostly cumin powder, maybe a hint of cinnamon, and not sure what else).
With the extra load of ingredients, we decided to hop in a tuk tuk to go home and start cooking.
Get exclusive updates
Enter your email and I'll send you the best travel food content.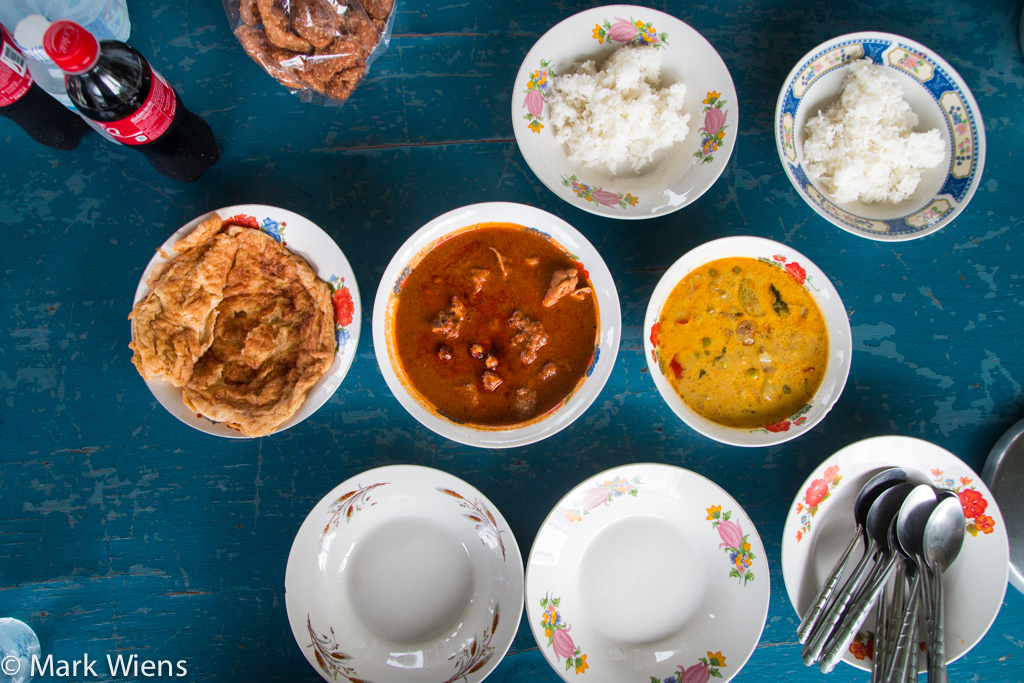 Home-made Breakfast
We went back to the house and since we hadn't really eaten breakfast yet, we sat down to eat.
(NOTE: Massaman curry is best eaten one day after it's cooked – something I didn't know before, and this gives the curry a chance to settle and for all the flavors to mingle. So Grandma had made a giant pot of massaman curry the day before we came, so we could film the cooking and the eating in the same day.)
All that to note, there was already a huge pot of massaman ready when we arrived (even though we were going to cook it too).
So for breakfast we ate massaman curry (but we were still going to cook it), green curry (แกงเขียวหวาน), and duck egg omelets, which was insanely delicious.
The massaman curry was unbelievable, upon my first bite, I already knew it was the best massaman curry I had ever tried.
The spice blend flavor was much better and more pronounced than any other massaman curry I had eaten before, it wasn't nearly as oily, and it was sweet mostly from the pineapple and the tamarind juice as opposed to too sugar sweet.
As good as the curries were, one of the highlights of the entire meal was the duck egg omelet (ไข่เจียวเป็ด), something I rarely eat in Thailand, but ate frequently in China.
Oh man, duck egg omelets are so incredibly good tasting, so rich and creamy.
The amazingly tasty breakfast left me feeling like I needed a nap, but alas we needed to start filming…
Preparing the Massaman Ingredients
Massaman curry is a Thai dish that has quite a fascinating fusion of flavors and influences attached to it. The spices are of Persian and Indian influence, while the coconut milk and curry paste are mostly of Thai origin.
Massaman a blend of a curry, a mixture of cultures.
The first scene was preparing the ingredients for the massaman curry paste with Grandma Thawee (ยายทวี)
We chopped the fingerroot (กระชาย), galangal, kaffir lime peel, garlic, shallots, and everything else.
The next step, I went into the kitchen with Mom, and she taught me how to roast all the ingredients, in Thai known as 'khua." Traditionally, the ingredients were roasted over fire, but to save time we dry roasted them in a hot wok.
Normally for other Thai chili pastes, I hadn't roasted the ingredients before pounding them, so this was something new to me.
Also, Mom mentioned to me that the reason massaman curry can be so greasy and oily nowadays is that people often deep fry the ingredients to make the paste, not roast them like they should be, which leaves the curry paste much less oily.
We roasted all the ingredients individually, blackening them just a bit, to bring out their full fragrance.
Massaman Curry Paste (เครื่องแกงมัสมั่น)
After roasting everything, I then went back with Grandma to start pounding the massaman curry paste (เครื่องแกงมัสมั่น) using a mortar and petting.
It took about an hour to pound everything, but we finally got a beautiful curry paste.
Cooking the Chicken Massaman Curry (แกงมัสมั่นไก่)
Next, we headed to the kitchen to start cooking the massaman curry.
Mom first added the chicken to a pot, washed it, then boiled it along with a few peanuts and some coconut milk. The aroma was already amazing, without even adding the curry paste yet.
While the chicken was cooking, we took the curry paste, which was thick and sticky at this time, and started to cook it with coconut cream.
We cooked it until it boiled down, and until all the curry paste was dissolved into the coconut cream, and it turned into a rich thick paste.
After simmering for a few minutes, I could start to see small droplets of red oil rising to the surface of the curry paste. We then added in all the dry spice mixture.
Another interesting ingredient you won't hardly find in Thai cuisine, but used in a traditional recipe of massaman curry are bay leaves (ใบกระวาน).
To the chicken we added the sweet potatoes, pineapple, all the curry paste, palm sugar, bay leaves, and Siamese cardamom and then continued to boil it for a while.
But again, Mom told me that massaman curry tastes best when left until the next day, so after cooking it, we then left it.
2 pm, Fishing boat ride
We were just finishing up the filming of making the massaman curry, when the boat arrived, and we needed to rush to eat a bit of lunch; I had another bowl of rice and massaman curry.
We then got ready and got into boat to shoot a scene going fishing for freshwater prawns.
Freshwater prawns are extremely famous to eat in Ayutthaya (as you might remember from Day 7), and they grow natural in the rivers around Ayutthaya.
I was in a small local fishing boat along with the fishermen, and the film crew was in a bigger boat so they could film.
I really enjoyed the boat ride, through the beautiful river, and after about 15 minutes we arrived to a calm river bank where the fishermen said he usually caught shrimp.
Unfortunately though, since it was rainy season (because the water was flowing too fast), he wasn't really fishing much this time of the year, so our hopes were not too high for catching anything.
Actually, I'm not sure of the directors exact storyline, but mostly the scene was shot in the boat and I wasn't supposed to catch any – it was just a scene to show that finding natural freshwater prawns these days is tough and a lot of work.
We didn't catch anything, but it was a wonderful boat road.
Eating with Grandma
We arrived back to the house, did a bit of small video shooting, and then it was finally time for the final tasting of the massaman curry and a full meal with Grandma and Mom.
For the scene, I sat with Grandma and Mom, and my job was to taste the massaman curry.
It was indeed one of the best massaman curries that I've ever had so far – so many marvelous spices, real flavors, and not too oily or sweet. It was amazing.
Home-made Dinner
After filming, we then sat down for a real dinner, including the chicken massaman curry, gang som, nam prik kapi, fried mackerel (ปลาทูทอด), and vegetables, all of which they had prepared when we were filming on the boat.
Again, the food was marvelous, and we ate until we were stuffed.
Cha om kai (ชะอมไข่), an omelet stuffed with climbing wattle and fried, along with nam prik (chili dip), is always a favorite of mine.
That was all for the day, and it took the entire day, from 5 am until 7 pm, and it was worth every minute.
Here's the full video vlog of the day…
(If you can't see it, watch it here: http://youtu.be/BOgEnTndFmk)
The food was outstanding and the hospitality of Grandma, Mom, and the entire family was truly special.
I had an amazing time, both for the authentic Thai local experience, and for the honor it was to be hosted at such a kind family home in Ayutthaya.
Another amazing day, delicious food, incredible people.
(NOTE: I'm the host of a Thai food TV show documentary (10 episodes), where I am traveling around Thailand and discovering the best Thai dishes. While I'm being filmed, I'm also doing my best to photograph and blog about my entire experience, so be sure to check out all my updates here.)
Get exclusive updates
Enter your email and I'll send you the best travel food content.