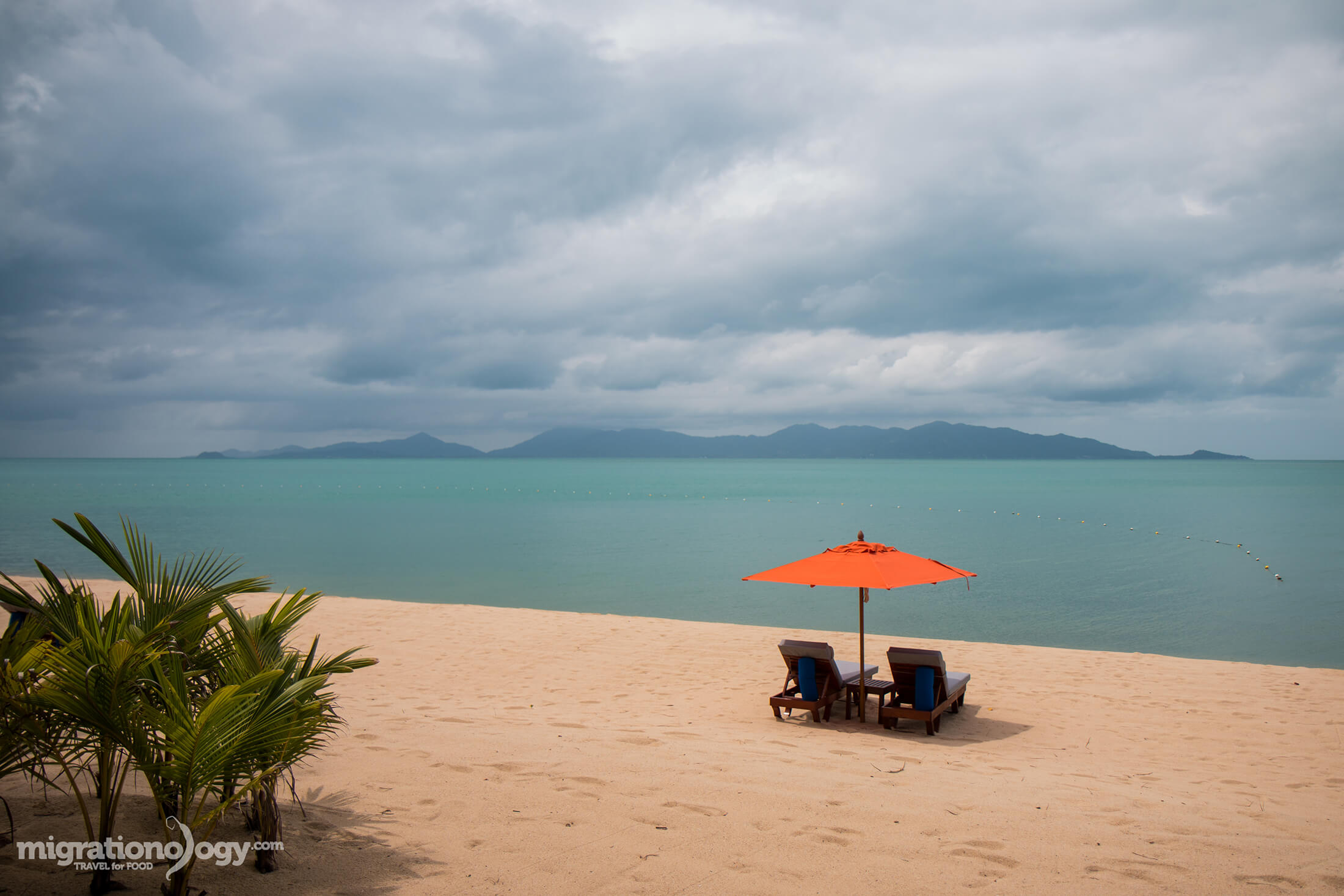 Having just returned home from Malaysia, Ying (my wife) and I were pretty content to spend some time in Bangkok.
I finally had some time to gather my thoughts and photos and publish some posts about the marvelous food we ate in Penang.
But then, just a week or so later, we got an invitation to stay at a resort in Koh Samui, one of Thailand's most famous islands.
Having never been to Koh Samui, I was excited to go, and to stay at what was probably the most luxurious resort I've ever stayed at in my life…
I'v been based in Thailand, blogging about travel and food since 2009, but I had never had a chance to go to Koh Samui before.
So Ying and I headed to Koh Samui to stay for a few days at Santiburi Beach Resort, and do as much as we could on the island.
How to get from Bangkok to Koh Samui
Koh Samui is an island in the province of Surat Thani in the south of Thailand.
If you want to fly from Bangkok to Koh Samui there are two different ways:
Direct – There are direct flights from Bangkok to Koh Samui on Bangkok Airways (expensive, but great airline by the way) or Thai Airways – those are the airlines I know about. But drawback is that they are quite expensive – much more expensive then taking a flight, bus, ferry combination.
Combination – The other way is to take a flight to the mainland Surat Thani, then a bus to Donsak Pier, and a ferry to Koh Samui. Alternatively you could take a bus from Bangkok to Surat Thani as well.
We quickly booked a flight from Bangkok to Surat Thani on Air Asia for about 1,600 THB.
While on the airplane, they came around and sold bus and ferry combination tickets to Koh Samui for 400 THB, which we purchased.
The flight took an hour, and right outside the airport there was a bus that drove us directly to Donsak Pier and took about 1.5 hours.
We then had about a 45 minute wait at Donsak Pier until our Seatran Ferry departed. The ferry also took about 1.5 hours.
It was hassle free, and the entire trip from Bangkok to Koh Samui took about 5.5 hours and cost about 2,100 THB ($61.22) for each of us.
Getting to Santiburi Beach Resort
After grabbing a quick lunch, Ying and I jumped in the back of a rot songthaew (a public mini truck) and headed north along the main highway.
Santiburi Beach Resort* is located in on a beach of Koh Samui called Mae Nam, located on the northern side of the island.
The ride took about 20 minutes or so, and charged us 50 THB ($1.46) per person, and we got off the rot songthaew along the main road just outside the gate of the resort.
The elegant Thai style of the reception entrance of the hotel reminded me of The Local restaurant, one of my favorite higher end Thai restaurants in Bangkok – and the place Ying and I actually had our wedding ceremony.
Get exclusive updates
Enter your email and I'll send you the best travel food content.
Along with the beautifully designed and furnished interior of the hotel, even more impressive was the outdoor grounds.
The entire resort was a botanical garden, filled with fountains and swaying palm trees and tropical flowers.
Just outside the main lobby was one of the most ridiculously large swimming pools I have ever seen in my life – it was the size of a lake.
The staff mentioned it was the biggest swimming pool on Koh Samui.
Ocean view villa
We checked in, and then took a walk through the grounds of the resort, and I was honestly blown away with how beautiful the grounds were.
Santiburi Beach Resort covers an area of over 23 hectares, and though they have a variety of different room options, most of the accommodation are private villa style.
Ying and I had a ocean view villa all the way at the front of the resort, just up the bank of sand from the beach.
The room included a big entrance room with a sitting area and TV.
Proceeding into the next room was a huge bed, much longer then many of the beds I normally stay in while traveling in Thailand. My legs didn't hang off the edge of the bed here that's for sure.
But by far the most glorious thing about our villa at Santiburi Resort was the bathroom; I didn't even know what half the stuff in the bathroom did or was supposed to be used for.
Anyway, there was a giant round tub at the back of the bathroom, a duo of sinks with about 20 different bathroom amenities including soaps, shavers, lotions, and all sorts of stuff.
Finally, through the shower and out the door, there was a private mini swimming pool within our own private courtyard.
Santiburi Spa
Spas and massages are kind of like movies for me.
It's not that I don't like them, but I just really don't like taking the time to do them. I always have blogging to do, or video editing, and I don't like sitting around idle when I know there's something I could be doing.
But as soon as we arrived to Santiburi Beach Resort and checked in, we were invited to have a Thai spa massage treatment.
There was no way I was going to say no this time.
After changing to the little tiny underwear provided, they went over the type of spa treatment they recommended for me – a Sukothai style hot rock massage – and it sounded good to me.
I honestly barely knew what happened during the massage. All I know is that 1.5 hours felt like it went by in a few minutes.
All I remember is hot smooth rocks gliding up and down my limbs, pushing into my muscles at just the right strength, with the aroma of lemongrass, and the faint sound of traditional Thai music in the background.
I felt like a new man afterwards.
I probably won't be doing another spa treatment or having a massage anytime soon again, but I can definitely say it was amazing.
Dinner at Rim Talay
There are two restaurants at Santiburi Beach Resort, Rim Talay, an international restaurant on the beach, and Sala Thai, a Thai restaurant. We stayed at the resort for two nights, and we got to try both of the restaurants.
I didn't care that much for Sala Thai as the flavors of the Thai dishes were quite toned down to cater to tourists, but Rim Talay was excellent.
The atmosphere along the beach, and the selection of food was pretty good. Ying and I shared a tuna salad which included strips of seared tuna, a grilled red snapper, and finally a pizza topped with olives and prosciutto.
Breakfast
Just like at most luxury resorts in Koh Samui, breakfast was also included, and it was a breakfast buffet.
Ying and I are kind of weird, we like to wake up early and try to be the first ones at the breakfast buffet – maybe that's because we like to eat so much.
The breakfast buffet was pretty typical of any breakfast buffet with an egg station, a waffle and pancake station, and a section of pastries and salads.
An omelet topped with a few scoops of prik nam pla (Thai chilies in fish sauce) with a touch of lime juice was the highlight of the breakfast buffet for me.
But also, since I normally eat pretty exclusively Thai food when I'm at home in Bangkok, I do enjoy things like olives, cheese, and smoked salmon at hotel breakfast buffets.
Santiburi Country Club Golf Course
Still drowsy from the massage and the feather pillows we slept on, and the buffet breakfast, we took a drive over to Santiburi Country Club Golf Course, which is one of the main parts of the resort, located about a 5 minute drive up the hill.
We didn't play golf, though if I have time to play next time I'd love to, but we just went to get some views of Koh Samui from the course.
Santiburi Golf Course is the only full golf course on Koh Samui and built on the side of a mountain, it's supposed to be one of the most scenic courses in Thailand.
We jumped in a golf cart and drove around the winding course, enjoying the views – it was a lot of fun.
Lazing on the beach
After having an amazing Koh Samui street food khao gaeng (rice and curry) lunch, which I'll write more about over on eatingthaifood.com, Ying and I spent the remainder of the afternoon drinking coffee, and alternating from our room to the hammock between two palm trees.
From the beach, there was a great view of Koh Pha Ngan (famous for its rowdy full moon party) – so close, yet I'm quite happy we were far removed from any parties – rather enjoying peaceful, secluded relaxation.
Like it should be at any beach resort, the highlight of staying at Santiburi Beach Resort was by all means the beach.
I think they did a very good job of keeping it extremely clean, spacious, with lots of umbrellas and palm trees for shade.
It was pure luxury.
If you have a few minutes, here's a full travel vlog about going from Bangkok to Koh Samui, eating, and arriving to Santiburi:
(Or you can click here to watch it on YouTube)
Conclusion
I told my wife this too, Santiburi Beach Resort is sort of the image you'd think about when you dream of visiting a beach in Thailand – or the one that's depicted in magazines about Thailand –  just on an extreme luxury level.
The design of the hotel was elegant Thai, the grounds were beautifully manicured and full of palm trees, the beach was beautiful, and quite literally they offered more activities than you could probably do in a month of staying there.
I can for sure say that Santiburi Beach Resort was probably the most luxurious place I've ever stayed in my life.
NOTE: As I've mentioned throughout this article, my wife Ying and I were invited to stay at Santiburi Beach Resort in Koh Samui for 2 nights, so I didn't pay to stay here. But the writing and photos in this blog post are my personal honest opinion.
Get exclusive updates
Enter your email and I'll send you the best travel food content.