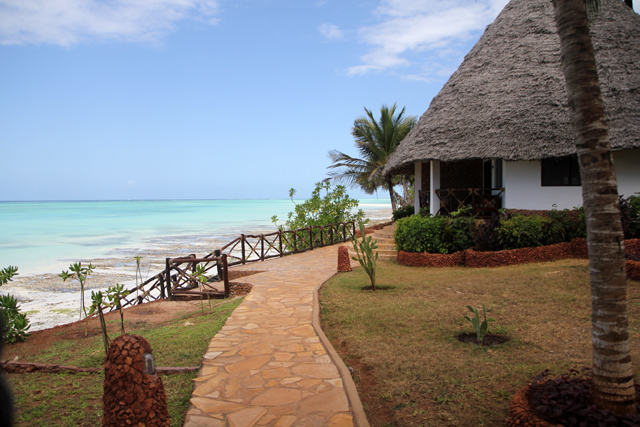 Described as "laid-back luxury," Ras Nungwi Beach Hoel is exactly that… and a lot more!
After a 1.5 hour ride from Stone Town, we arrived in the village of Nungwi, located at the very north of the island of Unguja, Zanzibar.
Ras Nungwi Beach Hotel is positioned a couple kilometers from the main part of the village, on the East side of Nungwi, along a private stretch of gorgeous beach.
I couldn't have been more excited to get settled into our room and put on my most relaxed outfit (and attitude).
The grounds of the hotel are spacious and well maintained with swaying palms, manicured gardens, and an unadulterated view of the Indian ocean.
From the verandah of our room, we had an incredible panoramic view – and I'm talking about a nearly perfectly quiet and undisturbed stretch of beach that's home to the famous blue and turquoise Zanzibari waters.
Our room was clean and neatly designed, not unnecessarily fancy, but modern with a touch of Zanzibar style, and loaded with accessories within the room.
A mini-fridge, a hot water boiler, a safe deposit box (big enough to fit my laptop, a real bonus), and a desk were among the comforts.
The bed was probably the most comfortable bed I slept on in all of Zanzibar. As soon as I laid down each night during my stay, I nearly fell asleep before my head hit the pillow!
The only downside is that wifi internet access in only available in the communal reception area and not in individual rooms.
Though it would have been nice to have internet access in the room, it also helps (in my case of being glued to the computer with internet) to get one away from the computer and cell phone to focus on relaxing, and yet it's still possible to do some email with the outside world in the lounge area of Ras Nungwi.
Get exclusive updates
Enter your email and I'll send you the best travel food content.
The swimming pool is elevated slightly from the ocean level, giving the pool patio a lovely view of the Indian ocean and a great place to hang out and spend time doing almost nothing.
You can also order snacks, light meals, and beverages poolside.
Breakfast is normally included in stays at Ras Nungwi Beach Hotel, and I always try to get to breakfast as soon as it opens – no sleeping in for me – I love to eat too much.
Breakfast was served buffet style with a section of fresh fruit, cheeses and deli meats, hots foods, a waffle station, and an egg frying station. The omelets were made to perfection, slightly crispy on the outside, cooked through, and cheesy.
Another top notch place to hang out, grab a drink, or just enjoy the view is the Jahazi Beach Bar. During high tide you can sit at the bar and watch the waves roll in.
One thing to remember, not only about Ras Nungwi Beach Hotel, but about the entire East Coast of Zanzibar, is the low and high tide. The difference is drastic, but the great thing is that both low and high tide each present their own unique beauty.
During high tide at Ras Nungwi Beach Hotel, the ocean literally comes all the way up to the hotel, the waves crashing against the rocks.
At high tide it's difficult (kind of dangerous) to swim due to the crashing waves, so it's better to admire the water from a lateral position on a beach bed.
Low tide, as you can see, is entirely different.
The water goes way down, and you can walk along the beach, as well as explore the shallow pools.
Be sure to borrow a pair of reef shoes from the Ras Nungwi dive center so you can fearlessly explore the rocks at low tide.
You'll come across some interesting creatures like starfish and sea urchins and you'll also see locals fishing for squid and octopus.
Within Ras Nungwi Beach Hotel, there's also a 5-star PADI certified dive center where you can arrange underwater adventures to nearby sites. The famous Mneba atoll is just a short boat ride away, an impressive place to not only dive, but also snorkel.
One of the greatest things about Ras Nungwi Beach Hotel is the staff are willing to go the extra mile to ensure you have a stay that you'll never forget.
For lunch one day, the staff along with Chef Samir, set up a table on the beach (at low tide of course) for us. At night you can also dine under the stars around the pool, or in the main Ubora Restaurant.
The menu at the hotel includes a variety of fresh Zanzibar seafood and local fruits and vegetables.
For lunch on the beach, the first dish Chef Samir prepared was blackened line fish on a bed or rocket drizzled in chermoula and topped with a slice of tomato, avocado and a grilled wedge of lime.
The fish had a Cajun roasted flavor to it with a nice citrusy bite.
Another dish we sampled was steamed tuna crusted in black olives, resting over mashed sweet potatoes, and drizzled with roasted tomato oil and balsamic vinegar reduction.
Being on the East side of Nungwi, Ras Nungwi Beach Hotel is at an amazing location to wake up and enjoy the sunrise. Sitting peacefully on my balcony, while watching dhows quietly go by as the sun emerged, was gorgeous.
Now, make sure you watch the video:
(if you can't see the video, watch it on YouTube here)
Here are a few more thoughts about Ras Nungwi Beach Hotel:
Incredibly quiet
Stunning views of the ocean
Beach is beautiful, but not the best for swimming
Staff are extremely helpful and service is outstanding
Everything is available on facility (self contained) – so if you wanted, you could do just about everything from Ras Nungwi – stay, eat, drink, dive, spa, tennis etc., there's also a pool table, ping pong table, foosball, and darts.
Wi-fi is available only in the communal lounge, not in rooms
While security is very good at the hotel and on the beach in front of the hotel, if you wander in either direction (like towards Nungwi village), you've got to be careful of your belongings – only bring a little cash on you and a small camera.
Ras Nungwi Beach Hotel caters to those looking for peace and relaxation, beautiful views of the ocean, and top notch service. It's the type of place you'll want to rotate from eating to reading a book to taking a swim – and repeat – and no one's going to say you're being lazy!
*Note* Our 3 night stay at Ras Nungwi Beach Hotel was sponsored, but everything I mention in this article are my own personal thoughts and opinions.
If you're planning to visit Zanzibar, be sure to check out my Zanzibar travel guide for lots more useful information (coming soon).
Get exclusive updates
Enter your email and I'll send you the best travel food content.