Changuu Island, also known as Prison Island, is just off the coast of Stone Town, Zanzibar.  Now a tourist attraction, Prison Island was once a place where slaves were detained and at one point, it also served as a place of quarantine.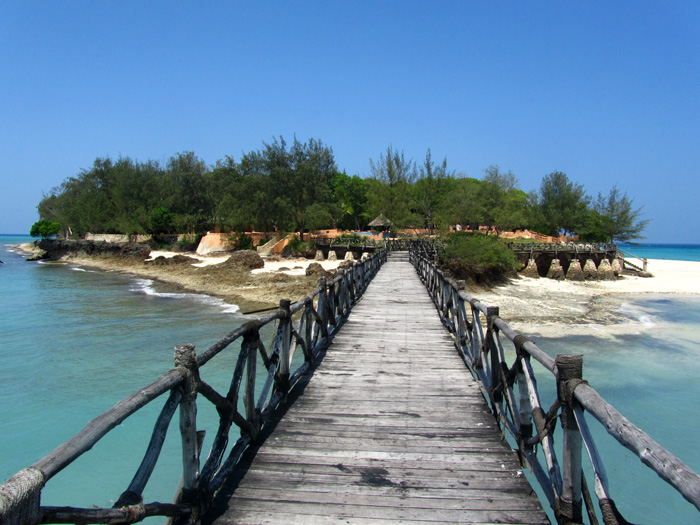 The boat ride from Stone Town takes 20-30 minutes and the seas at times can be a bit rough. Arriving on the island, there is a mysterious rustic wooden bridge that hovers a few meters above the water, jetting out into the sea.
On one side of Prison Island is a refuge for giant sea tortoises, originally a gift from the Seychelles. A 5 minute walk across the island leads to the former prison ruins. Though in their successful days it was a torturous place to be, nowadays the ocean cliffs, the overgrowth of the plants on the stone walls, and the view of the turquoise ocean is gorgeous!
The biggest attraction is no doubt the colony of Giant Tortoises!
Get exclusive updates
Enter your email and I'll send you the best travel food content.
The small sandy beach on Prison Island Zanzibar is a a quiet place where no one will bother you and you can peacefully relax or sunbathe.
If you would like to snorkel, the boat will take you a few meters off shore where you can disembark into deeper water with an small area of coral.  The time I went, the snorkeling was't that great as the current was quite strong.
A quick walk to the end of the wooden bridge and a look back at Prison Island is a charming view to cherish!  It's a view that almost makes you wish that you were arrested and thrown onto Prison Island Zanzibar!
How to get to Prison Island, Zanzibar
The fee for a boat costs about $30 – $40 USD round-trip and can accommodate up to about 10 passengers
$4 USD island entrance fee
$2 USD for snorkel rental (snorkeling is a bit rough and not really worth it)
Most people just go for a couple hours, but if you would like to spend the night, check out Changuu Private Island Resort
Tour companies around Stone Town offer the basic same tour to Prison Island including boat fee, entrance fee, and snorkel gear.  If you have a group, you can bargain to get a better rate per person.
Additionally, most hotels or guest houses in Stone Town will offer package deals for taking a 1/2 day excursion to Prison Island, offering an all inclusive price: do some asking around.
Though its definitely not the the BEST attraction on the island of Zanzibar, if you have a 1/2 day free in Stone Town, visiting Prison Island Zanzibar is a decent day trip.
Check out this video of Prison Island!
Get exclusive updates
Enter your email and I'll send you the best travel food content.