Pequi is a unique food, to say the least, and one that's so incredible it makes most people think twice before they'll even describe it to you.
Smelling quite strange, but almost cute in appearance – pequi is amazingly something like a cross between a fruit, and a hard cheese.
Its interesting, and unique, and in Brazil its something that people love to eat.
There's a little more to Pequi than just the taste though, and this is why we just have to have it – Pequi is actually dangerous to eat – and in this article I'll tell you all about it.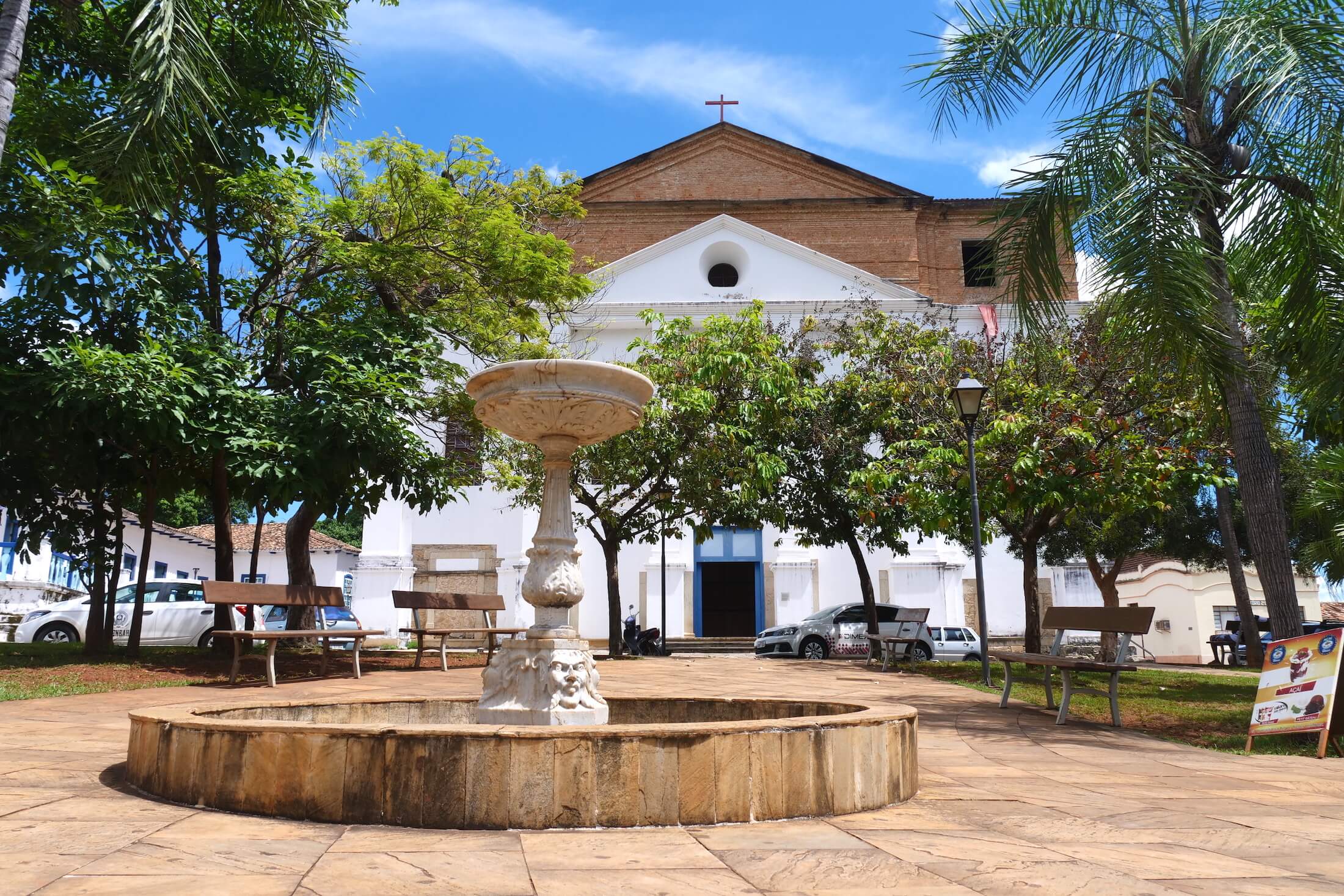 Goiás, Central Brazil
A historic town in Central Brazil, old Goiás is the place known by locals for all the best and traditional meals of Pequi.
Goiás is famous in Brazil for being one of the most naturally beautiful places in the country as well (gorgeous parks are everywhere, like Chapada dos Veadeiros),so a drive out to Goiás is going to be tasty and beautiful.
The open vistas and huge hills of green grasslands are a nice distraction for your hunger, you might even see some exotic wildlife (we saw two amazing giant anteaters, right from our car window).
Old Goiás town is surely your destination for traditional Central Brazilian cuisine – and a great restaurant in Goiás is 'Restaurante Braseiro' -also where we're going for lunch today.
Video on Youtube
If you haven't done it already, try watching the entire video above to get a more full sense of life in Goiás (if that doesn't work, try this link to YouTube).
The video includes a morning market, a meal, and Goiânia (the capital city), as well as the drive out to Goiás town (for this meal of Pequi). After lunch, a walk around to see the wonderful local architecture and historic streets, finishing in a truly crazy dinner back in town… it was a very fun day in Brazil.
But for now, its time to taste Pequi, cooking at Restaurante Braseiro – let's go!
Restaurante Braseiro
Driving out to Goiás (from the capital city Goiânia) takes about two hours total. The blue sky is glowing, the roads are clear, its the right amount of time to build up a serious appetite for Brazilian food.
If you're traveling like us, then its been several days of street food and big city life – delicious, and intense – and so these first steps out of the car in old Goiás town come with quiet, and big breaths of fresh air.
Its like arriving all over again – this morning truly feels like a trip to historic Brazil.
Check the Opening Hours
Restaurant Braseiro opens for only three hours a day, Monday to Friday, so you need to time your trip accordingly.
With opening hours like this, you know its a place where the food speaks for itself.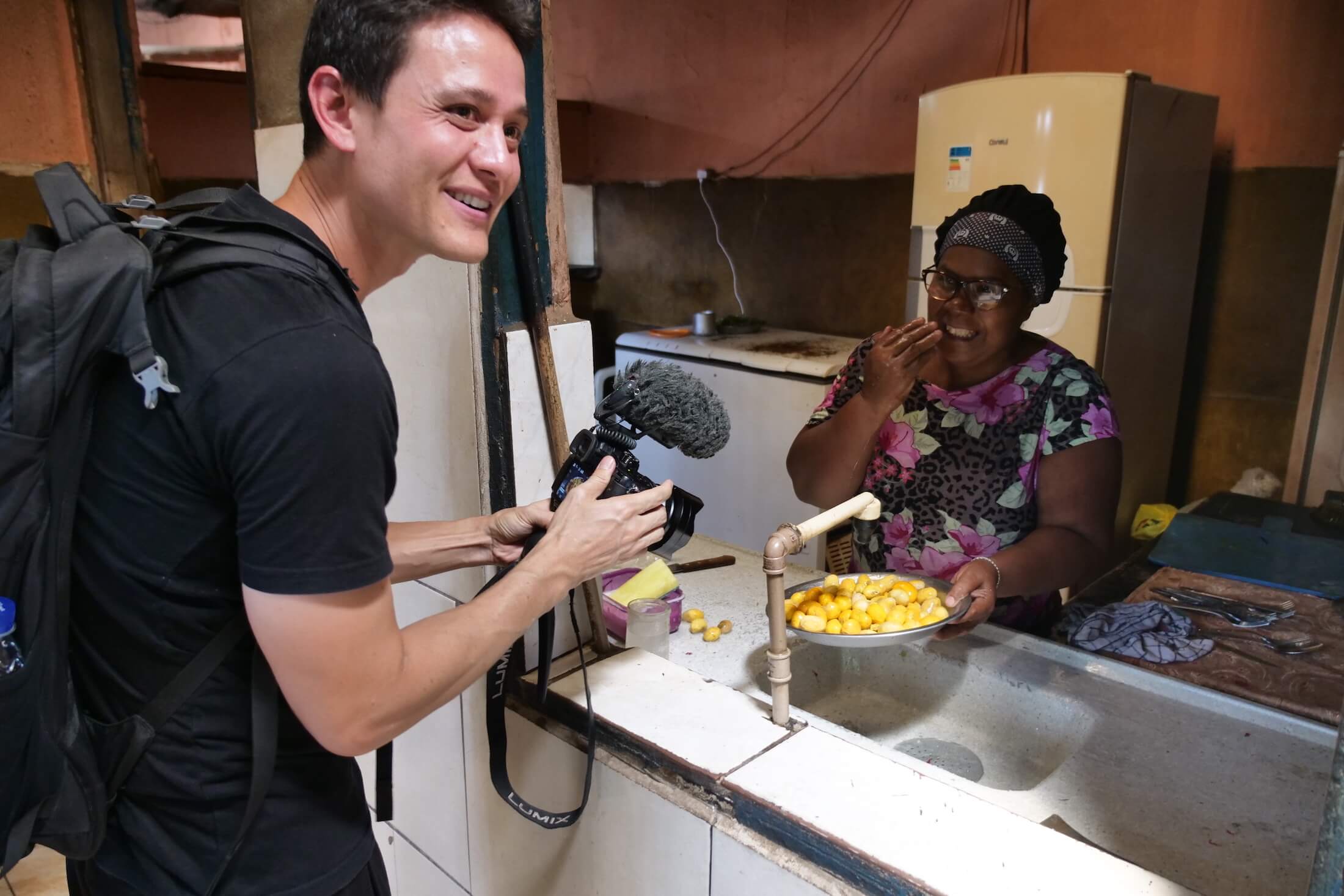 Finding the Infamous Fruit at 'Restaurante Braseiro'
There's an abundance of  traditional food here, and we are going to eat a lot of it today, but we just couldn't wait to see how they possibly can be cooking with an ingredient thats so infamous. How do people eat something with the nickname, "danger fruit?"
Pequi fruit looks very ordinary, but its already obvious to us that this is a prime example of the "you will love it or you'll hate it" type foods.
This is one Brazilian food that local people will want to tell you about, and so its exactly the type of thing we want to try!*
Travel for Food, and Stay Positive
Its all about positive thinking when it comes to these foods, but personally, I always think these are some of the most delicious things on earth.
No matter the taste though (but actually, pequi is quite delicious), I love how the world is full of unique things like this to eat – we're lucky to be able to share this one today.
Get exclusive updates
Enter your email and I'll send you the best travel food content.
All that being said, pequi is definitely dangerous, and I can't wait to find out why .
*Pequi can't be too bad, its one of the Michelin Guide MasterChef Brazil's four favorite items.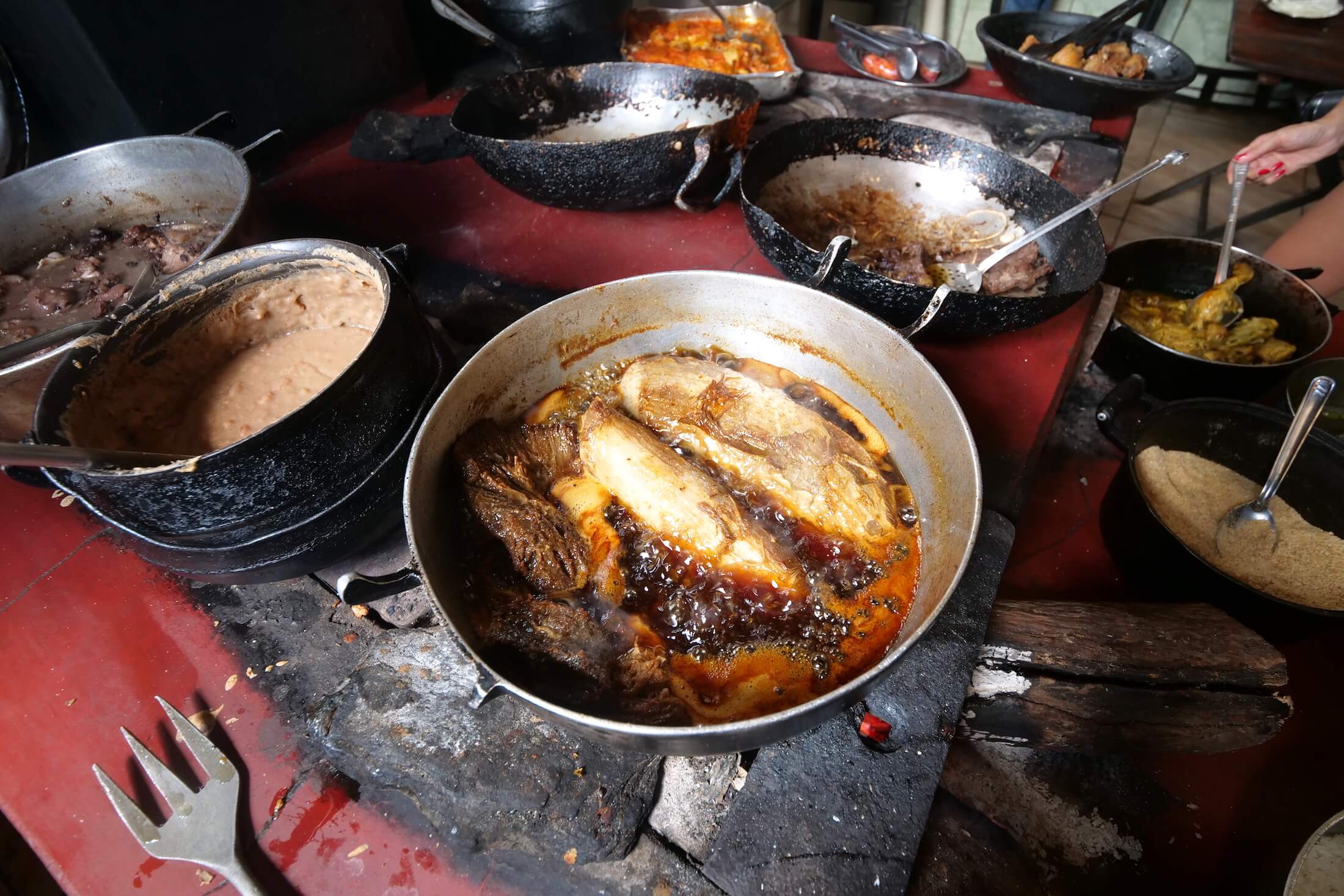 Countryside Hospitality
Arriving a bit after 11am, we find dozens of dishes of meats, veggies, and fresh salads set out, a glorious buffet of local food at Restaurante Braseiro.
Ready for a relaxing lunch, its all you can eat, and this restaurant charges R$20 per person (US$5).
The chefs didn't know we were coming just to eat pequi today, but when they saw how excited we were, they immediately began preparing an entire fresh dish, just for us!*
*So hospitable really, because like many lunch menus in Brazil, for lunch its a one-price, all-you-can-eat style local buffet. There were already many other options for us to eat, so they were literally making this extra dish of pequi from the kindness of their hearts (thank you so much for sharing your love of Brazilian food with us today!)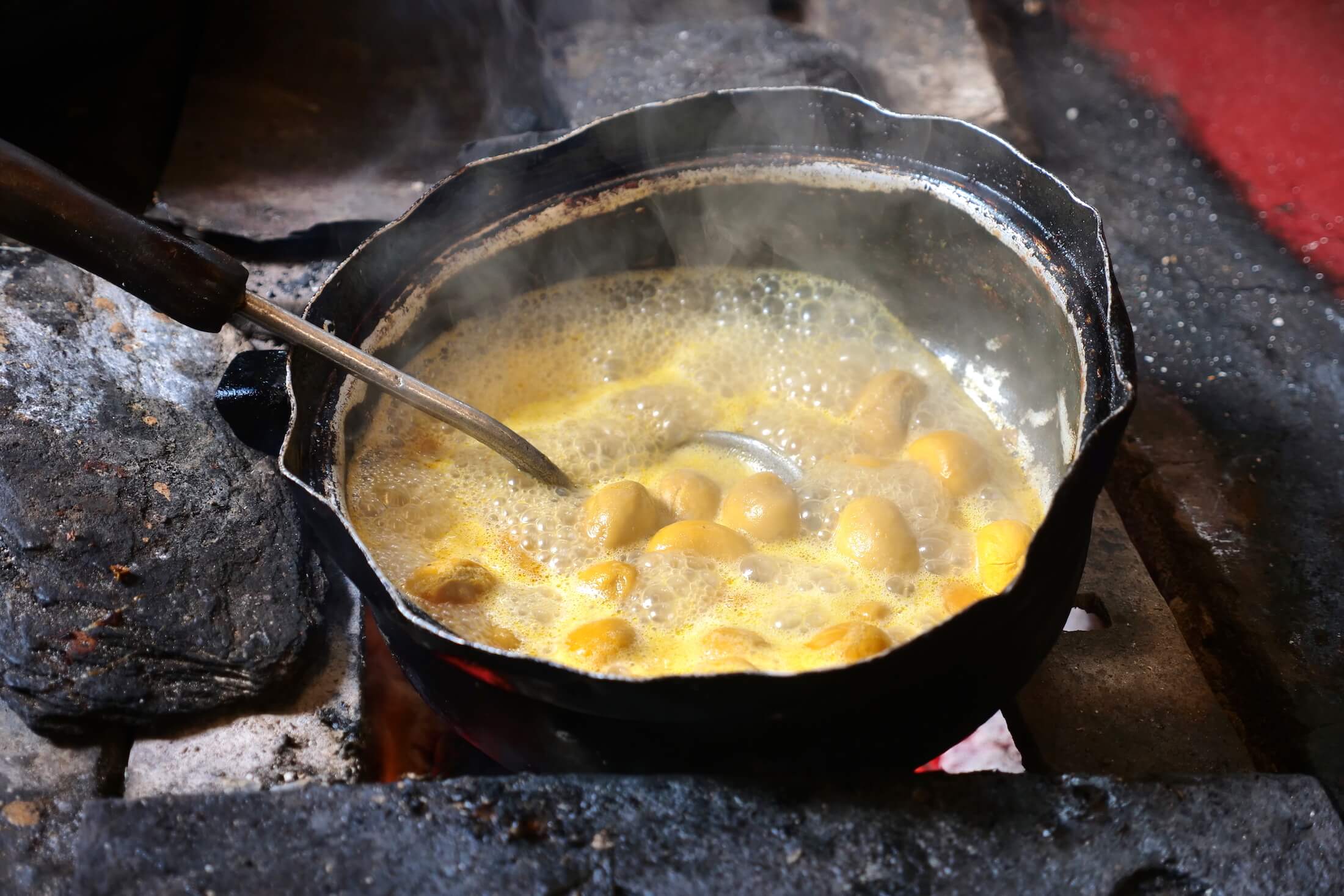 Cooking with Pequi Fruit
Starting right away to prepare the dish of Pequi, this motherly head chef rinses the fruit several times in cold water, then sets it frying in some oil. She adds just a bit of water to the saucepan, and fries it to let the pequi fruit's own juices run out.
The fruit needs about 15 minutes in a frying pan to soften the outer skin, during which you can sample one of many other examples of traditional Brazilian cuisine (amazement continues wherever you go in Brazil).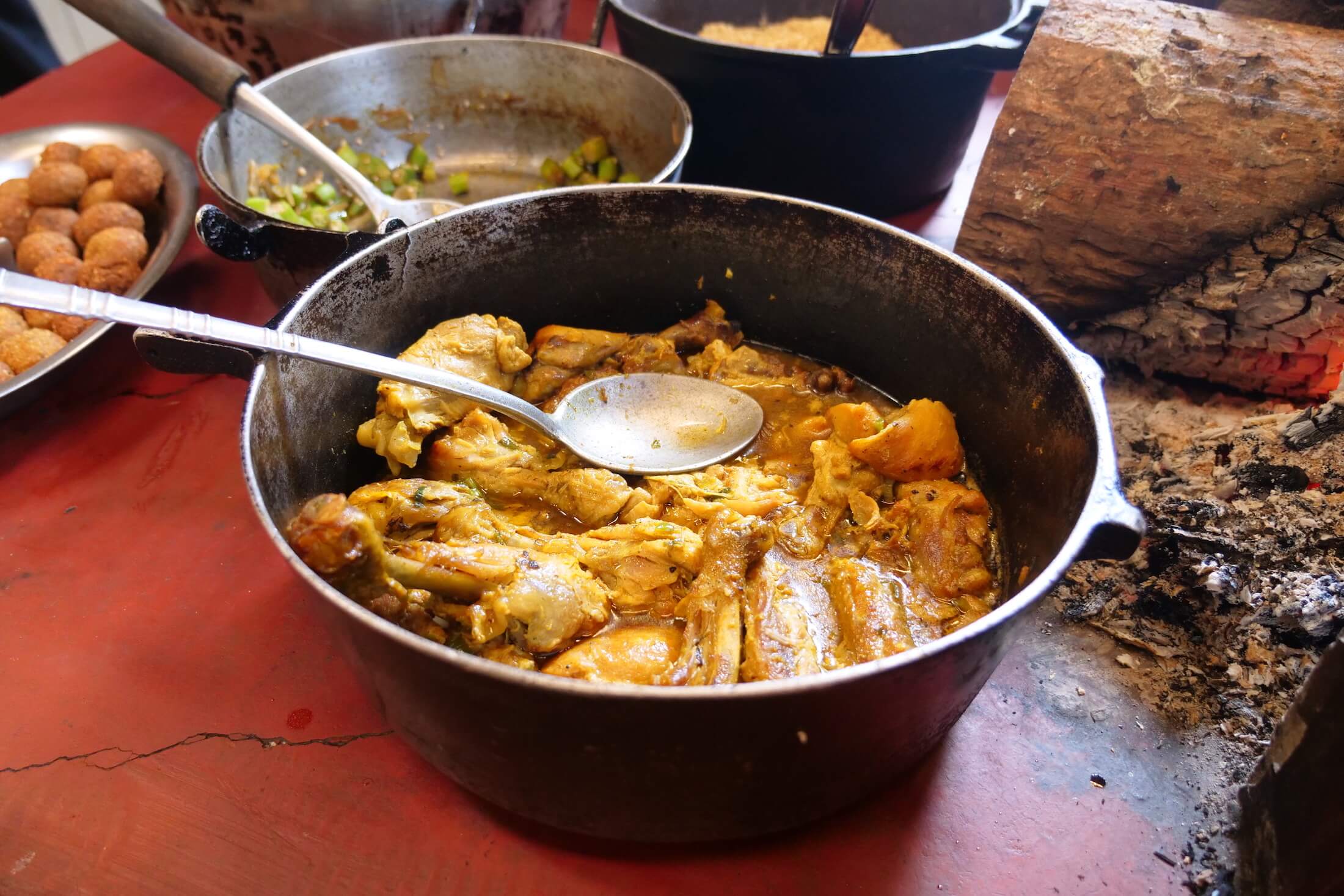 Traditional Recipe of Galinhada
Galinhada is another one of the foods people in this part of Brazil love to get together to eat.
This dish is pure Goiàs comfort food, and we had no problem sampling it as the chef invites us, showing us around to try a few other dishes first (possibly to relax our massive excitement for pequi…)
Galinhada is meaty, its full of garlic and onions, and has lots of dry spice flavor. This is another dish you should be on the lookout to try in both Minas Gerais and Goiàs states, the South-Central hill country of Brazil.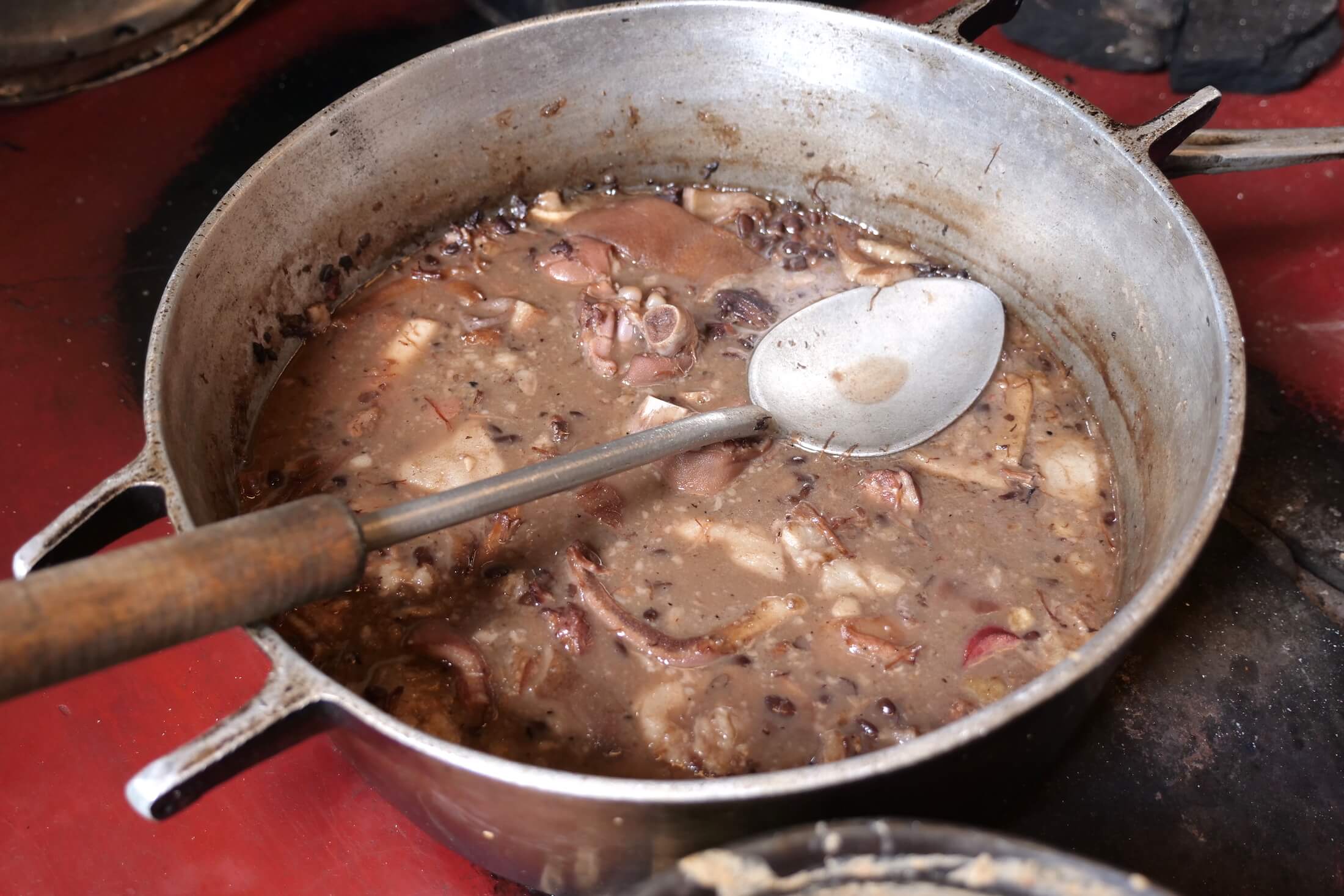 Feijoada "Soul Food"
Just one more dish that's packing seriously hearty flavor, this dish is so porkily creamy, so meaty, that some people even name Feijoada as "Brazil's Soul Food."
We were fortunate to have some simply stunning versions of Feijoada in Rio de Janeiro as well – so this was not the first time our minds and palates were blown away by Brazil's love of pork fat and pressure-cooking black beans.
This assortment of pig parts here today though, cooking with onions, cassava powder, and obvious motherly love (the chef really took care of us here today), I could easily come back to Restaurante Braseiro just to have more Feijoada.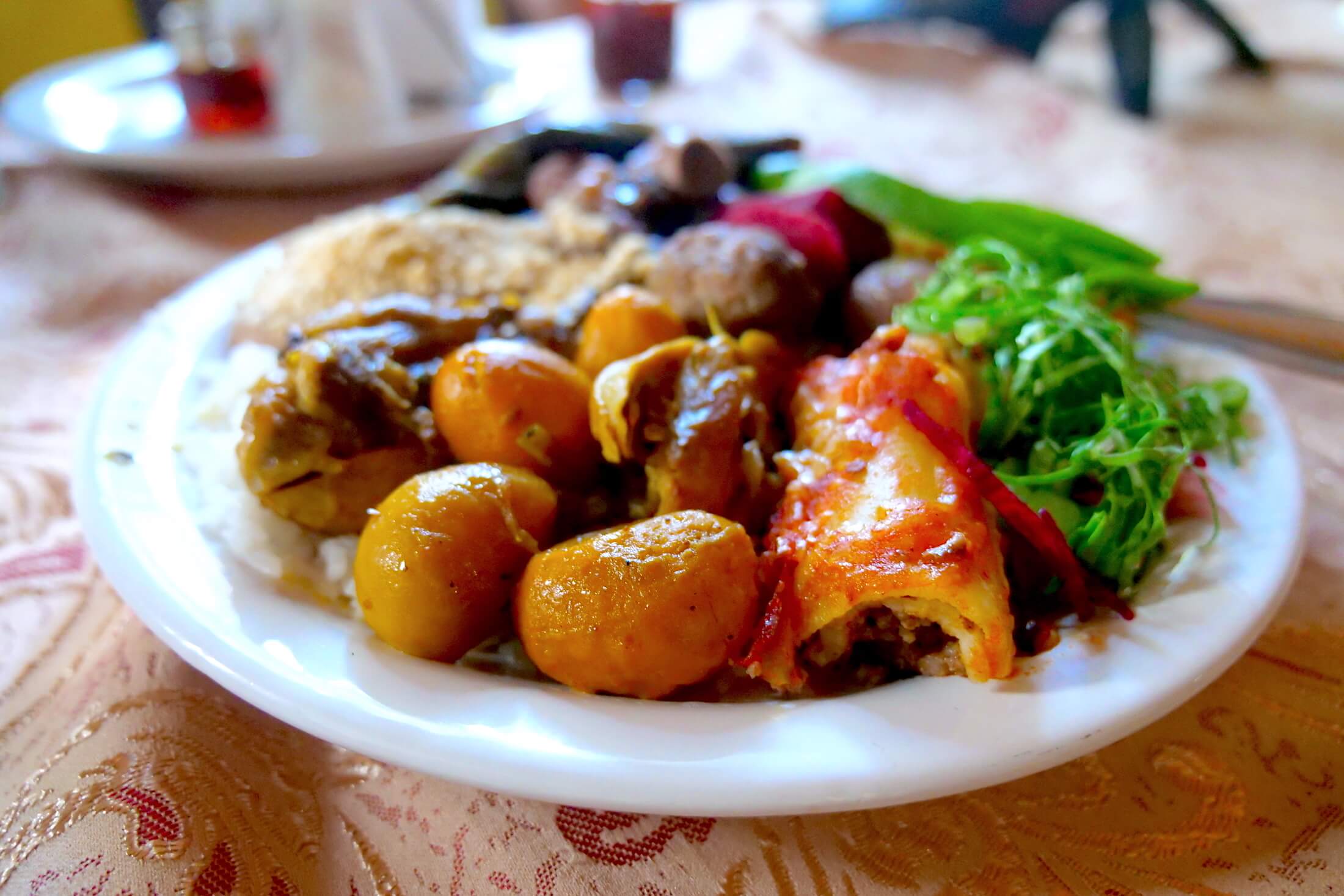 Hearty (Cheesy) Flavors of Pequi
Finally, its time to taste the first bite of Pequi, and I just love the wonderful tension that comes with being in the presence of totally unknown flavors.
As all the amazing flavor slowly takes hold of my tastebuds, I absolutely want to bite straight into the center of this pequi I'm holding. My friends assure me this would be a terrible choice though, bringing an abrupt end to the meal, and a doctor removing hundreds of tiny spikes from our tongues.
The Technique Is To Use Only Your Teeth
The trick to eating pequi is patience, and small rabbit-like movements with your teeth.
Don't think of it like a food, for safety you can think of it maybe more like a treat, or a completely un-sweet dessert that you savor.
Moving around the fruit, you only scrape off a little bit at a time. I can't say it enough – to stay safe, you really have to be patient.
Enjoy this delicacy, but do it carefully… but, oh the flavor!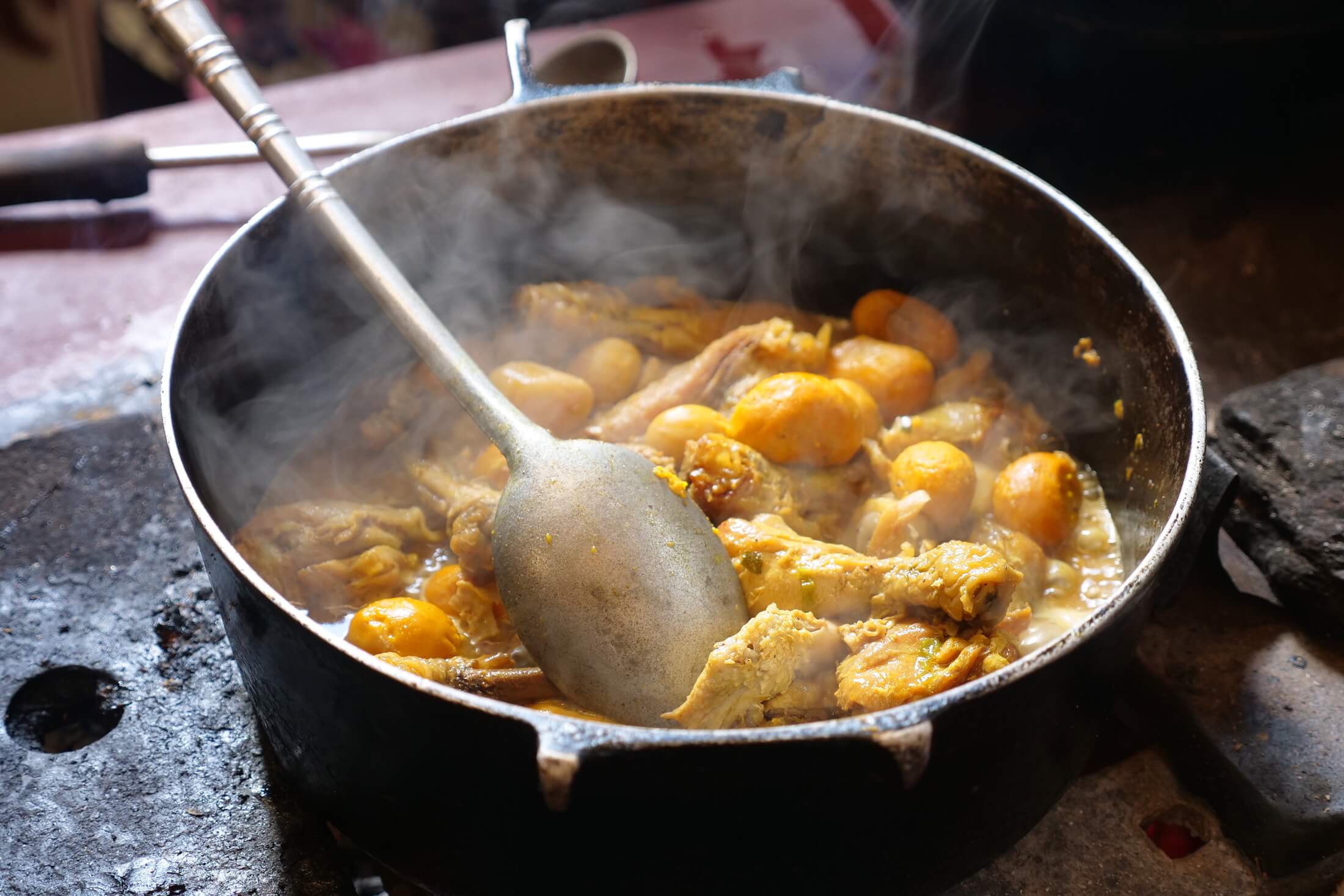 Cheesiness in Fruit Form
I can only compare the experience of Pequi to biting a soft rind off of a thick cheese.
You just can't help but want an entire mouthful of it, both the texture and the flavor of pequi both are just so unique!
It starts to get a bit rubbery, but not gummy, its nicely and texturally bouncy, and if you close your eyes, at no time at all could you ever think that its a fruit your mouth is going crazy over – its amazing.
You Can Only Prove It By Eating It Yourself
To all the special-food foodies out there, Pequi is something that you need to know about – you just have to prove to yourself that the possibilities are real. Its a fruit that tastes, feels, and even smells a bit like cheese – its just so unique – the only way to do this of course is to visit Central Brazil, go to Goias town, and enjoy some Pequi for yourself.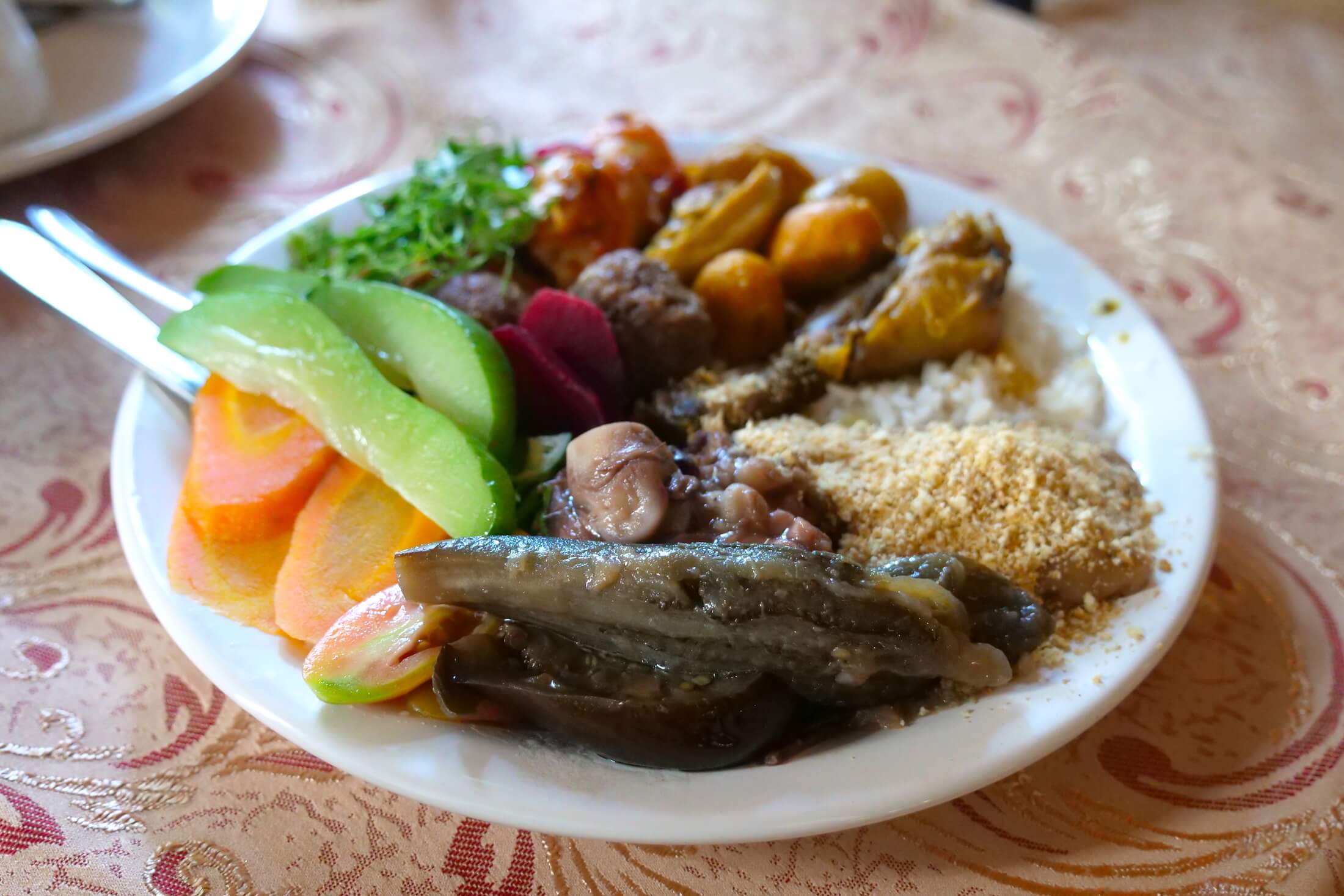 Get Ready for Round 2
Even after all the taste-testing, and then the a plate each of the main courses (and another plate of salad), there are still so many dishes left to try.
Its a fact of food life in Brazil that both modern and traditional recipes include a blend of both beautiful local flavors, along with tons of foreign cooking styles.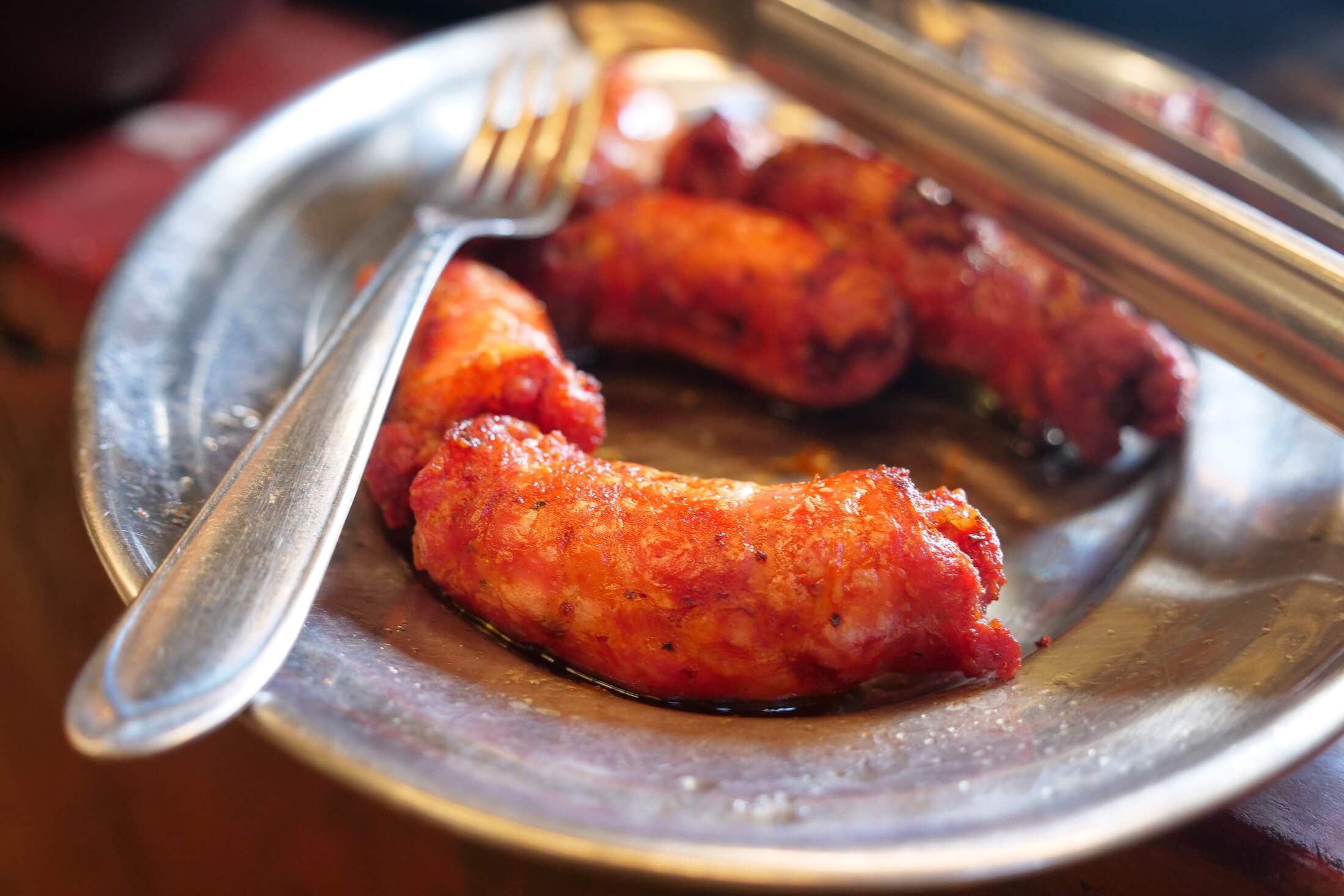 Linguiça (Sausage)
You can easily go overboard on sausage in Brazil, and I will definitely recommend that you get your fill in Goiás as well.
With the European influence meeting an abundance of local ingredients and food traditions, you can get some truly joyful combinations, Brazil makes many in all your favorite tube-style meats.
At Braseiro Restaurante today, the sausage is porky, quite oily, and gloriously crunchy on the outside. Frying in olive oil, but definitely heavy on the bits of pork fat (or lard), linguiça is unforgettable Brazilian comfort food.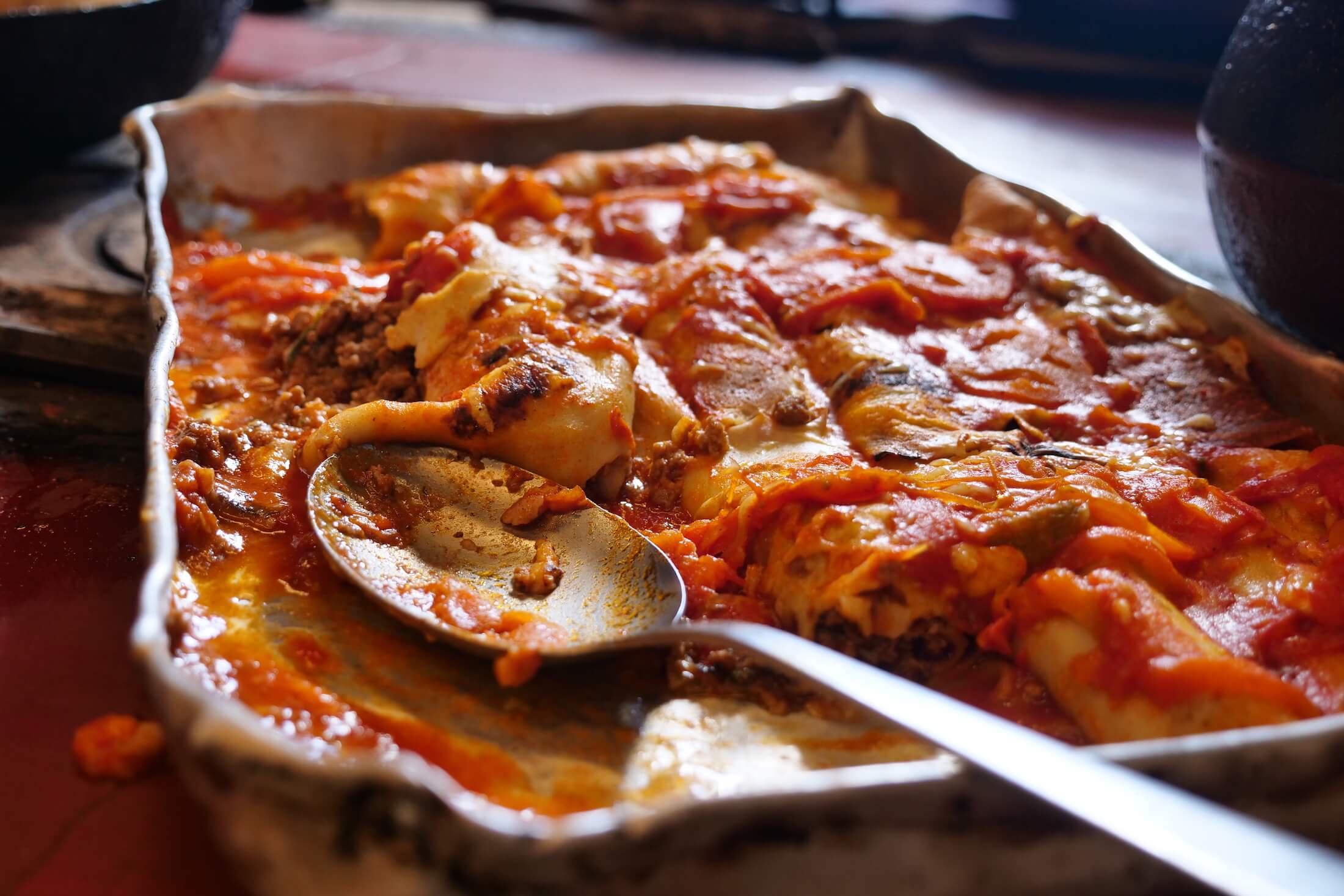 Lasagna
As delicious as the indigenous recipes of the Amazon are, in Brazil's larger cities the food life is often quite modern.
Everywhere you go, Brazil is eating daily meals of Portuguese-style sausage or Italian-style lasagna, almost as much as they eat meals of Brazil's own local street food.
Western Europe has been in contact with the coastal areas of Brazil for so long, that many foods brought by colonials (even more so, styles of cooking) have been eaten as local food in Brazil now for hundreds of years.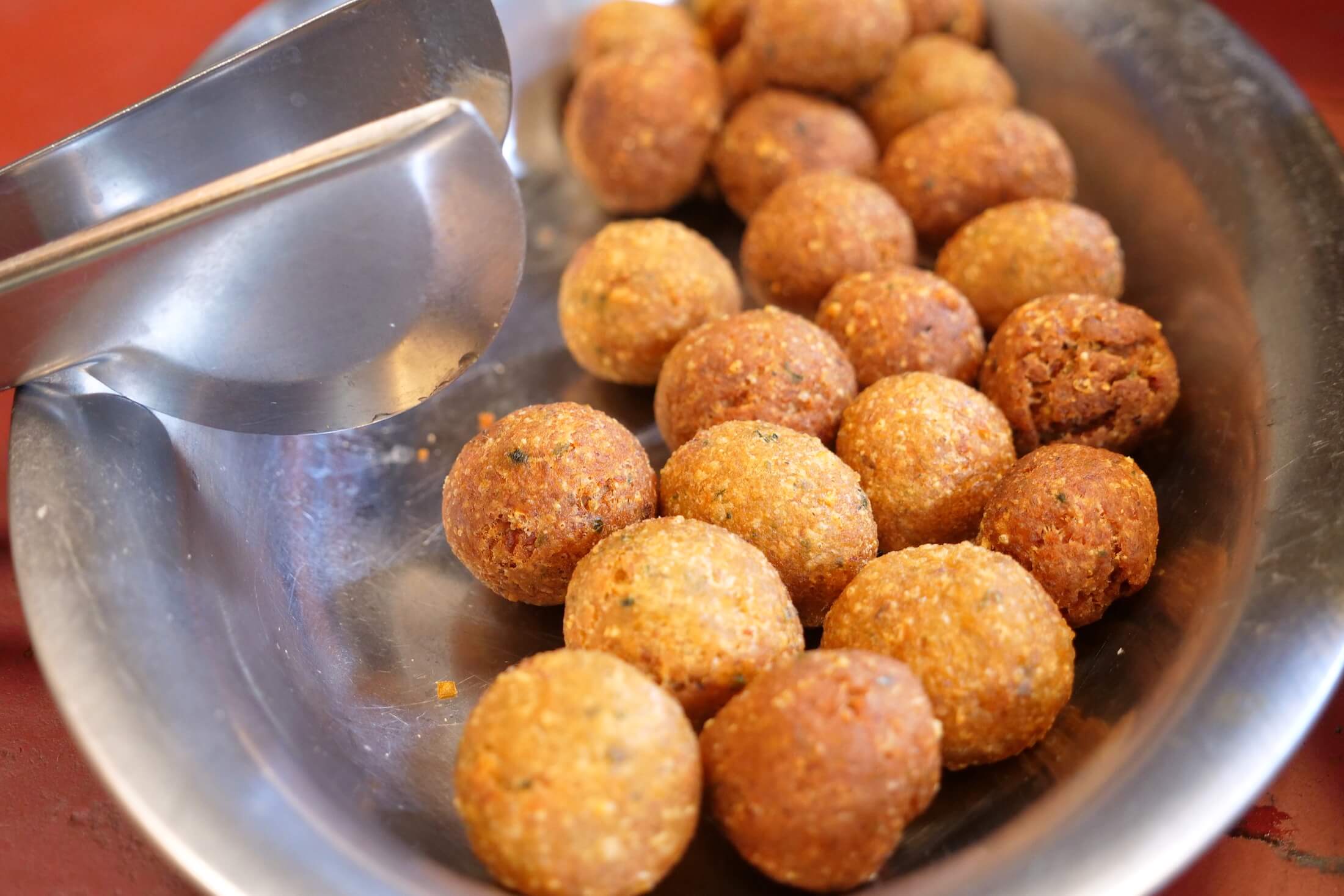 Brazilian Beef Crisps
Even foods like 'Kibe' are very popular in Brazil, these small round balls are ultra-crispy, and full of wheat with lightly spicy ground beef.
Beware!
In any other meal, I would advise you to totally let yourself go… but as these little balls are so similar in size to Pequi (especially if you are eating with the excitement that I do), make sure of what you're putting on your fork or spoon before you bite all the way in.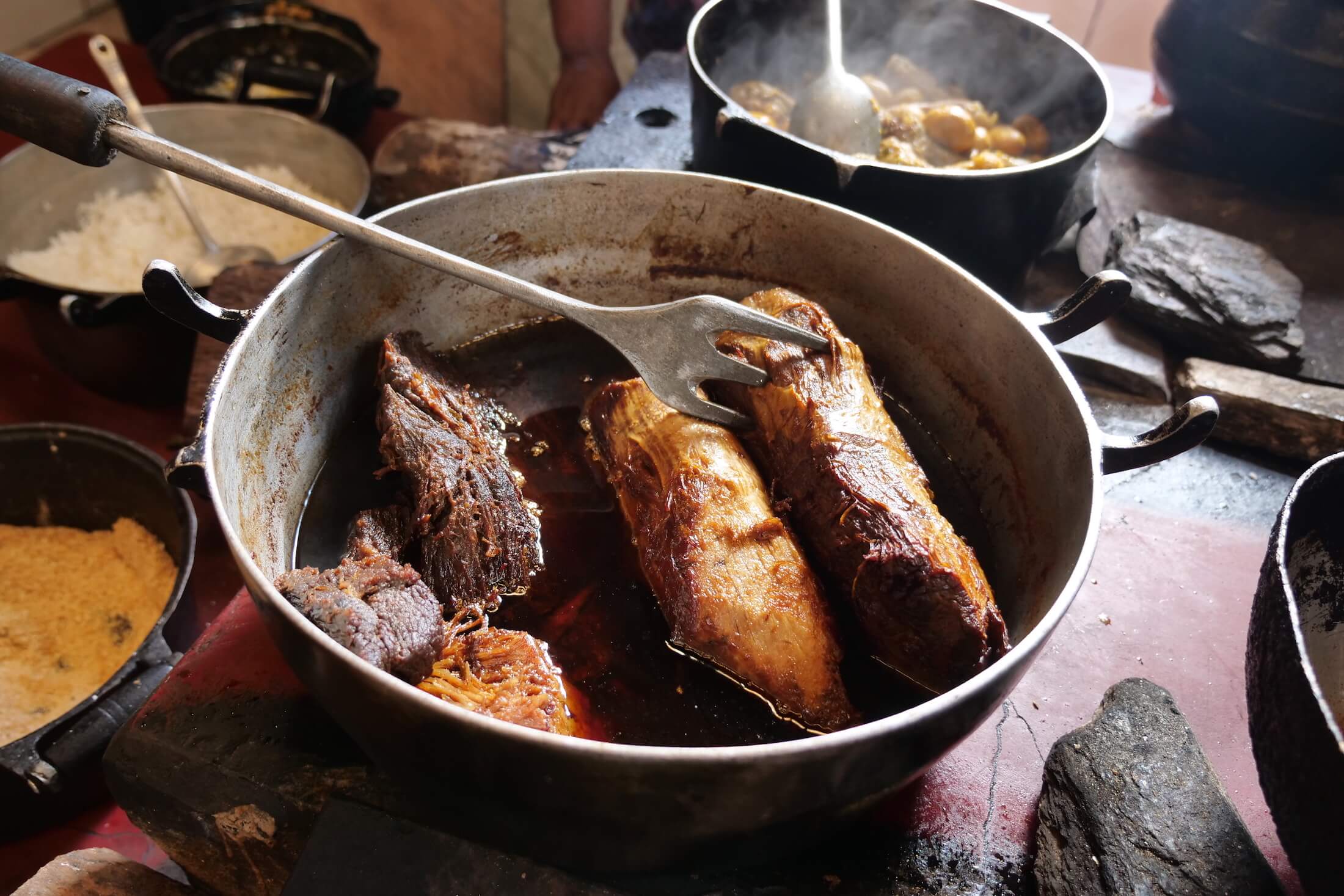 Soft, Stewing Beef
There are a few meat-and-more-meat dishes to end the meal, like these huge chunks of slow cooking meat, amazing flavor in the soft, stewing beef.
Food cooking like this will likely always be delicious, no matter where you go in the world.
The beef is just as tender as it looks, and I would definitely have even more if there weren't the other one-of-a-kind items in this meal (don't worry though, South and Central Brazil do beef very well, you can have amazing beef pretty much every day you're here).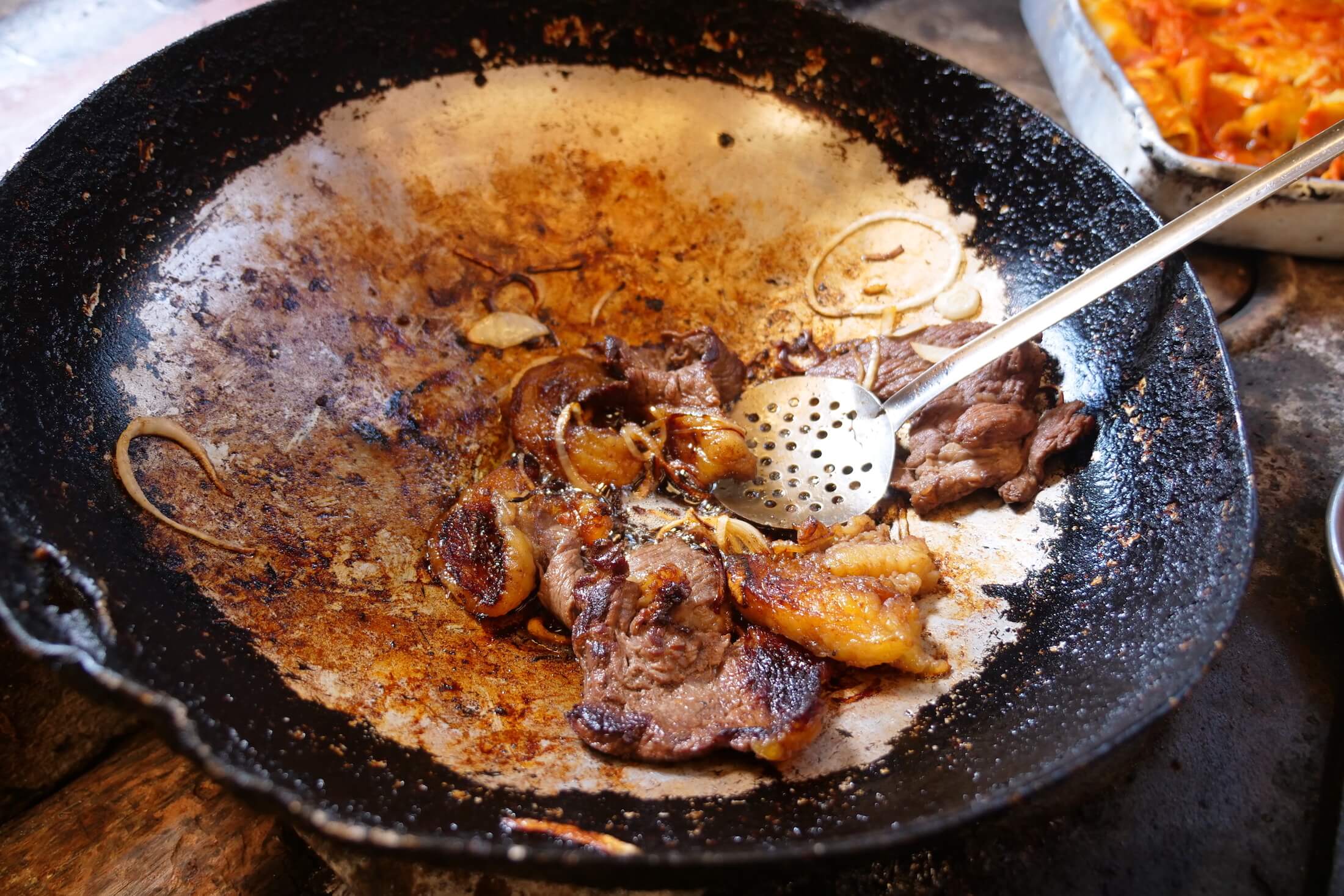 For Such an Amazing Price
I can't believe how much food there is here today, its incredible to have such an assortment of food all available for such a single low price.
This just goes to show you though, that this family is not in the restaurant business just for profit – they are doing what they love to do, with delicious benefit for us all.
Name: Restaurante Braseiro
Address: Google Maps (link)
Open hours: Monday-Friday, 11am to 2pm, (Sat-Sunday Closed)
Prices: R$100 (US$25) for our meal of 5, its R$20 per person for all you can eat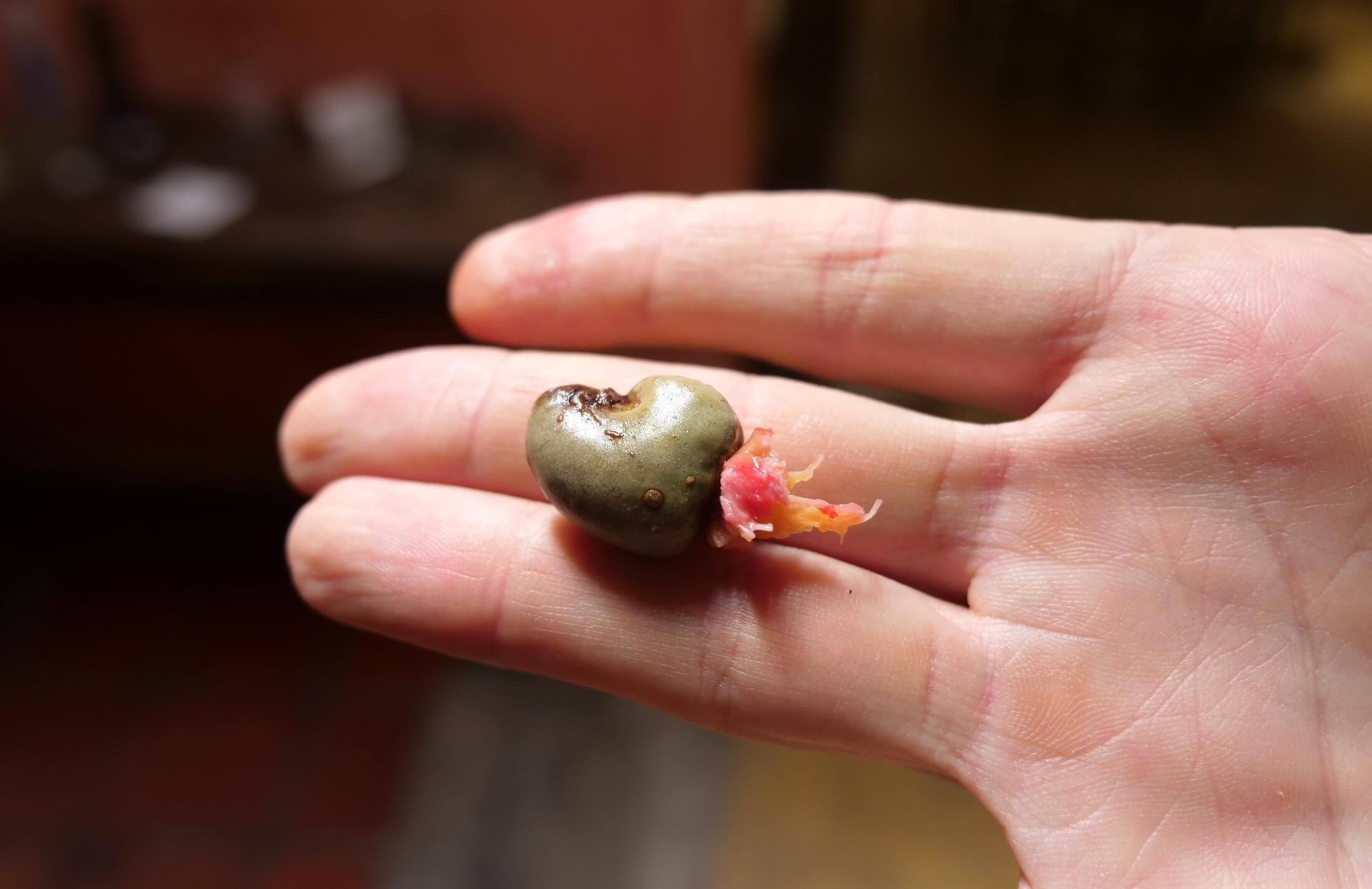 Travel for Food Complete
Complete with beautiful culture, natural beauty, and so abundantly full of unique local foods, Brazil should be the next destination of anyone who loves travel for food.
For more of exactly that, check out the articles below. These are individual articles from our time in Brazil, telling stories of food, of Brazilian culture, and all the delicious interactions between.
Finally, in the comments section below, let us know which one excites you most!
More Brazilian Food Articles:
A day spent swimming, climbing, and eating açaí on an island in Belém, in Northern Brazil,
a 24-hour itinerary for one of the coolest cities in the world, Rio de Janeiro, South Brazil,
or an international-trip-worthy world's best street food snack, Acarajé, in North-Eastern Brazil.
(closer to home, here's one from the archives)
Eat South East Asia's best food, in Melaka, Malaysia, Asam Pedas sour-spicy soup)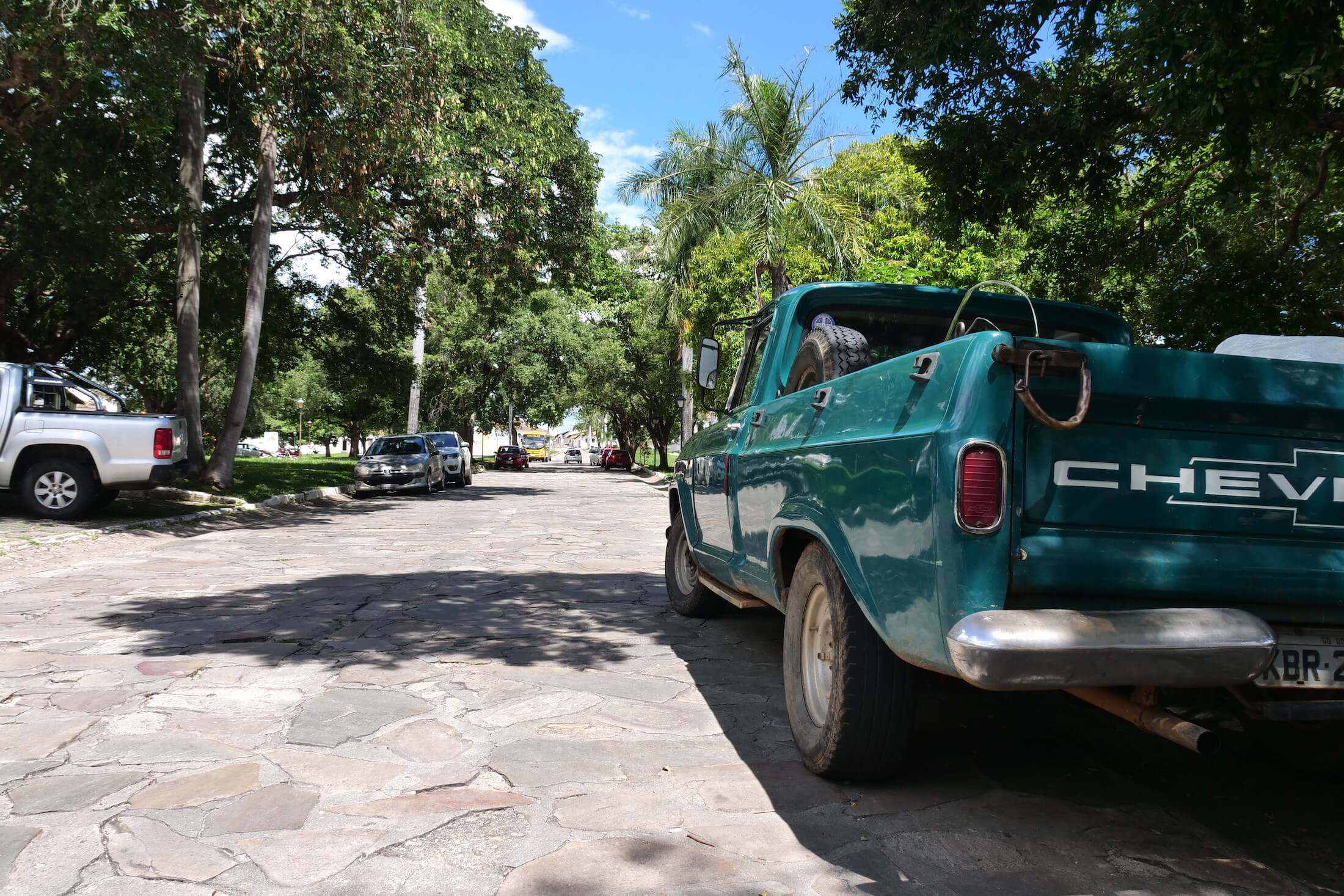 Additional Travel Info
You can watch the YouTube video (here) to see how much more there is to explore in this beautiful old town of Goiàs, Brazil.
Driving to Goiàs from the capital city of Goiânia takes two hours, a distance each way of about 175 km. The road quality is fine, its smooth highway for most of the way, and you will pass through some gorgeous small towns amidst huge rolling green hills – this is pure Central Brazilian countryside.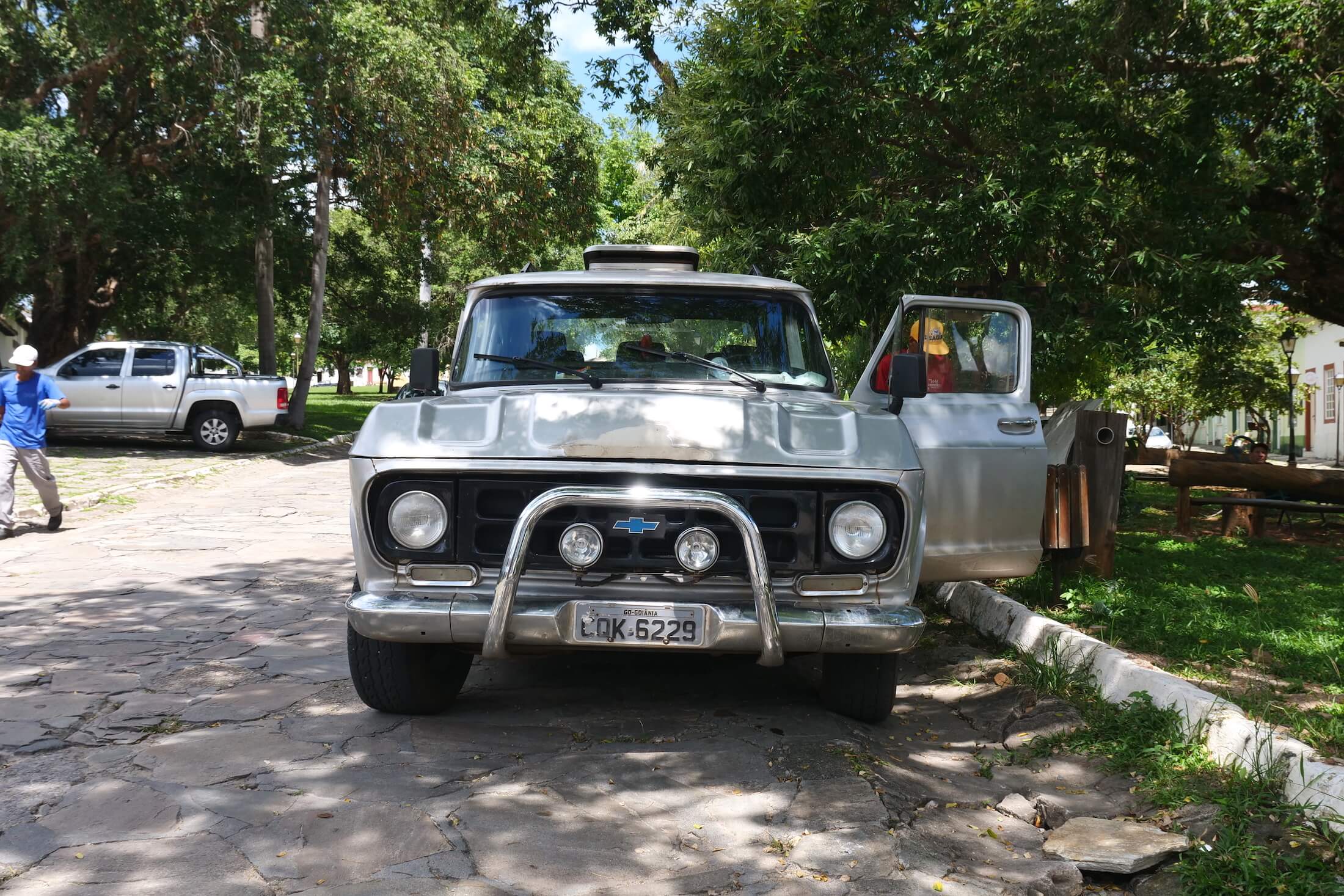 Car Info
In a rental car, driving from the Ibis Hotels in downtown Goiânia, visiting the Central Market first, and then continuing out of town, the day-trip takes about five hours of travel in total.  You can possibly plan on a full 10 or even 12 hours today, including the morning market, the drive, lunch, and a walk around the old Goiàs town (beautiful place).
When stopping for fuel, petrol prices (in April 2019) should be somewhere around R$2.8 per L for ethanol, and R$4 per L of gasoline.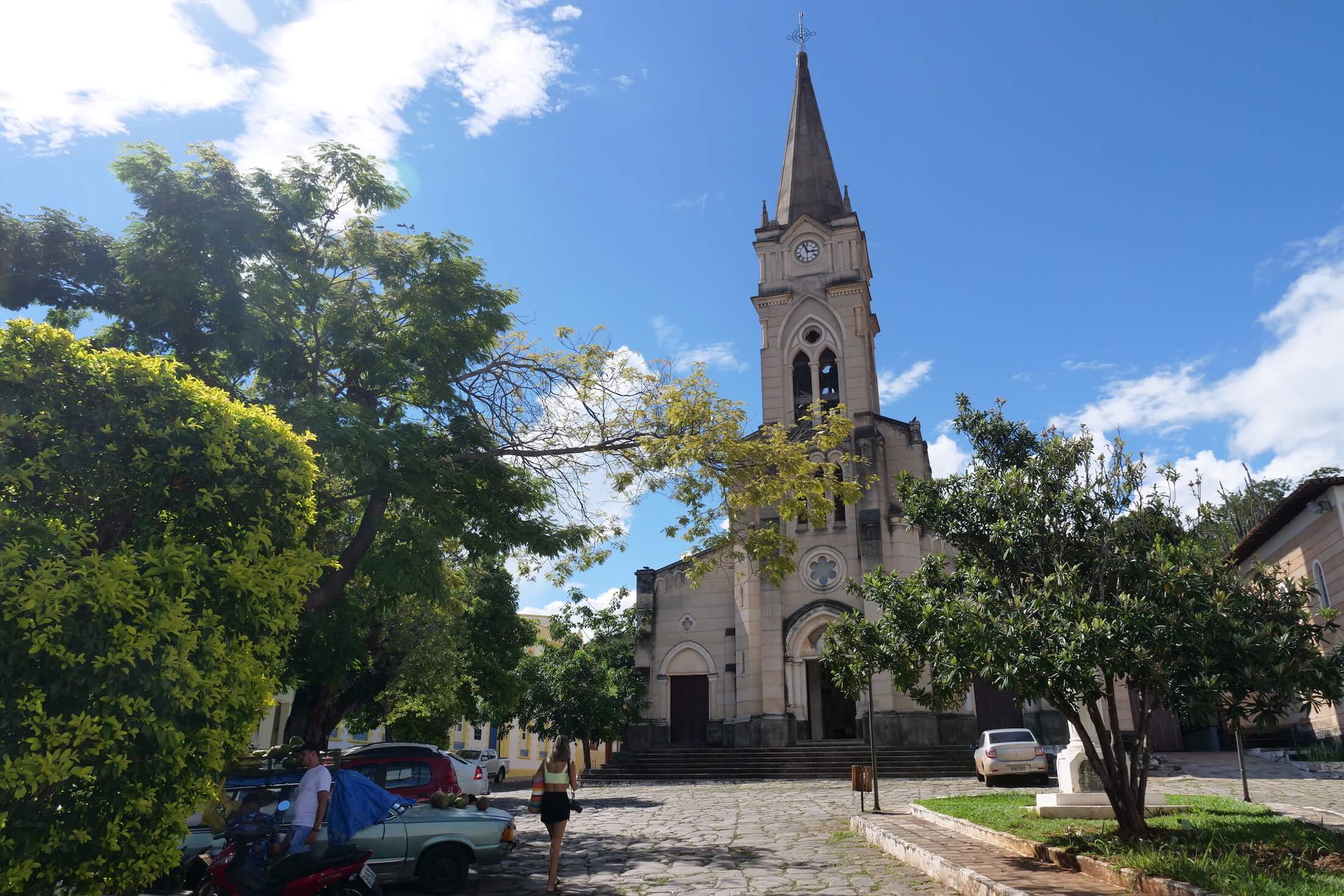 Igreja do Rosario
After lunch, its a good idea to take a walk around the town of old Goiás.
A good idea to give yourself time to digest, but also a walk is smart – I know that nobody should be trusting me with any decisions at all after a meal as delicious as that one!
This amazing church (photo above) is about 500 meters down from the restaurant, you will easily see it when turning left out of Restaurante Braseiro's front door.
Inside, the cathedral ceiling is gorgeous, and if you are visiting on a day like we did, then its a day that deserves a maximizing-appreciation sit-down.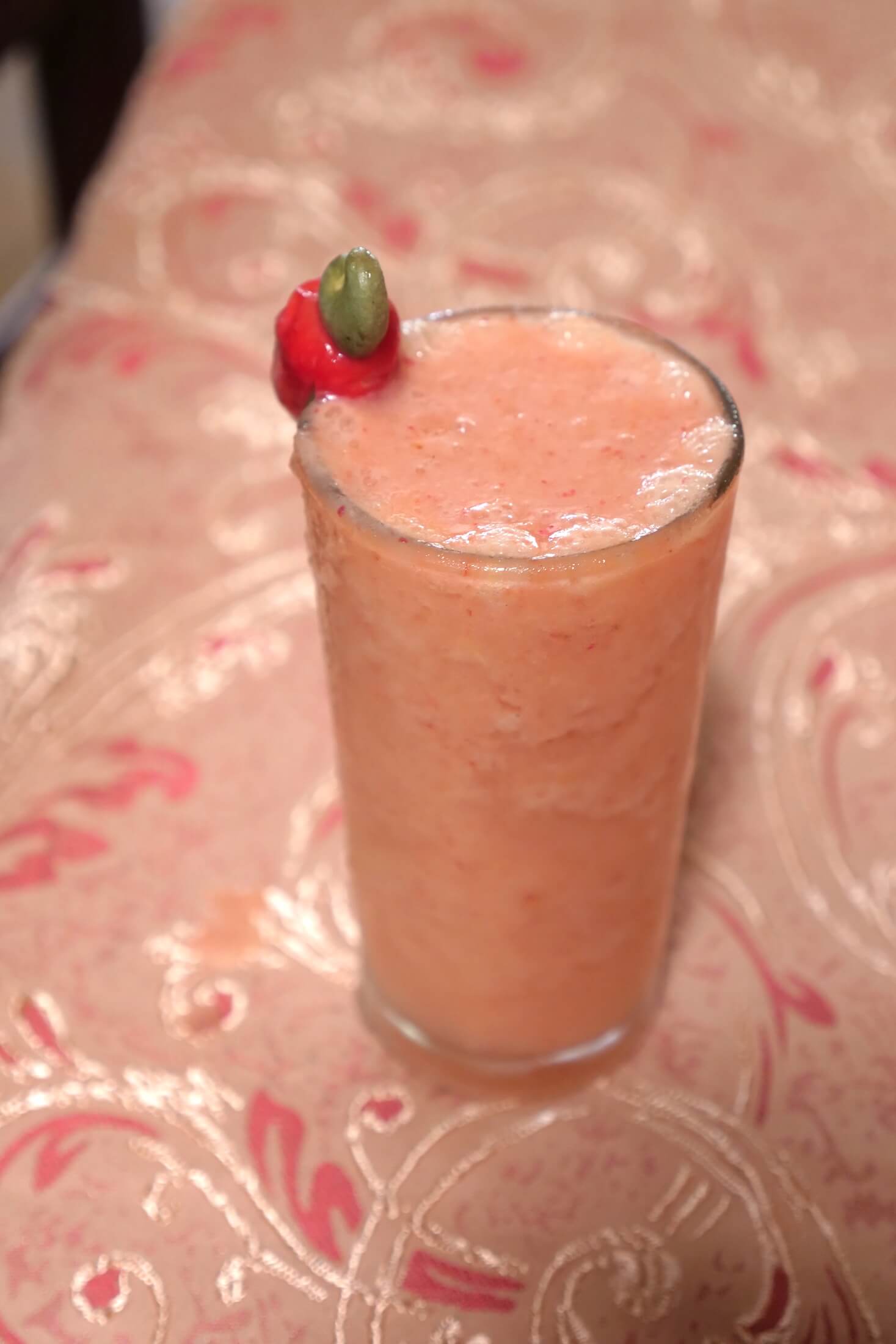 Fruit Juice, and Coconuts
Back at the restaurant, the owner even took some time to introduce to us some local fruits – she made one with gariroba (sweet palm hearts), another with mango and goiaba/guava, and a final one with tamarind (absolutely incredible, most sourly delicious fruit juice ever).
She has these waiting for us when we were passing by a second time (its not a very large town), but I think these will be amazing on pretty much any day you find them.
If you see any street carts selling any of these fruit juices, I highly recommend experimenting!
5$R each today for coconuts as well, a fair price anywhere in Brazil, and people are usually having one directly from the back of a truck to enjoy a mid-day break.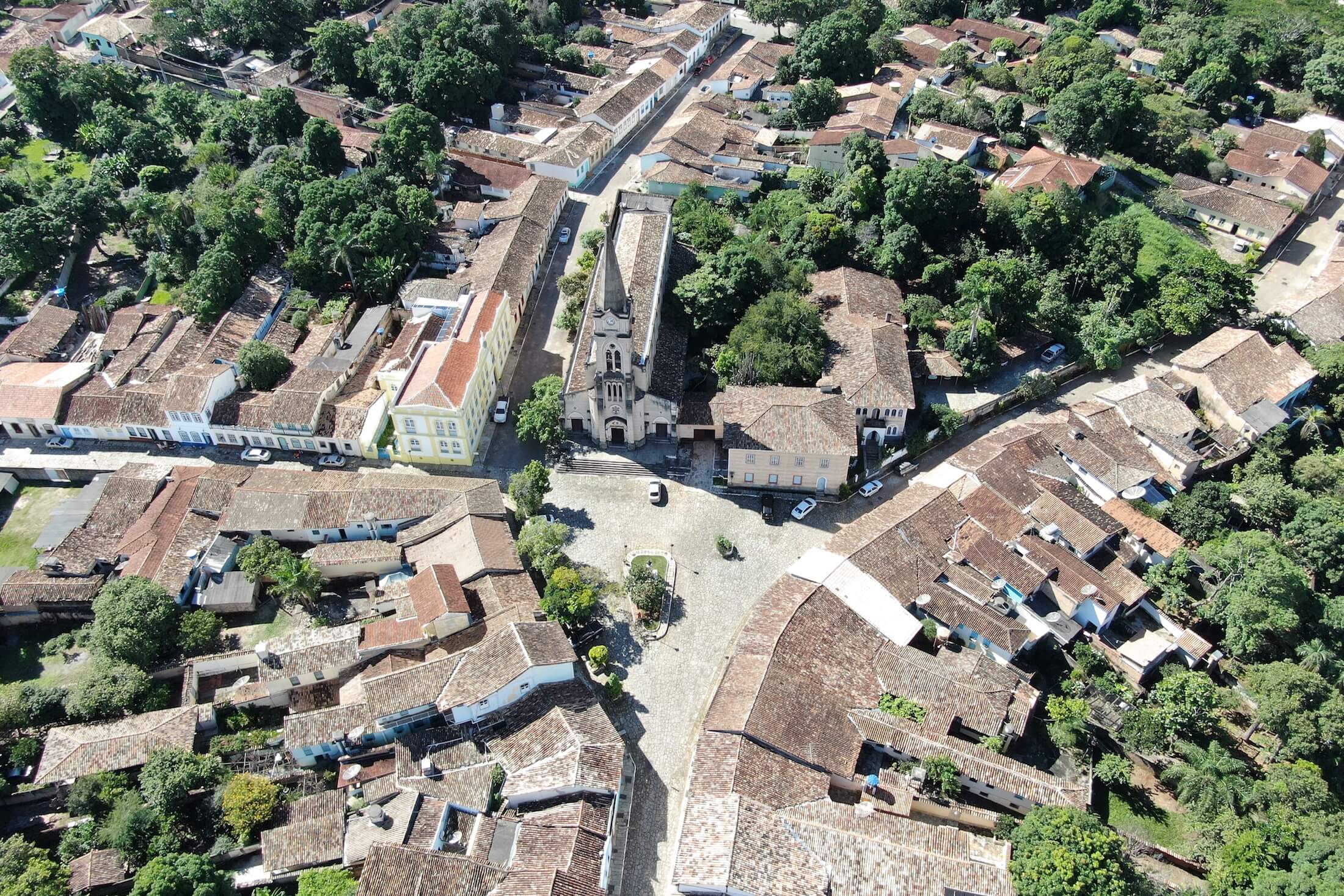 Get exclusive updates
Enter your email and I'll send you the best travel food content.