Rio de Janeiro is an amazing city, and absolutely one of the top travel destinations in the entire world when you want to Travel for Food.
Such a vibrant and warm place to be, in my opinion its also just one of the coolest cities on earth. Rio is a fun place full of (delicious) action for the entire time you are there.
Fortunate to visit Rio in May of 2019, I want to share some of our best experiences in Rio de Janeiro with you in this article.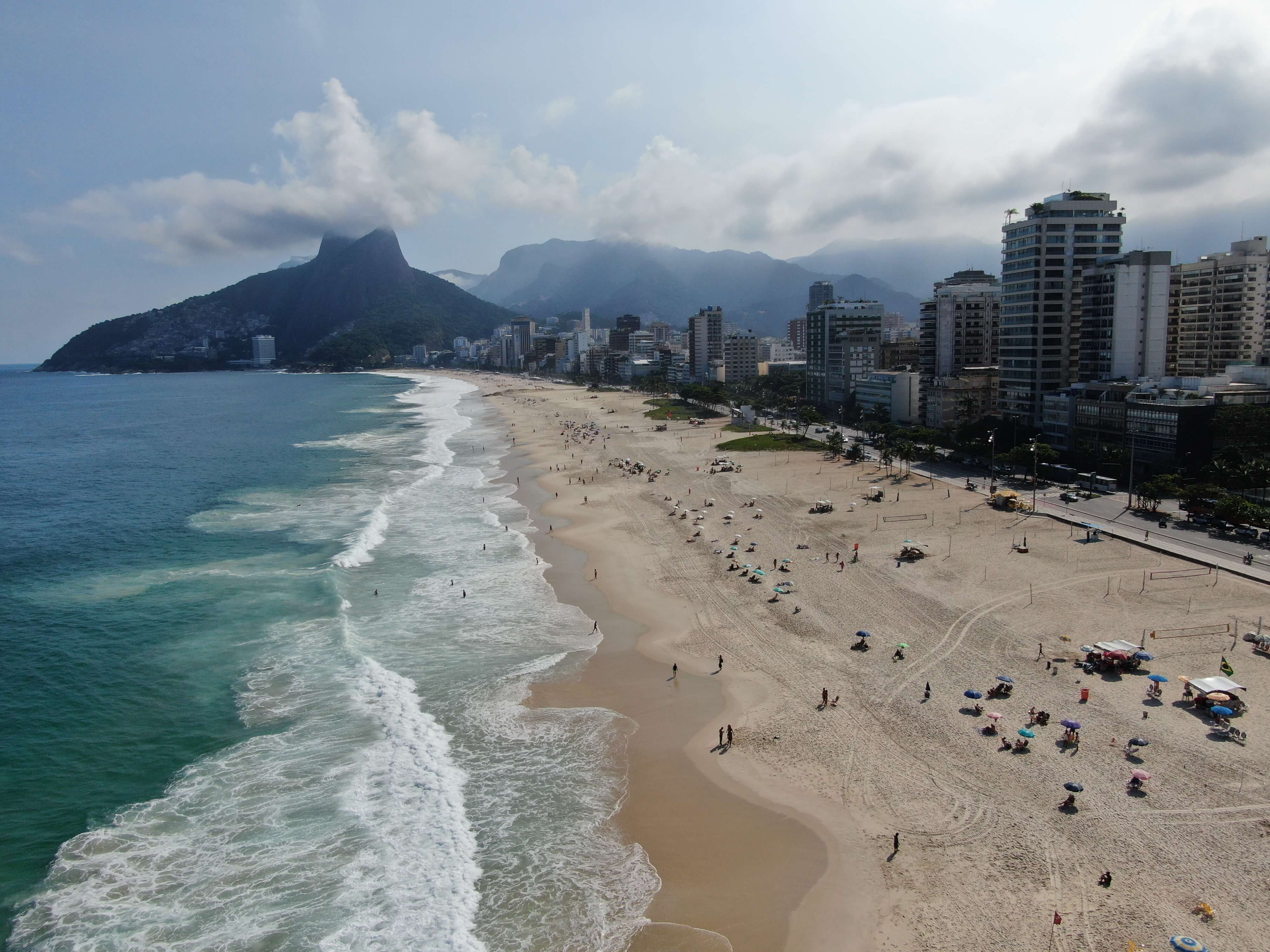 Rio de Janeiro Welcomes You
Rio de Janeiro gives off a uniquely Brazilian beach-style vibe, while also being a very modern, fast-moving, established yet still-growing city. This is something which I find captivating, and always intriguing, and I know you will love it as well.
You will simply love walking among the Rio city streets, while you're searching (and smelling) for Rio's most incredible and tasty street food.
In this article, we are going to share with you all of our recommendations – the things you can't miss, and the things you just have to eat, the next time you visit Rio de Janeiro.
Video link here (YouTube).
In case you haven't already watched our Ultimate Street Food tour day in Rio, I encourage you to check that out as well.
I hope you enjoy the article, and thanks as always for your faithful support!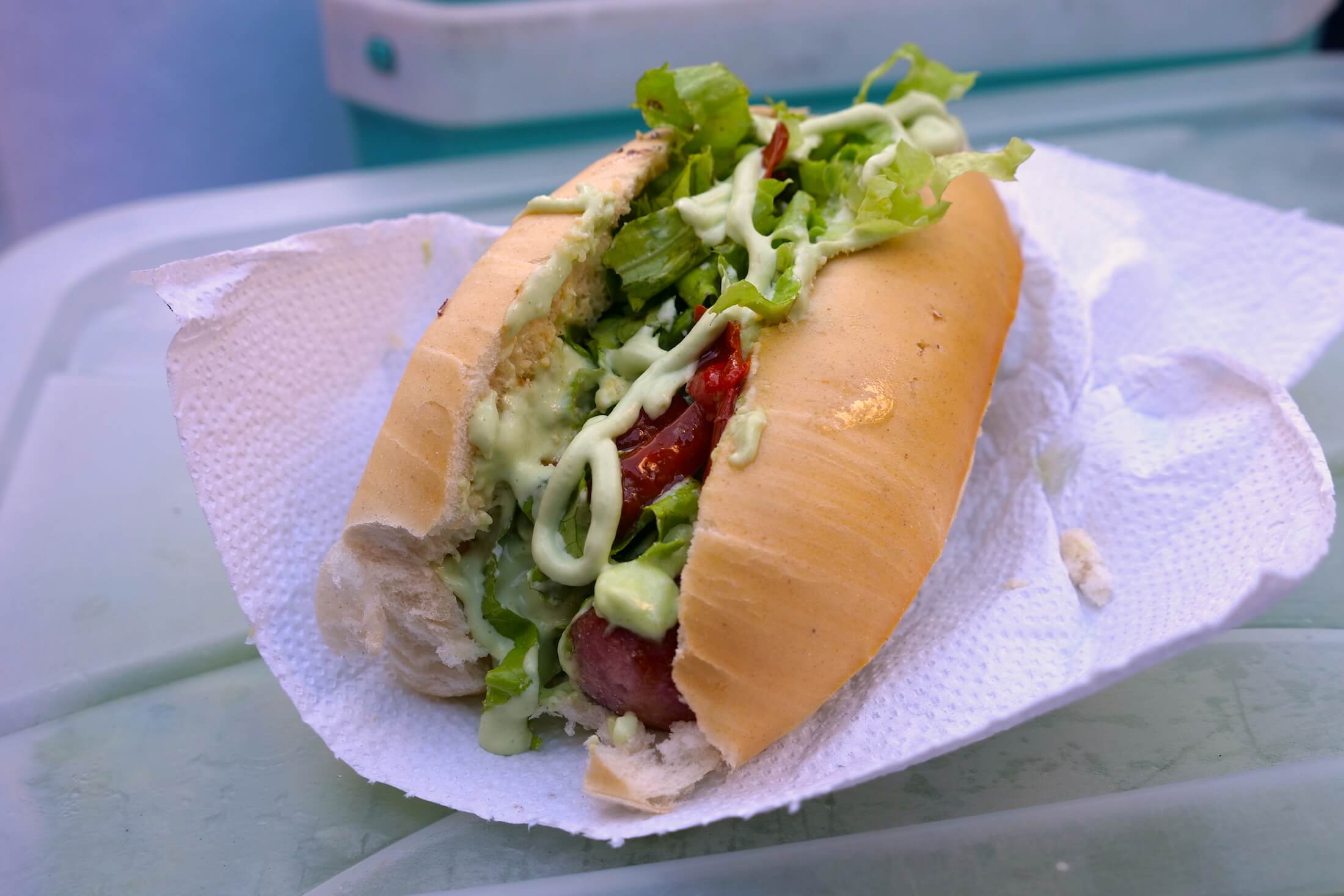 First Things First – Breakfast of Sausage
Waking up in Rio de Janeiro, Brazil, there is simply a huge list of things of wonderful things that you could choose to do with your day.
Of course, I will always recommend breakfast before anything else, and my personal favorite in Rio might be a sandwich of Minas Gerais-style grilling sausage.
Try 'Pão com Linguiça' with this friendly food cart owner. He is serving some of the most tasty sausage and sauce baguettes your mouth can possibly imagine.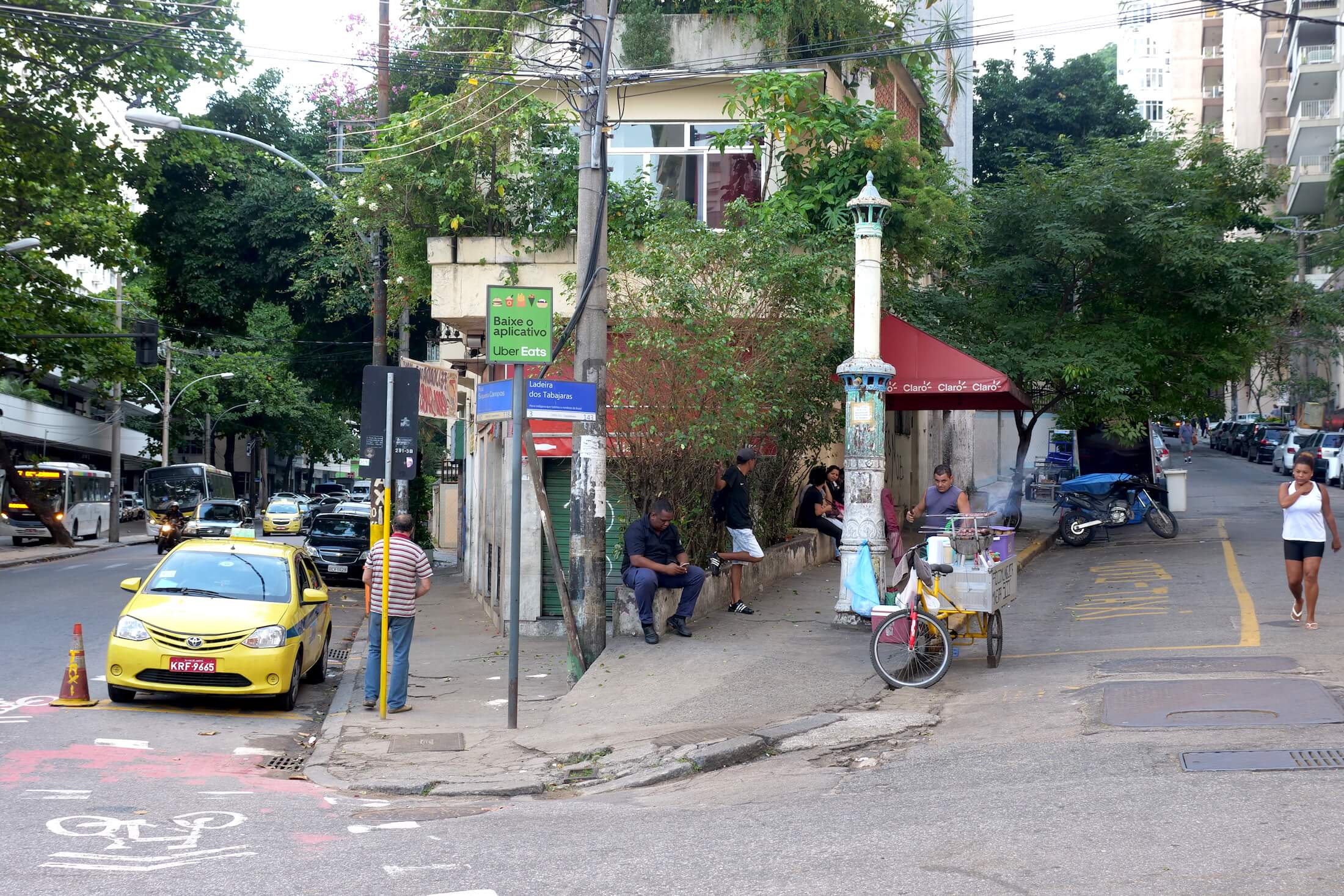 Morning Sausage Routine of Expertise
He cooks the sausages on a sort of home-made, quadruple decker grill contraption. A small pillar of smoke arises as he begins by expertly flipping and grilling dozens of sausages at a time.
On this busy street corner, he has these deliciously fatty, pink smoking sausages in perfect position. It should not surprise you at all when you find yourself uncontrollably forgetting whatever it was you had to do next, jumping for a place in line.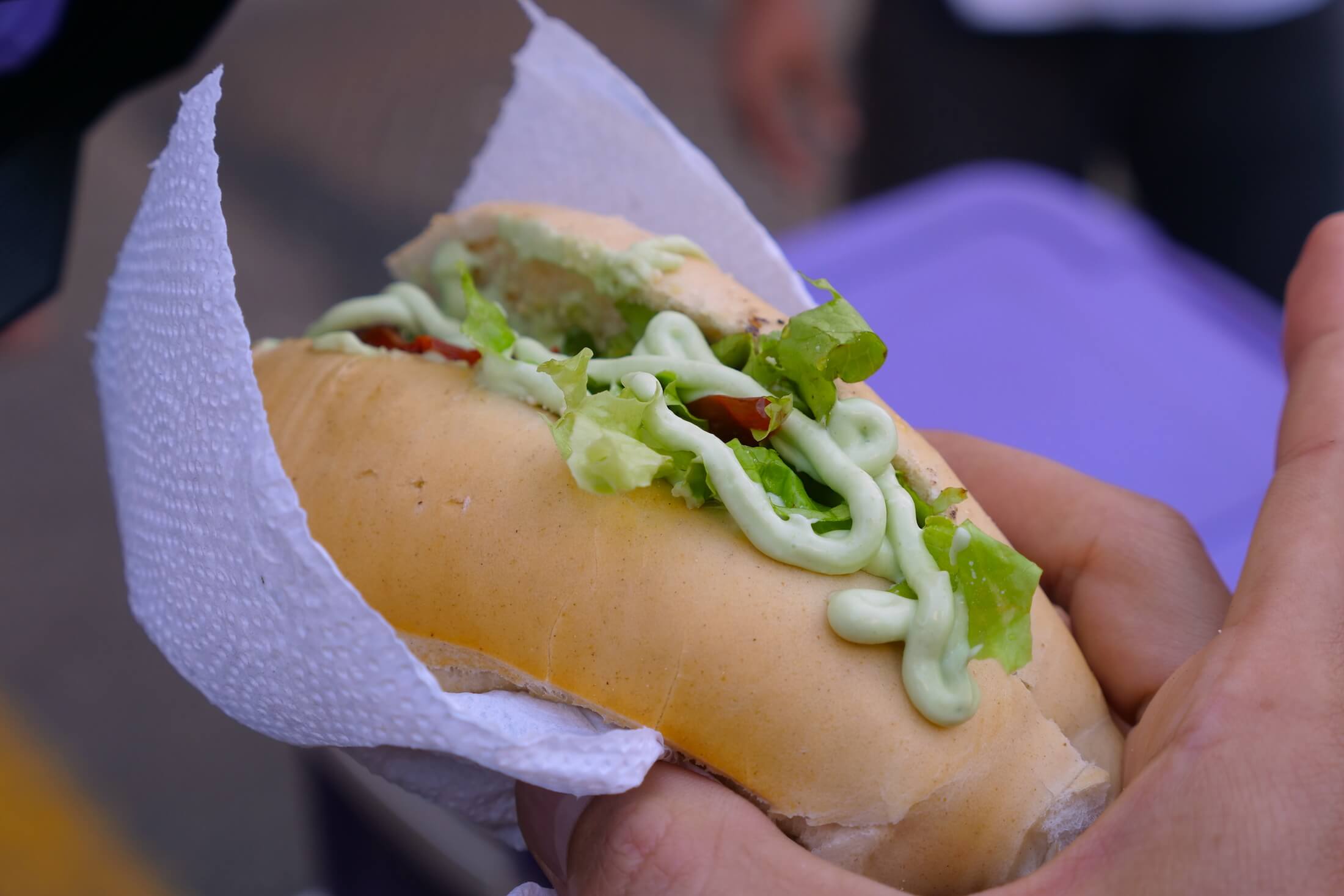 What to Order
The double-sausage combo sandwich is what everyone is coming here to eat. He serves it on a crisp, hot, miniature french baguette, covering this with a home-made creamy aioli sauce. He finishes each sandwich by stuffing it full of thin strips of crunchy lettuce, and a few shakes of parmesan cheese.
Local Tip: Don't forget to ask for an extra squirt of the special aioli sauce (he even keeps this in a little plastic lunchbox full of ice to maximize freshness), a blend that includes herbs and mayonnaise. Finally, you can even bump up your sandwich flavor further by some drips of oil into which he infuses some citrusy, spicy flavors, from Brazil's favorite hot red chilies.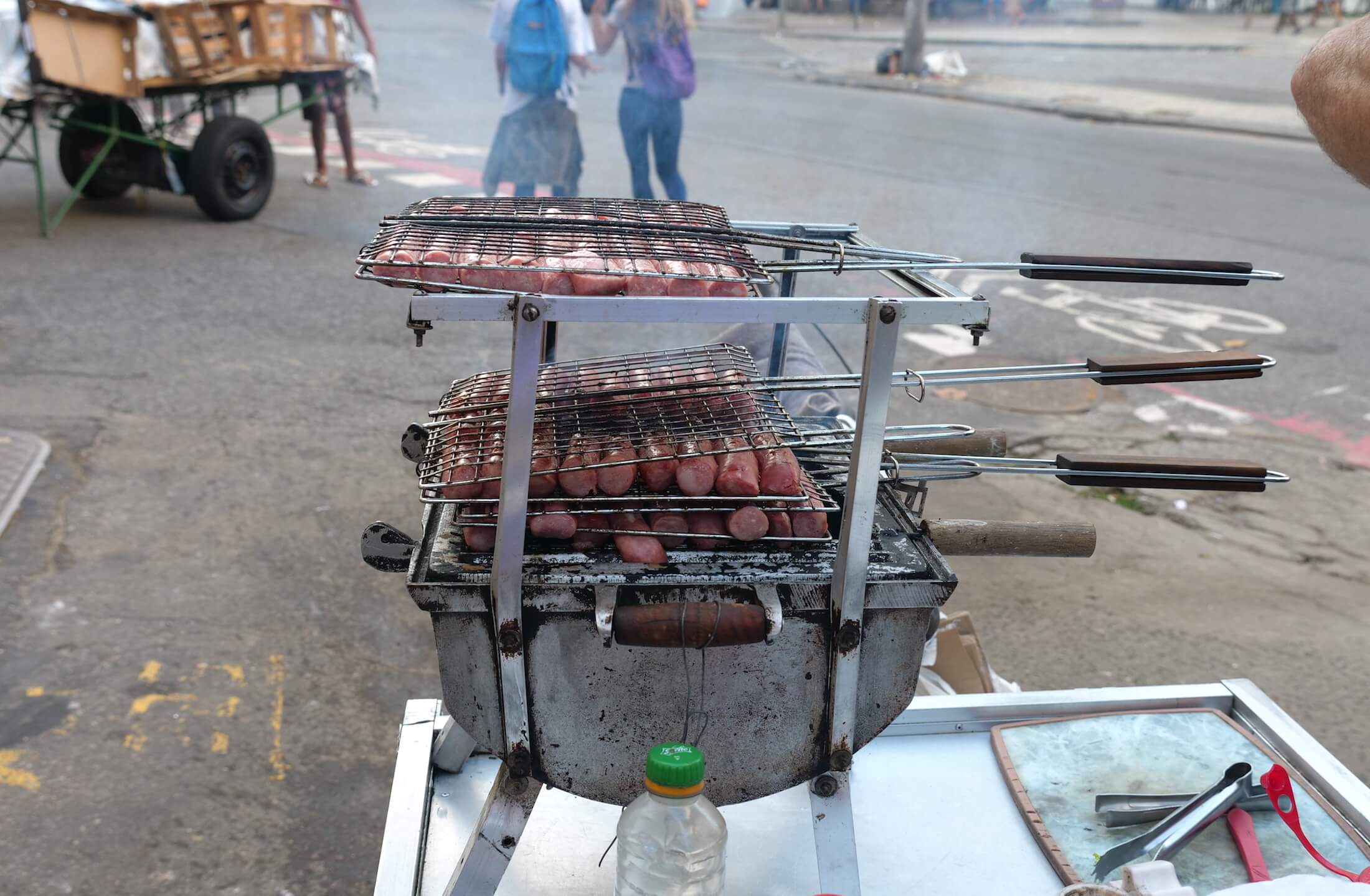 'Pão com Linguića,' means "Bread with [Wonderfully Smoky] Sausage"
As soon as the smoky sausage aroma hits my nose, there's no turning back. You can't possibly visit this street corner and not buy one (or four)!
It is fun to see how everyone is reacting, maybe waiting for a local moto-taxi or bus, or simply pedestrians just walking by – everyone around is drawn in like a tractor beam –  this is some seriously addictive sausage.
He sells sandwiches for just R$5 each (US$1.25) – in one sandwich you get two smoking sausages – so his supply will go in a hurry.
We got there right at 7am (just when he starts cooking), and he usually sells out in a few hours or less.
Location: Google Maps (link)
Hours: Starts cooking at 7am (sells until the sausage runs out)
Price: R$5 each (US$1.25), and 1 sandwich includes 2 sausages, lettuce, and toppings.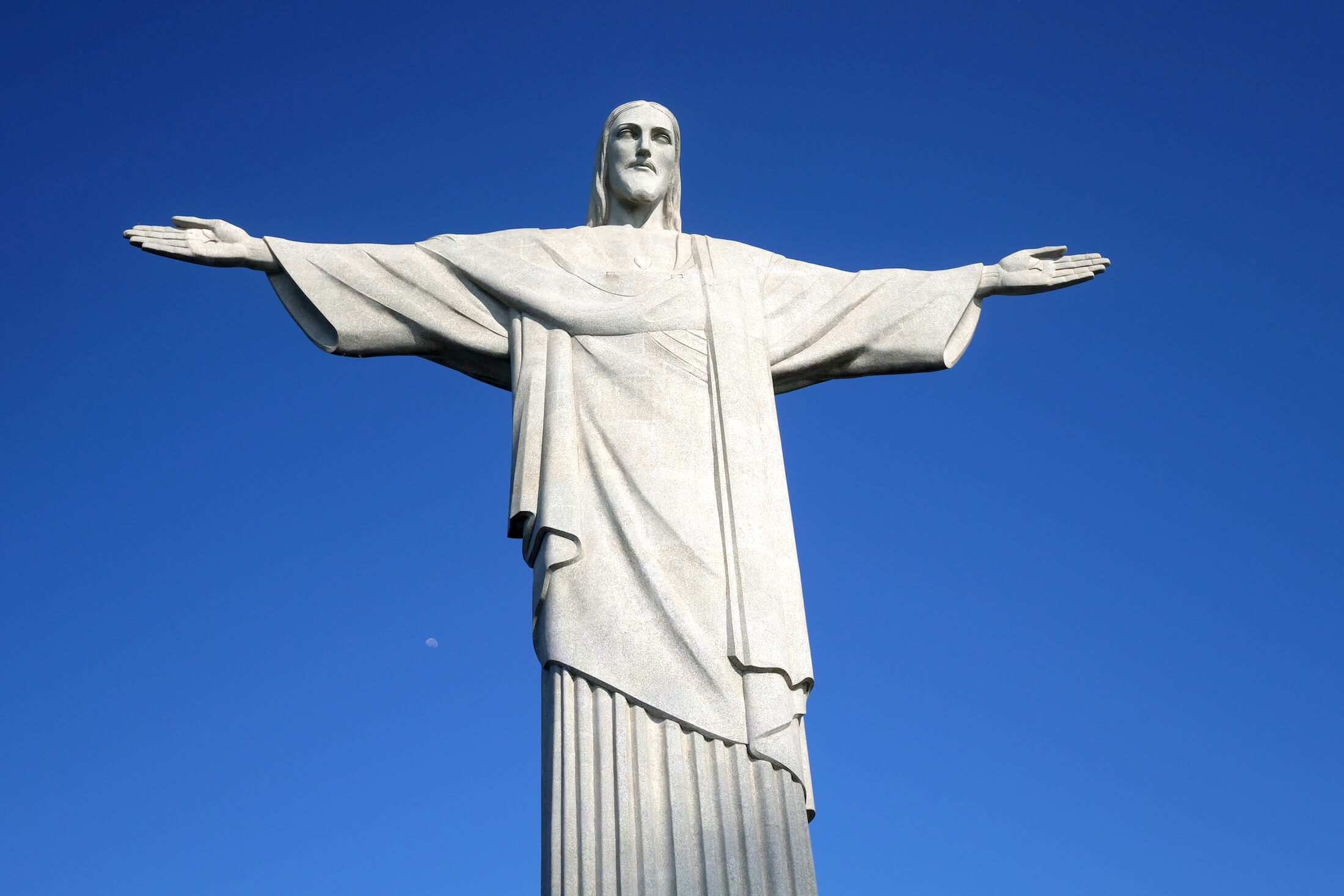 Christ the Redeemer (Cristo Redentor)
If you have the time, I think you simply must go up and visit the statue of Christ the Redeemer.
While your breakfast sandwich happily digests, your next stop on this Ultimate Day in Rio de Janeiro has to be a ride on the Trem do Corcovado.
We pre-bought tickets online for the tram (link here), booking a few days before-hand. It was very easy to pick up our tickets from the ticket booth, directly in front of the tram (tram boards here).
Corcovado Tram Ride
The tram ride takes about 20 minutes, and you will climb over 700 meters (2,300 feet) to the top. The view of the Christ the Redeemer statue at the top is breathtaking.
Nearly 100 years old, the statue stands almost 30 meters high (add another 8 meters for the huge black soapstone (and concrete) pedestal). It was built in collaboration between a French designer and a local Brazilian engineer, and the statue is now listed as one of the New 7 Wonders of the World.
Get exclusive updates
Enter your email and I'll send you the best travel food content.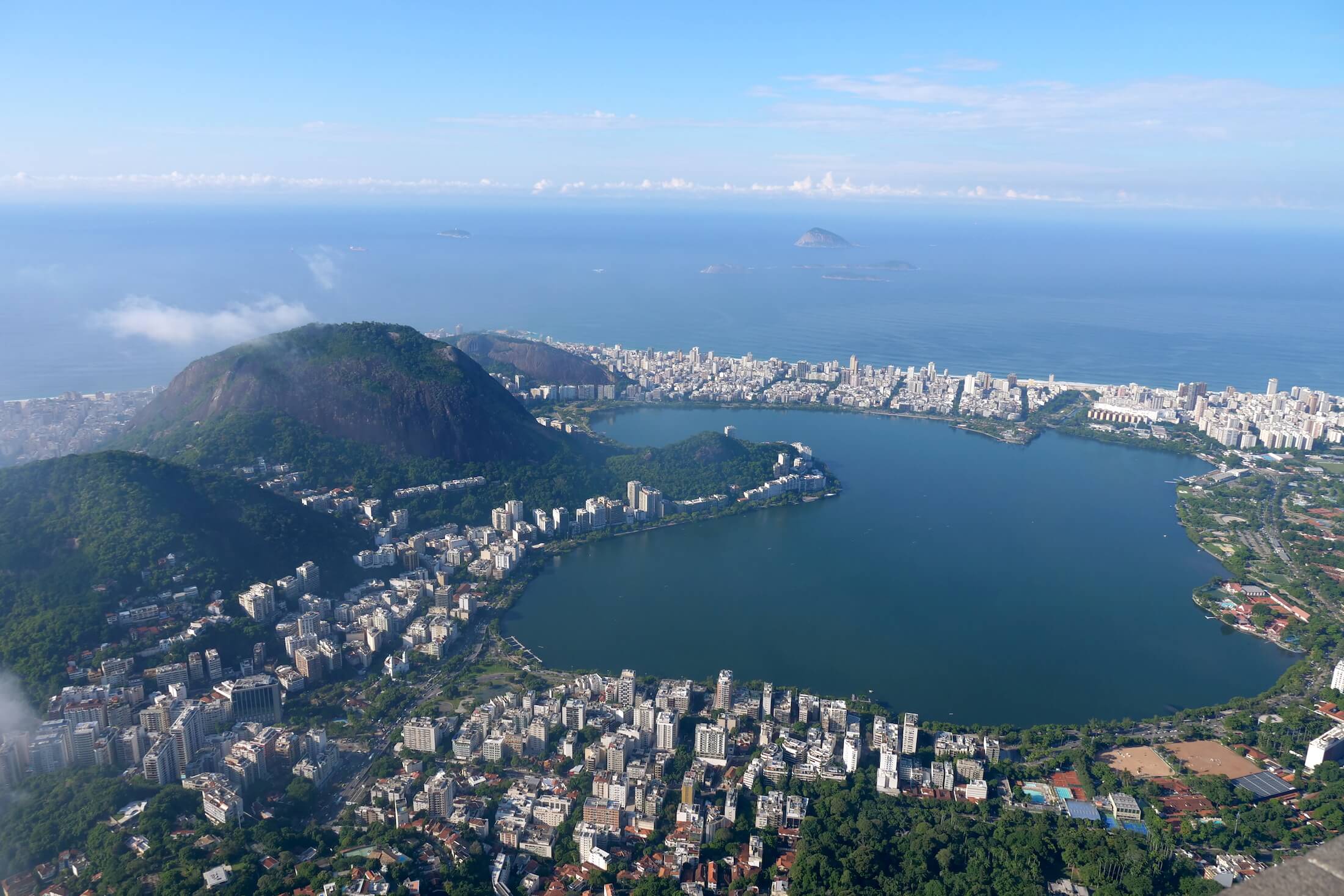 A View Beyond Words
The sight of this statue, and the experience this day, is something I will never forget. During our trip to Rio de Janeiro, I am so glad for the chance to visit Christ the Redeemer.
The tickets are not cheap, but I highly recommend a visit to this view point. The stairs are steep, but the views are stunning – the experience of seeing this statue for yourself is simply beyond words. Take your time, and just enjoy yourself, standing between one of our world's most iconic viewpoints and the city it watches over.
Some Things to Know
Local Tip: You can book your tickets online, but first remember that the key to a great visit to the amazing statue of Christ the Redeemer is a clear day of weather (whenever possible).
When you are in Rio de Janeiro, try and wait for the best weather day before you book the tickets. You will not save very much money by booking ahead, its more just to gain assurance as to your place on the tram.
Finally, depending on time of the year, the amount of visitors can vary greatly (our visit was on a weekday, and we were the only ones in the entire tram car for our 8:20am departure).
*While it is also possible to walk (there's a road up to the statue as well), local friends advise that it is not the best idea – the tram is definitely the most safe, convenient, and confident option.
Location: (Google Maps)
Hours: First tram is at 8am, leaving every 20 minutes until 8pm
Price: 65 BRL ($16.44) (prices vary between 60 – 70 BRL depending on season)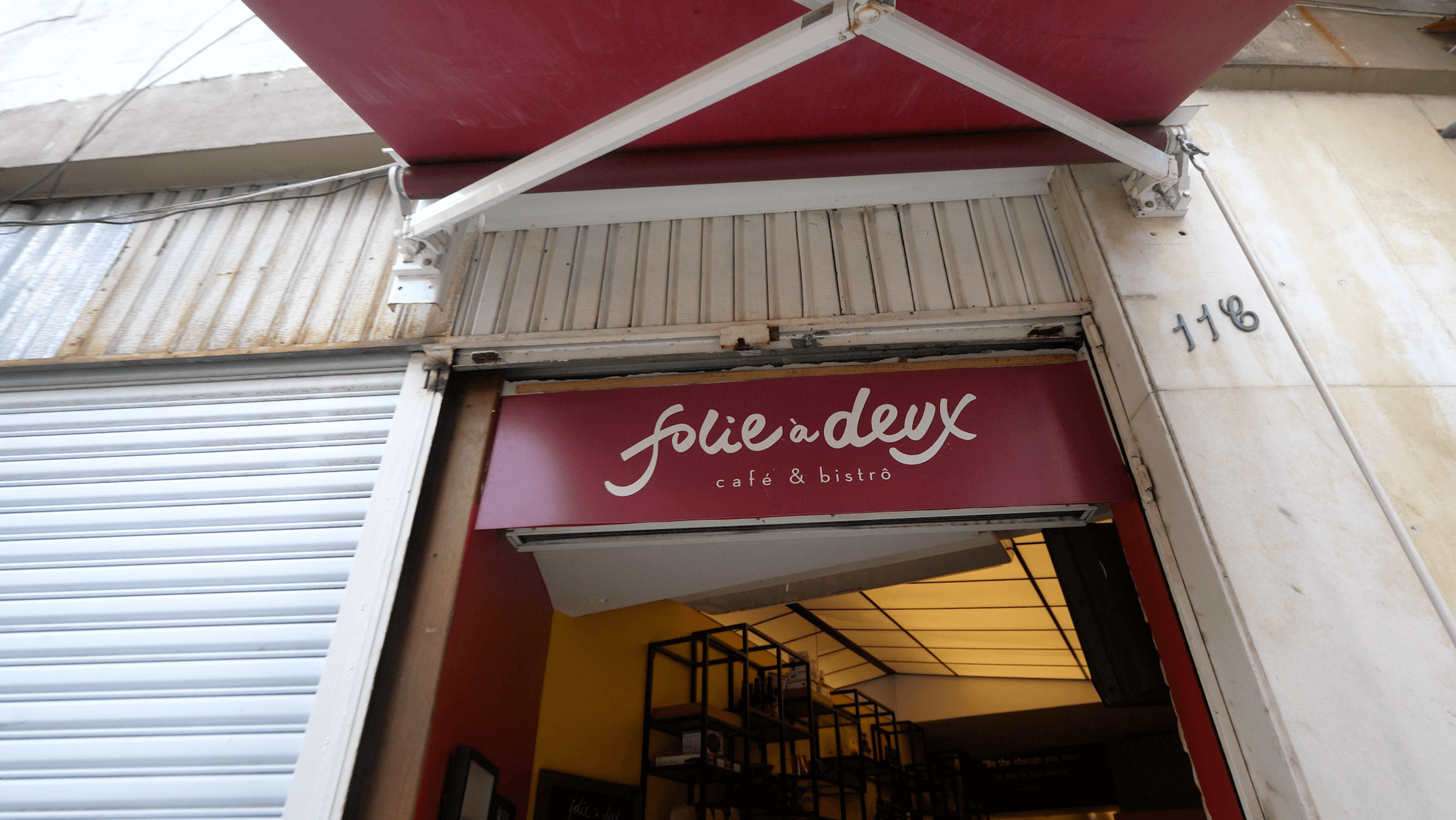 Folie à Deux for Coffee
This wonderful café (with an extremely peculiar name) is just the right place for a mid-morning espresso.
Their location lies less than 100 meters from the foot of the Trem do Corcovado, and their coffee is both delicious and budget-friendly (R$5 for each espresso (US$1.25)).
Roasting coffee in-house is always the best, and they have a selection of beans from Bahia (more info on Bahia, and the amazing city of Salvador, here) available for whichever style of coffee you prefer.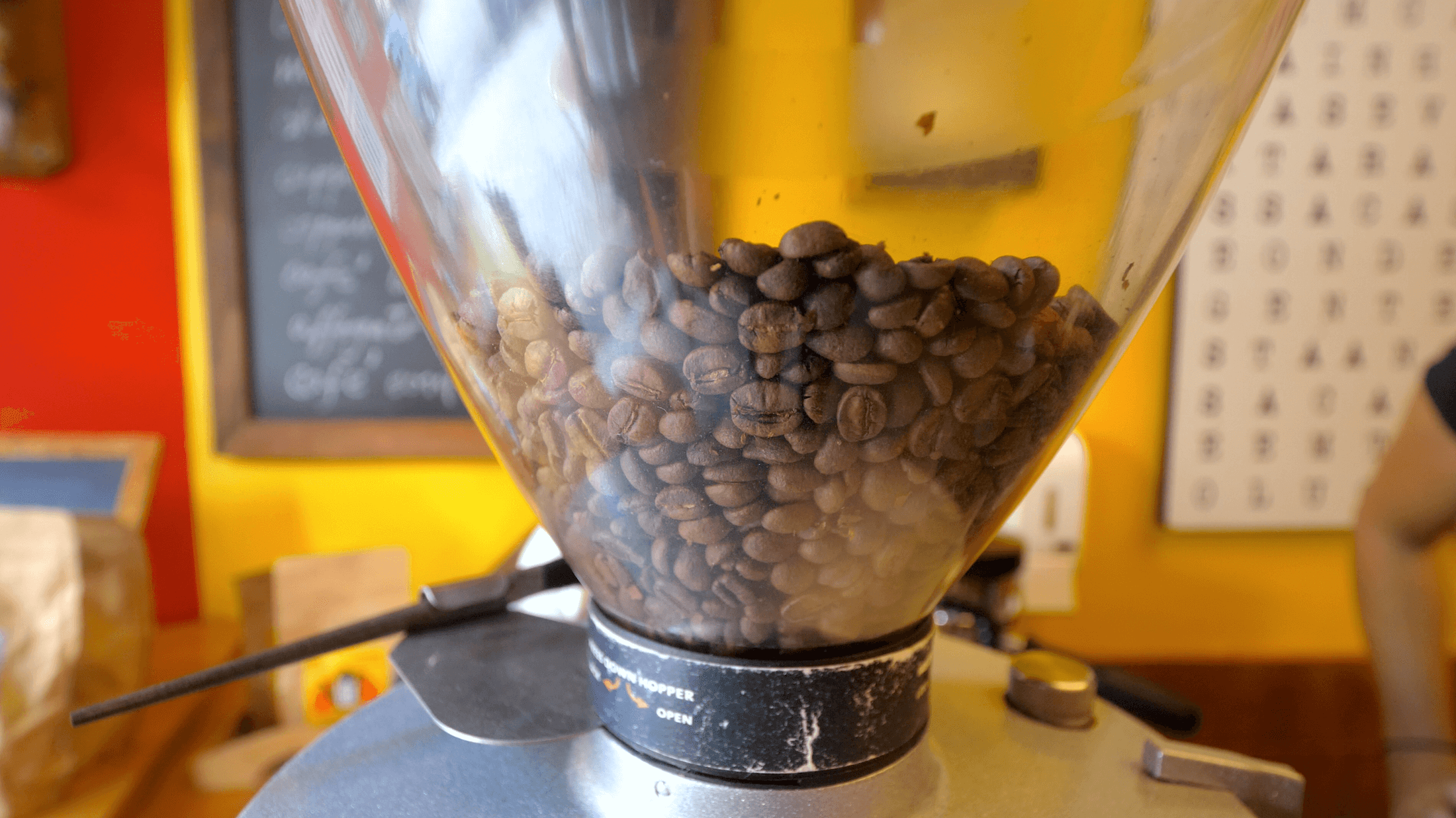 Brazil is Tough to Beat for Delicious Coffee
With outdoor seating available as well, this is a wonderful place to sit for a moment under the trees, enjoying the memories of the amazing views from your trip to see Christ the Redeemer.
Enjoying a few hot sips of some of the tastiest coffee on earth, getting ready for your next destination is always better when its done with a coffee in hand.
We took 4 espresso shots to go, a total bill of R$20 (exactly US$5).
Name: Folie à Deux – Café & Bistrô
Location: (Google Maps)
Hours: 10am – 6:30pm. Closed on Sunday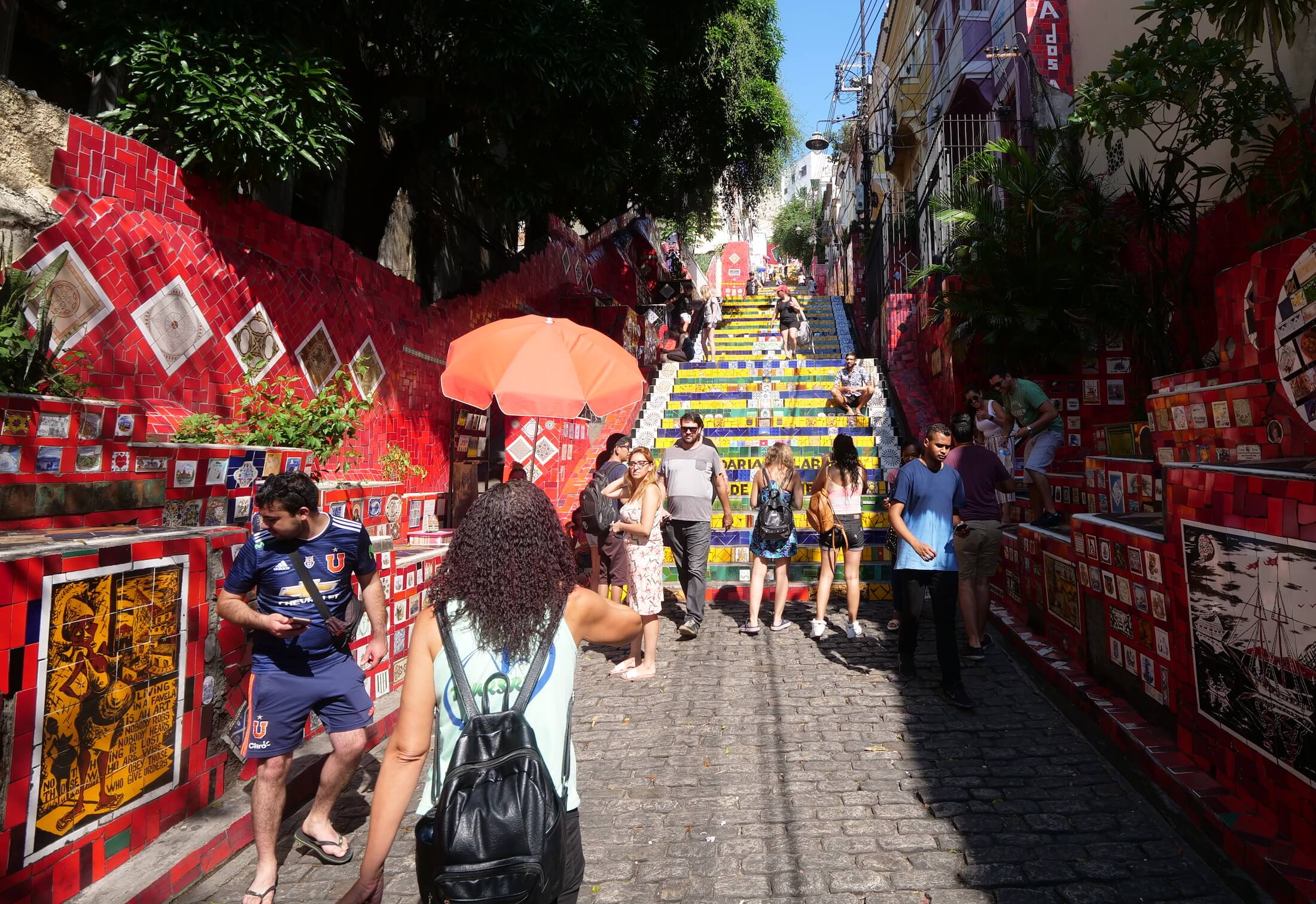 Selaron Steps (Escadaria Selarón)
A small but unique attraction in Rio de Janeiro, your next stop might be the Selaron Steps.
Just 5km away from the Trem do Corcovado station, this is an iconic piece of art in Rio. Basically a huge staircase of colorful hand-laid tiles, you may have seen this place featuring in documentaries, and many music videos, over the past 2 decades.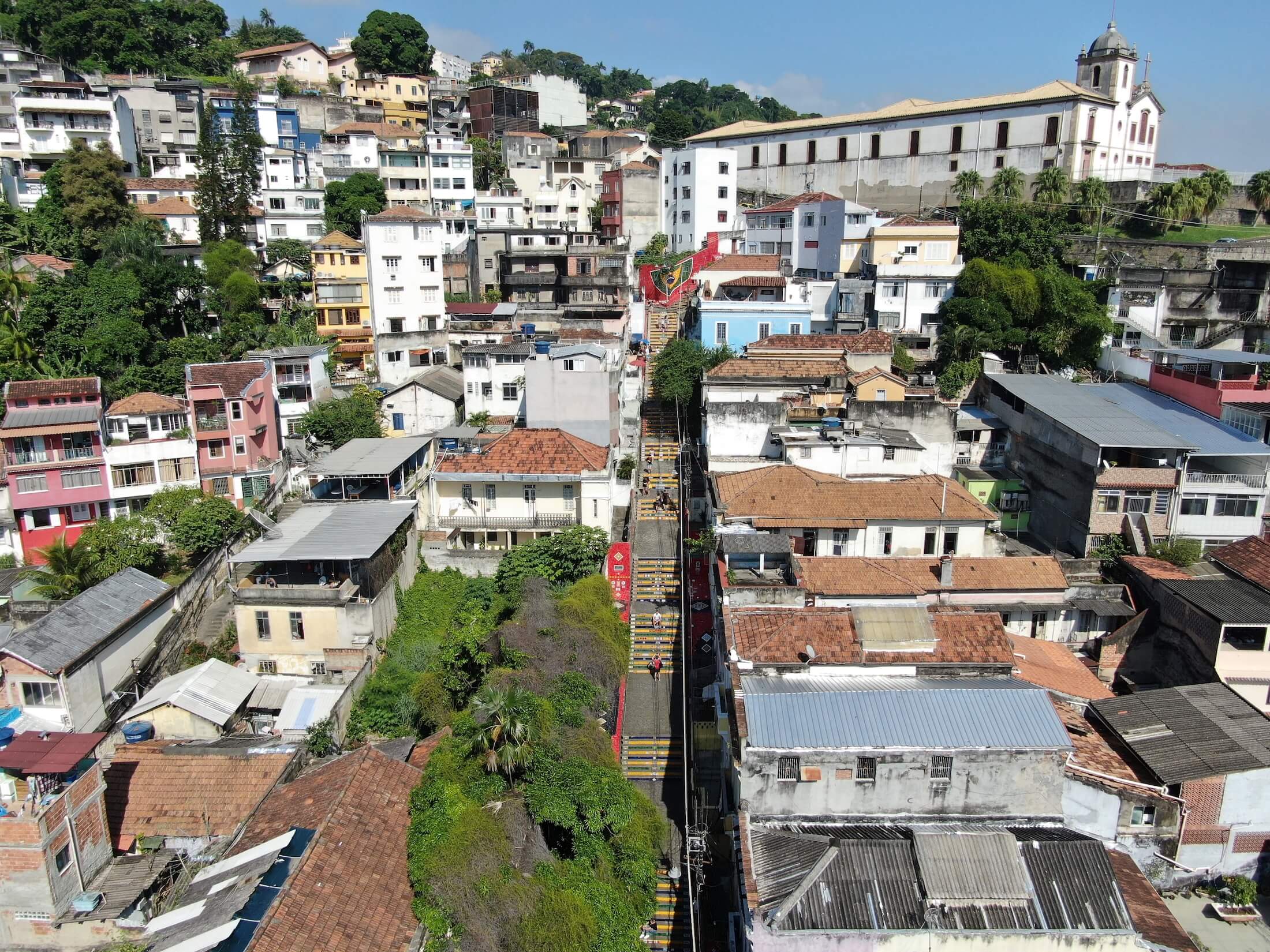 The Story of this Staircase is Fascinating
This multi-dimensional mosaic of a staircase forming slowly over a period of 23 years, all of it done piece by piece by a single Chilean artist – Selarón. It is even featuring in one of my personal favorite collections, the Atlas Obscura, the staircase is a wonderful example of the diversity you can find in this incredible country of Brazil.
The artist's story is incredible, as is the artwork. If you have time, it is definitely worth a visit to see the beautiful and haphazard, yet curiously orderly layout (be sure to try and find the tile/tiles from your home state or country!).
Whether you stay for the whole afternoon, or just a single photo for your Instagram, this staircase is so cool to see in real life. I highly recommend a visit to the Selarón Steps, in the neighborhood of 'Lapa,' Rio de Janeiro, Brazil.
Location: (Google Maps)
Hours: All Day, open to Public
Price: Free (and you can find safe Parking at the bottom of all the steps (R$4.50 per hour (US$1.25))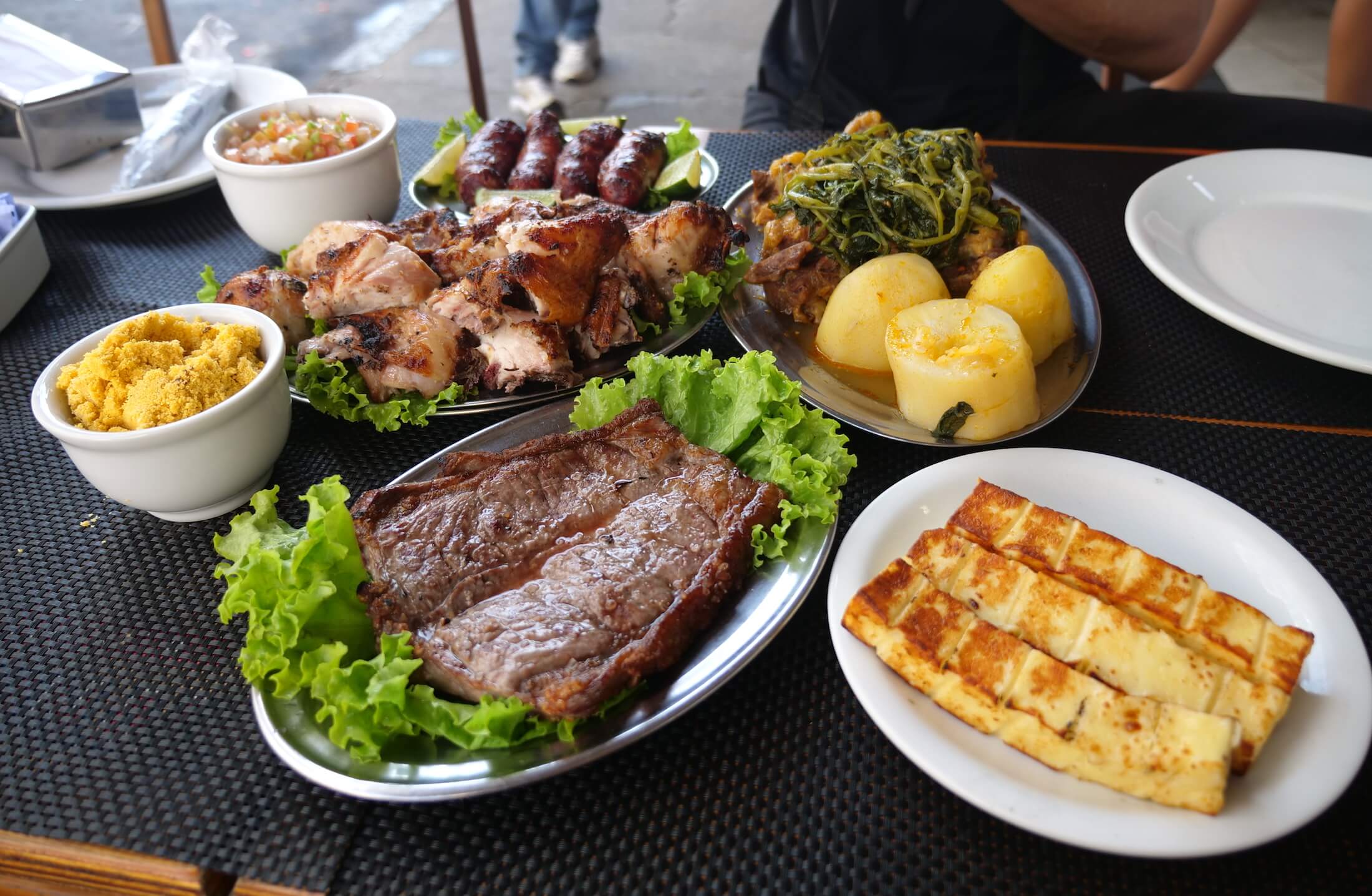 Bar Café Rex for Lunch
Getting deeper into your Ultimate Day in Rio de Janeiro, the sun is probably approaching full strength. This is a great time to take a break for lunch, and in Rio this always means good news.
For some seriously meaty Brazilian local food, Bar Café Rex is your (first) lunch destination in Rio.
Bar Café Rex has both a wide selection of drinks and snacks, but also amazing food (both the fatty sausage and oxtail are incredible, but more on that in a minute). If only we could end every morning with a visit to this restaurant.
The food here is so good that we even have an entire article telling you all about it (full details and plenty of photos from Bar Café Rex here).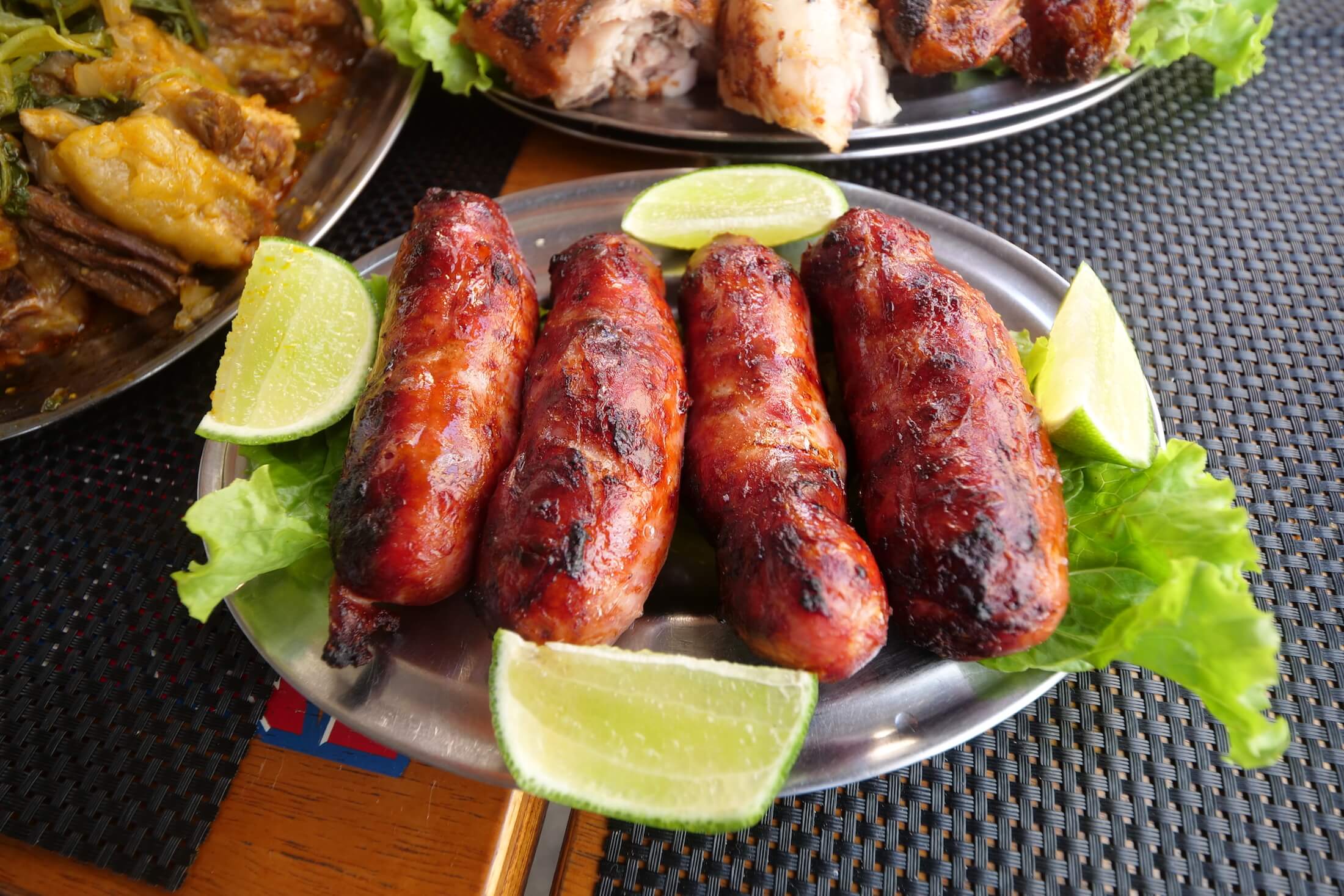 Lunchtime in Rio de Janeiro
Most restaurants you'll find in Rio de Janeiro are open on both Saturday, and Sunday, but then many of them take their weekly break on Monday. Be aware of this when you are planning your next Ultimate Street Food Tour.
Many restaurants will also open to serve just two of the mealtimes, whether its a midday opening, staying open late, or an early morning breakfast, closing sometime after noon.
Bar Café Rex is a perfect place for both breakfast or lunch actually, as its opening time is 7am, and their sign says 'closing at noon,' (although it seems that they only stop cooking at noon – if you've already started lunch, there's no rush, and this definitely fits with the general feeling of midday dining all throughout Brazil.)
What to Order
The food was outstanding, and the owners are just so friendly. I can almost guarantee this will be a fun and memorable lunch, especially if your idea of 'fun' includes 16-inch long platters of tender beef, fatty sausage, and rotisserie chicken.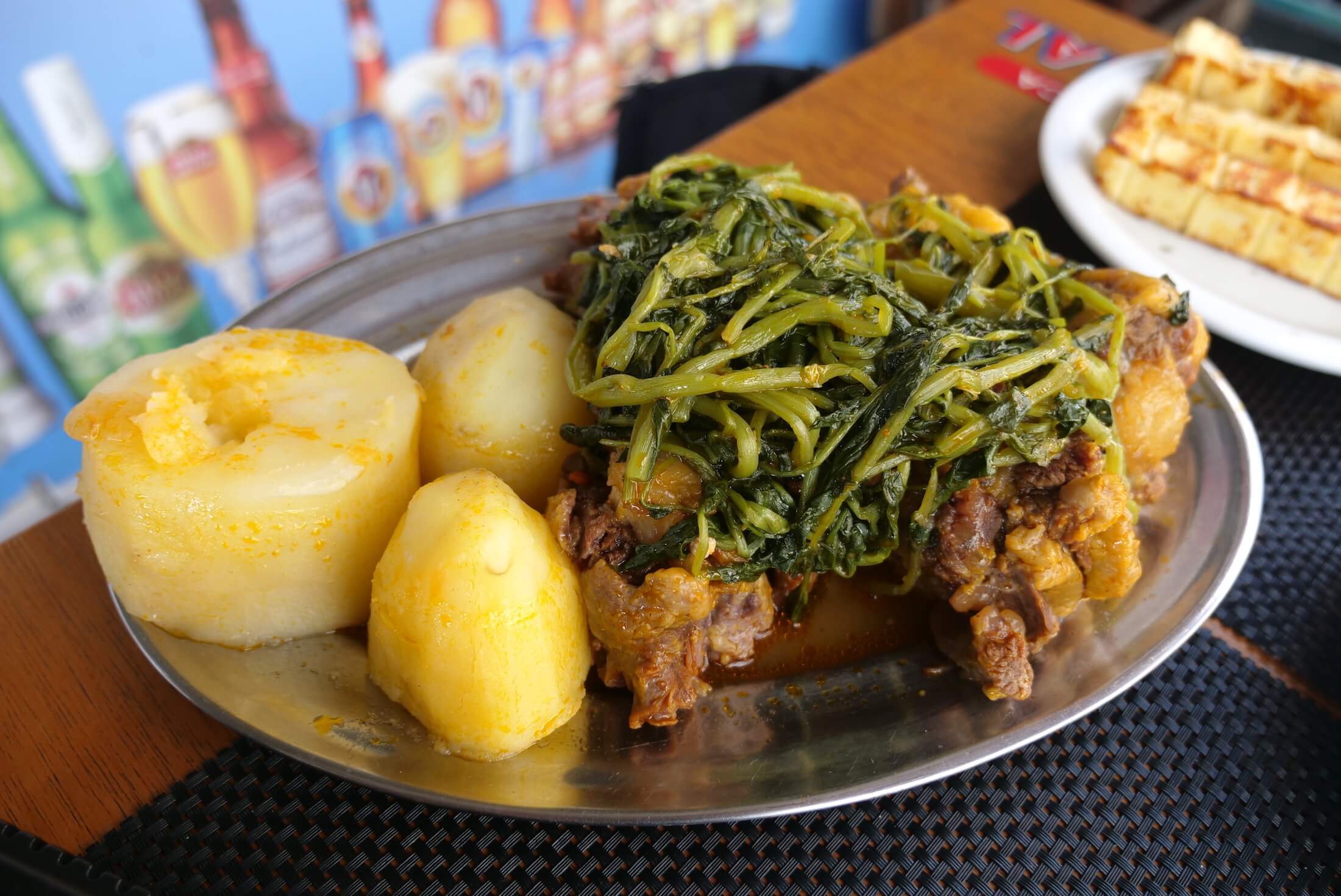 Oxtail (with Potatoes and Watercress)
The first thing you have to order at Bar Café Rex simply has to be the oxtail.
Portion sizes here are quite large, and this might be an 'all-day lunch' for many travelers. Basically a complete and perfect blend of fatty, meaty oils from the oxtail, covering what is actually a nice mix of healthy ingredients (there's a huge portion of watercress vegetable on top).
The starchy potatoes are creamy, steaming nicely as you drip on your own portions of oil (I recommend both the olive oil and their in-house recipe of chili oil).
That oxtail though is something that I will always think back on with fondness and hunger. The tenderness is almost beyond belief – a constant internal battle deciding whether to devour the entire plate ferociously, or sit there and slowly savor each gentle, fatty bite.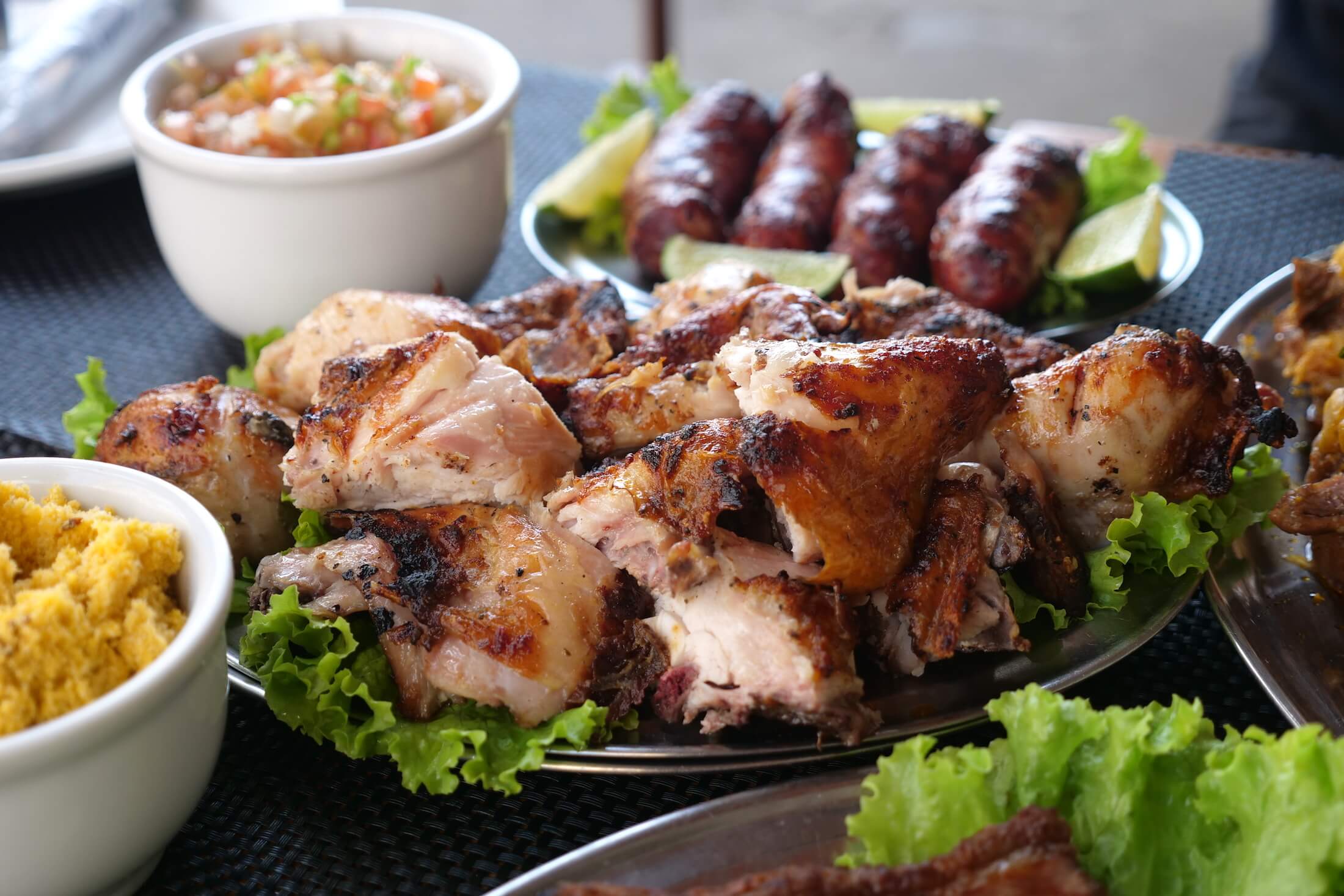 Other Delicious Items
The sausage they are serving is amazing as well, a delicious mix of crispy grilling skin on the outside, and a nicely fatty blend of chewy, almost gummy meats on the inside.
The rotisserie chicken though, is the meaty item for which Bar Café Rex is famous. It is wonderful to just sit back and watch the chefs work, spinning their chickens in a multi-level spit-type roasting rack. You can't go wrong adding an entire chicken to any order.
Cheese here is likely a preferred appetizer, they serve it fresh and hot, a few giant and smoking servings coming straight from the griddle. Brazil actually is home to an incredible diversity of cheese, and I recommend trying these cheeses with any meal (especially in Salvador).
Finally, be sure to try any one of a variety of in-house Cashaça and fruit blend liquors. Combining the intense ginger bite with this sugar cane alcohol flavor is incredible, and another nice one they make uses fermenting coconut water.
Location: Google Maps (link)
Hours: 7 am – 12 pm from Tuesday to Saturday, 7 am – 11 am on Sunday. Closed on Monday
Price: The portion sizes are large (see photos above), and if sharing each plate, you can expect to pay about R$25 per person (US$6.50) for a big lunch at Bar Cafe Rex. Water is around R$4 (US$1), and the in-house alcohol is R$5 per cup (US$1.25).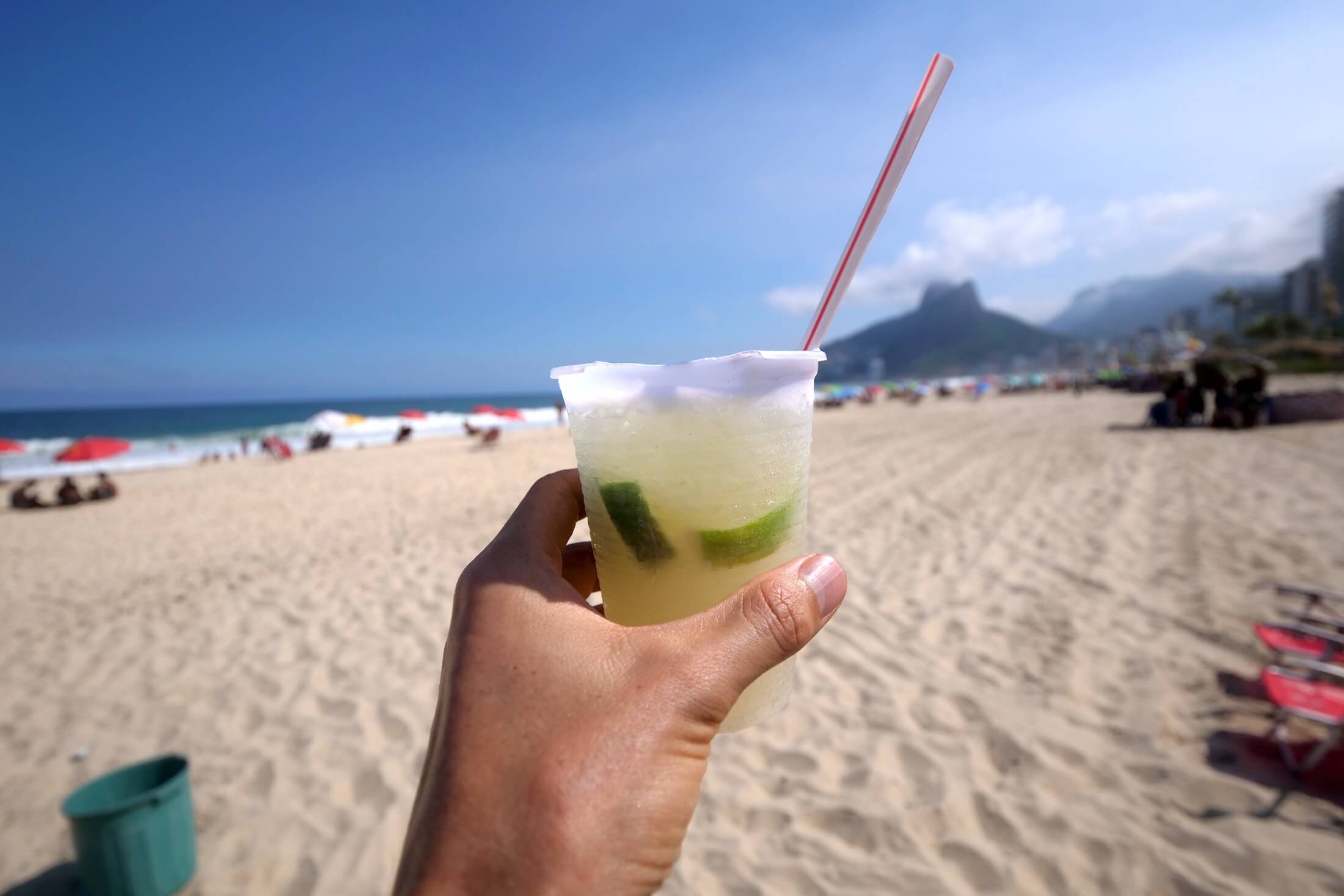 Beach Life in Rio de Janeiro
In Rio de Janeiro, there are no shortage of beaches to choose from. Many of them are quite close together, and for those who love the idea of beach-hopping (or walking, or crawling), you can see a list below of a few things to do on each one.
The main beach stretch of Rio is about 9km in total. Very possible to walk the entire length in a day, and on weekends actually, the city closes most of Copacabana and Ipanema to vehicle thru traffic.
Tip: Although there will be no cars on weekend days, you still have to watch out so as not to get hit by joggers, cyclists, or people renting a 'Grin' for the first time.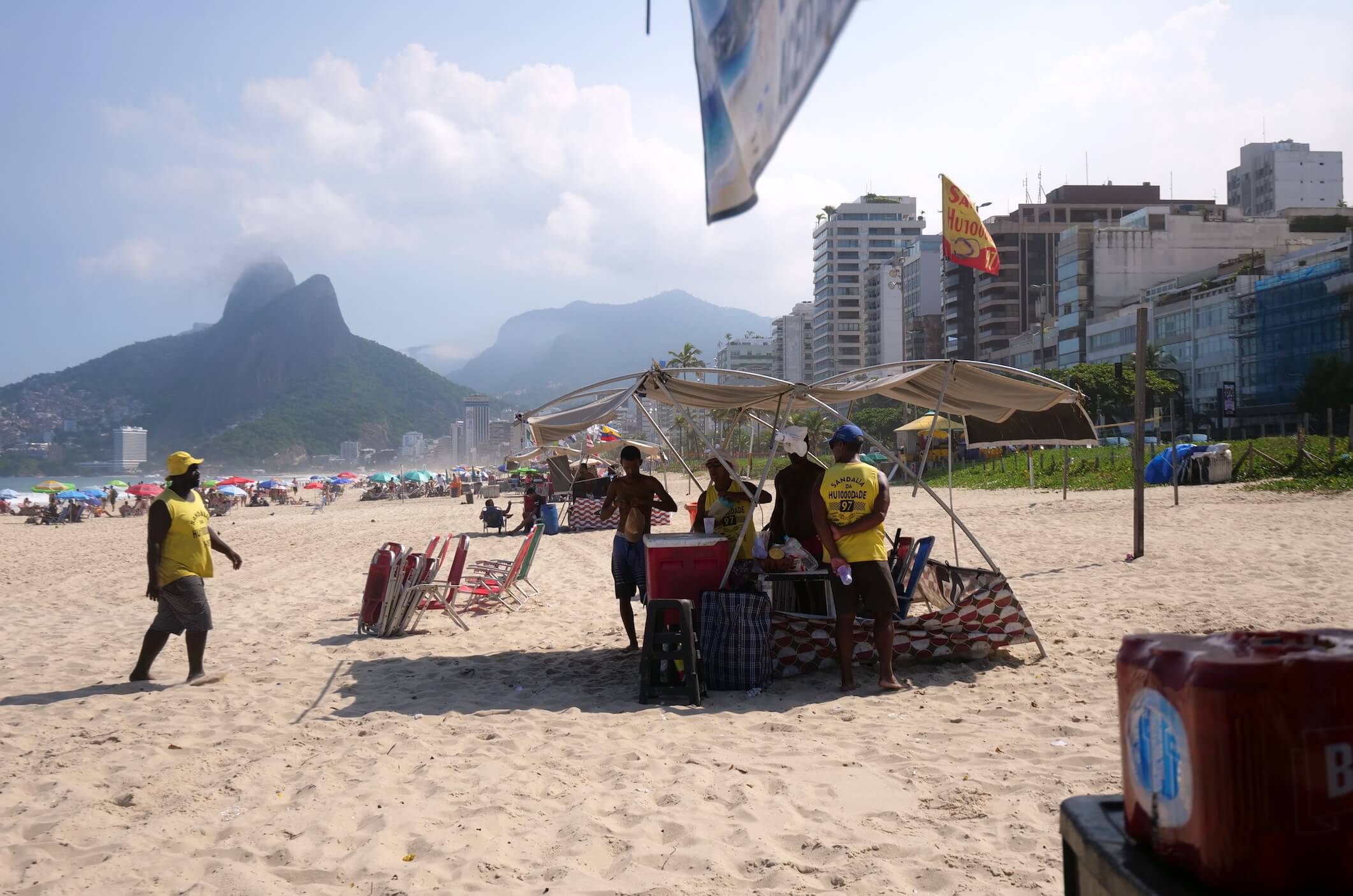 Copacabana Beach
This is truly a stretch of world famous beaches, the sand is so light and fine. This is a perfect place to lie out under the sun, play beach sports with some local pros, or just go for a swim.
For those who prefer an umbrella, the scenery on either end of the beach is just spectacular. The waves here are pretty large as well, you can enjoy watching people surfing, body-boarding, or try it for yourself.
Snacks and Drinks
For something to crunch on while you sit, it is popular to first try one of Brazil's favorite light snacks, Biscoito Globo (normal price is R$2-3 (US$0.50-0.75)).
Made of cassava, these are a very airy, ultra crunchy snack, and these go great actually with an tall, bitingly sour, icy caipirinha. Both are available at any of the nearby tents, or even right from the vendors who are walking around in the sand.
Just ask, and they will make one for you right from the giant stainless steel jugs they carry under their arms (expect to pay R$15 for each drink (US$3.50)).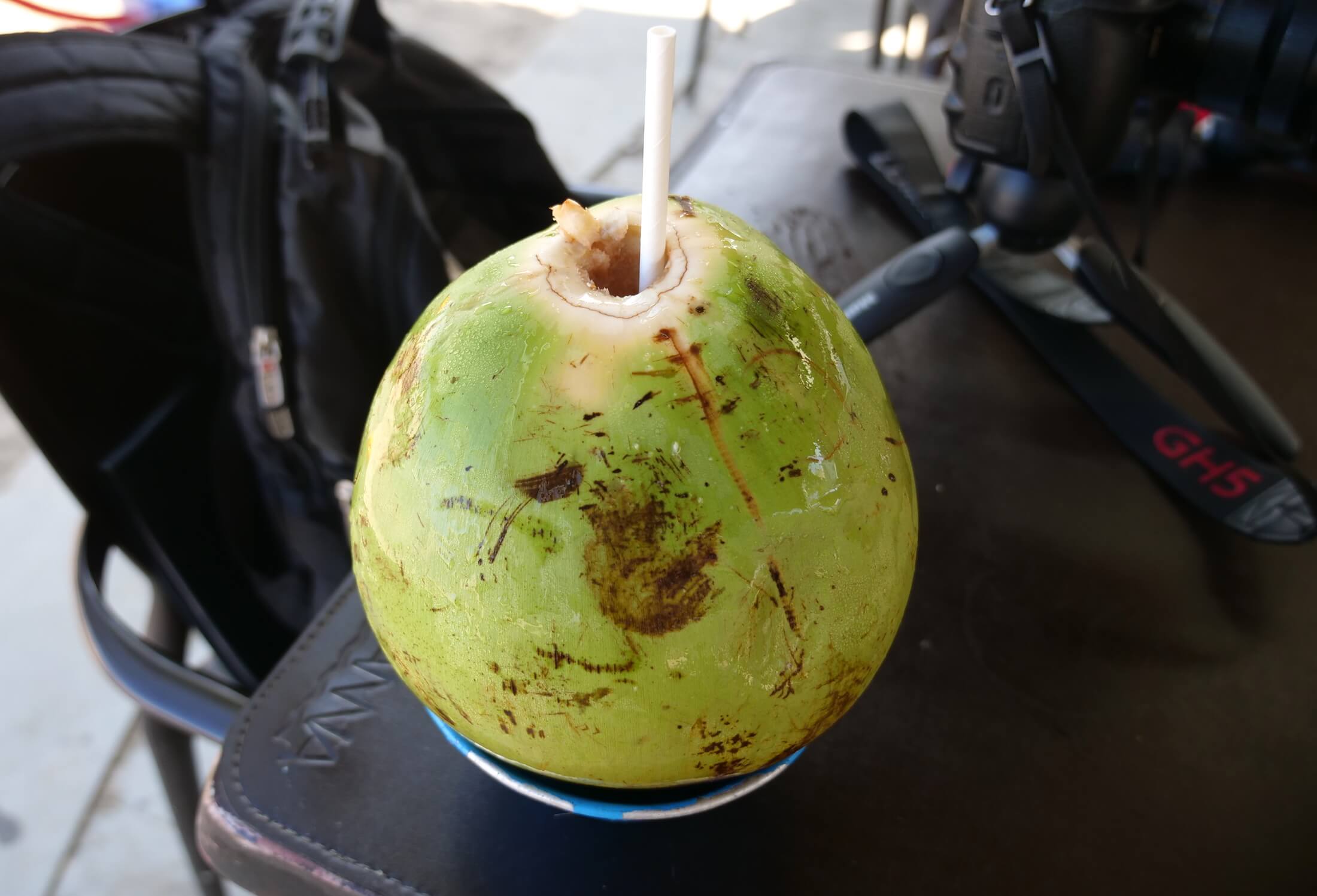 Ipanema Beach
Finally, don't forget to continue to hydrate yourself as well – and your next attraction here might just be a simple and delicious fresh coconut (6.50 BRL ($1.70), from the 'Coco Verde' drinks stall).
Sit down and get a good view of Sugarloaf Mountain (Pão de Açúcar) from the Copacabana beach while sipping the refreshing and cool coconut water.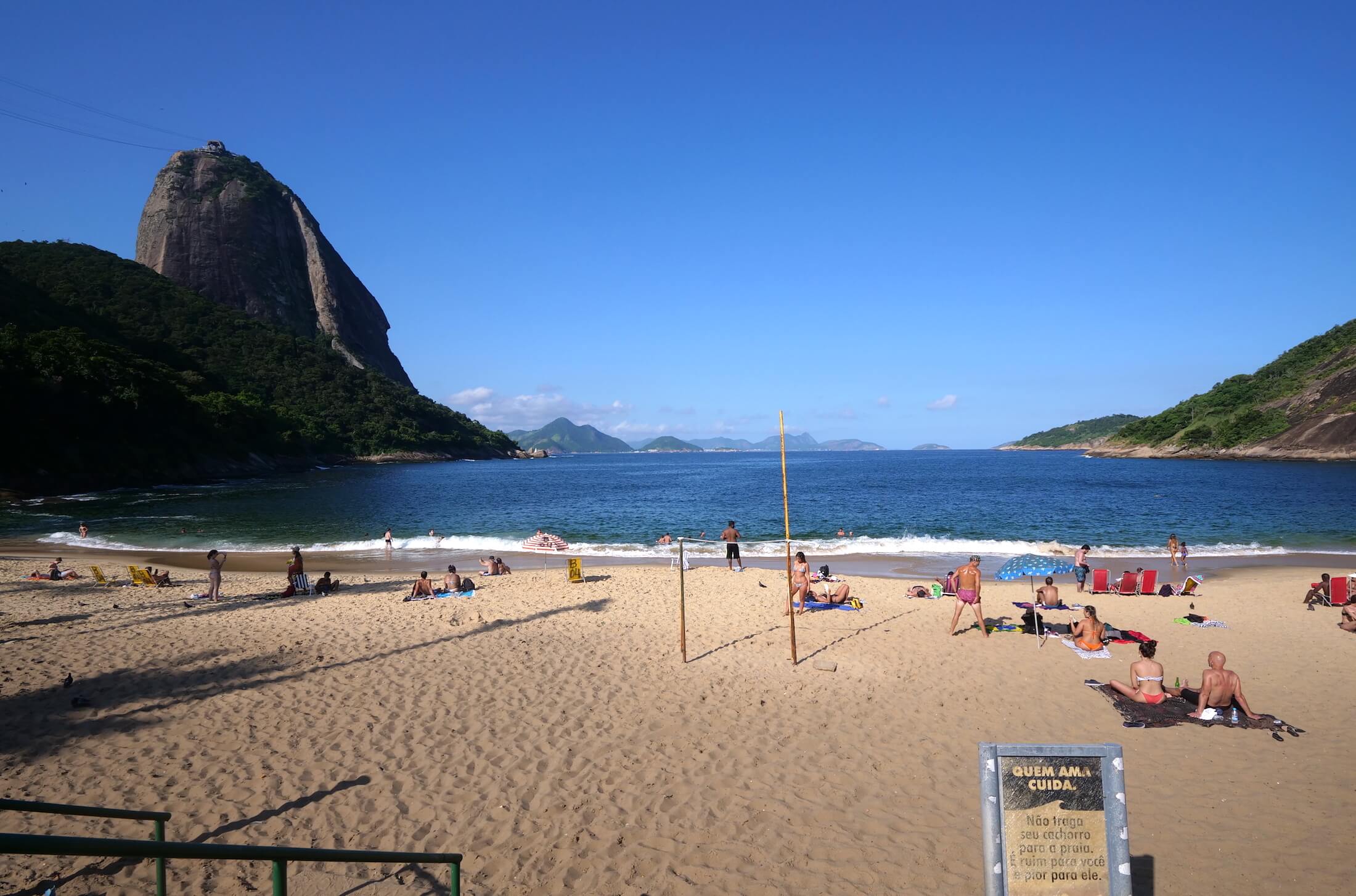 Just before Urca, you'll find "Praia Vermilha"
Should you choose to visit all of these wonderful beaches on foot (or renting a bicycle or scooter), from West to East it begins with Leblon, then Ipanema, to Copacabana, and finally Urca.
The small peninsula at the end, where you can see the beautiful Sugarloaf Mountain, is where you might finish this long walk with a swim at the small but gorgeous Red Beach (Praia Vermilha).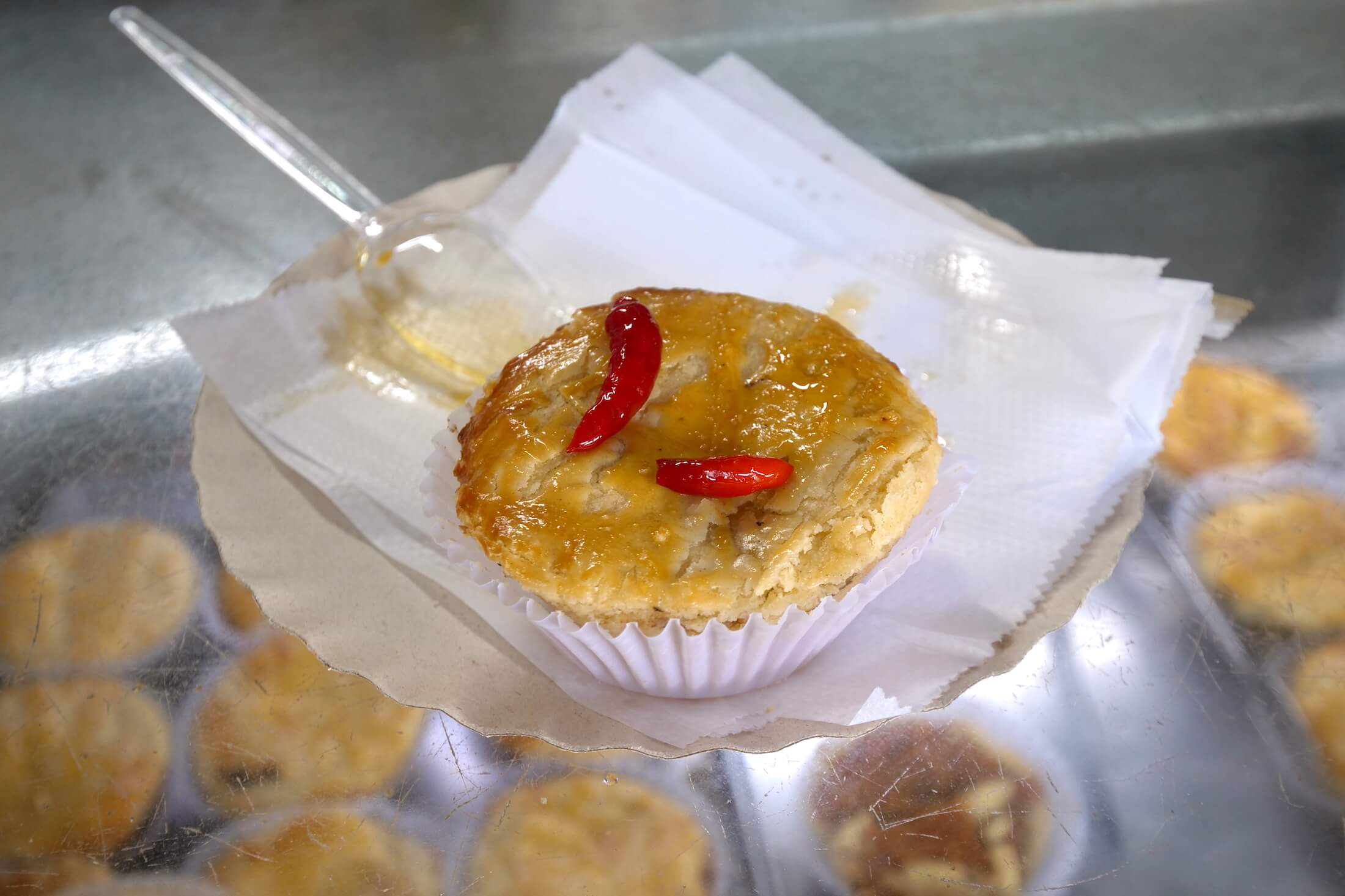 Bar Urca
After all of the beach visits, a great place to spend the late afternoon might be Bar Urca.
This is an old food and bar establishment (just celebrating 80 years in fact), famous for serving Empada de Camarão (6.50 BRL ($1.64). This is a shrimp pastry, wonderfully flaky and actually quite filling for its small size.
Many people order these from the large glass case full of pastries, and then walk over to sit on the ledge outside. Looking over one of Rio's many lagoons and bays, this is just a lovely place to visit to get a different view of all the water that surrounds this amazing city.
Location: Google maps (link)
Hours: 7am – 11pm, Monday through Saturday, and 830am – 9pm on Sunday
Price: Pastries around R$6-8 each (US$1.50-2), and local beers usually sell around R$10-12 (US$2.50-3)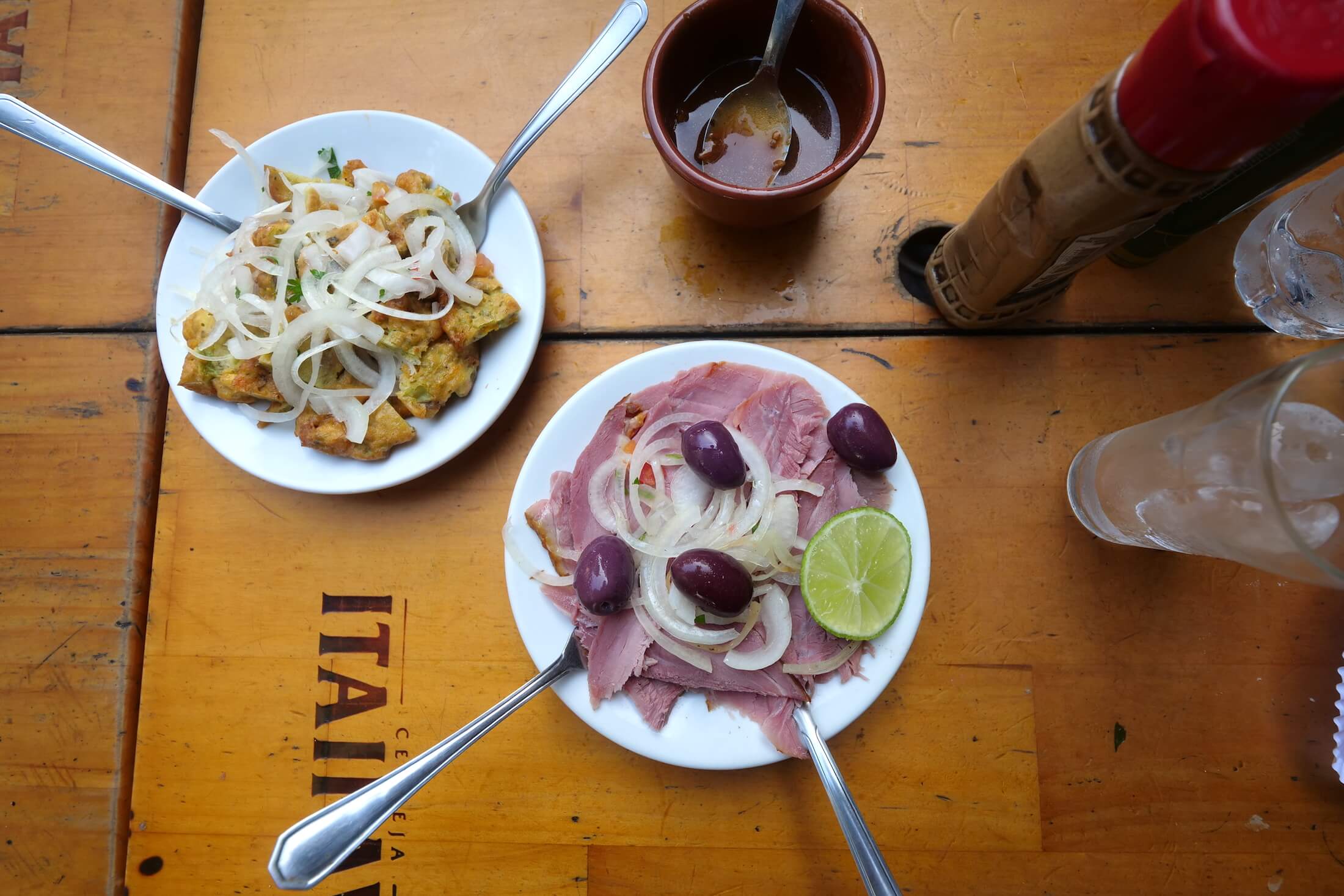 Bar Gato de Botas
A Brazilian boteco is a bar and restaurant type establishment that serves small plates of food all throughout the day.
In Rio de Janeiro, its common to visit a place like this for a late breakfast, all the way to dinner, and Bar Gato de Botas is a perfect place for your next visit.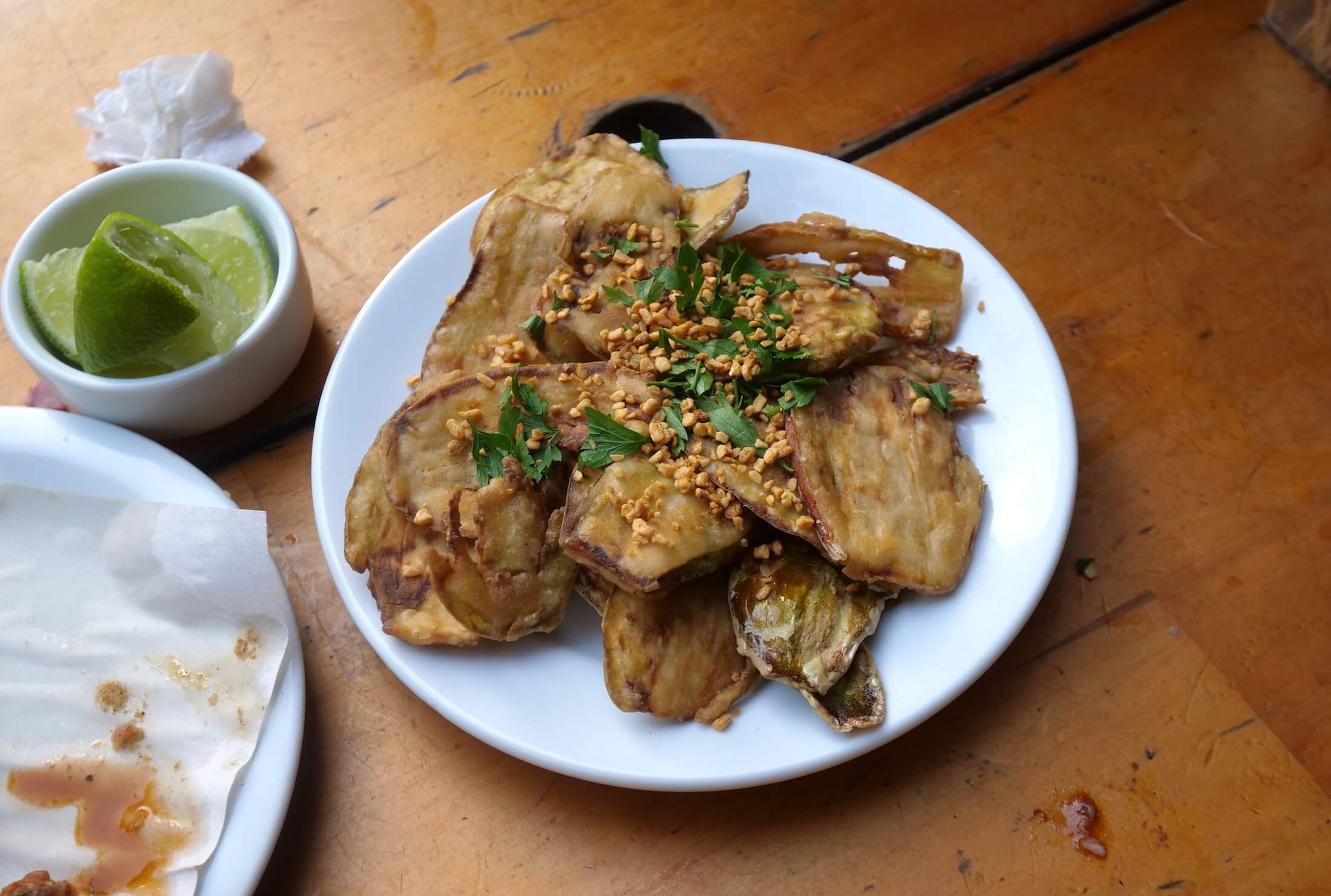 What to Order
Beginning our meal, we had no idea (at first) what to order, as the menu here is just incredible.
Make your selection without worry though, as I can guarantee they will all be good. This is a great local place where you can get a great taste of both Brazilian, but also Brazilian-Portuguese afternoon and evening-time favorites.
Six Plates We Recommend
With three delicious starter plates, "Bolinho de Feijoada," slices of ham (onions, olives, and mustard), and a plate of tempura, I can recommend them all as excellent choices.
Following this with the most crunchy pork cracklings I have ever encountered ("Terrado de Galinha"), bread-crumbs on eggplant (which goes great with chili oil), and finally, Brazilian 'Scarlet Eggplant' (with a layer of deep frying garlic bits).
Delicious.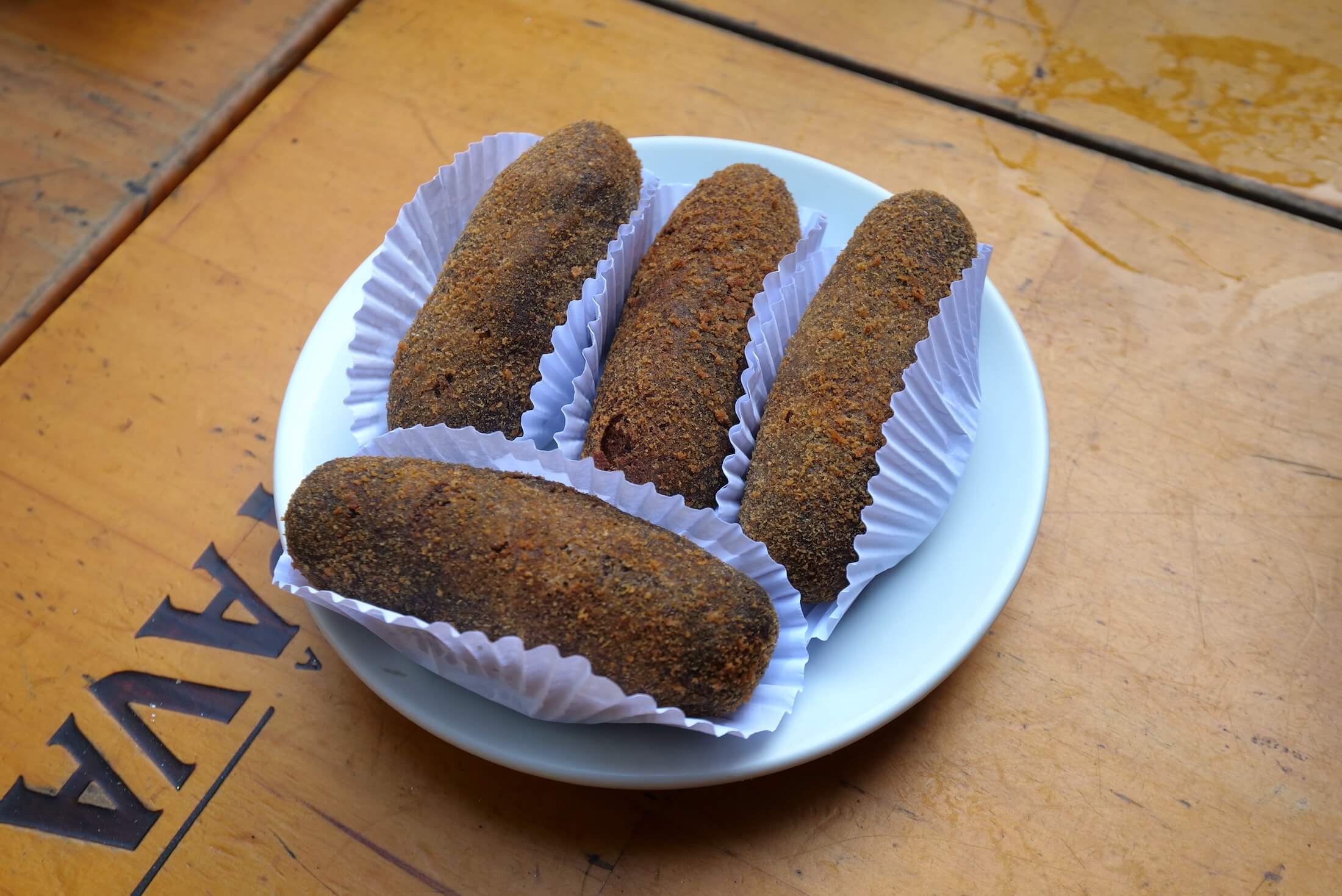 Amazing Food, and Also a History
In the restaurant business for over 60 years (he is currently 75 years old), the owner of Bar Gato de Botas is simply a legend. The food menu here is extensive, the drinks menu equally gigantic.
Restaurants like Bar Gato de Botas are great for a chance to sit down with your friends and family, just as the sun is setting, to order up a giant selection of tasty local favorites. His plates of Brazilian-Portuguese food are delightful, and the style of eating is almost like that of tapas.
Order drinks, get several plates to share around, and enjoy another successful day when you Travel for Food in Rio de Janeiro.
Location: Google Maps (link here)
Hours: 3pm – Midnight, Monday through Friday, and 10am – Midnight on Weekends.
Price: The portion sizes are small, this is a great place to sample a lot of flavors without filling up (see photos above). If sharing each plate, you can expect to pay about R$20 per person (US$5).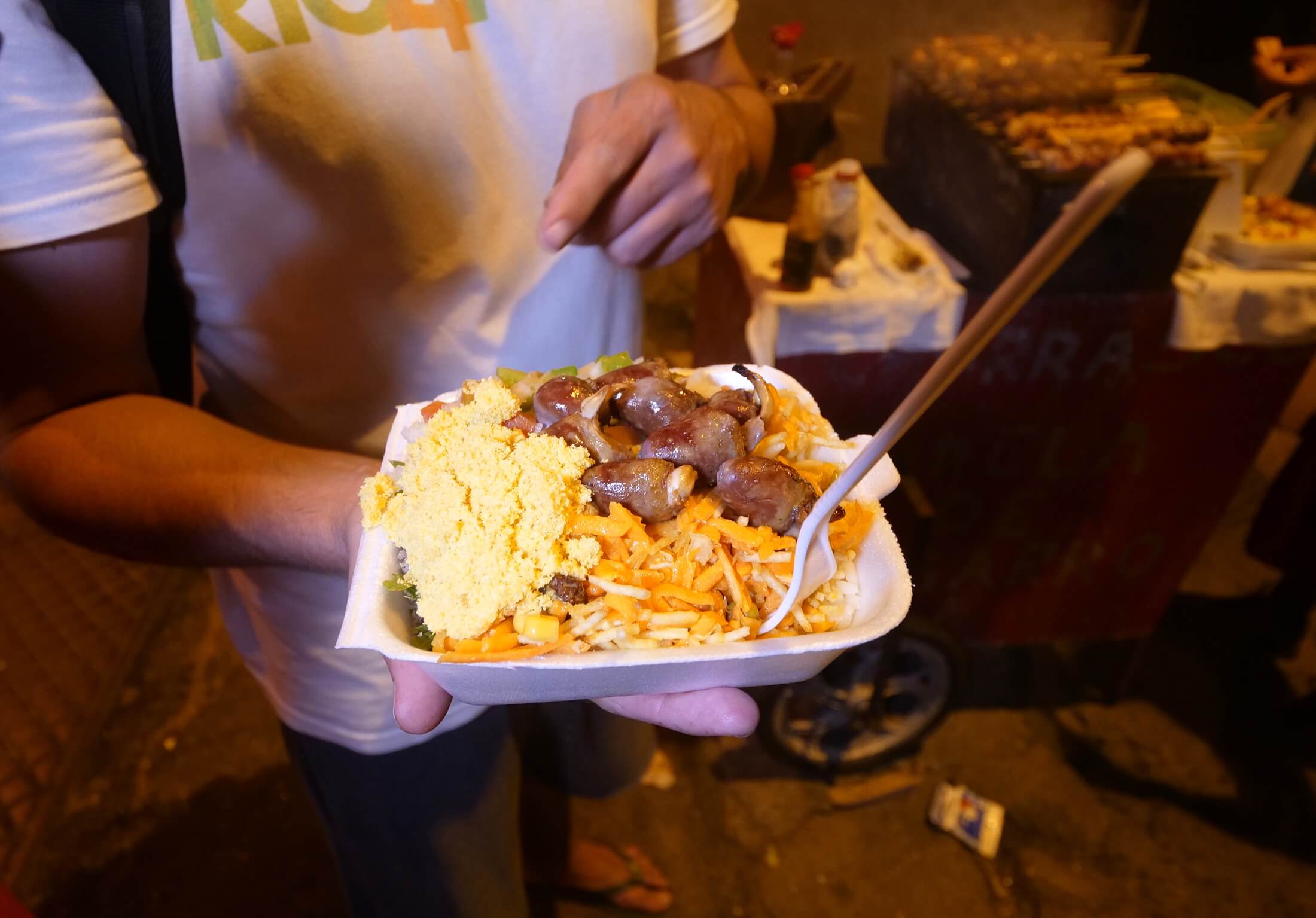 Brazilian Meat Kebabs
To end your perfect day, touring through the delicious streets of Rio de Janeiro, I recommend none other than Brazilian Meat Kebabs. Street style, of course.
You won't need to search for this location actually, because you may have just been here 12 hours ago!
Returning to the same location as our breakfast today (that double-sausage sandwich from this morning), you need to find this man who is roasting the most wonderful Rio meat treats.
This hilarious and friendly man uses this same strategic moto-taxi corner as our friend Mineiro (the Pão com Linguiça), setting up his own grill and roasting kebabs each night. Working with his wife, they are selling home cooked Brazilian food, pleasing anyone and everyone with some budget-friendly and delicious home cooking.
He cooks the kebabs (and loves to pose with them as well!), and his wife provides a large assortment of other items to go with each one as well (packing them in a box should the customer want to make a kebab into an entire meal to-go).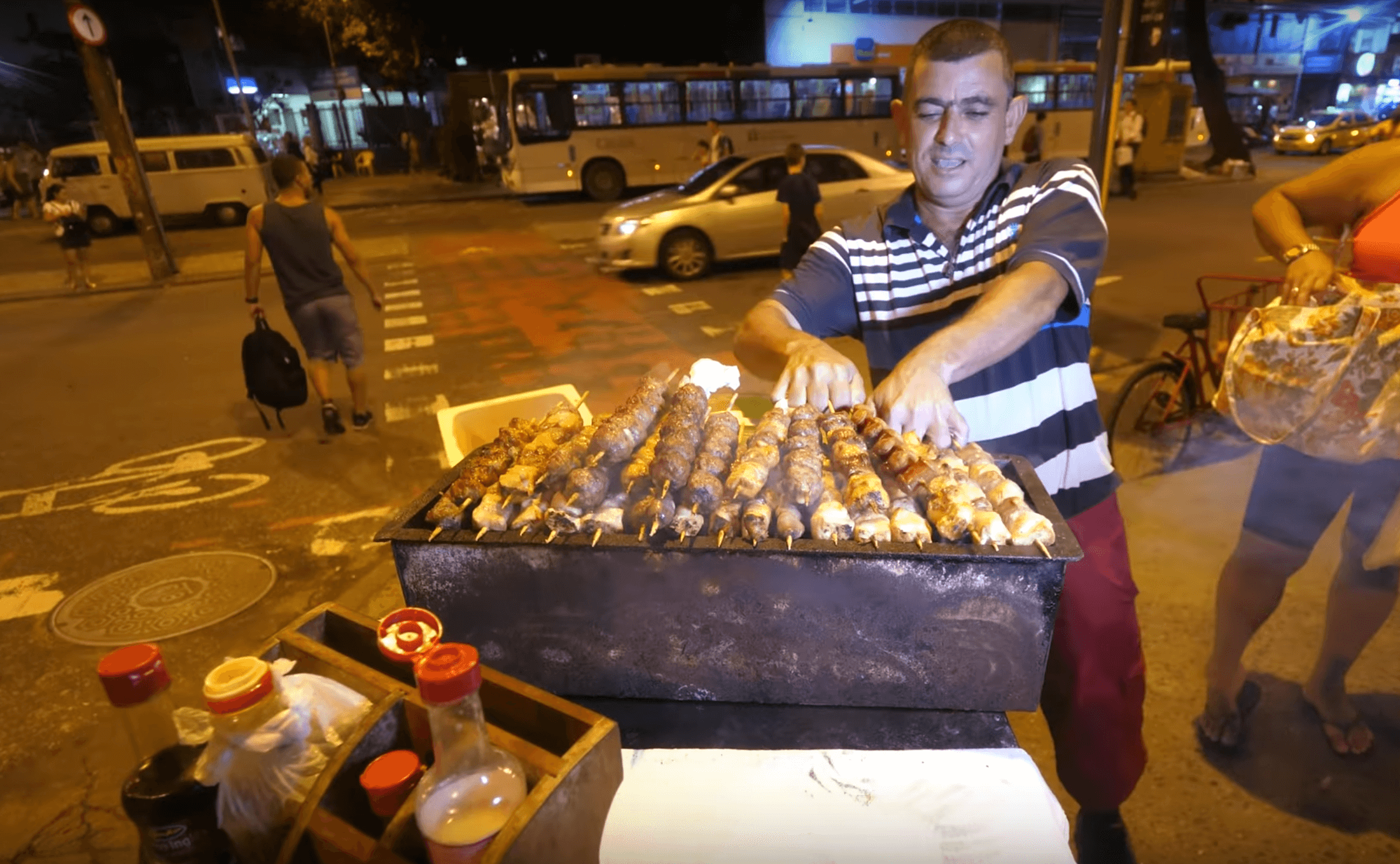 Churrasco Panela de Barro
Ordering your first kebab, you have a choice of each meat, but I would say the chicken heart kebab is a great one to start off.
When you order a kebab, you get it dusted with cassava powder, and drenched in hot sauce – it was so good, I won't fault you at all for ordering a second kebab, before you're done with the first (and for your second kebab, you should probably try any of the ones that come full of cheese).
Finally, for just R$5 more, you can choose from her containers of rice, black beans, chicken salad, or just fresh shreds of vegetables, and get this all in a convenient take away box for home.
Location: Google Maps (link here) up in the evening about 6 pm.
Hours: Starts in the evening, around 6pm, sells until the kebabs are gone.
Price: R$5 each (US$1.25), plus 5R for a full rice box with veggies and sauce.
We focused mainly on Brazilian street food in this one day tour of Rio de Janeiro, but alternatively for a fancier sit down meat filled meal, you don't want to miss a Churrascaria experience. In Rio, we ate at Churrascaria Palace, which was incredibly delicious, highly recommended.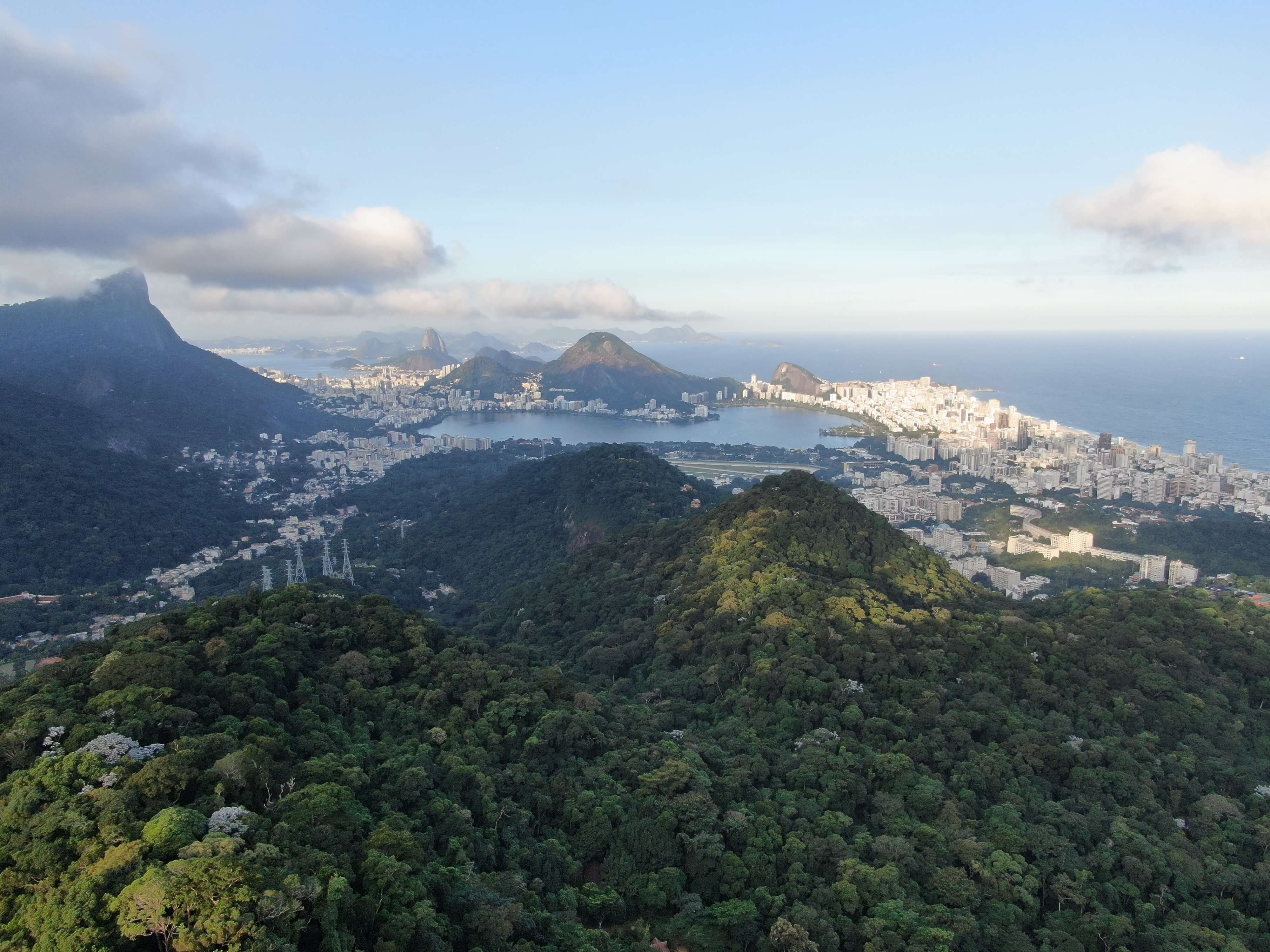 Thank You
Rio de Janeiro is a city I will always miss, for the friendly people, the meaty meals at any time of day, and of course, the beautiful natural scenery – this is a city that has it all.
Thank you for reading this Ultimate List of Things to do when You're in Rio de Janeiro, thanks for your support, and see you for the next article!
Get exclusive updates
Enter your email and I'll send you the best travel food content.