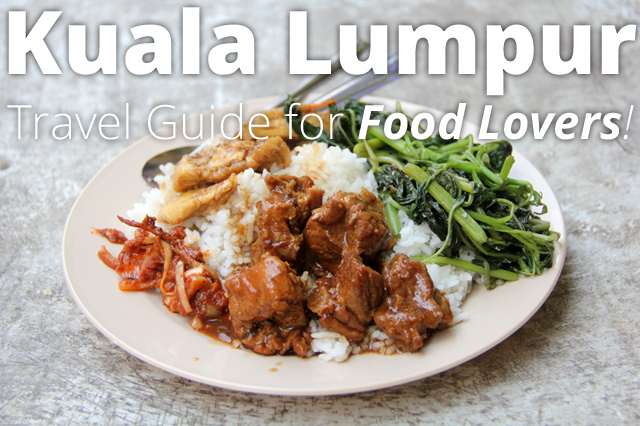 The famous duo of Petronas Towers probably pop up in your mind when you think about Kuala Lumpur…
…And while the Petronas Towers are pretty sweet to check out (I stared at them for about 30 minutes on my first visit, then got some street food and ate while looking at them), there are also many other things to explore, and lots of delicious food to eat while you're in the city.
Kuala Lumpur is the largest and capital city of Malaysia. It's a very modern city, with a highly developed infrastructure making it easy to get around by local public transportation. Shopping, history, culture, nature, and of course, food, are all available in abundance in Kuala Lumpur.
I personally really enjoy Kuala Lumpur. It's a big city that offers so much to do, yet at the same time it's friendly, easy to get around and there are delicious things to eat waiting at every corner.
In this Kuala Lumpur travel guide for food lovers I'll share the things I enjoy most about the city, including where I normally stay, what I have done, and my favorite insiders food spots.
Arriving and leaving
There are 2 main airports that cater to Kuala Lumpur:
Other ways to get into Kuala Lumpur are by bus. The city is well connected to other parts of the country as well as Singapore by roadways.
What to do in Kuala Lumpur
Kuala Lumpur offers a range of different activities to do depending on what you're interested in. There are art museums, modern architecture, history, and lots of food and countless local restaurants to explore. Here are some of the most famous attractions in the city.
1. Petronas Towers – The two twin towers that touch the sky, and are connected by a skybridge on the 41st and 42nd floor, are arguably the most iconic images of Kuala Lumpur – they make the covers of many Kuala Lumpur travel guide books. They have since been surpassed multiple times, but at the time of opening, they were the tallest skyscrapers in the world. Price is 80 Malaysia Ringgits entrance.
Get exclusive updates
Enter your email and I'll send you the best travel food content.
2. Central Mosque and Historical Buildings – Though Kuala Lumpur is a city studded with incredible modern sky rise buildings, there is also a fascinating historical side of the city. Starting from Merdeka Square, where you can see a number of important landmarks like one of the world's tallest flag poles, you can start walking towards the huge National Mosque (Masjid Negara). The mosque has a capacity to hold 15,000. Then continue to the museum and the old railroad.
3. Menara KL – Another landmark in Kuala Lumpur is the Menara KL, a huge communications tower. The structure is 421 meters in height, and you can pay a fee just to go to the top for a look at the viewing deck, or you can choose to have a meal at one of the restaurants. The Menara KL is also home to a world class annual BASE jump event, and I had a good friend participate a few years ago – so I was able to go to the top and enjoy some outrageous (and insanely scary) views from the top of the tower.
4. Little India – Little India in Kuala Lumpur is a lot better known as Brickfields. It's a great place to walk around, browse, go shopping, and eat delicious Indian food – often south Indian food. You'll pass Hindu temples, strands of bright yellow marigolds, and hear the sounds of the tabla drums and Indian tunes blasting from speakers on the side walk.
5. Chinatown – The Chinese have long been a part of Malaysia and in Kuala Lumpur, Chinatown is a pretty large section of town. If you're looking for budget accommodation, Chinatown is a good option and a good location to base yourself from. The central part of Chinatown, right along Petaling street, is a great place to go shopping, especially if you're looking for knockoff designer goods like handbags, shoes, and football jerseys.
6. Thean Hou Chinese Temple – Built by the local Hainanese community in Malaysia, the Thean Hou temple is a Taoist place of worship. The temple is positioned on a hill, just above Brickfields, and when you're there, you can catch some nice views of Kuala Lumpur.
7. Central Market Kuala Lumpur – Also known as Pasar Seni, the Central Market in Kuala LUmpur is sort of a touristy shopping plaza. But if you're looking for Malaysian souvenirs or little trinkets, it's not a bad place to visit. Vendors are pretty friendly, and the shopping is peaceful and enjoyable.
8. KL Bird Park and Lake Gardens – If you're a lover of nature, Kuala Lumpur has a number of attractive things to do. The KL Bird Park is home to the world's largest in-flight aviary (a giant netted area where birds can fly freely, yet still caged). Also, be sure to take a stroll or even a jog through Kuala Lumpur's Lake Gardens, a beautifully set up park that surrounds the city with lush tropical greenery.
9. Batu Caves – It's hard to believe that just a few kilometers outside of the central part of the city, is a huge cave system surrounded by jungle covered limestone cliffs. The Batu Caves is one of the most sacred Hindu places of worship outside of India. When you get there, you can climb the series of steps to the top, enter the giant mouth of the cave, and navigate your way to the very top Hindu temple. I usually go in the morning, hike to the top, and then come down for a vegetarian banana leaf lunch.
10. Chow Kit Wet Market – One of the things I enjoy doing when I'm traveling in a country is to meander through the local fresh wet market. In Kuala Lumpur, the largest wet market is known as Chow Kit. It's a sprawling market full of delicious produce, and a place you'll find every ingredient necessary for cooking a local Malay feast. Do take normal safety precautions if you decide to visit Chow Kit market – especially be careful of your pockets, cameras, and valuables.
11. Malaysian Food – I could personally never write a list of top things to do in any city in the world without highlighting the local food, specifically the street food. And for the record, Kuala Lumpur has a food culture and scene that will whet your appetite from the moment you step off the plane. I personally, can hardly contain myself thinking of the food in Kuala Lumpur, and I sometimes take a visa trip there just to eat (pushing the visa to secondary position).
Where to stay in Kuala Lumpur
If you're looking for the cheaper budget accommodation in Kuala Lumpur, you'll probably want to search in the Chinatown area. There are plenty of choices and even the budget places are pretty good value for money.
For the nice higher end hotels in Kuala Lumpur, search in Bukit Bintang.
I often use Agoda.com to book my hotels when I travel in Asia.
Transportation
When I'm in Kuala Lumpur, I basically only take public transportation – mostly using the extensive train network system.
My only complaint is that it's not a single standardized system like in other places such as Seoul.
This means you've got to transfer, and pay separate fees from one train to the next – but it's still convenient, affordable, and efficient.
The best thing to do for getting around Kuala Lumpur is to either grab a free map guide of the city, at either the airport or a tourist office, or view this map of the routes – and you can download and print it yourself. If you miss the map at the airport, you can often grab a Kuala Lumpur travel guide map from the train stations or your hotel.
Ideally, it's nice to stay at a hotel that's near a transportation station, so it's easy to go from place to place.
Best restaurants in Kuala Lumpur
It could take a lifetime to discover all the marvelous food and the best restaurants in Kuala Lumpur, so I'm going to just share some of the best places I have eaten when I've spent time in the city. After all, this is a Kuala Lumpur travel guide for food lovers!
Top street food areas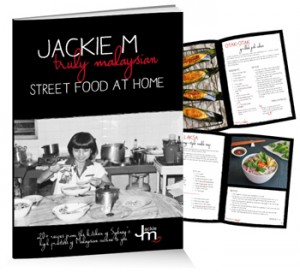 My favorite restaurants
This list of best restaurants in Kuala Lumpur is only a start, you have many more amazing options to discover. You also might want to check out these photos of Kuala Lumpur food too (get ready for your mouth to start watering).
Thank you for reading my Kuala Lumpur travel guide for food lovers. If you have been to the city and have any other suggestions for things to do or places to eat, please leave a comment, I'd love to hear from you.
Enjoy your food excursions in Kuala Lumpur!
Get exclusive updates
Enter your email and I'll send you the best travel food content.