Kitfo is like a hamburger, only it's raw, and filled with spices, and eaten with injera instead of with a bun.
It's one of the most praised foods in Ethiopia, and it is stunning on the taste buds.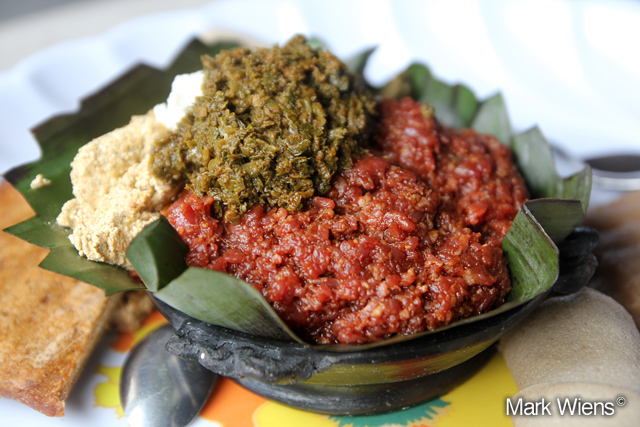 While I was in Addis Ababa, one day I headed over to Yohannes Kitfo, one of the many well known kitfo restaurants in town.
While some restaurants serve the full range of Ethiopian cuisine, others specialize in just a single or a few dishes.
A kitfo house, such as Yohannes Kitfo restaurant, serves kitfo exclusively.
Ethiopian kitfo (ክትፎ) can either be ordered slightly cooked (leb leb) or completely raw.
I chose the completely raw version, wanting to experience the truest purest taste of the beef.
The beef is freshly ground and then mixed with mitmita, a blend of chili, spices, and salt. Then comes a generous anointing of spiced Ethiopian butter known as niter kibbeh.
Get exclusive updates
Enter your email and I'll send you the best travel food content.
That's it.
Ethiopian kitfo is born!
Sometimes it's just served as a pile of raw minced meat, but it's also served with a number of salty cheeses and a spoonful of spiced gomen, collard greens.
When you have a traditional kitfo feast in Ethiopia, you'll receive a variety of breads with your raw meat. Injera, the ubiquitous staple of the country, is always provided.
Along with injera you also get a bread called kocho (or qocho), a thick hearty flatbread made from ensete, similar to a banana. This was my first time ever to sample kocho.
One version was sticky, the other version was toasted and crispy. I especially liked the crispy kocho, it tasted like an incredibly filling cracker.
Along with bits of the raw beef, it was like eating crackers and butter.
My kitfo arrived, and it was literally a small mountain of raw beef placed before me, cradled in a clay vessel.
The meat was glistening from the light reflecting off the buttered raw meat.
I was thrilled and could barely contain my emotions of such a trophy of a dish.
You can either grab spoonfuls of raw beef and place them into a piece of injera, or alternatively you can take pieces of injera or kocho and dig straight into the dish. Both ways are equally effective.
I liked the spoon method, allowing me the pleasure of adding a spoon of beef partnered with a bit of cheese and gomen (collard greens).
How does kitfo taste?
I've had kitfo quite a few times at Ethiopian restaurants in the United States, and I always enjoy it, but this version at Yohannes Kitfo in Ethiopia was the best I've ever had by a long shot.
Honestly, the meat was so tender and so smooth that I really didn't need to chew. The meat just sort of dissolved into my tongue, the spices and butter enlightening my taste buds.
My first bite was so incredibly good that I actually had to close my eyes and give myself a personal moment of silence to fully appreciate the flavor (I'm serious, video coming soon).
The beef wasn't gamey at all, but it was rather like a delicate cheese, but herbaceous and spicy at the same time.
Kitfo is truly a meat lovers treat.
Yohannes Kitfo, Addis Ababa, Ethiopia
Price – The massive dish of kitfo could have easily fed 2 – 3 people and it cost 117 ETB ($6.10)
Open hours – lunch and dinner daily
Get exclusive updates
Enter your email and I'll send you the best travel food content.