Eating raw meat is enjoyed in many places around the world.
From steak tartare to carpaccio, beef and many other meats, are beloved in their uncooked state.
In Ethiopia, one of the the ultimate favorite local dishes is kitfo, minced raw beef with Ethiopian spiced butter; It remains one of my all-time favorite Ethiopian dishes.
Isan is one of the largest provinces in Thailand, occupying the entire northeastern portion of the country.
In Isan, many things are eaten raw, like the many varieties of salads. There are also a few meat dishes that are eaten raw, and one of them, sort of known as a male-bonding dish: sok lek (ซกเล็ก).
Sok lek (ซกเล็ก) is basically slices of raw beef, and in this case pieces of raw tripe (stomach), mixed with a few herbs similar to the ingredients of Thai lab, then doused in a generous amount of cool blood.
I was on a short trip to Chumpuang, in the Isan province of Thailand, to visit a friend, and on our way back to Bangkok, Ying and I spent a few days in Korat (โคราช, also known as Nakhon Ratchasima นครราชสีมา), one of the major cities in Isan.
Lab Som Phit (ร้านลาบสมพิศ)
One of the many famous restaurant for Isan food and specifically for eating sok lek (ซกเล็ก) in Korat, is an old school restaurant known as Lab Som Phit (ร้านลาบสมพิศ).
The long-standing restaurant is not only home to serving a famous plate of sok lek (ซกเล็ก), but they also have the full range of other Isan dishes.
Lab Som Phit (ร้านลาบสมพิศ) is nearly always busy, especially during the lunch-time rush. When I was eating there, there were many army soldiers also eating there – and nearly every table had ordered a plate of bloody sok lek (ซกเล็ก).
There was a big fridge display cabinet in the front of the restaurant, where they stored all their raw meat, so I could see the meat was cared for, a great sign when you're about to eat raw meat.
If you're going to eat raw meat and blood in Thailand, Lab Som Phit (ร้านลาบสมพิศ) is a pretty good option.
Sok lek (ซกเล็ก) – Raw beef and blood
Ok, let's go ahead and start with their signature dish, sok lek (ซกเล็ก).
Price – 70 THB
Though the description might not sound that good, I have to honestly tell you that sok lek (ซกเล็ก) is incredibly delicious.
Slices of raw beef really don't have a lot of flavor, but rather they have excellent texture and take on the flavor of the spices in the dish.
Get exclusive updates
Enter your email and I'll send you the best travel food content.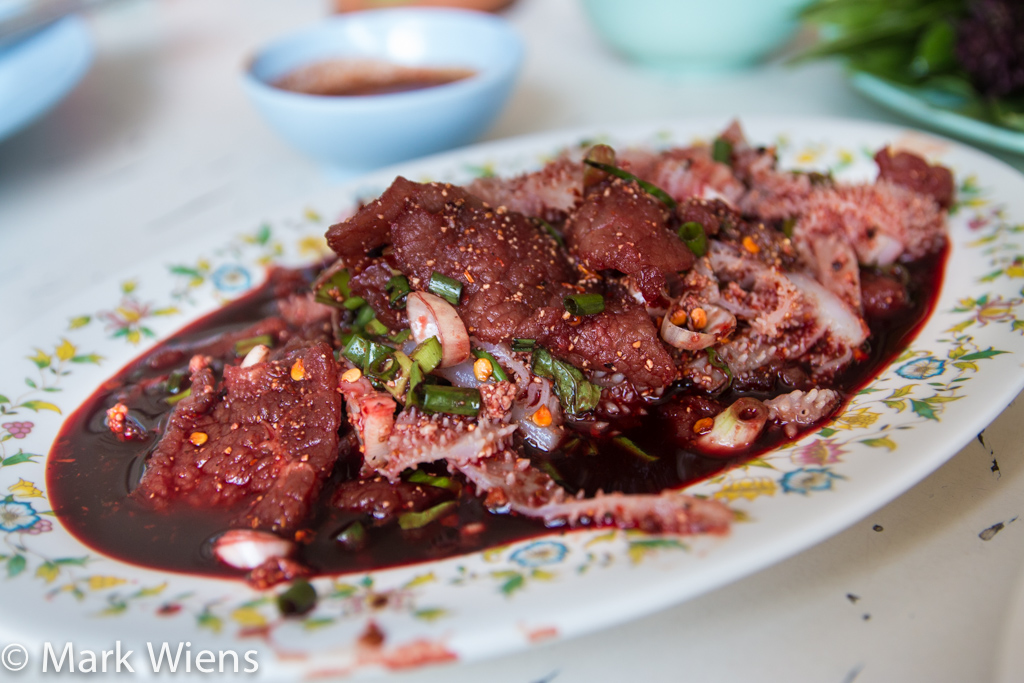 The blood had a good chili kick to it, and to me it almost tasted like there was a touch of whiskey in the blood (not sure if I imagined that or not?), perhaps to kill bacteria.
The slices of shallots and green onions also added a nice herb flavor to the meat and blood. I wasn't a huge fan of the raw slices of tripe though, I preferred the meat and the blood.
A little side dish of raw garlic and chilies also complemented the beef and blood excellently.
Although I wouldn't want to risk eating it too often, this plate of sok lek (ซกเล็ก) was delicious.
But moving on, Lab Som Phit (ร้านลาบสมพิศ) also served up some marvelous cooked dishes as well…
Kaw moo jeem (คอหมูจิ้ม)
Another Isan Thai dish you'll see nearly every table ordering at this restaurant is kaw moo jeem (คอหมูจิ้ม), grilled slices of pork neck.
The pieces of pork are first marinated, probably overnight, in a blend of garlic, sugar, and soy sauce, among a number of other flavor enhancing seasonings, and then grilled over charcoal until slightly black on the edges.
Price – 70 THB
You've heard the phrase melt-in-you-mouth too many times before.
But still, I don't know if there's a better description for this pork. It literally just started breaking down on my tongue before even chewing, the flavors of the meat and marinade completely melting in my mouth.
The pork neck was a little fatty, but sort of marbled into the meat, and I'd say it was one of the best places of grilled pork neck I've had in Thailand in a very long time.
Mam (หม่ำ)
Yes, this Isan sausage dish is almost pronounced like "Mom," only you say it a bit faster.
Mam (หม่ำ) is a type of Isan sausage that's famous in and around Korat, though it's very rare to find in Bangkok (for some reason, I'm not sure why).
As soon as it came to our table, I could smell the aroma of a freshly grilled hamburger, and it looked like a Middle Eastern style lamb kebab.
The sausage was grilled and then garnished with a handful of green onions and mint.
The plate of mam (หม่ำ) was fantastic.
It tasted like a blend of hamburger, just lightly seasoned and nicely salty.
It really did remind me of a Middle Eastern style kebab, only the mam (หม่ำ) is more on the dry side, as opposed to juicy. This is because this type of Thai sausage is very lean, and a mix of minced meat and liver.
I loved it!
Price (อันละ) – 30 THB
Tom moo (ต้มหมู)
Ordering a soup is a necessary component of having a complete Thai meal, a range of balanced dishes.
We ordered the tom moo (ต้มหมู), a typical Isan soup made with all things from the pig, seasoned with dry chilies and limes, and a handful of herbs like green onions, mint, and cilantro.
The soup was really good, but I think it could have used an extra squeeze of lime to make it more sour – but then again, my wife and I are a little crazy when it comes to eating sour.
Price – 70 THB
Som tam Lao (ส้มตำลาว)
Finally to round out our Isan lunch in Korat, it wouldn't be complete without a plate of green papaya salad, and we ordered Laos style, som tam Lao (ส้มตำลาว).
The salad included nice hand slivered cuts of green papaya, tomatoes, garlic, and chilies, all in a dressing of fermented fish sauce.
It was delicious and refreshing, a much needed green dish to balance out all the meat and blood.
Price – 30 THB
Sticky rice
Sticky rice rules in Isan, and while plain steamed rice is available at some restaurants and homes, many stick to sticky rice.
Sticky rice works so well for eating Isan food, you just take a ball of the rice, and before eating, dip it into one of the juices from a dish to give it some flavor.
Balls of sticky rice tasted particularly good after dunking them in the spiced blood!
The restaurant is situated in an old Thai style shophouse, sunken a few steps below the road. There's one main dining section, and the overflow section right next door.
They are nearly always busy.
Conclusion
Lab Som Phit (ร้านลาบสมพิศ) is a well known, long-standing restaurant in Korat (โคราช), Thailand.
They are specifically famous for their sok lek (ซกเล็ก), raw beef swimming in blood, and I thought it was very fresh, and incredibly tasty. If you're up for an adventurous plate of raw beef, this is a great spot to eat it, and it's handled quite safely, I think.
All the dishes we ordered were amazing too, especially the grilled pork neck (kaw moo jeem คอหมูจิ้ม) and the mam (หม่ำ) sausage. Korat (โคราช) is not a hugely popular place to visit for tourism, but if you ever happen to go, don't mis a meal here.
It was probably some of the best sok lek (ซกเล็ก) and grilled pork neck I've had in Thailand.
NOTE: Normally I write most Thai restaurant reviews on my other site, but I thought I'd just write this up here for the unique experience of eating sok lek (ซกเล็ก).
Lab Som Phit (ร้านลาบสมพิศ)
Address:
Phone: 044-245-026
Open hours: 7 am – 8 pm daily
Prices: Our total meal cost about 300 THB ($9.25)
ร้านลาบสมพิศ
ที่อยู่ ทางหลวงแผ่นดินหมายเลข 226 หัวทะเล , เมืองนครราชสีมา , นครราชสีมา 30000
โทร. 044-245-026
เปิดบริการทุกวัน 7.00-20.00 น.
How to get there:
Lab Som Phit (ร้านลาบสมพิศ) is located quite close to central Korat town. We took a quick 40 THB tuk tuk ride from the center. Here's the map (click on Lab Som Phit (ร้านลาบสมพิศ):
Get exclusive updates
Enter your email and I'll send you the best travel food content.