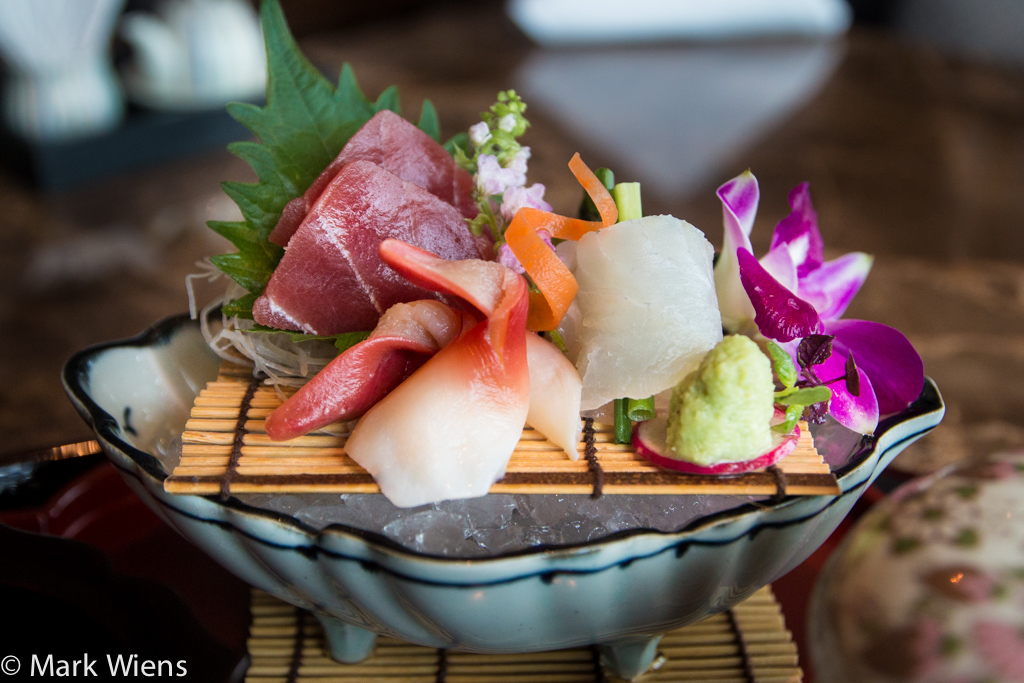 Having recently visited Tokyo, I've still been dreaming and re-living in my mind all the amazing food I ate when I was there.
From sashimi to sukiyaki, there were so many incredibly memorable meals I ate in Japan.
Back to home base in Bangkok, and there's no shortage of Japanese restaurants.
My wife Ying and I, were invited to eat at Yamazato, a Japanese restaurant inside the Okura Prestige Hotel (a Japanese run hotel).
Yamazato is a Japanese restaurant that is in many of the Okura Prestige Hotels around the world, the most famous branch being in Amsterdam.
The Bangkok branch, prides itself in high quality, authentic Japanese food, with the Japanese chefs being perfectionists with the food they prepare.
There were quite a few things on the lunch menu, from tempura to udon, sushi, sashimi, and even an insert menu of specials that were quite good deals for such a fine restaurant.
Passion Refreshing
But first, Ying and I had the "passion refreshing" mocktail.
I really don't care for sweet beverages very often (even juices I'm not a big fan of), but this was awesome.
It wasn't too sweet, but nice and sour from the real passion fruit and lime juice, spiced with sprigs or fresh mint, and fragrant with a few crushed lychees.
It was honestly one of the best juices I've had in a long time.
Price – 250
Whenever it's all-you-can drink tea, I can never hold back from drinking many many cups.
Ebi To Hotate No Kakiage
To start things off, we had an order of Ebi To Hotate No Kakiage, a crispy tempura seafood pancake.
It was like a big pancake, filled with bits of seafood, and fried to a crisp on the outside. The little bits of shrimp and scallops were wonderful.
The pancake was served with a dipping sauce, a light soy based sauce, supplemented by shredded radish.
Price – 480
Along with the sauce, the pancake also came with green tea powder, which was one of the recommended condiments for the dish.
I had never had tempura with green tea powder, even when I was in Japan, and so for a few bites I dusted my piece with the green tea powder.
It tasted exactly like green tea, and added an interesting touch. Overall, I preferred the normal dipping sauce.
Get exclusive updates
Enter your email and I'll send you the best travel food content.
Nigiri Sushi Gozen
Ying ordered the Nigiri Sushi Gozen, a box filled with a variety of nigiri sushi (pieces of sushi that include rice with a piece of fish on top).
First of all, everything we ate at Yamazato restaurant in Bangkok was beautifully presented – Japanese food in general is beautifully presented, but they even seemed to take extra precision on presentation at Yamazato.
Price – 880 THB
The nigiri sushi was all incredibly fresh, and what I really loved about it, was that the rice to fish ratio was just about perfect. The sushi chef did an excellent job.
The eel was awesome.
I did manage to get a taste of everything mentioned above, but those dishes weren't even my order…
Shokado Bento Box – Yamazato Restaurant
My order was the Shokado Bento Box, one of the restaurants recommended sets for lunch, which included a number of courses.
The first course included a beautiful dish of fresh sashimi arranged over a bowl of ice and floating on a little bamboo raft.
There were a few different types of sashimi, including a few fantastic slices of tuna, and then some thin slices of white meat fish – I'm not even sure what type of fish it was.
Price (for entire bento set) – 1,500 THB
I could honestly eat slabs of raw tuna sashimi everyday.
Yamazato Restaurant flies their sashimi, among other ingredients, into Thailand daily from Tsukiji Market in Japan. The quality was fantastic, and I was in pure bliss mode with every bite of fish, which melted on the tip of my tongue.
My sashimi came with a little dish of sea salt, and though it was intended to be used for the white meat sashimi, I thought it was so good and so pure tasting, that I even loved it on the red tuna.
Not sure if using salt is alright to do with red tuna, but it sure tasted amazing to me.
Along with the sashimi, the first appetizer course also came with a bowl of egg custard (in Thai it's known as khai toon, just like a steamed egg custard). The egg was mixed with pieces of shrimp, and it was so amazingly silky and smooth, and just lightly flavored.
It was one of the best steamed egg custards I've had in a long time.
Next course at Yamazato Bangkok was a mix of tempura.
The batter was not quite as light and fluffy as that beautiful version I ate in Tokyo, but it was still fantastic. Everything was fried until crisp, and the batter wasn't too thick.
I especially loved the shrimp, which were nice and meaty.
I'm also a huge fan of perilla sesame leaves – they are so nicely fragrant.
Finally, on to the main course of my Shokado Bento Box, and by this time I was already smiling like a happy child.
The platter included grilled fish and grilled beef, steamed vegetables and stewed vegetables, a bowl of rice topped with salmon meat, and salmon roe, and finally a high quality bowl of miso soup; Again, everything at Yamazato was artfully presented.
The fish was probably my favorite item.
I'm not even sure what type of fish it was, but it was first grilled, then glazed in a lightly sweet and salty sauce. Japanese rarely overcook anything, and that's precisely the reason this piece of fish was so delicious.
It was flaky and moist.
The beef was also fantastic, seasoned with a hint of soy sauce, sprinkled with fragrant toasted sesame seeds, and finally drizzled in a little bit of sauce that was enhanced with radish.
I really enjoyed the beef, almost as much as the fish.
The side dish of vegetables included a mix of mostly starchy things like sweet potato, carrots, and lotus root. Everything was fresh and crisp and sort of glazed in a sweet sauce.
It was a little bland for me, but it was still good.
The salmon rice bowl (not pictured) was another thing from my bento box that I loved.
The salmon was deboned and spread over a bed of Japanese short grain rice, and then seasoned with furikake flakes and finally a spoon of salmon roe on the very top.
It was my kind of comfort dish.
Appetizers and bentos happily in my stomach, I was ready for dessert.
The dessert and Yamazato Bangkok included a plate of fresh fruit (which I love), and a small dainty cup of Japanese pudding, plus a cup of green tea on the side.
The fruit was great, and the pudding, which was incredibly smooth and creamy, and lightly flavored with perilla leaves, was very good.
That was the end of my bento set at Yamazato.
Kuzhukiri
When I was in Japan, I guess we didn't eat too many desserts, but I had never come across kuzhukiri, a dessert make of Japanese arrowroot starch noodles, accompanied by black sugar syrup, which tasted like molasses.
It was sort of like a Thai lod chong, or a faluda I had in India. Basically sweet noodles and a sweet sauce. Not my favorite, but I did appreciate the delicateness of it.
Price – 360
Mattcha Warabi Mochi
We also had mattcha warabi moch, according to the menu, "warabi bracken starch cakes with kinako powder and green tea flavor."
Price – 300 THB
This Japanese dessert also came with the same black sugar syrup, which was intended to be poured over the mochi before eating it.
The mochi was probably the most soft and supple mochi I've ever had in my life.
I'm not much of a desserts fan, but this mochi was quite good, and I could really taste the quality.
Along with serving authentic and high quality Japanese food, Yamazato Bangkok also has a wonderful view on the city, and the atmosphere is modern and elegant.
The view of Bangkok from the main dining room made the experience all the better.
Conclusion
Yamazato Bangkok serves high quality and delicious Japanese food.
I thoroughly enjoyed my Shokado Bento Box, and tasting the other dishes we ordered, and I thought the portion sizes were pretty good size, and the food was fantastic quality.
For lunch you'll find some great bento boxes and cheaper lunch specials, while at dinner the restaurant is normally a little more upscale.
Yamazato Japanese Restaurant – Bangkok, Thailand
Address: Park Ventures Ecoplex, 57 Wireless Road, Lumpini, Pathumwan, Bangkok 10330 Thailand
Open hours: Lunch from 11:30 am – 2:30 pm, Dinner from 06:00 pm – 10:30 pm
How to get there: The Okura Prestige Hotel is located in the Park Ventures Ecoplex building right at Phloen Chit BTS station. Take Exit #2, and you can get directly into the sky-rise building, then just follow the signs to the Okura Prestige Hotel. Once you're in the downstairs lobby, you need to take an elevator up to the main floor of the hotel reception (someone will direct you), and Yamazato is located on the left hand side of the reception.

View Bangkok Eating Thai Food Map in a larger map
*DISCLAIMER: I did not pay for my meal at Yamazato, but I did not get paid to write this review. All photos, thoughts, and opinions expressed are my own. – Mark Wiens
Get exclusive updates
Enter your email and I'll send you the best travel food content.