Throughout my stay in Delhi, I not only had a chance to see many amazing Delhi attractions, but I also did a lot of exploring and research.
While I didn't stay at all the hotels mentioned in this guide, I did visit and check out each of them. The recommendations I've listed are my personal favorite places to stay in Delhi.
In order to more clearly explain where to stay in Delhi, I'm going to first divide the city into 3 main areas before sharing a few places I recommend.
*Make sure to check out my Delhi Travel Guide for lots more tips!
1. Paharganj & Karol Bagh
The first area to consider is the Main Bazar (which is known as Paharganj). It's the budget backpacker area of Delhi where there are many affordable guest houses, lots of businesses, and plenty of both Indian and Western restaurants. Probably the best thing about staying in Paharganj is that it's just a 5 minute walk from the New Delhi Railroad Station, so if you arrive by train, it's a really easy area to get to.
Karol Bagh is a bit further west from Paharganj, and it would be best to take an auto rickshaw or the Metro to Karol Bagh station to get there. Both areas are full of hotels and guest houses of varying levels of quality. Chandni Chowk is a similar area, located north of Paharganj, but there are only a few suitable accommodation options there (one of them I mentioned below).
2. Central Delhi (Connaught Place)
While Chandni Chowk and Paharganj are old districts packed with merchants and trade in every form, Central Delhi is where the modern business district is found. Connaught Place and the streets that lead to the series of roundabouts are spacious, lined with trees, and offer a little more breathing room than other more congested areas of town. Connected by numerous Metro stations, taxis, and auto rickshaws, you can get anywhere in the city quite easily. In Central Delhi, you'll find many upscale hotels and resorts like the Oberoi New Delhi or the Leela Palace.
Get exclusive updates
Enter your email and I'll send you the best travel food content.
3. South Delhi
South Delhi is a huge part of New Delhi, and which I'll group into just a single area for the sake of this guide. It feels like an entire different city from the chaotic markets of Old Delhi. South Delhi is filled with huge streets and green trees, and it has the feel of a giant neighborhood (though you can still find good street food and stores everywhere you look).
In South Delhi, there are lots of luxury hotels but you can also find many mid-ranged guest houses that are quiet, safe, and comfortable. You can easily get to South Delhi by Metro, most conveniently on the Yellow and Purple lines. Many famous things to do in Delhi are located in the south of the city, so it can be nice to stay somewhere in South Delhi as a base to explore the city.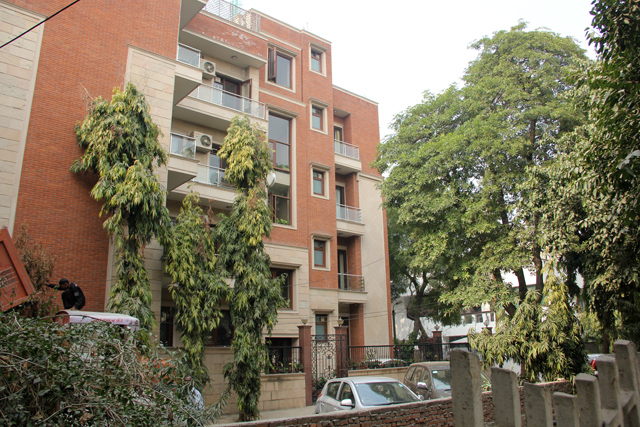 Where to Stay in Delhi – 4 Recommendations
1. Smyle Inn (Paharganj or Pahar Ganj)
Smyle Inn is located on a little walking alley just off the Main Bazar road in Paharganj. The rooms are basic but spacious, very clean, and there's WiFi 24 hours a day. The guest house is in a great location and if it fits your budget, I'd recommend it as a convenient and comfortable place to stay.
How to get there: Paharganj is located adjacent to the New Delhi Railroad Station (which is accessible by railroad from many other parts of India, by the local Delhi Metro, and also by the Airport Express train – in other words it's a very accessible location). From the New Delhi Railroad station you want to climb the pedestrian overpass (over the tracks), and take the direction following the signs for "Pahar Ganj." After exiting the main doors of the station you'll then walk out the main gate, cross the street, and follow the Main Bazar (Baba Namdev Marg) street about 100 meters or so. The alley leading into Smyle Inn is right next to a Mosque and a Citibank ATM. Take a right into the alley, walk for about 20 meters, and you'll see Smyle Inn on your left hand side.
Address: 916, Gali Chandi Wali, Main Bazar, Paharganj, New Delhi, Delhi, 110055, India
Phone Number: +91-11-23584076
Prices: 1,080 INR for a double room
If you're looking for real budget accommodation, the area to stay is Paharganj. If you just walk around and inquire at a few places you can find decent rooms for 300 – 500 INR per night.
Tara Palace hotel is located right in the craziness of Chandni Chowk, yet hidden in an alley to escape the immediate loudness and crowdedness. Walk into the hotel and you'll breathe a breath of fresh air. The rooms are really nice, recently renovated, clean, spacious, and looked very comfortable. It's in a great location to explore the old markets of Delhi. They offer free airport pick-up too!
How to get there: The easiest way to get there is from Chandni Chowk Road (if you take the Metro get off at Chandni Chowk and walk east). Keep walking east on Chandni Chowk Road until you reach Esplanade, a busy industrial road. Make a right on Esplanade Road and continue for about 100 – 200 meters. The entrance alley to Tara Palace Hotel is on the right side of Esplanade, and just to the right side of of G.A. Marindera Co. (quality steel). Walk in the alley which will lead you directly to Tara Palace.
Address: 419, Esplanade Road, Old Cycle Market, Chandni Chowk, Delhi 110006
Phone Number: +91 11 23276465
Prices: $30 – $40 per night which includes breakfast
Click here for current rates.
Bloomrooms is a new and chic hotel that caters to families, couples, and independent flash packers. It's very clean, with an extremely modern design, and all sorts of comforts like things they call cloud beds and rain showers. They offer fast WiFi, free airport pickups, and a nice environment. It's the type of hotel where you could be productive if you need to get work done. What I didn't like about Bloomrooms is that it didn't appear like there were too many local restaurants or street food options in the neighborhood, but other than that, Bloomrooms is ideal.
How to get there: Take the Metro to Jangpura station, exit at gate 2 and make an immediate u-turn. Walk for about 200 meters and then take a left to go underneath the highway (you'll see some pet stores), after the highway, make another left and swing back around, and go straight for just 50 meters or so and you'll see the bright yellow Bloomrooms gate.
Address: 7 Link Road, Jangpura, New Delhi, 110014
Phone Number: +91 011 412 25666
Prices: A double room will cost around $50 – $80 per night
Click here for current rates.
Out of all these suggestions, if I could choose where to stay in Delhi, I would probably stay at Saket Bed and Breakfast; It has just about everything you could want, and it's more of a warm friendly boutique hotel than a guest house. It's just a 5 minute walk from the Saket Metro station, situated in a gated community, and within a multi-storey luxury home. The rooms are elegant, super clean, and the staff are all very nice. Another great thing is that although it's in the peaceful neighborhood, it's just a 10 minute walk to a small shopping outlet center that includes a theater and many restaurants. There are also plenty of street side convenience stores and food stalls in the area. I was impressed with Saket Bed and Breakfast!
How to get there: Take the Metro (Yellow Line) to Saket station, exit at gate 2, walk straight out of the gate and go straight along the small neighborhood access road for about 200 – 300 meters. Just before leaving the estate gate (right before coming to a larger road intersection) make a left on the small alleyway. Walk about 20 meters and you'll see Saket Bed and Breakfast (don't miss it, it's just a small green sign) on your left hand side.
Address: 3rd Floor, D21 Saket, Near PVR Cinema, Opposite Kotak Bank, South Delhi, New Delhi and NCR, India
Phone Number: +91 11 41013398
Prices: About $60 – $80 per night for a double room, worth the price
Click here for current rates.
With everything from luxury resorts to budget guest houses, Delhi has a vast array of accommodation options. In a city like Delhi, it's always nice to have decent place to come back to after exploring!
Click here to see many more options for places to stay in Delhi.
… and don't miss my Delhi travel guide!
Get exclusive updates
Enter your email and I'll send you the best travel food content.