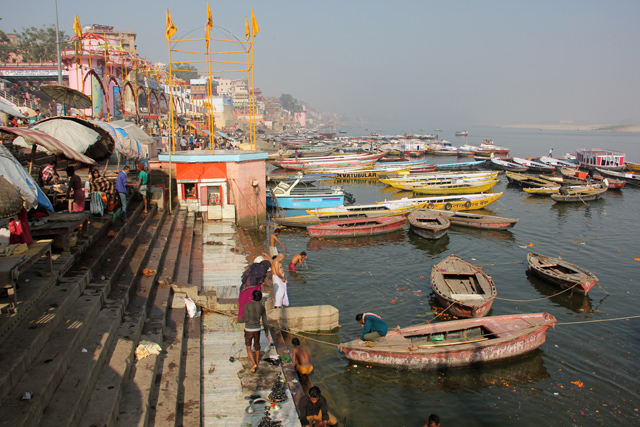 Varanasi, India, is by all means one of the most fascinating and ancient cities I've ever visited; Nearly everything you see, hear, smell, and taste is in some way intriguing.
It is the most sacred Hindu city in India, a place where people come to bathe in the Ganges river to wash away their sins and where others come to die with hope that they will be removed from the human cycle of suffering.
It's a city where I was peacefully enjoying a delicious street food snack in a lane and all of a sudden I had to duck and move out of the way as a funerary procession marched down the alley just inches from my face.
Walking along the river, observing life and death, and getting lost within the ancient narrow lanes were the highlights for me.
I stayed in Varanasi, India, for about 1 week, and while I could have stayed longer and explored many more interesting things, it was about the right amount of time. You could also spend a few days less, but you'll at least need 3 – 5 days or more to experience Varanasi.
Below you'll find my Varanasi travel guide, packed with lots of useful tips from my visit. Here's what is included:
Arriving and Leaving Varanasi
Where to Stay in Varanasi
How to Get Around Varanasi
Attractions in Varanasi
Food and Restaurants in Varanasi
Enjoy your visit!
Arriving and Leaving Varanasi
If you're not flying, probably the easiest way to get in and out of Varanasi is by train, and there are two main stations that cater to Varanasi.
Varanasi Junction – Varanasi Junction railroad station is located just a few kilometers from the Ganges River. There are lots of daily trains to other major cities in North India from Varanasi Junction. To get to the Main Ghat (where many Varanasi guest houses and hotels are located), you can either take an auto rickshaw (100 – 150 INR) or a cycle rickshaw (50 INR).
Mughal Sarai Junction – Mughal Sarai Junction is located about 10 kilometers from Varanasi. It's not the best option, but if you can only get a train there, it's not too bad. From Mughal Sarai to Varanasi City you can either take a private auto rickshaw or a shared auto rickshaw. I took an auto rickshaw to the riverside in Varanasi for 200 INR, which I'm really not sure if that was a good deal or if I got ripped off. At just about every train station in India you'll be greeted by touts that will follow and try to hustle you. Just walk outside of the station and find a rickshaw you're comfortable with and then agree on a price before getting in.
Trains can be challenging and often frustrating to book in India – especially when you're trying to arrange plans last minute. I was in Gangtok and wanted to book a ticket to Varanasi, and checking myself on Cleartrip, everything was fully booked. So I had to book through an agency with a tourist quota and was able to get a train ticket to Mughal Sarai.
Where to Stay in Varanasi
There are two main budget areas to stay at when you're in Varanasi. Around the Main Ghat is where you'll find lots and lots of guest houses, both along the Ganges River and within the narrow lanes. If you walk down the main alley to the right of the Main Ghat (when facing the river), you'll find lots of guest houses and budget accommodation options as well as many restaurants, both Indian and foreign.
Get exclusive updates
Enter your email and I'll send you the best travel food content.
The other area is around Asi Ghat, and it's about a 30 minute walk from the Main Ghat area. I didn't stay in this area, but just took a walk there one day. It looks to be quite relaxed and I've heard it's more of a hippie hangout area.
Ganpati Guest House – For my first night in Varanasi, I stayed at Ganpati Guest House. Right along the Ganges and in between the large burning ghat and the Main ghat, it's in a perfect location for exploring and getting a feel for Varanasi. The guest house is nicely decorated and rooms are clean and comfortable. The prices are a little high, but it is a nice place. This guest house is extremely popular and fills up pretty fast if you don't make a booking. We paid 1200 INR for a double room.
Alka Guest House – Next door to Ganpati is Alka Guest House, a place that's a little cheaper and offers decent accommodation in a great location as well.
Teerth Guest House – The owner of Alka Guest House opened a second venue, not along the river, but within the narrow alleys known as Teerth Guest House. I actually enjoyed staying here, it was cheaper than being on the river, and it was quieter because it's tucked into a dead end alley. At first it looks confusing to find, but after a few attempts you'll find it with no problem. We paid 700 INR per night for a double room.
Click here for many more hotels and guest houses in Varanasi.
How to Get Around Varanasi
Walk – For the most part, walking on foot is the most interesting and best way explore the things to do in Varanasi. You can walk all along the river, on the main streets (though you'll be sharing the road with lots and lots of other traffic), and within the walking alleys. Varanasi is a great place to get explore on foot and the main roads look almost the same as Chandni Chowk in Delhi.
Bicycle Rickshaw – If you're going somewhere that's not too far, but you don't want to walk, jump on one of the many Varanasi cycle rickshaws. They are not available in the alleys, but once you get to a main street (like the access road to the Main Ghat), cycle rickshaws are everywhere. Decide on a price before getting in, but small rides should cost just 20 – 40 INR. I took a cycle rickshaw all the way to the Varanasi Junction railroad station for just 50 INR.
Auto Rickshaw – Another way to get around Varanasi is to take an auto rickshaw, which are also widely available on the streets.
Attractions in Varanasi
There are many things to do in Delhi, but Varanasi is less about the specific attractions and more about the destination as a whole. Ceremonies of life and death, people splashing in the holy Ganges river, and wandering the narrow ancient lanes is much more than enough to keep one occupied and fascinated. Here are my attractions suggestions in this Varanasi travel guide.
Ghats – Ghats are the steps, now normally made form concrete, that lead down to the banks of the Ganges. The Main Ghat (Dashashwamedh Ghat), Asi Ghat, and Kedar Ghat are all ghats you'll want to check out.
Burning Ghats – There are two ghats in Varanasi where cremations take place: Manikarnika Ghat and Harishchandra Ghat. The Manikarnika ghat is the much larger burning ghat where you can watch cremations while at Harishchandra ghat I saw a body being dropped into the river.
Boat Ride on the Ganges River – Visiting Varanasi and not taking a boat ride in the Ganges is like visiting Bangkok and not visiting the Grand Palace. It's not completely necessary, but it's definitely worth doing!
Night Pooja Ceremony – Everyday at around 6 pm at the Main Ghat a crowd gathers to watch the Hindu priests lead a ceremony of fire and music dedicated to Lord Shiva and the Ganges River. It's interesting to watch.
Ancient Alleys of Varanasi – Varanasi is one of the longest continually inhabited cities in the world – it's been around for a very long time. The ancient narrow alleys are now crammed with shrines, businesses, shops, street food stalls, and cows. You'll also find funerals marching to the river!
More things to do in Varanasi here.
Here's a video of the many attractions and things to explore in Varanasi! You can press play now!
Food and Restaurants in Varanasi, India
1. VSR Caffe – If you're a fan of south Indian food, this is the spot for you. They serve excellent southern thali's of rice and a few vegetable curries for 60 Rupees, which is a good price for the touristy section of Varanasi. During my stay in Varanasi, I ate here a number of times and it was always delicious and satisfying. From the Main Ghat, navigate your way to the main lane on the south side (that is your right side, while facing the river), and walk down the lane for about 10 – 15 minutes until you reach the restaurant (you'll pass lots of guest houses and western restaurants).
Address: D. 25/2-A Ganga Mahal, Varanasi, India
2. Maa Laxmi Dosa Corner – Along the same lane as VSR Caffe, but before it, you'll find a few little hole in the wall restaurants that serve light meals and snacks. Dosas and idli sambar are the things I enjoyed from these stalls. You can either choose to sit on the small benches within the restaurant or just stand in the lane while you eat.
3. Madhur Milan Cafe – Along Dashashwamedh Road (the road that leads to the Main Ghat), is a restaurant you can't miss – you'll see men sitting on pedestals deep frying huge amounts of samosas and other treats. This greasy looking restaurant is a favorite for locals and also attracts lots of tourists as it's in a really convenient location. They serve all kinds of food, and I thought their samosas were pretty good.
4. Kashi Chat Center – Keep walking down Dashashwamedh Road until you get to the crazy intersection, then cross the street, and keep going straight for about 5 more minutes and you'll reach the Kashi Chat Bhandar. This is a favorite Indian street food snack location in Varanasi. I started with dahi puri, little hollow chips filled with yogurt and spices (similar to pani puri but full of curd instead of tamarind water), spinach chaat, a crunchy spinach snack, and finally gulab jamun for dessert. It was all excellent and prices are 25 Rupees per dish. The restaurant opens starting around 4 pm daily.
5. Shiva Cafe – Since I was in the area one day (it's located about a 20 minute walk from the Main Ghat on the same lane, but further past, VSR Caffe) I stopped in at Shiva Cafe. It's a famous place, especially for backpackers searching for Western food. They have a pretty extensive menu including Nepalese food, Indian food, Western style food, and even Thai dishes. I had the Nepali breakfast which was alright, nothing spectacular, but pretty good.
6. Varanasi Sweets – Varanasi is a city that's quite famous throughout India for its Indian sweets. Within the lanes you'll find all sorts of sweets vendors selling a variety of attractive desserts displayed in brightly lit cabinets. Most of the choices are heavily milk based and very sweet. If you have a sweet tooth, stop by and grab a mixed box. I bought 5 pieces for 30 Rupees. They were very sweet, but interesting to try. Don't forget to sample malaiyo in the winter.
If you are looking for South Korean food or Japanese food you'll also find many restaurants serving both cuisines to cater to the many Korean and Japanese tourists. I went to one Korean restaurants, but wasn't overly impressed. Also be sure to stop in Varanasi for some delicious creamy lassis and street food like baati chokha.
—
There's no better way to put it other than, Varanasi is one of the most interesting and amusing cities in the world. You might see some things that will make you squeamish, but at the same time you'll just be amazed at what goes on and what takes place.
Hope you enjoyed this Varanasi travel guide, and have a great visit!
Get exclusive updates
Enter your email and I'll send you the best travel food content.