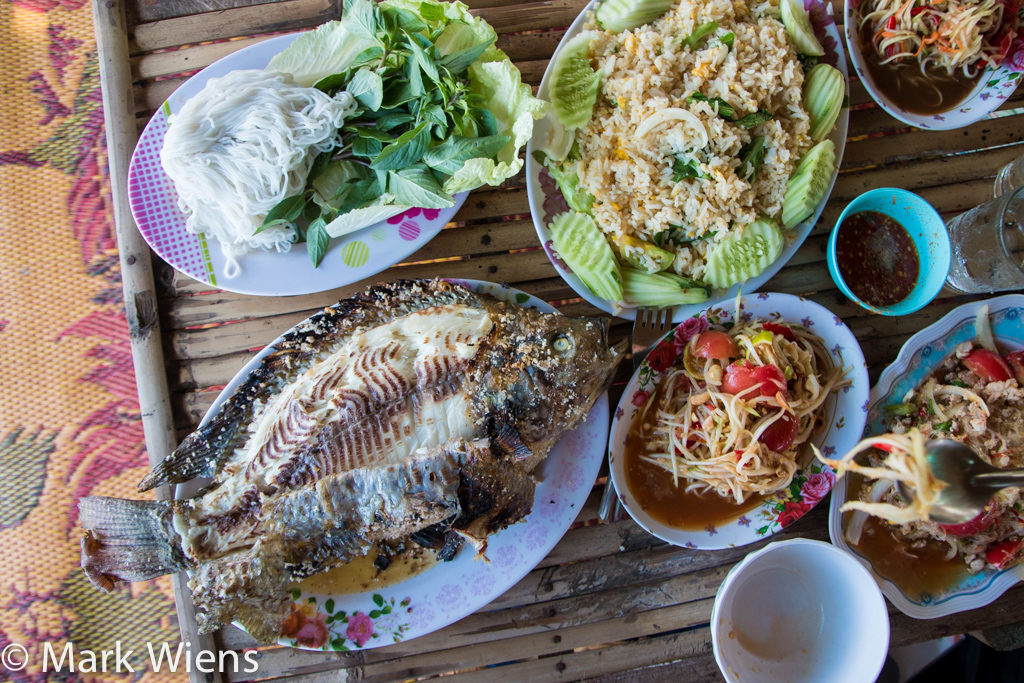 The next step of filming for the Thai food tv show was to go to Khon Kaen (ขอนแก่น), one of the major cities located in the Isan region of Thailand.
I've been to Khon Kaen a number of times, and each time I'm reminded just how good the som tam (green papaya salad) is in this area of Thailand.
On our fist day in Khon Kaen we actually drove through the city, and kept on driving until we reached the district or area of Ubolratana (actually pronounced Ubon Rat), which is famous mostly because of the significant Ubol Ratana dam.
Bang Saen II (บางแสน II)
Ubol Rat is a pleasant little town, located 53 km from Khon Kaen town (according to Tourism Thailand).
The lake, created by the dam, is home to what's called Bang Saen II (บางแสน II) (named as the 2nd Bang Saen, after the first one in Chonburi, which is a similar place of relaxing and eating).
Bang Saen II (บางแสน II) is a series of restaurants built in little huts floating above the water. There are probably 20 – 30 restaurants to choose from, but I think they all pretty much serve the same exact menu, both food and prices.
We chose a restaurant called Luk Nam (ร้านลูกน้ำ), out of no particular reason, other than that's the first restaurant we saw.
Miang pla pao (เมี่ยงปลาเผา)
Khon Kaen is well known for its grilled tilapia fish (pla nin pao), and that's one thing you absolutely can't miss when you're there.
We ordered the fish, which was served with a basket of vegetables, some kanom jeen rice noodles, and finally a chili dipping sauce – the combination altogether known as miang pla pao (เมี่ยงปลาเผา).
The fish was by far the best part of our meal at Bang Saen II (บางแสน II), and though it was quite expensive by Thai standards, at least it was good quality.
The meat of the fish was nice and flaky, and juicy to perfection.
Get exclusive updates
Enter your email and I'll send you the best travel food content.
(If you want to make Thai grilled fish yourself, check out my recipe here.)
As with just about every meal in Isan, we also ordered a plate of som tam (ส้มตำ), green papaya salad.
I normally like som tam pla ra, or som tam Lao (ตำลาว), the latter of which I think is pictured.
For some reason, sitting over the water relaxing makes me often feel like eating fried rice, so we also ordered a plate of fried rice with squid.
Overall, the food was alright at Bang Saen II (บางแสน II), but not great.
The fish was very good, fresh, and not over grilled, so it was nice and juicy, but the rest of the dishes were quite mediocre.
I didn't actually notice, as I didn't really look at the menu until we finished eating, but the prices were very high.
I'm not sure why, as being in the countryside in Thailand is usually quite affordable and much less expensive than Bangkok, but Bang Saen II (บางแสน II) is somehow not the same – I thought it was way overpriced.
Our total bill, also including 2 other dishes (un-pictured) came to 850 THB ($26), which is what I would pay at a nice restaurant in Bangkok.
The only reason I can think why Bang Saen II (บางแสน II) is so expensive is because people often go there to relax and hang out and sit all day, so maybe they charge so much because they know you'll sit there the whole day?
Anyway, I don't think I would go back again, despite the beautiful and relaxing atmosphere, the food was just too expensive for what it was.
Green View Lake Resort
We checked into Green View Lake Resort*, located just on the hill above the lake, with a nice view.
The resort was nice and relaxing, and the room was cozy and adequate. But unfortunately our bathroom, and everyone else's bathroom, smelled terrible, so I think they had a bit of a sewage problem, which wasn't very pleasant.
Also, the rooms, though very basic, were quite expensive at around 700 THB ($21.54) per night.
Again, just like the lakeside restaurants of Bang Saen II (บางแสน II), I thought the place we stayed was well overpriced for what it was. For the same standard in much of Thailand, the room would have cost about 300 – 400 THB.
I had visited Ubol Rat a few years back and really enjoyed it, but returning again, I just wasn't impressed – mostly because the value is not great. If I was going to spend that much money again, I would have preferred to go the beach on an island in Thailand.
So overall, if you are in Khon Kaen you could check it out, it is a nice relaxing place, but I wouldn't really recommend it too much.
Sai Krok Isan
As part of the TV show, one of my tasks was to cook a dish using sai krok Isan as the main ingredient.
I chose to fry it up with some red curry paste to make pad prik gaeng sai krok, typical Isan sausage stir fried with red chili curry paste.
Believe it or not, it actually really tasted quite delicious, the salty sausage paired with the spicy garlicky chili curry sauce.
After cooking, we headed over to Ubol Rat dam, did some sightseeing, and then just walked around enjoying the cool fresh air in Khon Kaen.
The sunset over the lake, was wonderful, so peaceful and so relaxing.
Conclusion
Ubol Ratana is a district in Khon Kaen (ขอนแก่น), famous mainly for its important dam, and also for the beachside holiday area known as Bang Saen II (บางแสน II).
Bang Saen II (บางแสน II) is a great place to hang out, relax in huts above the lake, and enjoy Isan food, specifically grilled freshwater tilapia fish. Though I thought it was overpriced for Thai standards, it was fun, and the fish was especially delicious.
It's a decent place if you're ever in Khon Kaen (ขอนแก่น), Isan, and looking for a relaxing getaway.
(Note: If you're just joining this series, I was hired to be the host of a Thai food TV show. I'll be blogging about the things we do as much as I can.)
Get exclusive updates
Enter your email and I'll send you the best travel food content.