Take a bite of Kuala Lumpur and experience a city where the Malay, Chinese, and Indian cultures synthesize into a diverse and fascinating habitat.  KL is a place where ultra modern technologies blend into a surrounding of natural tropical botany, where a love camaraderie for all things edible percolates through a world of different cultures, and where everyone is encouraged to become their own gastronome.  A spoon of Kuala Lumpur includes a sensation that will touch all taste buds and draw you into a Malaysia that is Truly Asia!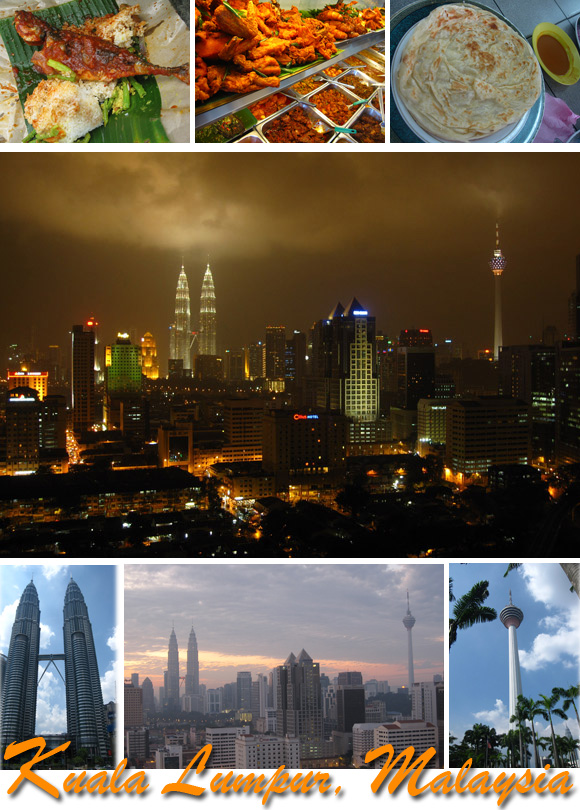 1. Petronas Towers
The signature landmark and most famed aspect of Kuala Lumpur are the jet setting Petronas twin towers. The twins can be spotted from afar, poking their way through the KL skyline. You can't get to the top, but you can get to the impressive observation skybridge on the 41st floor with possession of a ticket.  Tickets are FREE, but on a first come first serve basis (1300 people per day), so arrive to get your ticket as early as possible (8 am is good).  At the base of the towers is the KLCC prestigious shopping mall.
For me information on the Petronas Towers check out the official website.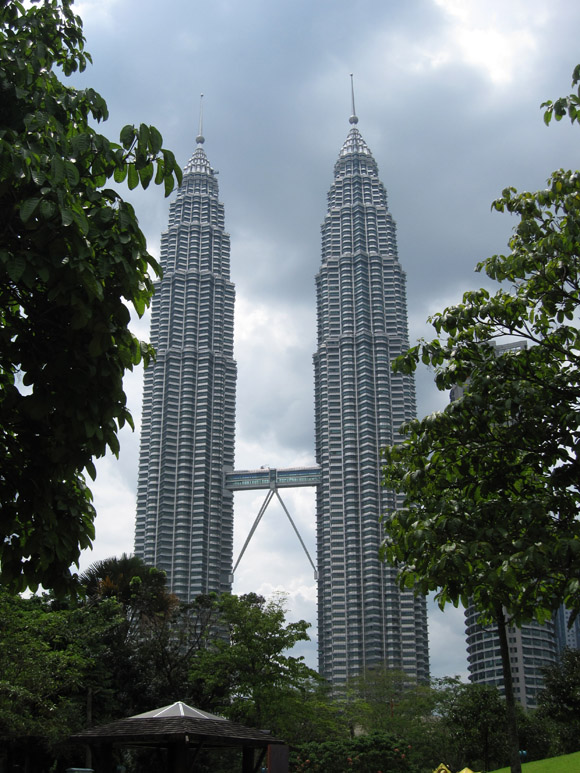 2. Browse Chow Kit Market
With a name like "Chow," you know there's going to be food! Chow Kit Market is the largest fresh food market in Kuala Lumpur. It showcases some of the finer fruits, freshly butchered meats, and the all important Malaysian cooking spices and curries.  Along with food, trinkets, amulets, and antiques can be found.  A stroll through the Chow Kit market will enrich you with a little local KL life.  Best hours to visit are during the day from 9 am to 5 pm.
Location: Northern end of Jalan Tunku Abdul Rahman (see map here), very close to Chow Kit Monorail station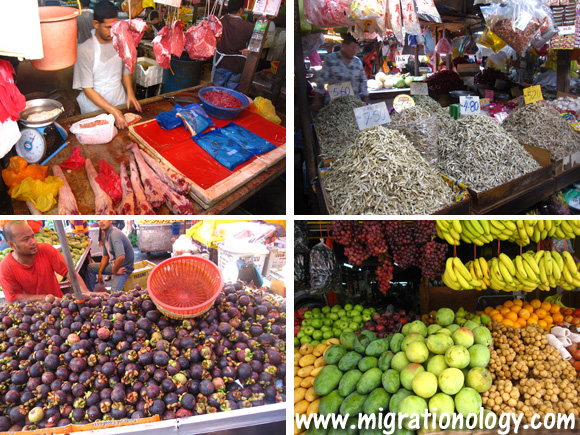 3. Devour the Durian Buffet
The pinnacle of all food lovers success and a pilgrimage site of weird food enthusiasts, is summed up at the Durian Buffet. The Durian Buffet is a haven where you can eat as much of the world's stinkiest fruit in a single sitting while using little or no self control.  This is a place where you can eat to your hearts desire and no one will accuse you of wrongdoing.
Location: Durian SS2, 1,jalan ss 2/75,47300 Petaling Jaya, Malaysia, Ah Wai – 012-234-5619, [email protected]
4. Stuff yourself with Nasi Campur
Few food groups from the entire world can come close to competing with Nasi Campur or mixed rice.  A pile of rice with a choice selection of various dishes including curried fish, coconut vegetables, soybean tempe, and other incredible tasting things.
Check out the nasi berlauk buffet near the Petronas Towers
Get exclusive updates
Enter your email and I'll send you the best travel food content.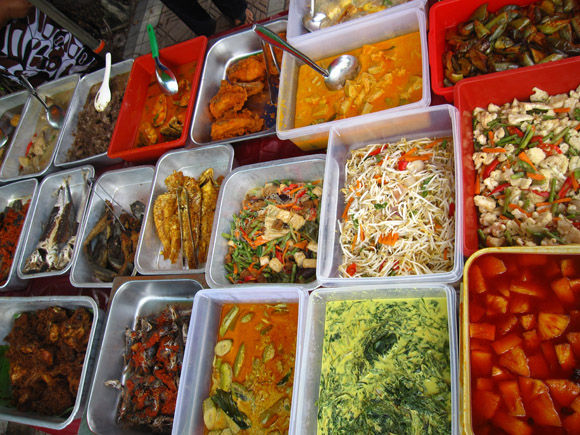 5. Scale the Menara KL Tower
Though the steep entrance fee may discourage the frugal travelers, the observation view from the KL tower is impressive.  Situated atop Bukit Nanas hill, the tower reaches a height of 421 meters.  If you are in for a splurge of an evening, this is the best place to see KL from high above.
For more information check out the KL Tower website
6. Hike Bukit Nanas Forest
In the middle of urban congestion and skyrise concrete edifices is the tropical Bukit Nanas (Pineapple hill) Forest hill reserve.  There are a number of neatly maintained nature trails that weave through the sturdy trees and jungle flora.  This nature haven is a perfect place to escape the city, clear your mind, and relieve your thoughts.
7. Visit the Batu Caves
Just a few kilometers from the main area of KL, are the interesting Batu caves.  The Batu Caves in Kuala Lumpur are a series of limestone caves and cliffs with Hindu shrines and statues inside.  If you are there towards the end of January, don't miss the important Thaipusam Festival.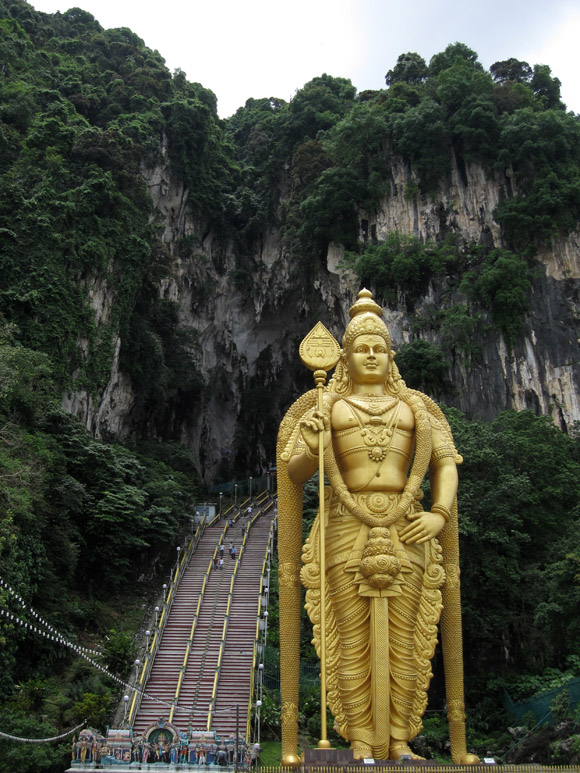 8. Masjid Jamek Mosque
The Masjid Jamek Mosque is a beautiful architectural design with it's Arab domes and sharp arches.  The structure caters to the tropical hot climate with open terraces and a lovely marble floor.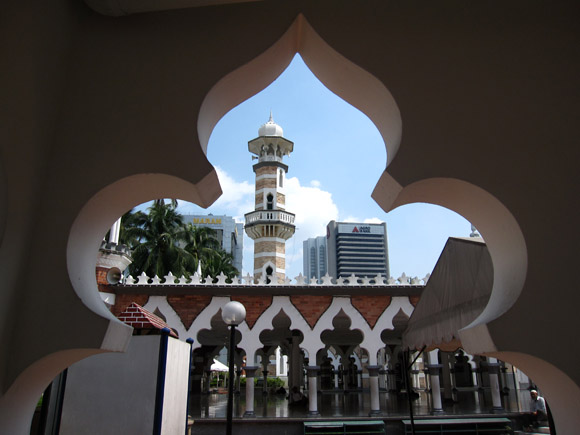 9. Thean Hou Chinese Temple
This huge Chinese Temple is one of the largest in SE Asia.  It is a beautiful sight to see with it's dragon columns, intricate Chinese  pagodas, and view of Kuala Lumpur city skyline.
Open from 9 am – 6pm
10. Chill Out in Bukit Bintang
Kuala Lumpur's trendy eating and boutique shopping district is almost always teeming with life.  Browse the clothing shops, find restaurants with all kinds of international food, get a massage, or enjoy a bit of street side sheesha.
See map here!
11. Sip Chai in Little India
Little India also known as Brickfields is packed full of shops selling Indian attire, incense, shrines, and fabrics.  Small eateries constantly remain crowded with lazy eaters who sip on chai from small cups and nibble on roti canai.
12. Explore Chinatown
Chinatown in Kuala Lumpur, like most other Chinatown's around the world, is a great place to walk around, explore, and eat!  Petaling Jaya street is lined with cheap mass produced hawker goods, but if you escape the main drag you can find traditional Malaysian Chinese stores.
For more information see this link on Chinatown and check out the map
13. Culinary Excitement

on Jalan Alor Street
If you are looking for an evening of intense culinary excitement filled with Chinese infused Malaysian food, check out Jalan Alor.  The street is a hit due to the countless eating options, a lot of seating, and huge picture menus to entice you.
Location: parallel to Jalan Bukit Bintang
14. Let a fish eat your feet at a Fish Spa Massage
Even though it might sound a little disturbing to have little fish nibble at the callus' on your well used feet, I can vouch that after the initial girl-ly giggles, it feels incredible.  Kuala Lumpur has clinched a prestigious position as a top notch destination for Garra Rufa Fish to do their thing.  There are elaborate expensive fish spas and others that cost 10 MYR for 15 minutes on Bukit Bintang or in Central Market.
For more information on some of the best fish spas in Kuala Lumpur.
15. Relax in the KL Lake Gardens
KL Lake Gardens is a neatly manicured central tropical park.  The landscape design is filled with lush green lawns, flowers, and lakes.  Inside the park are a few famed KL attractions such as the butterfly park, KL bird park, and an orchid and hibiscus flower garden.
For more information click here.
Here's a new video of some of my tops recommendations for things to do in Kuala Lumpur, check it out below.
The incredible diversity of it's people, the overflowing spiciness of it's cuisine, and the technology mixed with tropical nature, makes Kuala Lumpur a city where anyone can have an enjoyable time!
Please let me know what you think of Kuala Lumpur and if you have any other ways to conquer Kuala Lumpur!
– Migration Mark
Get exclusive updates
Enter your email and I'll send you the best travel food content.