You can research and research about the restaurants you want to eat at when you travel…
Love Sushi? Eat Here When You're In Tokyo
Sushi in Tokyo – Here's A Restaurant For You
But in the end, when you're in a big city, I still think one of the best ways to find great local restaurants is just by walking around and exploring on foot.
Don't get me wrong, you can discover awesome restaurants by doing research and searching out places that someone has written about (after all, I try to share my advice about where to eat right here on this blog).
But time and time again, from Darjeeling to Yangshuo, some of the most amazing meals and food travel experiences I have experienced, have just been completely random stumble-upons.
Ying and I were walking around the Ginza area of Tokyo (video), actually looking for a sukiyaki restaurant I had found online, and trying to follow the notes I had taken in my trusty notebook.
30 minutes of walking in the exact area where I thought it should be, and it seemed we were walking in circles with no success.
That's when we saw a small lineup outside a sushi restaurant, took one look at the menu (all in Japanese), and without thinking too hard, we were standing in line with everyone else.
It was just before 11:30 am, and the restaurant had not quite opened, so we were about 10th in line.
Soon they opened their doors for the lunchtime rush, and we all filed in.
We grabbed two seats at the sushi bar.
The chefs were really nice, and one of the young sushi chefs even tried to explain the menu to us in English (because the entire menu was only in Japanese) – very kind of him.
Get exclusive updates
Enter your email and I'll send you the best travel food content.
Anyway, the pictures spoke for themselves, and without thinking too hard again, Ying and I ordered one of each of the lunch specials.
I got the nigiri sushi platter, a large plate filled with a bunch of different nigiri topped with fish and other beautiful things from the sea, and Ying got the chirashi sushi, a sashimi rice bowl.
The chefs worked quickly, trying to handle the line of hungry Tokyo lunchtime diners who had just rushed in.
Soon our order was ready, right before our eyes, and we watched the chefs assemble each piece of sushi one by one and line them up like a phalanx formation on my plate.
Chirashi Sushi
Ying had the chirashi sushi, a bowl of rice topped with sashimi, and in this case, some flame torched fish (I think eel), seaweed flakes, and a raw quail egg on the top for sauce.
Unlike other chirashi sushi we ate in Tokyo, this one also had some salmon and pieces of sweet omelet on the very bottom, below the rice (sorry no photos of that, I was too happily eating to take anymore shots).
The slices of akami tuna (the red lean pieces of tuna) were incredibly buttery and pure, similar to the one I ate at the tempura restaurant.
The yolk of the raw quail egg gave the whole bowl a nice little extra richness, and the flavor of toasted seaweed and green onions made the combination absolute heavenly.
Not so different from my favorite Hawaiian poke bowl, but just more elegant and better presented.
Though this was Ying's order, I'm lucky to have a wife who shares with me.
Price – 1,200 JPY ($11.77)
Nigiri Sushi
I ordered the nigiri sushi platter, a 16 item plate of absolute beauty.
Akami (the red lean tuna), toro (fatty tuna), negi toro (minced fatty tuna, one of my absolute favorites), squid, octopus, mackerel, salmon, scallop, shrimp, eel, and uni (sea urchin), among more, all made an appearance.
Here's some more info on tuna anatomy.
Price – 1,500 JPY ($14.71)
Akami (the red lean tuna), is a wonderful piece of fish, the flesh is so lean and soft in texture.
At this restaurant the amount of rice was a perfect ratio for the fish, unlike at some random conveyor belt restaurants I went to in Tokyo where the rice was too much for the amount of fish.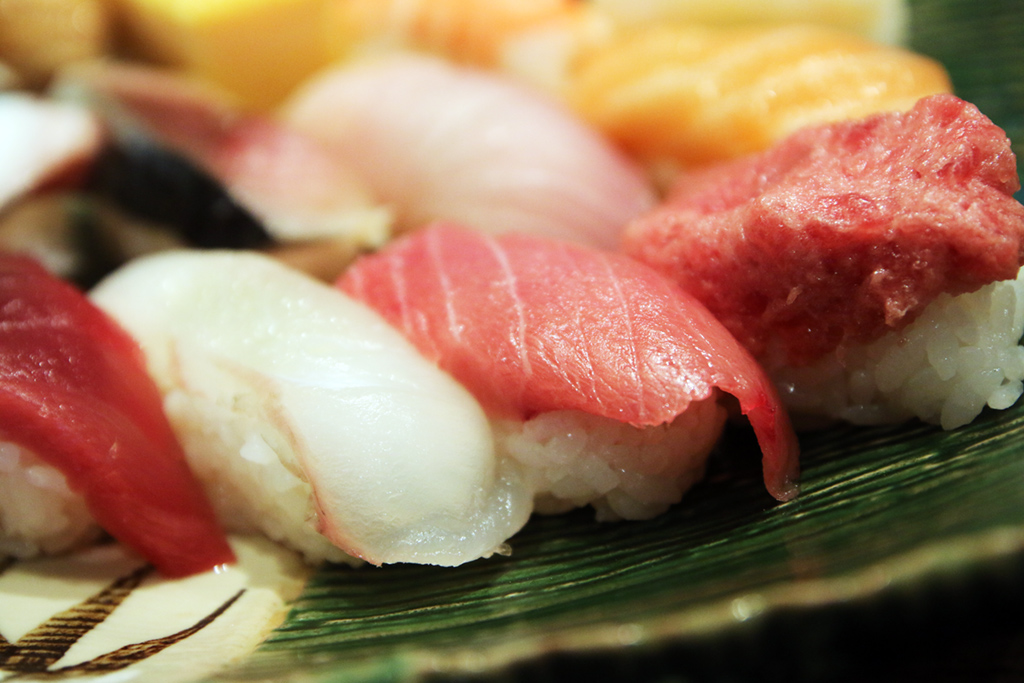 Along with the red tuna, the fatty white marbled "toro" piece of sushi, that almost looks like raw pieces of pork, was another one of my favorites.
I think I could eat it all day long.
I had uni (sea urchin) a couple of times when I was in Tokyo, and I really love it, at least in the right amounts.
This piece of sushi included a bite of rice, a slice of cucumber, and a scoop of sea urchin wrapped into seaweed.
The uni tasted a little like yellow cheddar cheese with a hint of sea to it. It was absolutely wonderful and rich and creamy.
I happily devoured piece by piece until my plate, and Ying's chirashi sushi, were almost completely finished, but I saved one akami and the negi toro (minced fatty tuna) for my final two bites of sushi glory.
Akami tuna down, I saved the most beautiful piece, the negi toro for my final bite to cherish in my mouth for the next few hours.
Appearing like a scoop of raw minced hamburger over a ball of rice, this minced up fatty tuna holds a dear spot in my heart. The fish was so rich, and so oily marvelous.
I think negi toro is one of my ultimate favorite pieces of sushi.
Sushi in Tokyo
The interesting part about spontaneously eating the sushi at this restaurant in Tokyo…
I don't even know the name of the restaurant (if you do know the name, would love to hear from you!).
But, the good news is, if you want to eat here for an awesome and affordable sushi experience in Tokyo (in the Ginza area), look for the restaurant pictured above. It's about a 5 minute walk from Ginza station, for directions check out the map under "Sushi Ginza."
Though I had no idea what the name of the restaurant was, it was one of the most memorable sushi meals I had in Tokyo.
Open hours: 11:30 am – 2:30 pm for lunch and 5 pm – 10 pm for dinner
If you're going to Tokyo, be sure to check out all my food tips here.
Get exclusive updates
Enter your email and I'll send you the best travel food content.