Of all the top things to do in Delhi, eating North Indian food is one of the best.
Nehru Place is a huge IT computer and all things electronics strip mall. It's a bit old looking and the buildings are rather outdated, and it's along the wide walkways where the business goes down.
Everyday hundred of pedestrians walk by, and some of those walkers are not just interested in electronics… but also want to fill their bellies.
It was the large crowd standing around the courtyard that drew my attention to Standard's Punjabi Khana while I was in Delhi.
It's a pretty basic restaurant. There's a large open air kitchen where chefs combine ingredients in huge commercial sized pots while sweating and cooking.
The owner basically just sits collecting cash by the handful as hungry customers exchange their rupees for a delicious plate of food.
Unlike other North Indian food where rice is not the main staple (tandoori roti normally is), at Standard's rice forms the foundation of just about every dish – that's the way I like it!
Get exclusive updates
Enter your email and I'll send you the best travel food content.
Their menu is quite simple, just a few different dishes all placed over rice. They do have chapatis if you would like.
While the prices are not nearly as cheap as Kolkata street food, for being in Delhi, the prices and sizes are pretty good.
There are number of different North Indian paneer curries, dal makhani (a marvelous thick lentil curry), and peas and potatoes curry, all over rice.
During the lunchtime rush, the staff at Standard's Punjabi Khana rush by placing huge spoons of rice on plastic plates, and then smothering it in your curry of choice. There's then an entire bucket full of onions and raw vegetables which you can add to your plate.
The single plate lunches style meals cost 45 – 55 Rupees. The food indeed gets a little messy, but it sure is worth it.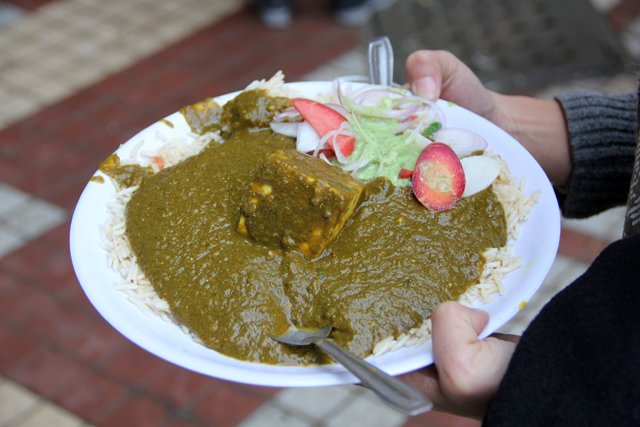 I ordered the palak paneer, a classic North Indian dish made from pureed spinach, lots of ghee (clarified butter used in may North Indian curries), spices, and a huge block of paneer cheese.
It may be all vegetarian, but it's the type of vegetarian meal where you need a nap afterwards. They don't hold back on the butter, making the curries super rich!
The entire menu is vegetarian, so if you need some meat, you'll to go to a place like Rajinder Da Dhaba or Bhape Da Hotel, two other outstanding Delhi dining establishments.
For best tasting results, keep sloppily mixing everything up together. The palak paneer was excellent, but perhaps I would have bumped up the spice a notch to make it ever better.
The hunk of paneer was huge, like the size of a piece of cake in the middle of my curry, but purely cheese (like I was saying, you'll want to take a nap).
There are a couple of sit down tables, but you'd be extremely lucky to get a table, and most likely you'll have to find a little place to stand amongst the crowd of hungry diners.
If I ever go back again, I'll get either the shahi paneer or the dal makhani, both of which looked really good.
If you visit Delhi and need a street food restaurant to eat at around Nehru place, check out Standard's Punjabi Khana.
Address: 35 & 36, G 7, Aggarwal Bhawan, Nehru Place, New Delhi
Open Hours: 11 am – 8 pm (closed on Sunday), best to go at 1 pm or so for lunch
Prices: 45 – 55 Indian Rupees per plate of food
For more information and tips, take a look at my Delhi travel guide.

View Delhi Travel Guide – Migrationology.com in a larger map
Get exclusive updates
Enter your email and I'll send you the best travel food content.