Have you ever eaten at a restaurant that was so insanely good you had to return the next day (or even later on in that same day), to eat there again?
I sure have. Plenty of times.
Recommended by both Mei and Austin, I headed off one day in search of Vishalatchi Food and Catering, purveyors of authentic Chettinad south Indian food in Kuala Lumpur.
At Vishalatchi they take cuisine to the next level – their trio of chefs are all from Tamil Nadu and the magical array of spices used in the preparation of all dishes are also imported from southern India.
As a lover of all things biryani, the first night I ordered the mutton biryani. It was served along with their normal assortment of vegetarian side curries.
The rice was marvelously flavored, less sweet than a Thai style biryani, and the mutton slid off the bone with ease.
I was overwhelmed by the amazing flavors.
A dip in the vegetarian curry paired with the fragrant biryani rice and the tender mutton was so good, I had to simply close my eyes and savor it.
After polishing off the biryani, I enjoyed a white rice re-fill, accompanied by more of the vegetarian curry mix until I was beyond satisfied.
The customary practice is to fold over the banana leaf once you have the will to admit mealtime defeat.
Get exclusive updates
Enter your email and I'll send you the best travel food content.
It's a sad moment when you have to fold.
Like I was saying…
The food at Vishalatchi was so insanely good, I returned the next day for breakfast.
Unfortunately when I arrived, they were still serving dosa for breakfast – not a bad thing but I wanted rice – so I waited until 11 am when the heavier dishes started rolling out of the kitchen.
I nursed down a couple of lemon ice teas to cure my soaring excitement.
Soon the glorious curries emerged, filling the restaurant with an aroma that could tame a beast.
My banana leaf was placed in front of me and soon the veg dishes of the day were neatly piled in front of my mound of rice.
Beat root curry, which I learned to love eating as Sri Lankan food, was among the selection that day.
A few ladles of daal and a scoop of fish curry sauce added extra flavor to the rice.
It was a challenge to order just a single non-vegetarian dish, but eventually I settled for the deboned spiced fish puttu.
Again, it was remarkable, the chefs at Vishalatchi Food Catering can simply do no wrong.
At first I was justing shooting photos of my food, but then I setup a tripod to take a video, and that's when the staff curiously approached from their serving positions.
In a near idential Jaffna style Hotel Rolex experience, all of a sudden I was surrounded by the cheerful staff of the restaurant, all of them requesting a photo.
They all got a pretty good kick out of this waiter that sat down in my seat and raised a pampadum!
The head cook appeared from the kitchen for a portrait too.
Even the thoroughly random necklace hawker (left side), who seemed to appear out of nowhere and pop in the photo, showed up. Plus he gave a nice little speech on the video too!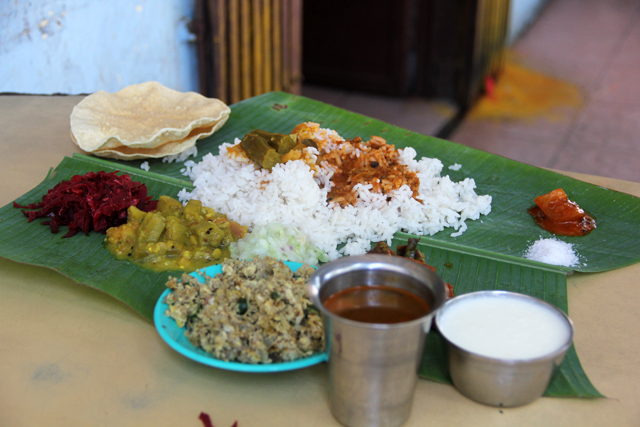 When the commotion died down, the photos were taken, it was a banana leaf of ambrosia in front of me.
I dug in with utmost enthusiasm.
Eating with your fingers gives the opportunity to conjoin the variety of curries, yoghurt, and spices, into a perfectly balanced bite that overjoys your taste buds.
After devouring two overflowing South Indian food banana leaf helpings of rice and curry and fish, this man came bearing even more gifts.
Despite his stern face, he's the one that asked for the photo!
Stuffed to a near slumber, I had to pass on the beautiful platter of glistening red meat. He, however, slipped me a little nugget of chicken, piping hot, and intensely tasty.
Visiting Kuala Lumpur and not eating at Vishalatchi would be a near tragedy.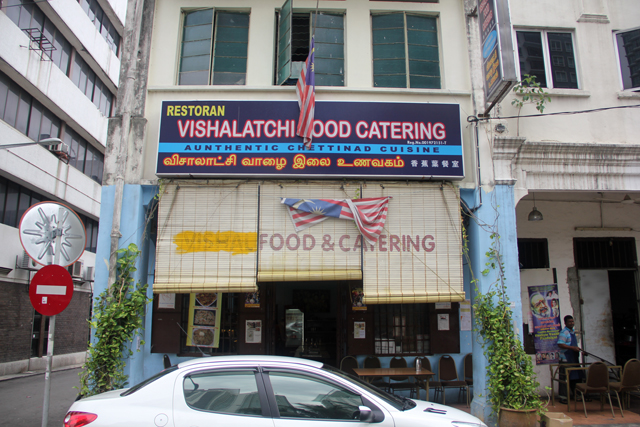 Vishalatchi Food and Catering
Prices: I paid 13 RM each meal – that includes rice with vegetarian sides (as much as you want), plus 1 meat / fish dish, and 1 tea
Address: 18 Jalan Scott, Brickfields, Kuala Lumpur, Federal Territory of Kuala Lum 50470, Malaysia
How to get there: From KL Sentral, walk down Jalan Tun Sambanthan 4 and make a left on Jalan Sultan Abdul Samad. Take that until it curves to the left but keep straight until you get to Jalan Scott where you make a left. Vishalatchi Food and Catering is on your left hand side.
Here's the map:

View Migrationology World Map in a larger map
Get exclusive updates
Enter your email and I'll send you the best travel food content.