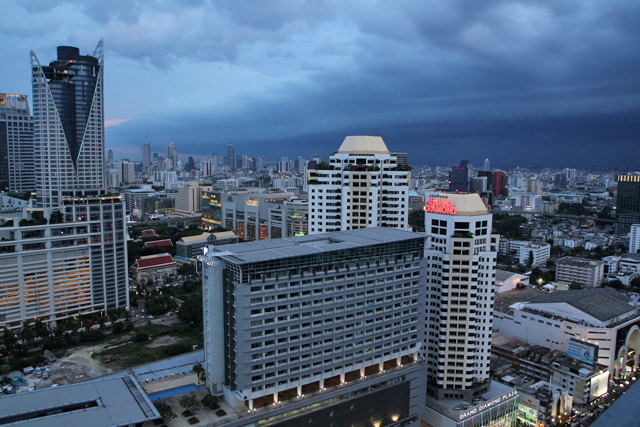 When you visit Bangkok, you'll discover there are many different areas of the city to explore.
Siam, is the most well known shopping district in all of Bangkok. Siam is home to MBK, Siam Square, Siam Paragon, CentralWorld, and very near to Pratunam market, Platinum fashion mall, and numerous other shopping centers, and hotels.
Although I've been living in Bangkok on and off since 2009, I formerly used the wifi, hung-out  and stayed a few nights at Lub d Siam Square (and I do personally recommend them if you're coming to Bangkok – great location, nice modern accommodation). So when they asked me to make a video about the attractions in the Siam area, I was happy to do so.
I would suggest you first watch the video, and then proceed to browse through the attractions listed below that includes extra information about everything. But first watch the brief video as it will give you a good impression of Siam and Pratunam.
Here's the video:
(if you can't see the video, watch it on YouTube here)
Lub d Siam Square – I begin the video tour of Siam at Lub d Siam Square, a modern hostel that's located directly below the National Stadium BTS station and across the street from MBK shopping center – location couldn't be better!
1. MBK Shopping Center (มาบุญครอง)
I often consider MBK to be an entire city of its own (also shown in my full Bangkok travel guide video); You can literally find people from around the world in the center. MBK has all sorts of shops that range from local Thai souvenirs to jewelry and electronics.
At MBK there is a massive area dedicated just to cell phones, both used and brand new. Also, if you are hungry, you can check out the huge 40 stall food court on the 6th floor; There's even a vegetarian Thai food stall at MBK.
Open hours: 10 am – 10 pm daily
Website: http://www.mbk-center.co.th/en/home/index.php

2. Siam Square (สยามสแควร์)
Rama I road is the main vein of Siam, and Siam Square is located on the south side of the road, opposite Siam Paragon and Siam Center. Siam Square mainly consists of small boutique local Bangkok fashion shops. You'll find lots of trendy clothing, some cafes, and also restaurants.
As opposed to the surrounding malls, Siam Square is generally more friendly on the wallet, and you'll find more local Thai designs as opposed to international fashion labels. It's a good open air area of Siam to leisurely walk around or grab a meal.
Som Tam Nua is the restaurant I ate at in the video. It's a famous local Isan restaurant that has received numerous awards for having some of the best som tam (green papaya salad) in Bangkok. I'll admit, though it's not the best Thai food I've had, it was very good and definitely a local dining spot in Siam. If you go to Som Tum Nua I would recommend ordering the som tam (green papaya salad) and their gai tod (fried chicken) is also superb.
Address: Across from Siam Paragon
Open hours: From around 11 am – 9 pm daily

3. Siam Paragon & Siam Center (สยามพารากอน)
Siam Paragon, and the newly renovated Siam Center, are located in the heart of Siam, just below the Siam BTS Station. Siam Paragon is sort of the standard of luxury and status in Bangkok. It's the mall where you'll find all the high end international designers.
Siam Paragon is also home to Siam Ocean World, a 4D luxury Imax theater, and many other entertainment options. On the ground floor is also an impressive array of restaurants and an expansive food center packed with delicious looking things to eat. You'll find plenty of international food at Siam Paragon as well as Thai food.
Get exclusive updates
Enter your email and I'll send you the best travel food content.
Address: 991 Siam Paragon Shopping Center Rama 1 Rd., Pathumwan, Bangkok 10330
Open hours: 10 am – 10 pm daily
Website: http://www.siamparagon.co.th/

4. Wat Pathum Wanaram (วัดปทุมวนาราม)
It always amazes me that within the bustle and hustle of Siam Bangkok is a quiet temple known as Wat Pathum Wanaram – slotted right between Siam Paragon and CentralWorld shopping center, on the opposite side of the road as Siam Square.
You can walk into the temple and also explore the small side streets and the community behind and surrounding the temple. It's a nice opportunity to take a break from the heavy shopping and crowds of Siam!
Address: In between Siam Paragon and CentralWorld
Open hours: 9 am – 5 pm daily
Price: Free

5. Erawan Shrine (ศาลพระพรหม)
Situated diagonally across the street from CentralWorld, about a 10 minute walk from Lub d Siam Square and Siam Paragon, is the Bangkok famous Erawan Shrine.
The shrine, that contains a main statue of the Hindu god Brahma, has quite an interesting history.
It was originally constructed outside the Erawan Hotel as a method to correct the "bad luck" date which the hotel's foundation was laid on, and in order to restore good luck on the facility. In 2006, a random man vandalized the Erawan Shrine, destroying the statue. He was immediately beaten to death by street sweepers.
The shrine was then rebuilt, and it's now a hugely popular place for Thais to seek good luck. There's also a Thai band and dancers who occasionally perform at the shrine, funded by those that have been successful in their pleas for good luck.
Address: Outside the Grand Hyatt Erawan Hotel
Open hours: 6 am – midnight daily

6. CentralWorld (เซ็นทรัลเวิลด์)
CentralWorld is a huge shopping mall located just a short 10 minute walk from Siam, and also a 5 minute walk from the Pratunam intersection.
CentralWorld is self claimed to be the largest lifestyle shopping destination in Bangkok. During the Thai political protests in 2010, part of the mall was set on fire and remained closed for many months before being restored, opened back up, and now they are even adding more and more to the structure.
Indoors you'll find shops, department stores, restaurants, and outdoors there's a huge open courtyard where there's always some sort of exhibition, show, and sometimes even musical performances.
If you like Bangkok street food, you'll want to head outside CentralWorld on the sidewalk starting at about 5 pm each day, for some delicious grilled snakehead fish (ปลาช่อนเผา) and som tam (ส้มตำ). The restaurant is called Ratchaprasong Thai Food (ราชประสงค์ ไทยฟู้ด).
Open hours: 10 am – 10 pm daily
Website: http://www.centralworld.co.th/en/

7. Trimurti Shrine (ตรีมูรติ)
Positioned directly outside the Isetan department store outside of CentralWorld is Trimurti Shrine. This constantly busy shrine is dedicated to those that are in need of love – that's right, romantic love!
Though the shrine remains outdoors and open 24 hours a day, the most busy time to watch the shrine action is in the early evening, before the sun goes down. You'll see many people giving offerings in an effort to seek love. The tradition is to offer either 9 or 16 roses and 9 sticks of incense to have the best chance of your wish being granted. You'll notice the stacks of roses lined up along the pool of water towards the back of the shrine.
Address: Outside of CentralWorld
Open hours: 24 hours

8. Pratunam Market (ประตูน้ำ)
When it comes to shopping in Bangkok, you're not going to want to miss Pratunam market (video).
This sprawling local hub of clothing is one of the most visited markets in Bangkok and you'll find fantastic deals, especially on wholesale purchases. It's not uncommon to see people from all areas of the world buying bundles of clothing to bring back to their home countries to re-sell.
Pratunam is a functioning network of both outdoor and semi-indoor shops and makeshift vendors that hug the side of the road. You'll find mostly clothing, but there's also an extensive supply of Thai souvenirs, and plenty of random gadgets as well.
There are also many restaurants in Pratunam, including a famous place for Thai chicken rice and New Mabuhay Filipino food.
Address: At the intersection of Ratchaprasong and Petchaburi roads, the Pratunam intersection
Open hours: Around 9 am – 8 pm or so daily, Monday has less street stalls as it's Bangkok street cleaning day, but all the interior stores are still open.

9. Platinum Fashion Mall (แพลตตินั่ม)
Within Pratunam, opposite the Amari Watergate hotel, is Platinum Fashion Mall, an absolute must shopping destination for any local fashion enthusiast. Unlike Siam Paragon or CentralWorld, Platinum is morel like Siam Square – full of local Thai fashion for good deals.
The multistory complex sort of reminds me of an ant hill, continuously packed with shoppers scurrying around in spontaneous directions while carrying huge loads.
If you're not an avid shopper, you'll have a horrible time at Platinum, but if you are searching for the latest clothing, this is a necessary stop on your Siam tour of Bangkok.
Address: At the intersection of Ratchaprasong and Petchaburi roads – the Pratunam intersection
Open hours: Monday, Tuesday, Thursday, Friday from 9 am – 8 pm & Saturday, Sunday, Wednesday from 8 am – 8 pm.
Website: http://www.platinumfashionmall.com/

10. Pantip Plaza (พันทิพย์)
For those of us (like myself), who are more interested in electronics than clothes, Bangkok has Pantip Plaza. This mall, about a 5 minute walk down the road from Platinum in Pratunam, is dedicated to all things electronic.
On the bottom level there are some small kiosks vending low quality electronic accessories, while the top levels include camera, video, computer, games, software, and other electronic stores. Some of the stores sell fake products while others sell authentic, and there are even official brand stores.
Just always be careful purchasing electronics from Pantip Plaza, and make sure you get and keep your receipt. I normally get my computer accessories, like external hard drives, from J.I.B Computer, a reputable store at Pantip.
If you end up purchasing something big, make sure you take advantage of getting your 7% Thai tax return – to qualify you have to have a plane ticket out of the country within 2 months from the date you make the purchase.
Address: 604/3 Petchaburi Road, Petchaburi, Ratchathewi, Bangkok 10400 Thailand
Open hours: 10 am – 9 pm daily
Website: http://www.pantipplaza.com/page.php?lan=eng

11. Bangkok Art and Culture Centre (BACC)
Located right across the street from MBK Shopping Center and just a 2 minute walk from Lub d Siam Square is the Bangkok Art and Culture Centre, known more succinctly as BACC. This modern complex is a creative space for Thai artists.
Within the complex you'll find a few cafes, many galleries, a library, and a variety of current exhibitions and shows.
Most of the exhibitions are free of charge and provide a wonderful opportunity to observe the modern artistic scene and creativity of Bangkok artists. If you do enjoy art, don't miss this free place to visit!
Address: 939 Rama 1 Road, Wangmai, Pathumwan, Bangkok 10330
Open hours: Tuesday – Sunday from 10 am – 9 pm, Closed on Mondays
Price: Free
Website: http://en.bacc.or.th/

12. Jim Thompson House (จิม ทอมป์สัน)
Though I didn't include the Jim Thompson house on the video (as we focused more on shopping and lifestyle), it's still one of the top things to do in Bangkok.
Jim Thompson came to Thailand and fell in love with the culture. He began to develop his ideas around the Thai silk industry and created a sustainable company producing high quality Thai silk products.
In 1967, Thompson went on vacation and mysteriously disappeared in the Malaysian Cameron Highlands. The story is puzzling, and no one has ever heard from him again.
The Jim Thompson house is now a museum where you can see his beautiful home which lies along the canal. The Thai design and decoration of the home is gorgeous. There's also a cafe and an expensive boutique on the compound.
Address: 6 Soi Kasemsan 2, Rama 1 Road, Bangkok
Open hours: 9 am – 5 pm daily
Price: 100 Baht
Website: http://www.jimthompsonhouse.com/
Thank you for joining me on this full tour of Bangkok's Siam, Siam Square, and Pratunam districts. Below you'll find a tour guide map, starting from Lub d Siam Square and going through the attractions we covered.

View Tour of Siam and Pratunam, Bangkok, Thailand in a larger map
You can do everything on this list by walking on foot, so get out to Siam and Pratunam and start exploring.
If you enjoyed this article, I know for sure you'll also find my 101 things to do in Bangkok guide very useful!
Get exclusive updates
Enter your email and I'll send you the best travel food content.