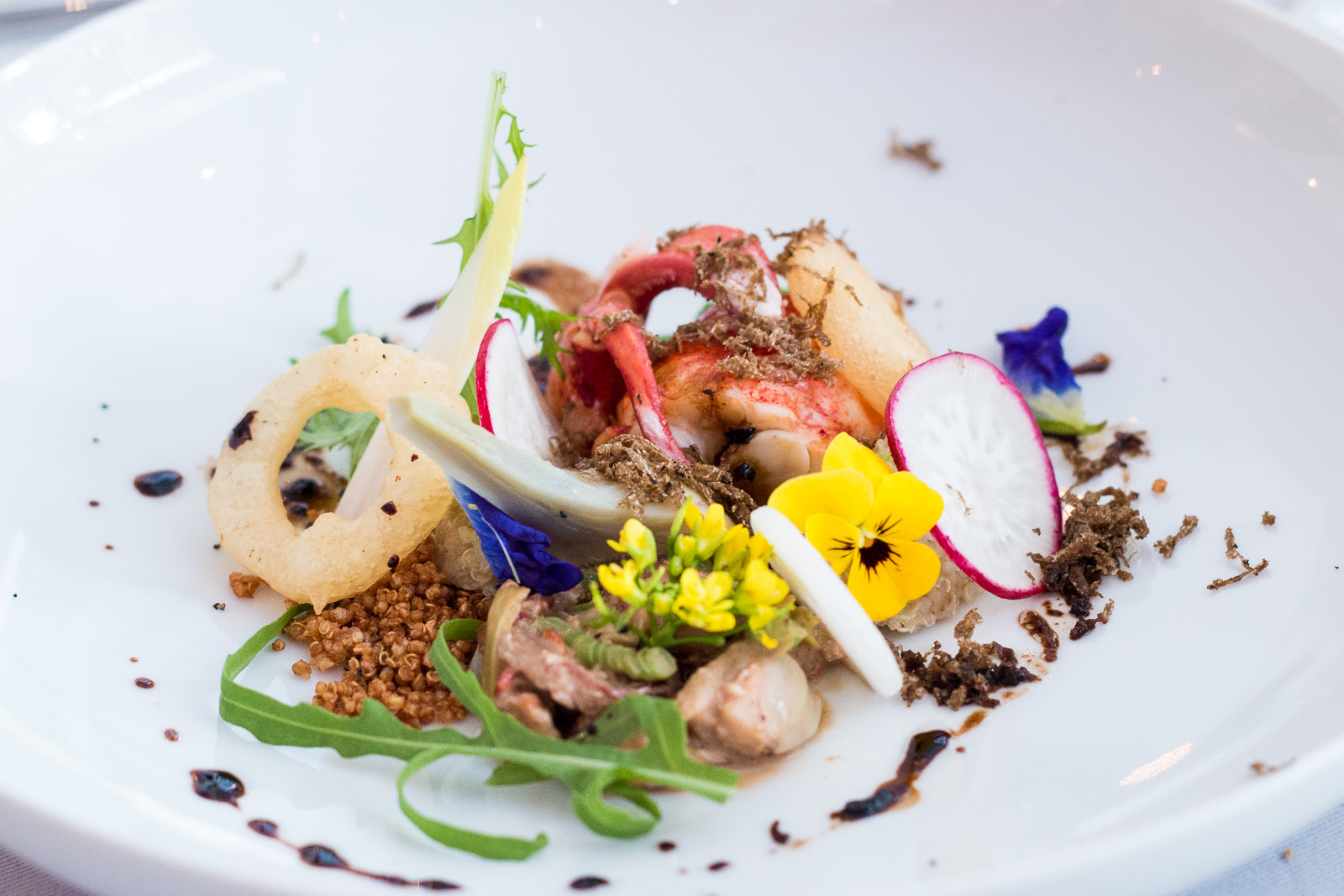 Bangkok has been expanding and developing rapidly in the department of high-end international restaurants.
One restaurant that recently opened, started by Chef Henk Savelberg, a renowned chef from the Netherlands, is Savelberg.
Chef Henk Savelberg is a well known chef, having been awarded Michelin stars at not just one, but four different restaurants in the Netherlands. But after a successful career back home, Chef Savelberg, after taking a trip to Thailand, decided to move his signature restaurant to Bangkok.
Ying and I were invited to eat a meal at Savelberg, and since I rarely have a chance to eat European food while living in Bangkok (mostly just because I usually eat Thai food), I was excited for the opportunity, and I knew it was going to be an extremely high quality meal.
The restaurant is located on the property of the Oriental Residence Bangkok, yet it's completely separate (business wise) from the hotel, and also it's located in front of the hotel (so you don't need to actually go in to the Oriental Residence).
I liked how the restaurant was spacious and very comfortable, and fancy, but not unnecessarily so.
Additionally, the attention to the decoration and detail at the restaurant was very nice.
I for one, really loved the luxurious silverware – most of my meals are consumed with the most basic of spoons, so it was a change to use fancy silverware – they did look and feel amazing in my hand.
The menu at Savelberg
At Savelberg you can either choose to order from the a la carte menu, or there's a number of set menu options, which are known as the Savelberg Experience.
We had the one the Experience options.
I asked if the menu would be changing, and they said that it would probably change according to season.
Along with a number of small orange decorations, a tribute to the chef being Dutch I assume, I like how Savelberg restaurant has nice huge windows allowing for natural light to come shining in.
Our first bite
For my first bite, I was served a little miniature ice cream cone, which the waitress said was our "pre appetizer."
The ice cream was sticky and had an undertone spice flavor to it, and after I took my bite, it immediately made me think of Indian style kulfi.
I'm not sure if it was supposed to be eaten, but I'm also a bit crazy and I love eating peppercorns, which were used to present the ice cream cone, so I snuck a handful of the white peppercorns to munch on. They were mild in flavor and so good.
Watermelon prosciutto
Next up was a bite of watermelon, with a foundation of what I think was some sort of caramel and olive powder mixture, topped with a tiny roll of prosciutto.
I really enjoyed this one, the contrast of the sweet juicy watermelon, paired with the creamy olive powder on the bottom and the salty cured meat was wonderful.
Foie gras and pumpkin
Next appetizer was a plate that included two different items.
On one side was a piece of some type of cured meat topped with a few vegetables and crunchy fritters, and on the other side, was a little button of minced pumpkin topped with a half circle of foie gras and garnished with crushed pistachios.
The bite of salty foie gras with the slightly naturally sweet pumpkin was incredible, rich and ridiculously creamy, almost like durian.
Bread
During our meal at Savelberg Thailand, we were also served bread.
It may seem bread is a pretty common thing to eat, but the last time I had really eaten bread was in Vietnam.
The bread was warm and crusty, with a slightly sour tinge, and along with olive oil, it was delicious.
Lobster salad
After a number of small appetizers, we moved into our first main course at Savelberg, a lobster salad.
The waiter explained that it was made with Canadian rock lobster, paired with local flowers and herbs, mixed with quinoa, and dressed with both cream of foie gras, and truffle vinaigrette.
On top of the already star studded line-up of ingredients included in this salad, it was served with an extra sprinkle of truffles grated on top at our table.
Savelberg's lobster salad was just as pretty tasting as it looked, and it was easily my favorite dish of our meal there.
First, the lobster was extremely good quality, sweet and firm, and it just melted in my mouth.
Somewhere mixed within the beautiful arrangement was was also quinoa, and I think it was included both steamed and deep fried.
There was also the unbelievably delicious cream of foie gras, which was mixed with little cubes of lobster meat, and had a texture of mayonnaise, but far, far superior.
Finally, an extra sprinkle of truffles on top added even more deliciousness.
The flavors were delicate, yet I thought it was perfectly arranged and everything on the plate complemented each other.
This was my favorite dish at Savelberg Thailand.
Sole
Next main course was North sea sole, which according the menu I think was poached, but it also included grill marks, so I think it may have been poached then grilled quickly for decoration (but it also had a light smoky flavor).
I'm a huge of lover of fish, and I eat fish almost everyday in Thailand when I'm at home, so I'm always up for eating fish.
At Savelberg, the sole was cooked to perfection, and I could actually taste the freshness of the fish. It was firm, almost like a tender chicken breast.
The North sea sole was then served with a lemon sauce, which was again very delicate, tart and slightly sweet.
I loved the sole, it was very fresh and high quality, and the pairing of flavors went well together. The flavors were nothing too strong, but just subtle, highlighting both the texture and natural flavor of the fish.
Along with the delicious fish, the plate also came with a side of sautéed vegetables, most of which came from the Royal project, called Doi Kam in Thai – which is a Royal initiative to produce quality and organic vegetables among other products.
Strained yoghurt
Then came the desserts.
You might already know that I'm not a huge desserts eater, I would usually prefer to eat another couple of main salty courses than eat anything sweet.
That being said, if you love sweets, you're going to be extremely happy with the desserts at Savelberg Thailand.
The first dessert that arrived to our table was strained yoghurt, which I believe has Greek roots, and the yoghurt was topped with a red fruit topping mixed with crushed ice.
This was our first of many desserts served at Savelberg restaurant, and it proved to be my favorite, and even as non-sweets eater, this was exceptionally good.
The strained yoghurt was incredibly creamy, and rich like a cross between butter and whipped cream, yet thicker and fresher. I don't think the yoghurt was very sweet, but the sweetness mostly came from the berry topping.
It was really good.
Pineapple
Next came a trio of desserts, served altogether, but in three separate bowls.
The first bowl was an assortment of pineapple, all prepared in a number of different methods, and included a dab of pistachio foam on the side.
Overall, it was a bit too sweet for my taste, and wasn't my favorite.
Pomelo and ice cream
Using local Thai pomelo and an ice cream made with Thai palm sugar (I think that's what it was), the waiter said this was their version of a pomelo salad.
The ice cream was great quality, and sitting on a bed of juicy pomelo.
Blackberry dessert
Finally to end the trio pairing of desserts at Savelberg restaurant, there was a mixed berry dessert, where the main berry was blackberries.
Again, this dessert included all sorts of textures and temperatures, and out of the three, this was my favorite, yet it was still quite sweet for me.
Espresso
At this point in time of our meal at Savelberg, I was highly ready for an espresso, and it was marvelous.
Glancing at the menu, they had a nice list of coffee, some of the beans were from Costa Rica, even from Ethiopia, probably my favorite coffee culture in the world.
Chocolate
I honestly thought our meal was complete, but last but not least to end our courses at Savelberg, we were served a platter of chocolate and some other extra sweets.
The chocolate was from Vietnam, an up and coming producer of high quality chocolate.
Everything on the chocolate platter was extremely good quality, and I especially liked just the pure dark chocolate, rich and slightly bitter.
There was also a little bottle, which included a mixture that tasted quite similar to Baileys, an alcoholic chocolate milk kind of liqueur.
Location
Savelberg Restaurant in Bangkok is located at the Oriental Residence Bangkok, but the restaurant is not affiliated with the hotel.
Conclusion
Savelberg is a fine dining European restaurant in Bangkok by Michelin star Chef Henk Savelberg of the Netherlands.
My wife and I were invited to eat at Savelberg, and since I rarely have the opportunity to eat European food, I was excited to have a meal here.
All of the food was of exceptional high quality, and the atmosphere and decoration of the restaurant was equally fitting with the food.
We ate the set menu Savelberg Experience, and by far my favorite dish was the signature lobster salad, including Canadian rock lobster, flowers, quinoa, cream of foi gras, and truffles to top it off.
Although everything was delicious from our menu set menu, I thought overall it was a quite heavy on the desserts, but that's my personal preference as I'm not a big sweets eater.
Other than that, it was a nice experience eating at Savelberg, and I think it's a great place to enjoy high end European dining in Bangkok.
Savelberg – Bangkok, Thailand
Address: Located at Oriental Residence Bangkok*, 110 Wireless Road, Lumpini, Pathumwan Bangkok 10330
Phone: +66 (0) 2252 8001 – reservations are necessary
Open hours: Lunch from 12 noon – 2:30 p.m, and Dinner from 6 pm – 10 pm, on Monday – Saturday (closed Sunday)
Prices: About 3,000 – 6,000 THB per person
Dress Code: Business casual, no shorts or slippers
Website: http://www.savelbergth.com/
How to get there: Probably the easiest way to get to Savelberg is to take the BTS to Phloen Chit, then exit towards Wireless Road, and walk down the street on the right hand side for about 5 – 10 minutes, and you'll get to Oriental Residence, located right next to the Netherlands embassy and across the street from the main US embassy entrance. Savelberg restaurant is right at the front entrance of the hotel.
For the map, scroll down until you see "Savelberg," and click on it, to see the location on the map.
*As I've already mentioned, but I just wanted to make it clear, I was invited to eat at Savelberg, so I didn't pay for my meal. That being said, all thoughts and opinions are completely my own.
Get exclusive updates
Enter your email and I'll send you the best travel food content.