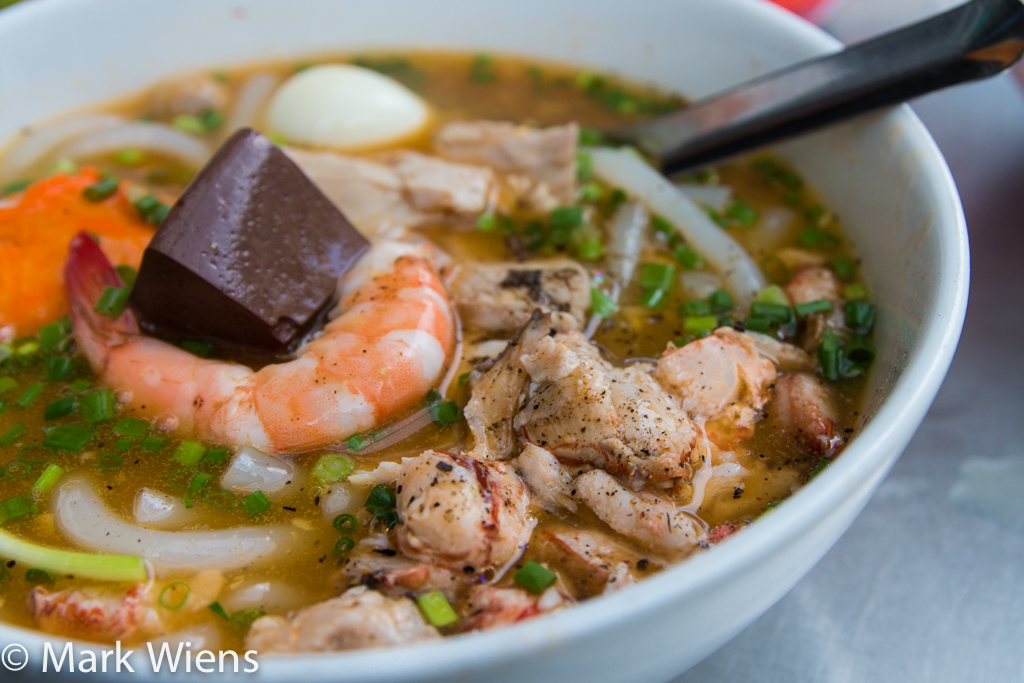 On one of my final days in Saigon, there was still one popular Vietnamese noodle dish I hadn't yet tried…
…a dish called banh canh cua.
It was on my top Vietnamese food to-eat list, but I was saving my taste buds until I could finally make it to a restaurant that truly looked incredible: Bánh Canh Cua Trần Khắc Chân (thanks to Linh Pham for the recommendation).
After looking up the restaurant, and seeing the photos of the glass cabinet overflowing with orange chunks of crab, there was no way I was going to fly back to Bangkok without eating here.
Bánh Canh Cua Trần Khắc Chân
Like at so many of the restaurants I eat at, if I can predict it's going to be really busy, a packed-out type of restaurant, I try to get there to beat the main meal rush.
Not that I don't enjoy the busy atmosphere (because I really love it), but mainly because I take some time to take photos and videos everywhere I eat, and I try to get a table that has the best light – so it can be helpful to arrive before the meal traffic jam.
So Ying and I arrived at Bánh Canh Cua Trần Khắc Chân about an hour after they opened, in the middle of the afternoon.
They open at 2 pm, so I think we arrived about 3 pm or so.
When we arrived, the restaurant was already almost full, at least 3/4 of the tables were occupied.
Luckily, there was a table outside on the street side, perfect conditions for eating, and great light too. Because the restaurant was full, at not even at standard meal-time, I knew it was going to be incredibly awesome.
What is banh canh?
Banh canh is a type of Vietnamese noodle, and the recipe for the noodles includes both tapioca and rice flour.
They are thick and hearty, similar to Japanese udon noodles, and very similar to the noodles I ate in another Vietnamese dish called banh tam bi.
The noodles are sticky and soft, and just slightly chewy. They're the type of noodles you've got to slurp from your chopstick as soon as you lift them out of your bowl, or they are sure to go sliding out of your grip quickly.
Cua is the Vietnamese word for crab, so together banh canh cua is the sticky thick noodles with crab.
Get exclusive updates
Enter your email and I'll send you the best travel food content.
As soon as we arrived to Bánh Canh Cua Trần Khắc Chân and took a seat, I proceeded to order just their normal bowl of banh canh cua – that's what everyone there was eating.
I was immediately impressed by the glass cabinet, absolutely brimming with a bounty of colorful ingredients.
For food lovers like you and I, I don't think there's anything not to love about the atmosphere of this restaurant.
They first started with a nice bed of flash-boiled thick banh canh noodles at the bottom of my bowl.
Then came a handful of de-shelled crab meat, thin slices of pork, a quail egg, a shrimp, and finally a crab meatball, which was shaped like a crab shell.
Then came a ladle of the banh canh cua soup, and a garnish of green onions and black pepper.
By now, watching them assemble bowls of banh canh cua and serving them to hungry customers, you can imagine my mouth was watering, and I was hungry.
For a couple seconds after my bowl arrived I had to just marvel at the beauty of the ingredients and combination that was set before me.
Before adding any condiments I decided to taste the soup.
It was warm and soothing, not so much like a normal bowl of soup noodles, but much thicker and handled much more like a gravy sauce than a liquid broth.
It wasn't overly powerful in flavor, just extremely comforting with a subtle crab flavor.
On the table was a basket of sliced limes, a small bucket of pounded chili, and finally a plate of sliced Chinese donuts.
My first move was to squeeze in some lime juice, and then I added in a nice heaping spoon of fresh chili to give it a kick.
Looking around I noticed that everyone eating banh canh cua at Bánh Canh Cua Trần Khắc Chân was also eating the Chinese donuts, and so I couldn't resist either.
Chinese donuts are not sweet at all, instead they are lightly salty, but really fluffy and pillowy, with a slight crunch on the edges.
The pieces of Chinese donut went incredibly well with the thick crab flavored gravy of the soup.
Along with the wonderful noodles and soup gravy, all the toppings made the bowl even better.
Right in the center was a lump of congealed blood.
You may have seen me blog about congealed blood on a few occasions, and though it may not look the best, if you taste it, you'll find that it really has almost no flavor, and just has a jelly smooth texture.
Along with the shell-less nuggets of crab meat, one of my favorite items from my bowl of banh canh cua was the crab meatball, which was actually shaped into a crab shell (at least I think so).
I'm not usually one to rave about meat-balls, because I nearly always prefer just real meat. But I have to say, this meatball, which may have been a combination of minced pork and crab, was excellent.
It was spongy, yet not too smooth, and flavorful.
While slurping down my bowl of noodles, I realized why both this restaurant and dish are so popular… it's just good, easy to eat, and outrageously comforting and soothing.
Just look at that bite – slippery noodles, a nugget of crab, a few green onions, and thick gravy to wash it all down. Simple and delicious.
Banh canh cua could easily be the ultimate Vietnamese slurping dish.
Here's the video of this awesome bowl of noodles.
If you have a few minutes, press play and watch it now, so you can experience the full atmosphere of this fantastic restaurant (and the delicious food too):
(If you can't see the video, check it out here.)
Conclusion
Bánh Canh Cua Trần Khắc Chân is a restaurant in Saigon, Vietnam, that serves banh canh cua, thick rice and tapioca noodles in crab soup.
Unlike bun rieu, a vastly different type of Vietnamese crab soup noodles, banh canh cua is much thicker (both the noodles and the broth) and acts more like a stew than a soup.
On one of my final days in Saigon, I headed to this legendary crab noodle spot, and along with the early afternoon crowd, I slurped down my delightful bowl of noodles at a table setup along the sidewalk blockaded by motorbikes.
The banh canh cua was delicious, the service was friendly, and the Vietnamese street food atmosphere couldn't have been better.
For a wonderful bowl of crab noodles in Saigon, this is a restaurant you shouldn't miss.
Bánh Canh Cua Trần Khắc Chân – Saigon, Vietnam
Address: 87 Trần Khắc Chân, Quận 1, Ho Chi Minh City, Vietnam
Open hours: 2 pm – 9:30 pm daily
Prices: It cost 35,000 VND ($1.62) per bowl of banh canh cua, and then an additional 3,000 VND for the plate of Chinese donuts.
How to get there: Bánh Canh Cua Trần Khắc Chân is located very close to the famous Guc Cach Quan (a higher end Vietnamese restaurant), just a little north of Le Van Tam Park. From the Ben Thanh are, I took a taxi to get there, and just showed my driver the address in Vietnamese (above), and he knew the spot.
For the map, scroll down and click on Bánh Canh Cua Trần Khắc Chân and it will highlight on the map.
Get exclusive updates
Enter your email and I'll send you the best travel food content.