There's one Hawaiian food that's superior to them all, a dish that makes all others bow in respect.
Poke.
Cubes of raw fish marinated in a variety of salty, oniony flavors.
The poke bowl, is a scoop of rice placed in a take-away container with poke piled on top. The freshly steamed rice contrasting the cool cubes of raw fish is nothing short of magic in the mouth.
A few weeks prior, I had eaten the poke bowl from Kahuku Superette, and it was exceptional. For my final meal in Honolulu, I wanted one last poke bowl.
Literally just 30 minutes before heading to the airport in Honolulu, I made a stop by Ono Seafood, a place in Honolulu that's well known for some of the best poke bowls in town.
The menu is simple: ahi poke (raw tuna) or tako poke (octopus) marinated in a selection of different flavors.
I chose 1/2 Hawaiian ahi poke and 1/2 original tako and we also got another poke bowl of ahi miso poke.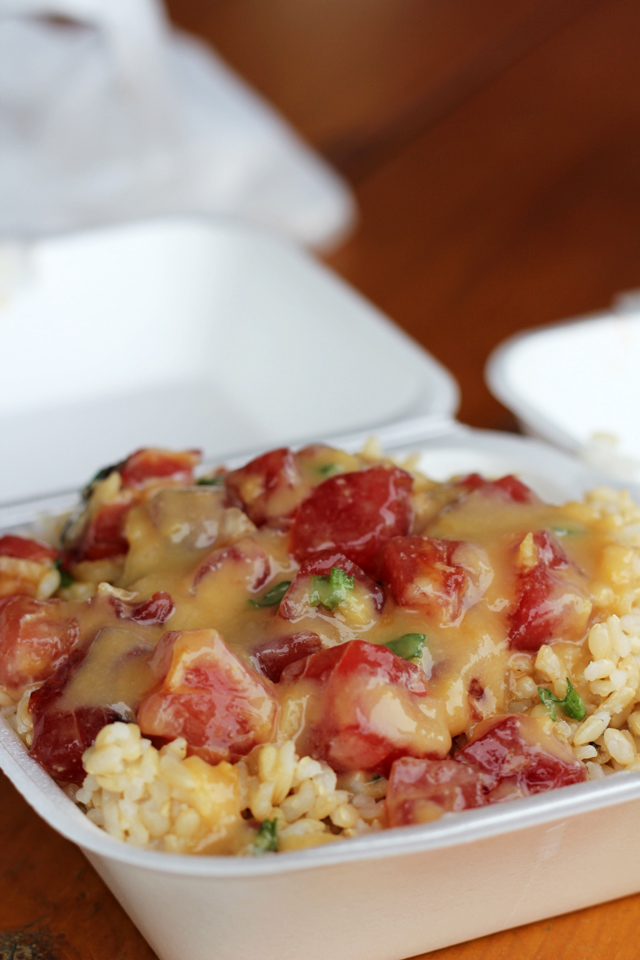 The ahi miso poke was crafted with the same cubes of raw fish, but instead of the shoyu based marinade, it was drowned in a thick miso mayonaise gravy.
The sauce was rich, deeply miso flavored and it really was perfect not only on the fish but also combined with the rice.
The 1/2 Hawaiian ahi poke and 1/2 original tako was an absolute culinary masterpiece.
The cubes of raw fish were cut in smaller chunks than usual – but I liked it because more flavor was able to reach more parts of the fish. The chili flakes and little pieces of limu seaweed added to the sensational poke.
The tako was equally wonderful – thin strips of chewy octopus marinated in heavenly spices and placed over the rice.
I headed to the Honolulu airport, wonderfully fulfilled with my final bites of Hawaii!
The fish and other seafood at Ono Seafood is extremely fresh and only the best quality. If you're looking for great poke in Honolulu, you're going to love Ono Seafood.
Ono Seafood
Address: 747 Kapahulu Ave # B, Honolulu, HI 96816
Phone: (808) 732-4806
Hours: Monday and Wednesday to Saturday 9 am – 6 pm, Sunday 10 am – 3 pm
Price: $7 for the poke bowl, comes with a soda as well

View Migrationology World Map in a larger map