Filipino's make up a significant portion of Hawaii's population.
And even though Filipino food (I think) is underrepresented in the US so far, or outside of the Philippines, there are quite a few good Filipino restaurants throughout Hawaii.
Located right in Honolulu, one of the most well known Filipino restaurants is Naty's Kitchen.
This blog post is about a delicious lunch I had there.
Back in 2010, I spent about 2 months in the Philippines, and I spent most of my time in Manila and also in Bicol.
It was one of the most amazing trips I've had, for the friendliness of the people, the natural beauty, and all the delicious Filipino food I was able to enjoy.
I haven't had a chance to visit the Philippines again since then (though I would love to), but when my wife and I were in Hawaii, we decided to take advantage of the home-cooked Filipino food available in Honolulu.
Naty's Kitchen Filipino Food
One of the most legendary names of Filipino food in Honolulu is Naty's Kitchen, located at the Maunakea Market Place in Honolulu's Chinatown.
There's a small food court with about 10 or so different food stalls, many of which are Filipino and there are a couple Thai stalls as well.
As soon as you walk into the Maunakea Market Place, you'll feel like you've transported yourself out of Hawaii, and back to Manila or Bangkok.
There are a few community tables where you can sit and eat, or you can also get your food in a foam box for takeaway to eat wherever you like.
The food at Naty's Kitchen, and the other food stalls at the Maunakea Market Place are just like you'd find them back in the Philippines.
The dishes are fully prepared, and wait patiently in the glass cabinet to be ordered.
You'll find all the classic Filipino foods available – the stews, fried fish, curries – there were probably about 30 – 40 different dishes to choose from on the day I went.
The hardest part about eating this type of food is having to choose what to order. If I had it my way, I'd want to try one scoop of everything.
I decided to get my meal in a foam box, and the nice Aunty added a couple scoops of rice first, and then asked me what I wanted to get on top.
I went with a three item combo, plus a side of soup.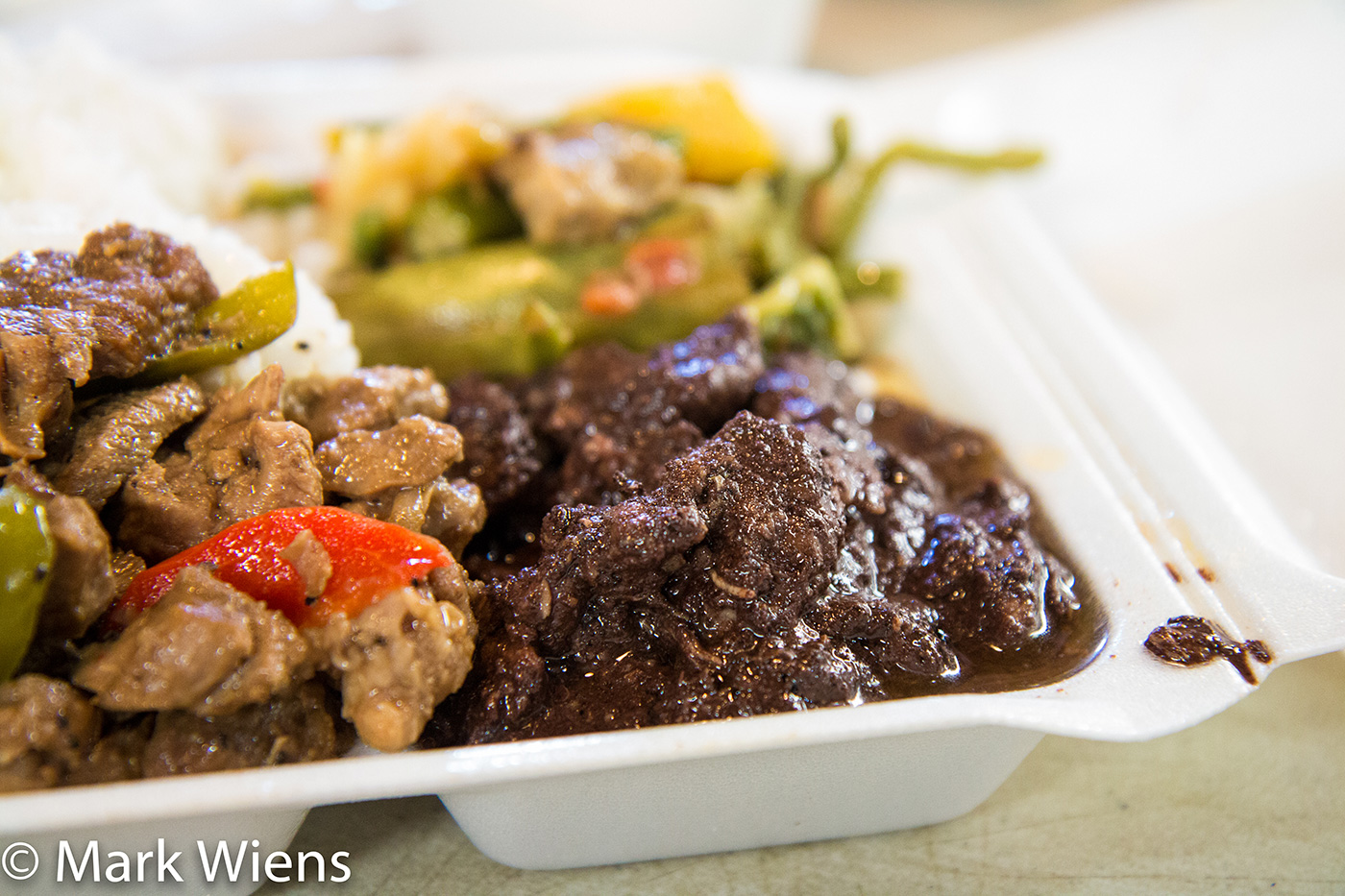 Pork dinuguan
Let's begin with the dinuguan, also known as Filipino blood stew, or chocolate stew (as the friendly Filipino ladies eating next to me at my table at Naty's Kitchen joked to me).
Being honest, it's not the prettiest Filipino dish you'll ever see. It's dark brown in color, shimmers in the light, and it looks pretty greasy.
But take a bite and you may be pleasantly surprised.
The stew was made with a number of different pig parts, including a few organs and then actual meat as well. I'm not sure what was all included in the recipe, but the blood sauce had a beautiful subtle flavor, slightly sour in taste, and with a hint of a cinnamon flavor as well.
The pork in the dinuguan was incredibly soft and tender, and along with the hot steamed rice, it was excellent.
Dinuguan is sort of like blood sausage (which is popular all over the world), only instead of being wrapped into a circular tube, it's free to move around on your plate and more saucy.
Igado
As I was figuring out and pointing to which dishes to order on top of my rice at Naty's Kitchen, I was about to order pork adobo, one of the most well known Filipino foods…
But since it was made with pork belly, and I didn't want that much fat that day, I saw another dish that looked much leaner, and I asked the Aunty what it was.
"Pork igado," she said. And that's what I got.
The pork igado is an Ilocano dish, which I'm quite sure I ate when I was in the Philippines previously without knowing the name. It was made with leaner pieces of pork, and there were also some onions and bell peppers in the mix.
Some recipes call for pork organs, but this was pretty much all meat.
Similar to adobo, it had a nice sourness from vinegar, and I also really liked the flavor of black pepper. It was another delicious dish at Naty's Kitchen.
Pinakbet
The pinakbet is up in the top left corner of the photo above.
It's a dish of mostly vegetables and a bit of pork, cooked with shrimp paste. It included some pieces of pumpkin, Chinese long beans, cabbage, and bitter melon.
The flavor of the shrimp paste gave the vegetables a little saltiness, and just a slightly mellow shrimpy flavor, nothing too fishy, and the bitterness from the bitter melon was fantastic.
I really love Filipino pinakbet.
Pork sinigang
Finally, on the side, I couldn't resist ordering a separate bowl of sinigang, kind of the Filipino version of tom yum, a sour tamarind soup widely consumed throughout the Philippines.
I usually prefer sinigang made with fish, but this was made with pork.
So since it was made with pork, it was naturally a little more on the only side, but the flavor of the broth was nice and sour.
Inside the soup were moringa drumsticks, water morning glory, and a few other sprouts and vegetables.
Along with all the other dishes, the sinigang complemented everything well.
Conclusion
Hawaii has a large population of Filipinos, and there are some excellent restaurants to eat Filipino food.
One of the most famous restaurants in Honolulu for Filipino food, a place that's been around for a long time, is Naty's Kitchen located at Maunakea Market Place.
Naty's Kitchen is a food court style food stall that serves classic Filipino dishes. Everything I ordered was delicious, including the dinuguan (blood stew) and the pinakbet (vegetables cooked in shrimp paste), and what I really loved was that all the flavors tasted like Aunty's home cooking.
One of the top things to do in Honolulu is eat, and along with eating delicious Hawaiian food and poke (raw marinated fish), Filipino food is a great cuisine to try as well.
Naty's Filipino Kitchen – Honolulu, Hawaii
Address: Maunakea Market Place, Chinatown
Open hours: I'm not sure exactly, but I went at about 11 am on a weekday and they were open and thriving.
Prices: All the food I ate and ordered above cost $11
How to get there: Naty's Kitchen is located in Chinatown Honolulu at Maunakea Market Place. The easiest thing to do is find parking on the side of the street or in a municipal city parking garage, and then walk into Maunakea Market Place.
Get exclusive updates
Enter your email and I'll send you the best travel food content.