Does crispy fried dough dunked in sweet syrup sound good to you?
I had seen them many times walking around Indian influenced cities like Kuala Lumpur, but before traveling to India, I had never sunk my teeth into a jalebi.
Located right in the midst of chaotic Chandni Chowk market in Delhi, India, is Old Famous Jalebi Wala, a street stall that serves one of India's most beloved desserts.
It's been featured in just about every Delhi travel guide (including mine), and for good reason, because it's such a legendary establishment.
What is a jalebi?
There are a number of different stories of how the jalebi came to India, but most believe that it was originally a Persian treat known as zulubiya, that was served at special feasts.
During the spread of the Islamic Mughal Empire, jalebis likely came too, filtering into all parts of India and adapting to the Indian taste buds.
Get exclusive updates
Enter your email and I'll send you the best travel food content.
There are a few different variations, but it all begins with a flour based batter that's whipped up into a paste. The batter is loaded into a funnel and swirled into unique coil shapes within hot oil. When the jalebis have cooked and are crunchy all the way through, they are drained, and then immediately bathed in the sweet fragrant syrup for a precise amount of time.
Hot and dripping with both oil and sweet syrup, the jalebis are ready for consumption.
Standing on the side of the crazy street in front of Old Famous Jalebi Wala, you can see the process of the cooking as your mouth begins to water.
Even with long lines it doesn't take long before you're handed a silver lined paper plate with your little coil of glory upon it.
Taking a bite you'll get the crunch of dough complemented with an oozing of sweet saffron infused syrup that tastes like honey. The combination, especially if you have a sweet tooth, is sensational.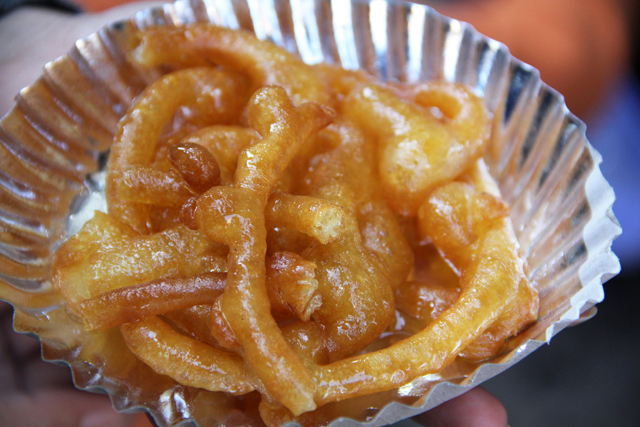 Some locals will travel long distances to get a taste of Old Famous, others say that it's overrated and there are better places.
Since I have only had a few jalebis in my lifetime, I'm no expert on the subject and nor do I have many to compare it to, but I can say with certainty that for anyone who loves sweets, these jalebis are to die for.
Here's a video sampling the jalebi at Old Famous Jalebi Wala:
Old Famous Jalebi Wala
Prices: The hot fresh jalebis cost 300 INR ($5.45) per kilo, but if you just want a good individual portion, it costs 50 INR ($0.91). That was more than enough to satisfy my sweet tooth. And just so you know, they are much more expensive here than other street stalls – due to their fame.
How to get there: Old Famous is located in Chandni Chowk, Old Delhi, and you can take the Metro to Chandni Chowk station, walk east past the Sheeshganj Gurudwara Sikh Temple and it will be on your right hand side (south side) on the corner of Dariba Kalan lane.
Address: At the intersection of Dariba Kalan and Chandni Chowk, New Delhi
Open Hours: Around 8 am – 10 pm daily

View Delhi Travel Guide – Migrationology.com in a larger map
If you haven't already seen my Delhi travel guide, click here now.
Get exclusive updates
Enter your email and I'll send you the best travel food content.