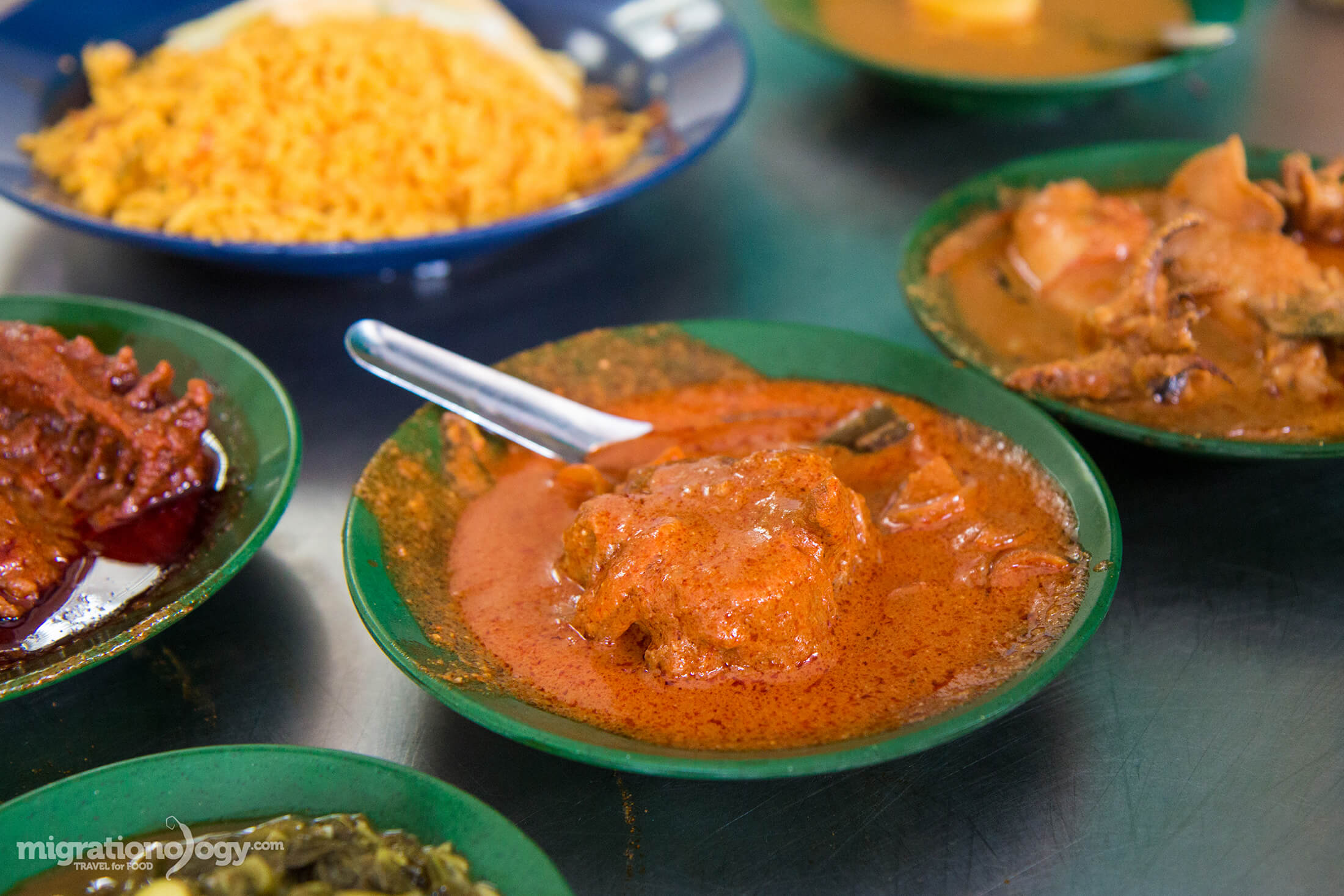 Every now and then you have a meal that's almost too good to be true.
You know what I'm talking about, right?
One of those meals that's so delicious, it literally blows your mind, and even after you finish eating, you have a smile on your face for the rest of the day without even knowing it, and you might even dream about the meal you ate as you sleep that night.
Eating at nasi kandar at Restoran Tajuddin Hussain in Penang was one of those meals.
What is nasi kandar?
While Chinese food in Penang is extremely common, another one of the most common and most beloved meals to eat in Penang, and throughout Malaysian, is nasi kandar.
In Malay nasi means rice, and kandar is the name for a traditional bamboo carrying pole basket – a type of carrying method commonly used throughout East Asia.
Together the combination makes rice carried in a carrying basket.
In Malaysia, specifically Penang, when Indians migrated to the Malay peninsula, they would sell or deliver rice and curry from these carrying basket.
Eventually the name came to be associated with not just rice and carrying baskets, but with the Indian curries served from them.
Nowadays, it's not so common to find real kandar portable street food baskets, but instead there are bigger open air restaurants that serve what is still called nasi kandar.
Nasi kandar has come to refer to rice and an assortment of Indian curries and side dishes.
Since my first visit to Kuala Lumpur back years ago, nasi kandar has been among my favorite things to eat in Malaysia, one of the meals I crave as soon as I land in the country.
But while nasi kandar is available throughout Malaysia, the original source is Penang, and that's where most people still say you can eat the best version. Why is it still the best in Malaysia? Some say it's because of the sweet water in Penang.
Now that we have a little history, let's proceed on to this nasi kandar meal that blew my mind.
If you do any online research for nasi kandar in Penang, you'll come up with a host of famous restaurants like Nasi Kandar Line Clear and Nasi Kandar Beratur (unfortunately I ran out of time before I could try these two restaurants).
But I decided to go to a restaurant that I walked past while exploring Penang one day.
I didn't eat there immediately, but went back to our hotel, looked it up, and because of its raving reviews, Ying and I went directly there the next day for lunch.
Get exclusive updates
Enter your email and I'll send you the best travel food content.
The name of the restaurant: Restoran Tajuddin Hussain.
Restoran Tajuddin Hussain
Located on the edge of George Town's Little India, and just off a 2 minute walk from Kapitan Keling Mosque, the restaurant is easy to get to.
If you go right at a peak meal time it's just about always packed out and can be challenging to find a table.
Ying and I arrived early, right at 11 am on a weekday, ready to devour some nasi kandar at its freshest state, and beat the major lunch traffic.
At the back of the restaurant you'll see the cabinet display of some majestic piles of curry, which reminded me of Bhape Da Hotel in Delhi.
I saw some people heading up to the food display cabinet to order, but I think the majority of people who ate at the restaurant, just sat down, and then eventually a waiter will come around and take your order.
That's what we did.
I had written down a couple dishes to try, and so I ordered a few of the dishes I knew the names of to get started.
Sometimes for ordering, if I have no clue what the names are, I just say a meat followed by curry. For instance "mutton curry," which they might have a few versions of, but I just let the waiter handle it from there.
The dishes all arrived on small little green plates, the portions not huge, so we could try a variety of different curries.
Biryani
Rather than getting white rice, I chose to go for the biryani rice.
The biryani was nicely fragrant, seasoned with lots of shallots, turmeric, and there was a garnish of cucumbers and some coconut chutney on the side.
Since the flavors of the curry were so distinguished already, the biryani was probably unnecessary as it was drowned out by the the stronger flavors of the curry, but I'm still not complaining about that.
The biryani made a beautiful foundation.
Mutton curry
Mutton curry is one of the world's greatest dishes. I've eaten it in India, Thailand, Malaysia, and it just never seems to fail me.
Something about the flavor of the meat paired with spices, it's just a combination that works incredibly well.
The mutton curry we got at Tajuddin Hussain nasi kandar included a small piece of mutton in a sauce that literally looked like red melted butter. And the richness of it, wasn't far off.
It was a little spicy, and had that satisfying blend of dry spices all wrapped up in an insanely rich and greasy gravy.
One of the things I noticed is that there were pandan leaves in the curry as well, something I hadn't seen before in a curry (in Thailand they are mostly used in desserts).
Ayam rose
Equally as good as the mutton curry was the ayam rose, chicken rose curry, and I believe this was my first time to try it.
It almost tasted like barbecue sauce chicken, except not sweet, but spicy and full of spices instead. It had a hint of sourness, and a pleasant amount of chili.
The sauce in the ayam rose was indeed dripping in oil, but it was so worth it.
Squid curry
We saw the squid on display in the glass cabinet, and wanting to get some seafood, we ordered the squid curry as well.
It was very similar to the mutton curry, except it had a little sour tinge to it, and included tender squid.
I was thinking the squid would be a little on chew side, but it was incredibly tender, almost like chicken breast.
Vegetable
For most meals I eat, I like to eat a range of different dishes, and balance out the different dishes I choose.
So lastly, I ordered a plate of green vegetables, which I just let our waiter choose for us.
I'm not sure what vegetable it was, but it included both big stalks and leaves. The vegetable was fall apart tender, probably cooked to death, and served just before the point of disintegrating.
It was plain compared to the other curries, but went extremely well with the biryani rice and was a great accompaniment to the rest of the dishes.
While I should have been extremely satisfied after that amount of nasi kandar and the incredible rich and flavorful curries, the problem is that, as we were eating, more and more people started filing into Restoran Tajuddin Hussain and ordering different foods.
I saw one table had ordered a plate of a white colored dish, and my curiosity could not handle it – I had no choice but to order it.
And I'm not the only one, Ying loved the ayam rose so much, she wanted to eat another plate of that too.
Mutton korma
I've had mutton korma before, but this was the palest version I've ever seen. And when compared to the other dishes I ordered, the mutton korma was much less flavorful.
That doesn't mean it wasn't good, it was still good, but after mouthfuls of over the top flavors that excited my taste buds, the mutton korma just wasn't as good as it probably would have been had I eaten it at the beginning of the meal.
The sauce was buttery and creamy, and the mutton was nice and tender just like the mutton curry.
If you have a few minutes, be sure to watch the video below of this intensely good meal.
(Of you can watch it on YouTube: https://www.youtube.com/watch?v=raZ53GYag98)
Conclusion
One of the ultimate meals to eat in Malaysia is nasi kandar, which has come to refer to rice and an assortment of Indian curries.
When in Penang, the birthplace of Malaysian nasi kandar, there are plenty of restaurants to try it at.
My wife and I went to a restaurant called Restoran Tajuddin Hussain, right on the edge of Little Indian in George Town, Penang.
The curries we ordered were outstanding, packed with flavors and spices, rich and heavy, and it seemed like each bite got even better and better.
One of the best things to do when you're in Penang is eat nasi kandar!
Restoran Tajuddin Hussain
Address: 45 Lebuh Queen, 10200 George Town, Penang Island, Malaysia
Open hours: Monday – Saturday from 11:00 – 3:30 pm for lunch and 6:30 pm – 10:00 pm for dinner (closed on Sunday)
Prices: Our total price came to 34.50 MYR ($9.18), if I can read read our receipt correctly, looks like each plate of meat curry is 4.50 MYR ($1.20)
How to get there: Restoran Tajuddin Hussain is located in Little India in George Town, on Lebuh Queen, inbetween Lebuh Pasar and Lebuh Chulia.
Here's the map for more directions:
Get exclusive updates
Enter your email and I'll send you the best travel food content.