If you're like me, you might think it's a wheel of cheese.
On my first visit to Myanmar, back in 2011, I was puzzled for a number of days, as to what exactly was that wiggly round of yellow matter, that people were eating on the streets?
To cure my curiosity, I sat down at a street food stall and ordered it (or pointed to it).
The answer: chickpea tofu
Don't let the word tofu turn you off, this is not a chunk of soft flavorless matter, or a tofurkey dog, THIS is a much different kind of tofu experience…
Yangon street food stations
Fast forward a few years, and I've eaten Myanmar style tofu salad, known in Myanmar as "tohu thoke" quite a number of times, both on the streets of Yangon, and even in Bangkok.
Tohu thoke (or I'll probably spell it as tofu thoke) is one of the many staples of Yangon street food, an original Shan tofu salad.
Shoulder pole street food stands
You'll normally find Myanmar tofu salad at small portable street food stalls, the ones that are setup from shoulder poles carrying baskets on either end (I think there should be a better English name for this).
This allows the vendors to drop their stand, and set up shop and be ready to serve customers in the busyness of Yangon in minutes.
A small wooden ledge, smaller than some of the bar counters I ate off in Tokyo, is your table, and the chef, sits in the middle of the restaurant.
A set of low to ground plastic stools are placed around the vendor, and you just sit down for a quick bite on the go.
Get exclusive updates
Enter your email and I'll send you the best travel food content.
This particular vendor I visited, also had a few extra expansion plastic tables, so I sat down at one with a little extra knee space.
The same vendors who sell tofu thoke also normally sell a few other dishes, especially hand-mixed noodle salads, cabbage salad, and papaya salad (another dish I ordered at this particular pit-stop).
I didn't order any of the noodle dishes this time, as I had actually just eaten a larger meal, but I did order another salad, the Myanmar version of green papaya salad.
Aside from the shreds of green papaya, it was very different from a Thai style green papaya salad.
Tofu thoke
As soon as I ordered, he got to work mixing the first salad.
A small pile of the block of tofu had already been chopped up into one inch bite sized pieces.
I'm not totally sure everything he mixed in, but there was a handful of finely shaved kaffir lime leaves, cilantro, and a seasoning of some type of oil (perhaps peanut oil).
Finally, a good handful of deep fried shallots were sprinkled on top.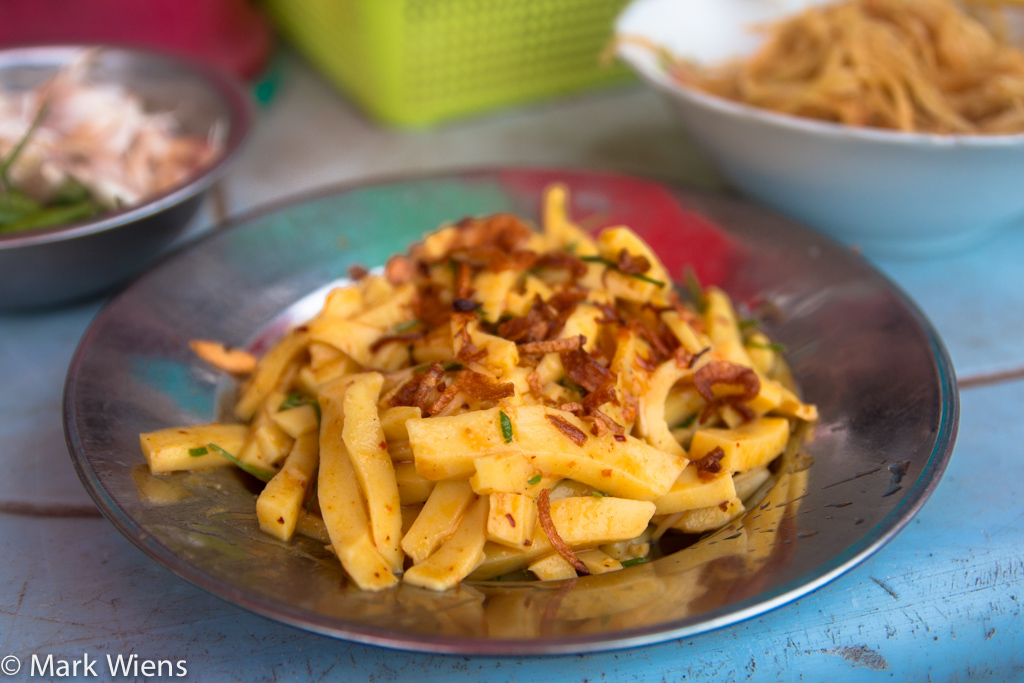 Chickpea tofu
Chickpea tofu is not really anything like soybean tofu.
It's much more creamy, and almost like pudding in texture, just one notch firmer. The flavor is actually quite neutral, just like a chickpea or bean would taste, and so it takes on whatever it's combined with.
I loved the creamy softness of the tofu, and the light dressing, plus the wonderfully fragrant shallots. For spice, I garnished with alternating bites of fresh chilies (available at most stalls), and raw cloves of garlic.
Green papaya salad (thinbaw thi thoke)
The green papaya salad (thinbaw thi thoke) included a handful of green papaya, mixed up with dry chili flakes, and a dressing that had a really nutty flavor to it.
I thought the flavor was comparable to a Japanese miso salad dressing, but I think it was perhaps peanuts, mixed with oil, and a bit of tamarind juice.
The thing I always love about green papaya, no matter what country I eat it in, is its wonderful fresh and crisp texture.
I really enjoyed this Myanmar style of green papaya salad (thinbaw thi thoke) as well (though I'm not sure if what I ate is the authentic recipe, or the everyday quick street food version).
Just like all street food in Yangon, the atmosphere, the chaos, and the overall action and elements of surprise, all play a part in the enjoyment of dining. This is the reason I think eating is always one of the top attractions when you visit a city like Yangon (or any city).
I couldn't be much happier, sitting on a 6 inch stool, slurping down plates of Burmese salads from friendly vendors.
If you have a few minutes, click play below to watch the full video (you'll get a much better feel for the atmosphere and emotion!)…
(If you can't see the video, watch it here: http://youtu.be/2qXGyAKcOEs)
I don't read Burmese, and I barely speak a few words (food related), but when I see the round wheel of cheese, I know tohu thoke is waiting.
Where can I eat Burmese tofu salad?
You'll find nearly identical style street food stands scattered throughout Yangon, just pull up a stool, make an order, and eat. But if you want to go where I did, this is just north of Sule Pagoda, on the Southeast Corner of Sule and Anawratha road, along what's sort of an access road. There are a number of vendors throughout the day on this street.
Price – 350 Kyats per salad (that's just $0.35)
Have you tried Myanmar chickpea tofu salad?
Get exclusive updates
Enter your email and I'll send you the best travel food content.