We've all had ice cream and we've all eaten mangoes (maybe even mango ice cream).
But have you ever had mango ice cream in a mango that's sliced with a hacksaw?
I first found out about Kuremal Mahavir Prasad Kulfi Wale while browsing this article by EOID, and since I was already exploring the many things to do in Delhi and happened to be in Chawri Bazar, there was no way I was going to miss this brilliant looking mango kulfi.
What is mango kulfi?
Kulfi is basically Indian style ice cream.
It's thick and creamy and just like many other Indian desserts (such as malaiyo), kulfi normally includes spices like cardamom to give it a flavor that's different from most Western ice creams.
Also, kulfi tastes a little grainier to me, it's not usually completely silky smooth, but rather has a little texture to it – perhaps from nuts or spices? Just like other ice creams, there are many different flavors, and types of kulfi in India.
But now lets move on to the mango kulfi…
Get exclusive updates
Enter your email and I'll send you the best travel food content.
The genius of a mango kulfi at Kuremal Mahavir Prasad Kulfi Wale in Delhi begins with a mango, and as I understand in the north of India, Alphonso mangoes are considered supreme.
A slice is cut off the top so the seed can be dug out and then it's replaced with the creamy ice cream mixture. The mango is then sealed with clay, and frozen in a blizzard freezer until it's more solid than a rock (if only they could do this with durian ice cream, that might be the best creation ever)!
As soon as I ordered it, the vendor took out a hammer and flaked off the clay bottom, chipping it off like he was tearing down a concrete sidewalk with a sledge hammer.
After the hammer, he took out, not a knife, but yes, a hacksaw blade!
Once the skin of the mango was fully peeled, he then sawed it into bite sized manageable pieces. I'm telling you, it was frozen so solid, only a saw could do!
The beautiful ice cream interior was studded with pistachios and I'm not exactly sure what the red fruit was, but I think it was a cherry.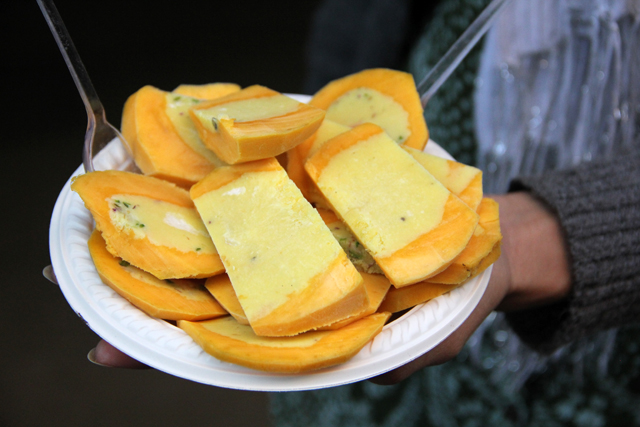 The mango kulfi cost 200 INR ($3.50), which came as a little bit of a shock to me at first, because everything else I had been eating had been around the 50 INR range. That being said, the vendor did tell me that the smaller kulfis on a stick were just 25 INR.
I'm still not sure if I was ripped off or if that was the correct price – but I can tell you that paying that much was worth it to me!
Just like that life-changing mango lassi I slurped down in Kolkata, this mango kulfi was almost as wonderful (I'd still go for the lassi most of the time), and it sure was a treat!
It's a little tough to find, but make sure you take a right at this fruit store and you can also ask someone if the lane is "Kucha Pati Ram," which is the alley you're looking for.
Open Hours: Afternoon /evening is the best time – but they don't have a set schedule
Price: It cost 200 INR ($3.64) – now the price was so high I think because it wasn't mango season when I went? Or maybe I got ripped off? But it was surely worth it. Smaller kulfi's are 25 – 50 INR ($0.45 – $0.91).
Address: Kucha Pati Ram, Bazar Sita Ram, Delhi, 110006
How to get there: Take the Metro to Chawri Bazar, exit at gate 3, and immediately cross the street and go down Sita Ram Bazar lane. Take your second right at Kucha Pati Ram, an alley marked by a big fruit stall. Walk down the alley for 200 – 300 meters and you'll come to the place on your right hand side.

View Delhi Travel Guide – Migrationology.com in a larger map
Note: If you're going to Delhi, you may want to check out my Delhi Travel Guide, which includes lots of tips on where to stay, what to do, and food to EAT!
Get exclusive updates
Enter your email and I'll send you the best travel food content.