With a name like "Time 2 Eat Mama Chicken Mama Franky House," and huge smiley faces on the sign, how could you not eat there?
I sure couldn't resist.
But let me tell you, this street pop-up kiosk in Agra, India, is not a motherly home cooked meal establishment like the name may suggest, but it's a rather male dominated street kitchen where they've got a pretty good recipe for tandoori chicken and roti and other delicious things like that.
There are two branches of Time 2 Eat Mama Chicken – the Non-Veg and the Veg side – separated by about 50 meters of parking lot, a segregation of the non-veg versus veg eaters.
I chose Non-Veg.
It was about 11 am when I arrived, and the crew of grillers and cooks were moving extremely slowly, the way many restaurants and businesses in India begin their days.
Mama Chicken House is more of an afternoon / night restaurant spot.
They have a pretty big menu actually, not just tandoori chicken, but kebabs, kati rolls, curries, and a variety of other North Indian tasty food specials.
At night, the restaurant is a munchers hang out, similar to wondrous Rajinder Da Dhaba restaurant – one of the top food things to do in Delhi.
Get exclusive updates
Enter your email and I'll send you the best travel food content.
One thing you won't be able to get enough of in North India is the fresh and always hot breads – tandoori roti being one of the most popular.
The balls of dough were slapped on the outside of the tandoor clay over into thin rotis before being placed on the side of the oven to cook in just a few moments.
Big, juicy, succulent, chunks of poultry…
I could hear the soft sizzle of the oozing meat juice hitting the coals at the bottom of the tandoor oven… music to my ears!
My 1/4 tandoori chicken arrived on a styrofoam plate accompanied by a wonderful yogurt corriander puree and a side of sliced red onions.
The chicken on its own was so flavorful it didn't need anything extra. However, grabbing some tandoori roti, adding a piece of chicken, some onions, and then dipping it in the sauce was a heavenly combo as well.
The tandoori rotis, cooked in the same oven and bathed in chicken smoke, were hot, crispy on the edges, and fluffy all around.
Now that's what I call finger-lickin' goodness!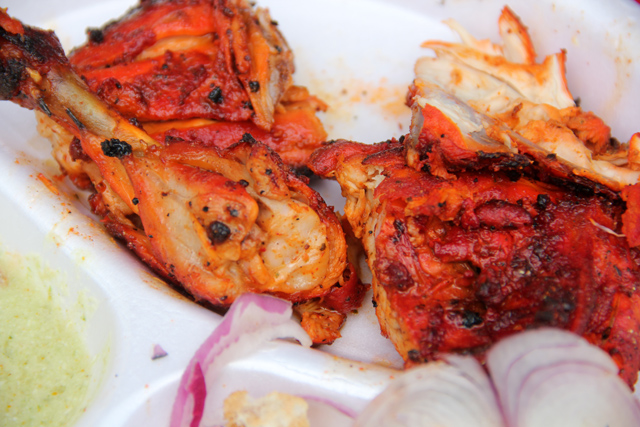 Here's a video of this marvelous tandoori chicken:
(if you can't see the video, you can watch this tandoori chicken video on YouTube)
Total bill came to 150 INR for 1/4 tandoori chicken and 4 tandoori rotis.
Time 2 Eat Mama Chicken Mama Franky House is located right at the Sadar Bazar in Agra, India. You'll see it in the parking lot of a small strip mall – you can't miss their signs!
I'm sure many of the items listed on the menu are delicious, but all I tried was the tandoori chicken and tandoori rotis, which I very much enjoyed.
Address: Sadar Bazar, Agra, Uttar Pradesh 282001
Here's the map:

View Migrationology Food Map in a larger map
Get exclusive updates
Enter your email and I'll send you the best travel food content.