Of all the reasons I have when I say that "you need to visit Peru," the true persuasive power here lies with  Peru's simply giant amounts of delicious local food.
In the capital city of Lima you'll find many of the best examples of this rich food culture, including one incredible meal of chicken I just have to tell you more about right now.
'Pollo a la Brasa,' is the dish, and the name of the restaurant where you should have it is 'Don Tito Pollos a la Brasa.'
Welcome to one of the best lunchtime meals you could ever dream to eat when you Travel for Food in Peru.
(*A snack while reading is optional, but this article may be dangerous on an empty stomach.)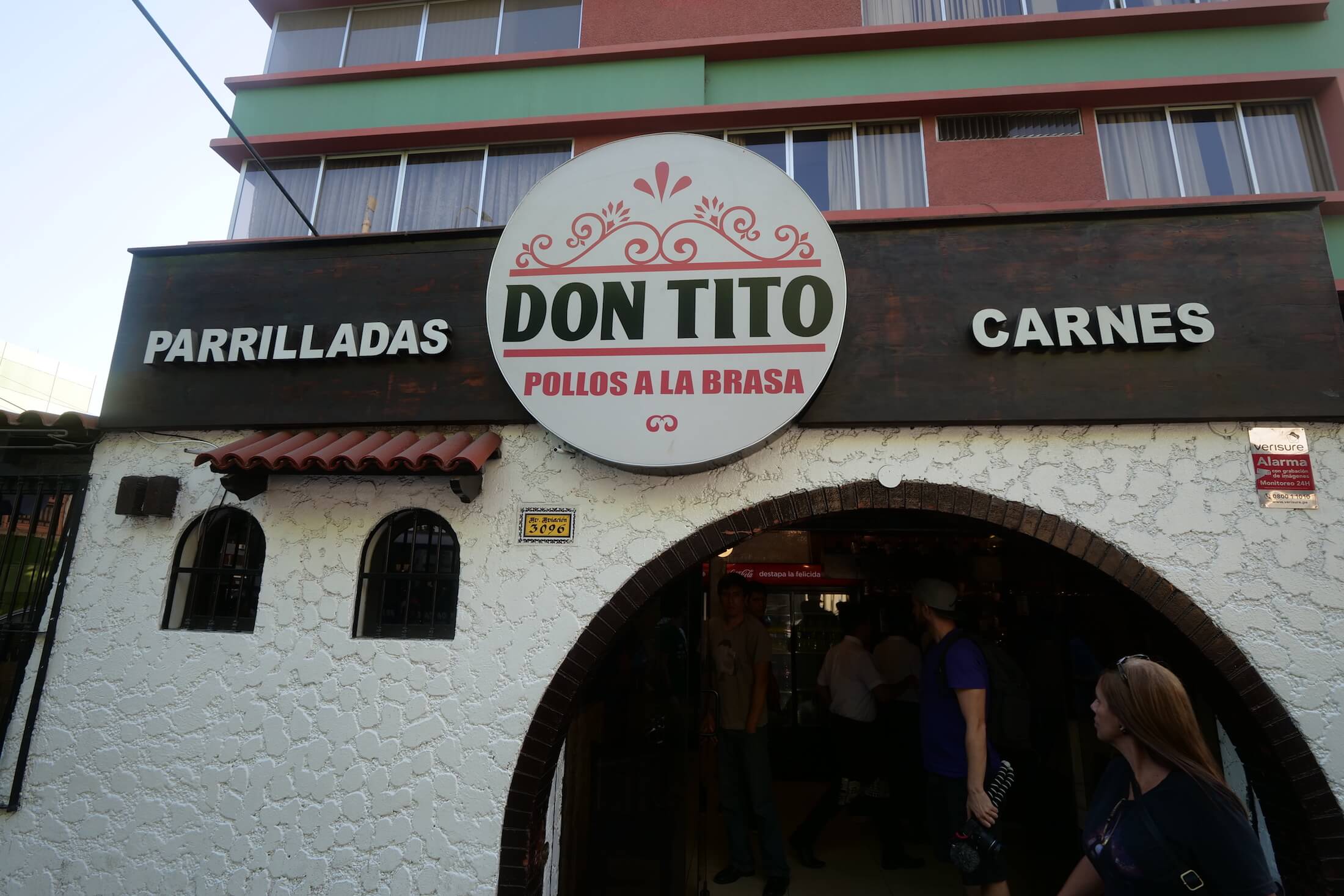 In Lima, Peru
Travel to any destination in Peru, and I'm sure you can't help but notice – people here just so obviously love any occasion to get together to eat.
From tiny, market-type restaurants, all the way to places that can seat a thousand, you'll rarely see a restaurant that doesn't have a line out the door – its incredible.
Out of all this tasty action going on, there are few items more popular around the lunch table in Lima, than this amazing meal of chicken they call 'Pollo a la Brasa.'
'Pollo a la Brasa'
'Pollo' is chicken, and 'a la Brasa' just means 'grill.'
But what it actually refers to might be one of the most massive and glorious displays of juicy chicken that anyone will ever see.
It is an incredible food, and in Lima its one that people get together to eat at all times throughout the day. I don't mean a small get-together either, every Pollo a la Brasa restaurant you'll see in Lima is somehow always packed!
For our own first lunch in Lima, its clear what we have to do; meet up with local friends, clear our daily schedule, and search out some of Lima's best food for ourselves.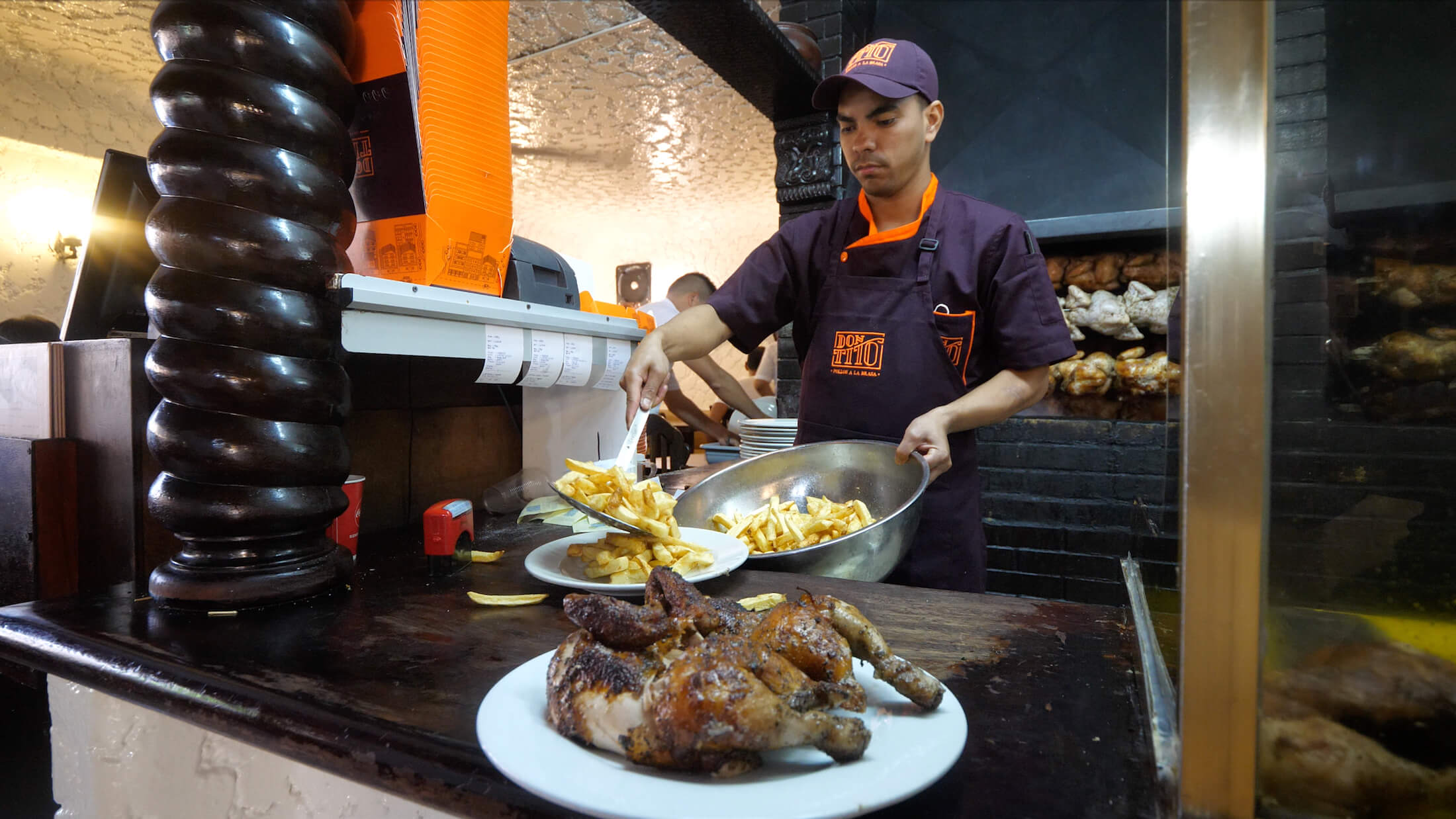 This is Some of Lima's Best Food
Don Tito Pollos a la Brasa is a restaurant serving one of the best examples of Lima's classic meal – Peruvian rotisserie grilled chicken.
A big thanks to local Peru food experts @acomer.pe and @chef.timour (for this meal, and many more!).
Any time you find yourself in Lima, Don Tito Pollos a la Brasa is one place you have to see for yourself – for any lover of juicy chicken, and for all lovers of Lima's best food.
Hours – Open Noon til Midnight
Even during off-peak hours (we went in the middle of the afternoon), you still may find this front entrance with a line stretching all the way out the door.
If it happens to be a holiday in Lima, you can probably just forget the idea if you are coming without a reservation (contact info down below).
Don Tito's is serving Pollo a la Brasa chicken in Lima from Noon to Midnight daily, a modern classic in Lima which has been operating here for over 30 years.
Get exclusive updates
Enter your email and I'll send you the best travel food content.
Try to ask for a table near the spinning rotisserie, and let me show you why…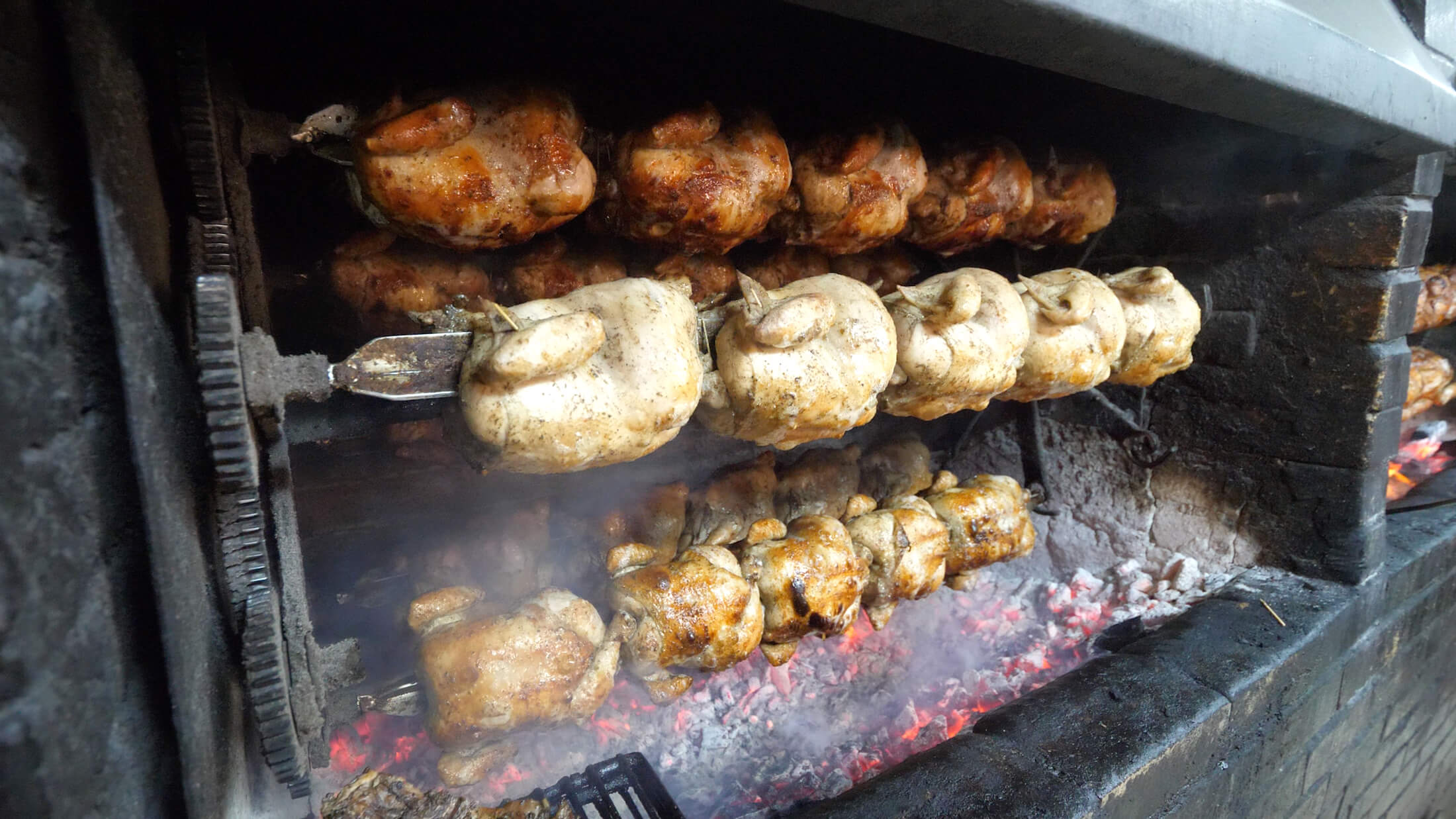 One Dozen Spits of Orbiting Chickens
Standing (or spectating) beside the incredible, multi-dimensional rotating chickens on the grill, I have to say it looks somehow familiar:
Do you remember the time in science class when your primary school teacher first taught you about our solar system?
Do you remember any moving, three-dimensional models of what the nearest planets do while orbiting around the Sun?
Seeing Polla a la Brasa in action then, is sure to be pure delight for you as well! Seeing this display before the chicken reaches your plate though… allow me to warn you that is may be one of the more saliva-inducing moments of your life.
Love at First Spin
I think I like this combination even better than what I remember from school though, because today I count TWO solar systems full of orbiting and glowing bodies, and over thirty glowing 'planets' of chicken!
We have been lucky enough to witness several gorgeous displays of aerial chicken action this year, and Don Tito's kitchen is definitely one of best!
Award-Winning Rotisserie Design
The rotisserie contraption at Don Tito Pollos a la Brasa is definitely an award-winner of a design.
As the chickens are spinning over the hot charcoal beds, try and notice the gear device they're using – can you tell if its the same size (or larger than) a car engine's crankshaft and drivetrain?
I'm willing to imagine that models in science class didn't involve nearly as much chicken juice, grill heat, or such extreme audience hunger either. However, here's the best news about graduation, one great part of being out of school is that you can give the orders, and you can decide when its lunchtime.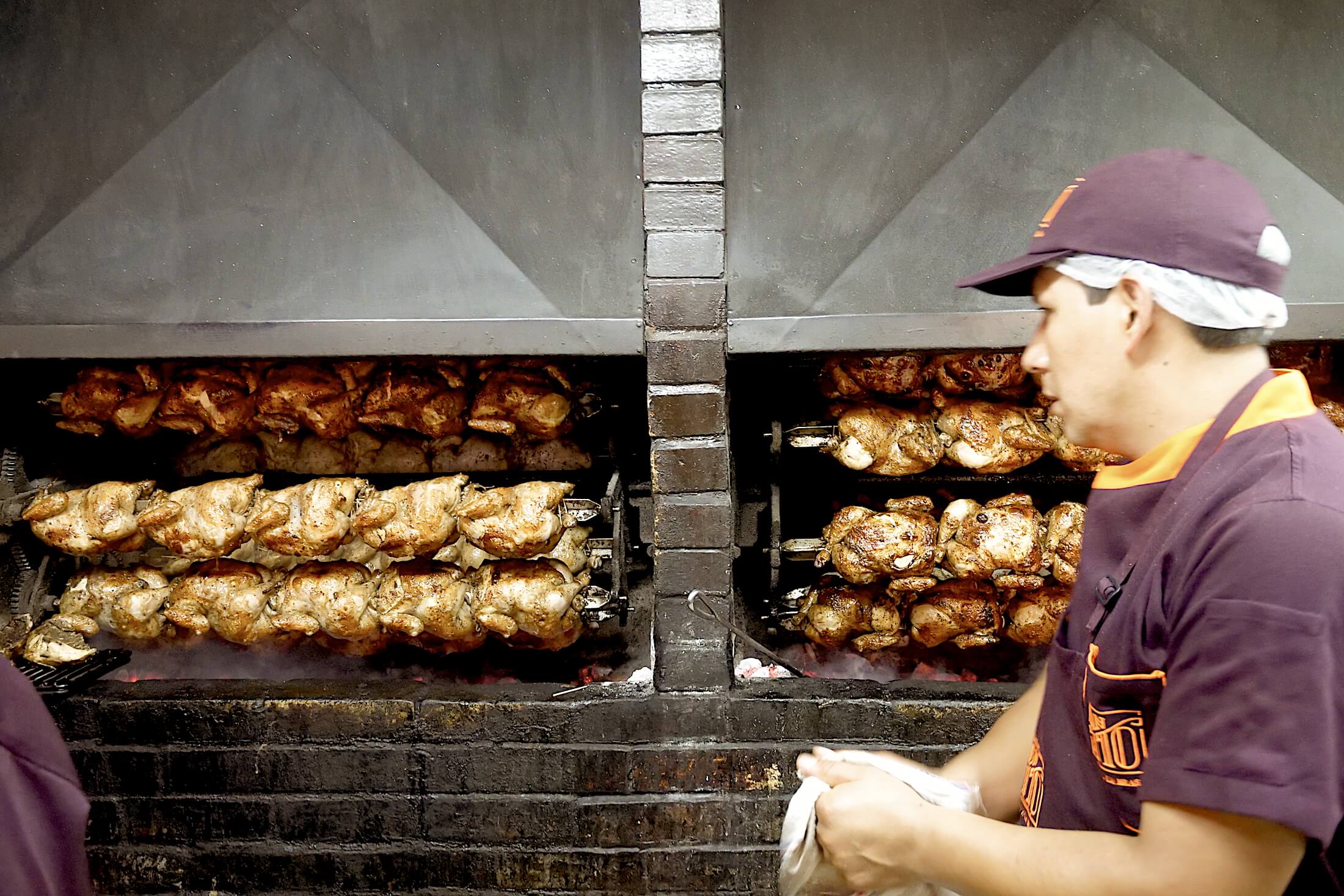 History of this Food
Pollo a la Brasa is actually a local Lima invention – a low-heat style of cooking chickens, and a way to get tasty roast flavor while still keeping the chicken meat so juicy.
Rotisseries like these were originally only open to serve the upper classes of Lima (around 60 to 70 years ago), but thankfully we can all enjoy a meal of this amazing food together now.
You'll see that the restaurants are still usually of 'nice' decorations though, and the serving style is much more fancy than a typical street-restaurant (large clean table settings, and everyone eats with forks and knives).
Salted Chicken (Still) Served with Fries
One traditional way though that Don Tito will never change, is in the simple way they're cooking these chickens (using just salt, and that powerful slow cooking technique). The huge plates of Andean potato fries too are a must, a golden combo of flavor that comes with every chicken they serve.
Here is the restaurant's Facebook page (link), and now let's see what you might want to order here.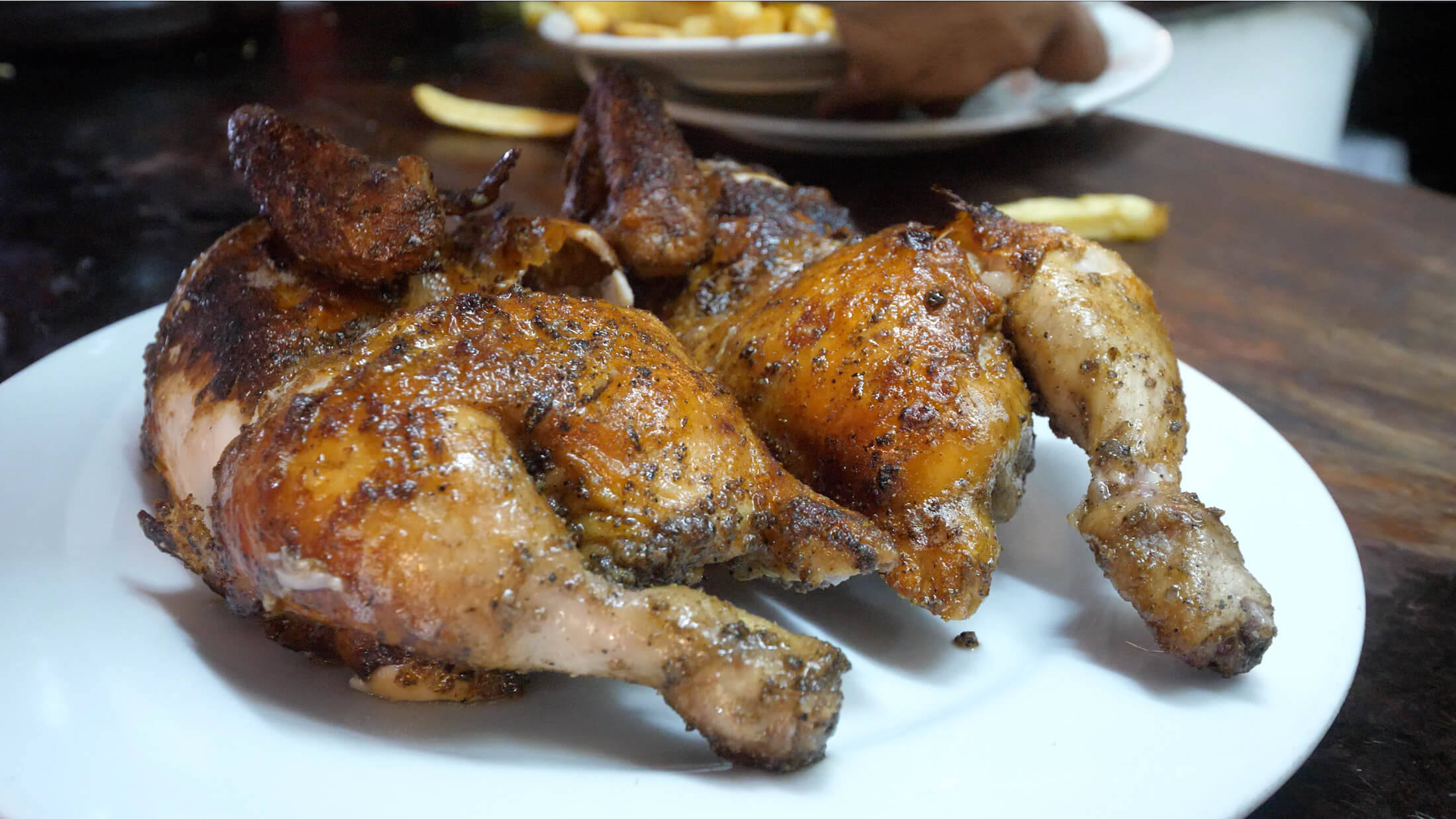 What To Order Here
The standard order is a quarter chicken (breast, or thigh-and-drumstick combo), which comes with a mountain of golden french fries.
Many people get this specific order for take-out, but eating in at the restaurant, I am guessing that you will agree – the dining atmosphere at Don Tito Pollos a la Brasa just demands the order of 'one entire chicken' please.
We went for an entire chicken, splitting it up into large chunks between us, and what's amazing too is watching how fast the line of grill chefs can prepare it…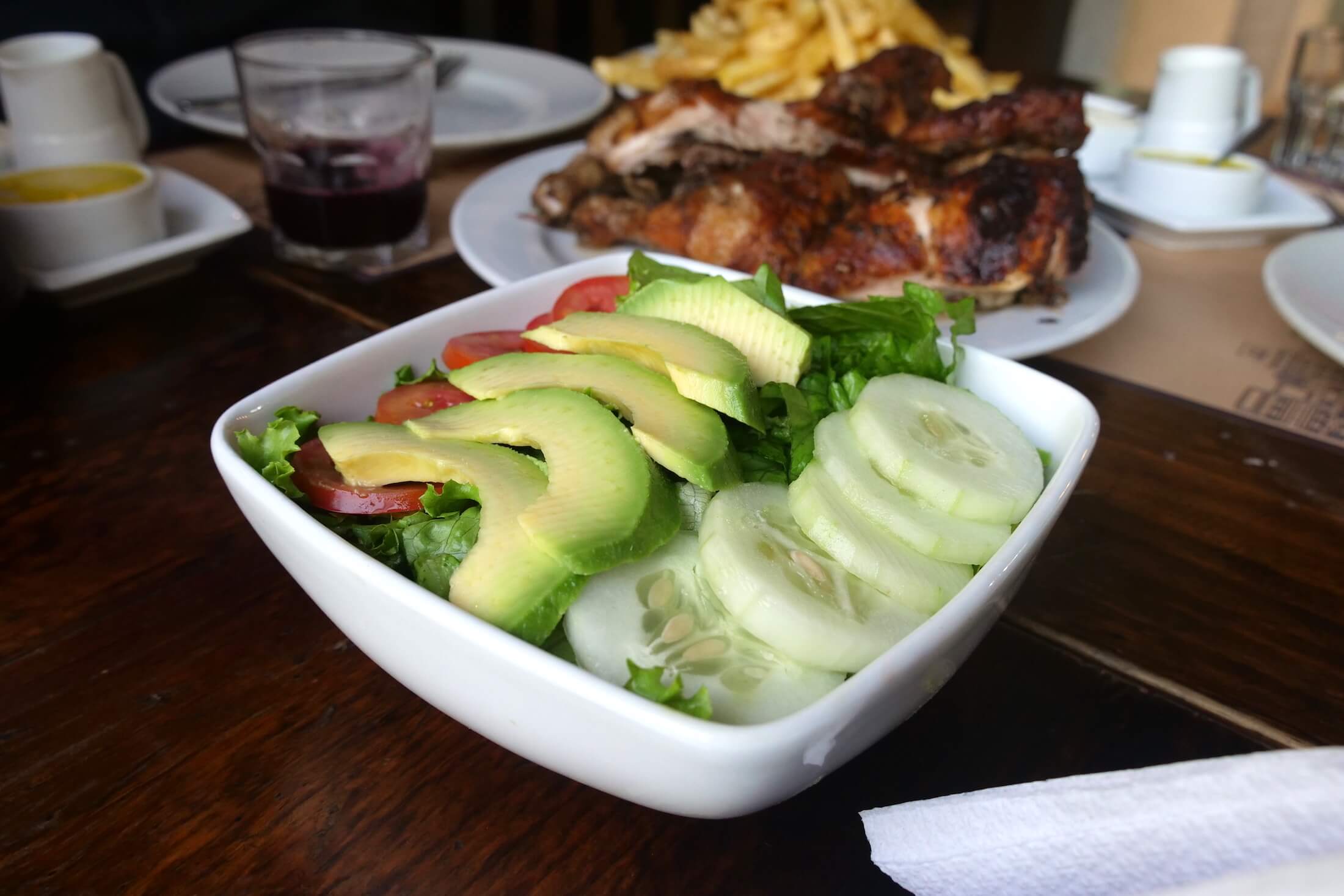 Starter Salad with Pollo a la Brasa
To interrupt the incredibly meaty descriptions for a moment, the first item of food that wait staff will deliver is actually this gently colorful starter salad.
Two types of lettuce, cut into thin strips, some cross-sections of tomato and cucumber, and finally half an  avocado, cut lengthwise, and spread across on top.
Visiting this restaurant in the middle of an epic day of Lima Street food, it is honestly very nice though to have a simple and clean plate of crunchy vegetables.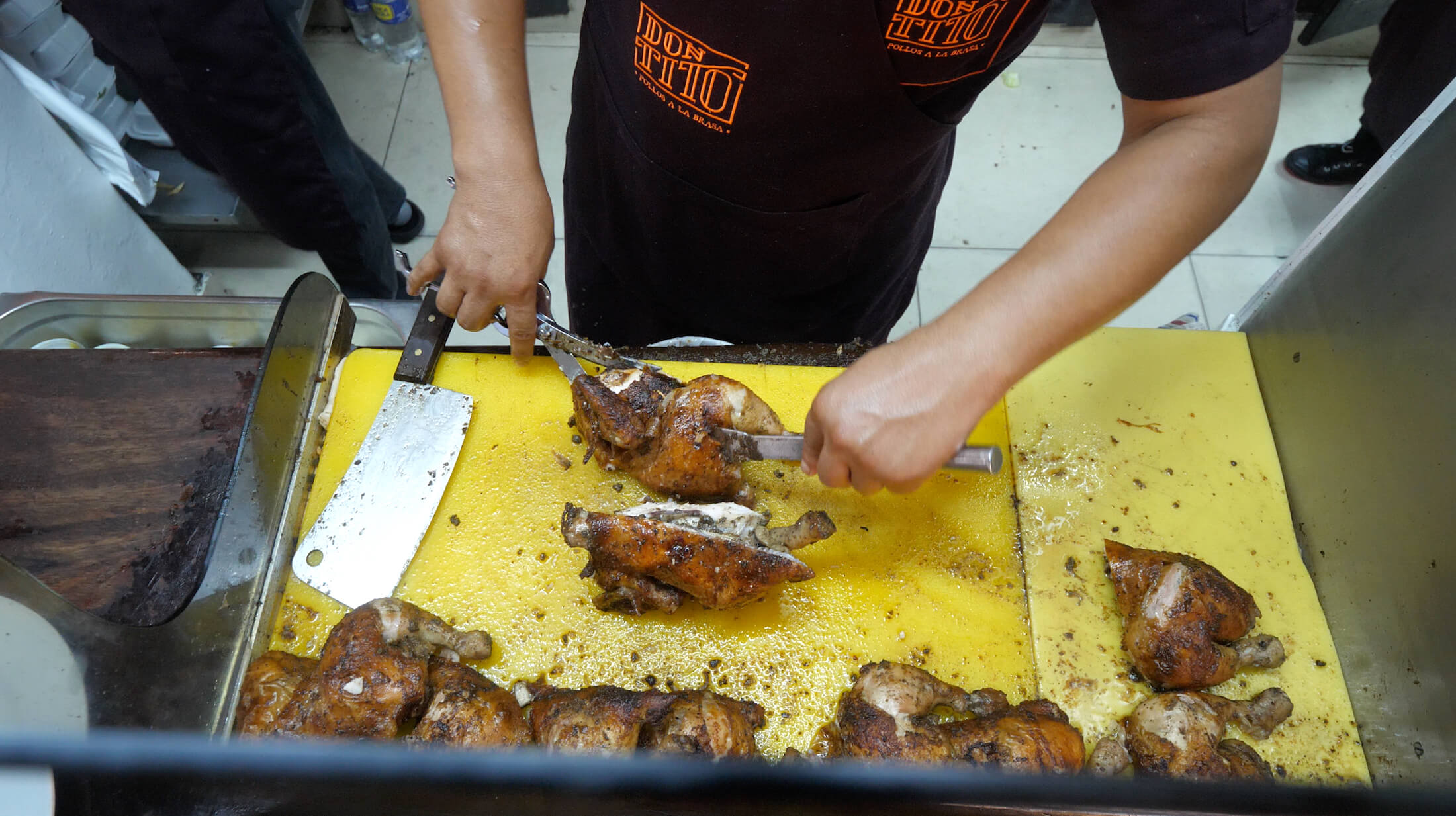 Go for the Whole Pollo
Although the amount of chickens they're grilling can easily support all the people actually sitting down in the restaurant, there is another separate line of people coming in to order takeaway.
Because of this, they are just absolutely flying through chickens here, its totally nonstop – its amazing to watch the fast-moving team of staff here at Don Tito's.
Using some strong snips, and a long knife for support, one of the grill chefs tears through our chicken in about 15 seconds or less. Clean cuts, and he rearranges it so beautifully on the plate as well, you can tell his hands know from experience what to do.
It was about 15 minutes before our own order came, which was good because I don't really know how much longer we could have gone!
The Chicken Arrives
It is just incredible, tantalizing, and mesmerizing, the sight of a horizontal chicken merry-go-round.
Honestly there are just chicken juices dripping everywhere, and that's not all, I am sure that the saliva glands of everyone at our table (and at every table within sight of the grill), are flowing quite freely by now as well.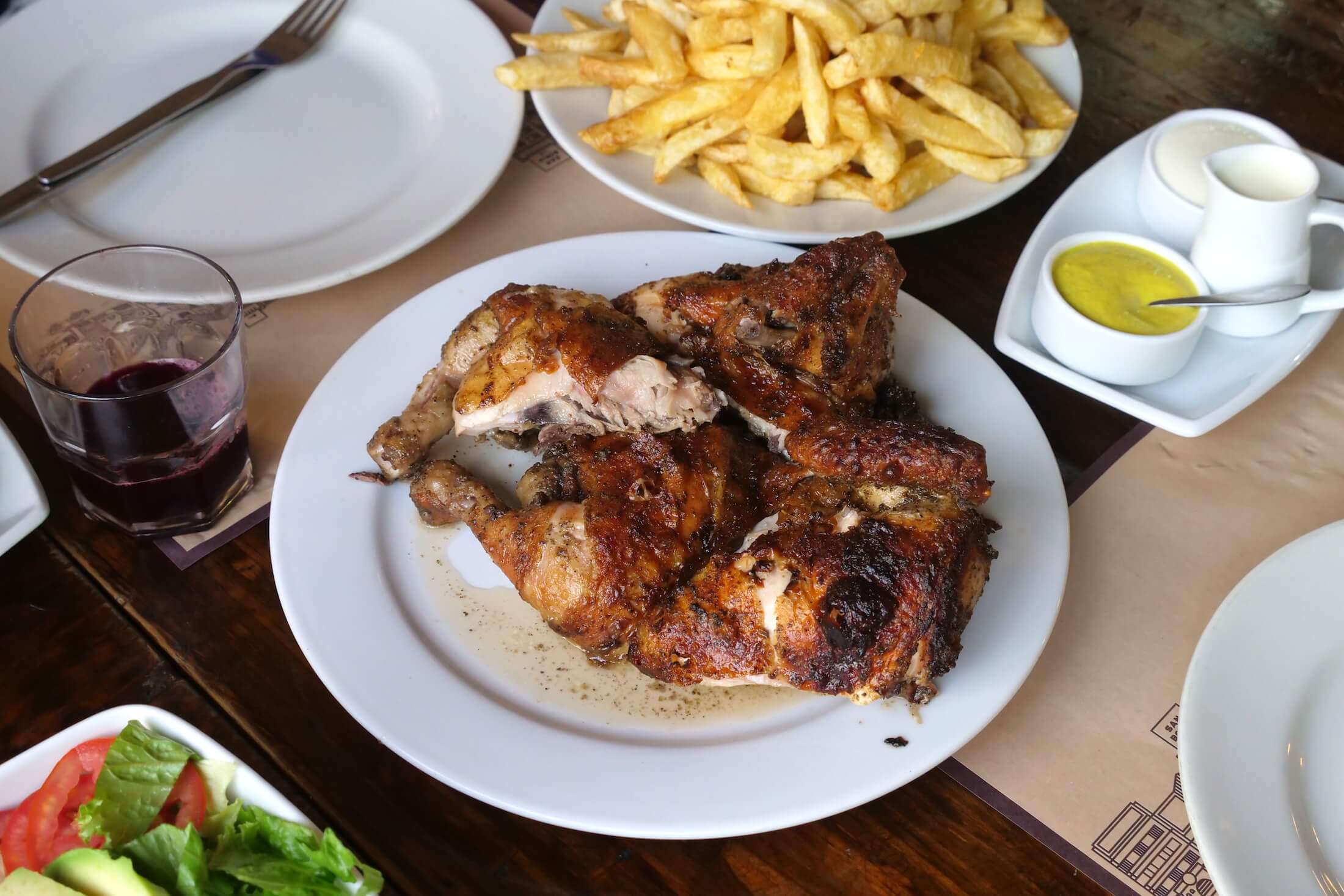 Skin for the Win
The chicken arrives at last, dressed in the most glorious shade of golden and brown crinkly skin.
Choose your favorite piece, I hope there's no competition, and get ready for some of the most delicious chicken skin you've ever tasted.
It Will Be Immediately Clear Why This Chicken is a Star…
The incredibly juicy meat inside is encased in such ultra crispy roasted chicken skin, each bite was an absolute treat.
The flavor comes almost entirely from the meat and skin in combination, for seasoning I can taste only salt and pepper, and neither of which are even very strong. The juiciness of that chicken and the thin crispy skin, it just deserves all my praise.
This really is one of the most delicious pieces of chicken I've ever tasted.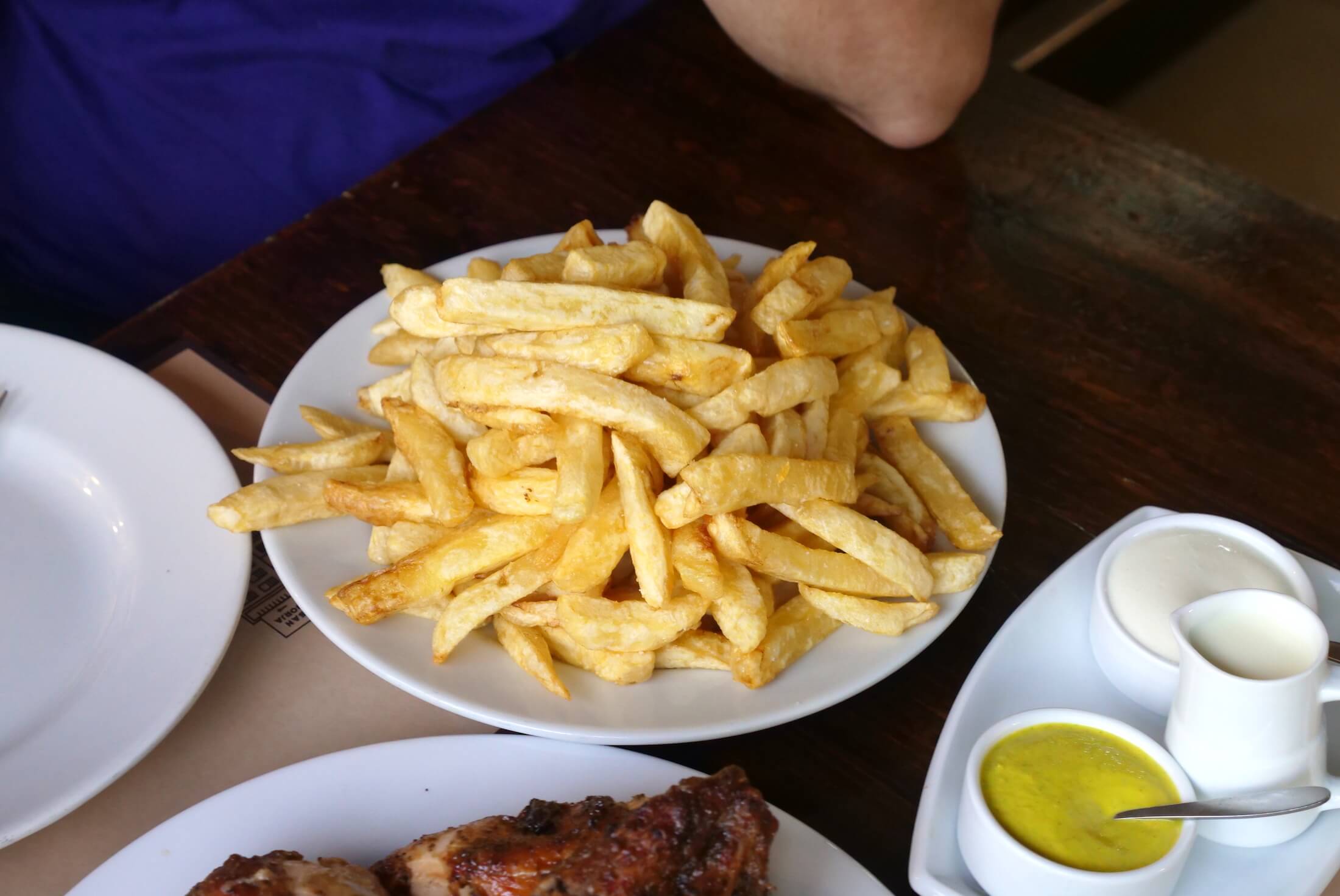 Peru is Home to All Things Potato
Last but not least, your meal at Don Tito's today may include golden french fries from some of the sweetest and most creamy potatoes that you'll ever find anywhere.
They're not afraid to cut these fries thicker than traditional fast food places might be doing theirs, potatoes in the home of the world's potatoes don't need to hide behind the flavor of mid-grade frying oils.
Peru's potatoes make absolutely excellent fries, the creaminess of the potato meat inside is just joyous.  They are crispy, so satisfying, and you are probably going to want an entire mountain of these glowing fries all to yourself.
The Dipping Sauces
The classic way to have fries with Pollo a la Brasa is with some type of creamy dipping sauce, and for that they'll provide you with a few options.
Either mayonnaise as a base, or just plain mayonnaise is common, but frequently now you'll also find a combo of both mayo, and the yellow sauce, 'ají.'
This is not mustard, and aji (sounds like 'ah-hee') is actually just the name of the glorious Peru yellow pepper (an ingredient so important in many traditional dishes of Peru), and after a trip to Peru, its probably also your new favorite dipping sauce for fries (or anything that can ever be dipped).
And a Dipping Secret Move
Our new friend and local Lima food expert Elias shows us his secret dipping sauce for these fries. He prefers to mix a half and half ratio of aji and mayonnaise on the side of the plate, and I have to say its a move of simple genius.
Even though I was already quite full, I could just not stop myself from eating more and more of these fries.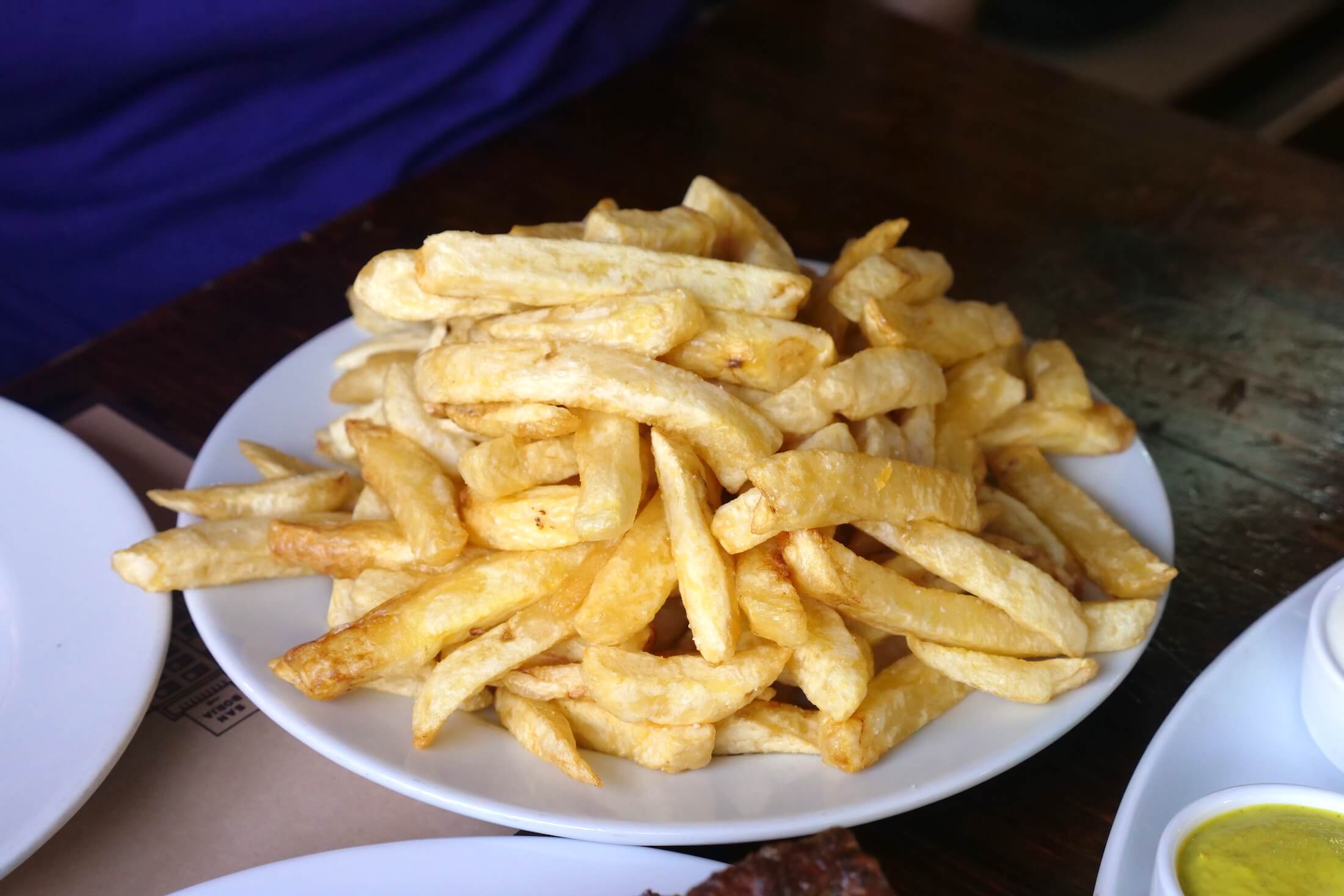 A Potato Tour of Peru?
Did you know that potatoes are actually native to this part of South America? Therefore, some of the best potatoes here could go on to make some of the best french fries on earth!
Don Tito's has outstanding french fries, but these were by no means the best fries we had during this trip to Peru – its incredible, a true potato lover's dream.
Note: Honestly of course if you are a hard-core potato lover, potato-taste touring might even be worth the trip to Peru on its own, but for that you need to go to the highlands, the Andes are where all the best potatoes come from.
Don't Forget the Inca Gold
There is one more iconic Peruvian part of this meal, and its a beverage called 'Inca Gold.'
You need to try this at some time during your stay here, Inca Gold is definitely a favorite soft drink beverage for all of Peru.
We got a pitcher of 'Chicha Morrada' to go with our Pollo a la Brasa today, and while the version here is a little sweet, this is just such a cool and unique beverage, you can learn more about here (link).
Information Below – Enjoy!
When you're in Lima, you have to visit Don Tito Pollos a la Brasa for yourself.
This is a great meal of Peruvian style grilled chicken here at Don Tito's Pollos a la Brasa, and I would definitely visit this restaurant again whenever I'm in Lima, Peru.
Name: Don Tito Pollos a la Brasa
Address: Google Maps (link)
Open hours: Open Daily 12 PM p.m. to 12 AM
Prices: 84.90 Neuvo Soles for our meal for 4 people (US$26)
Get exclusive updates
Enter your email and I'll send you the best travel food content.