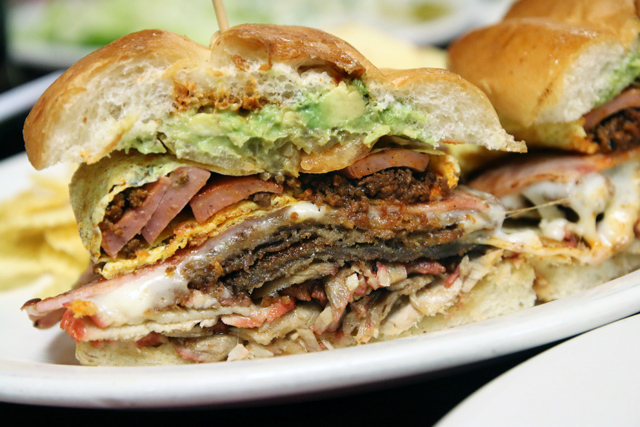 Grab every kind of meat imaginable, throw on some delicious salsas, beans, avocado, and cheese, and you have the beginnings of one of the most amazing sandwiches ever.
The Mexican Torta!
The place to go for tortas in Phoenix, Arizona, is Los Reyes De La Torta.
I used to come here to eat tortas years ago, when it was Tortas La Presa.
Being away from Phoenix for quite a few years now, the name changed, and it was even visited by Adam from Man vs. Food. The good thing, the food is better than ever!
The menu is actually quite extensive, with all sorts of delicious things and huge plates of food, but the most famous section of the menu are the tortas – those incredible sandwiches.
The Del Rey is the most famous of all the tortas at Los Reyes De La Torta.
Get exclusive updates
Enter your email and I'll send you the best travel food content.
It's the pastrami of Mexican food, a tower of meat so tall, it has to be skewered with a kebab stick to hold it together.
The sculpture of the sandwich came served with a side of potato chips, which I actually didn't even touch.
I was only interested in the main event.
The Del Rey included, from top to bottom, avocado, omelet, hot dog, omelet again, ham, cheese, chorizo, breaded beef, breaded chicken breast, pork, refried beans, tomato, onion, and a layer of chipotle salsa.
Did I miss anything? Probably, I'm sure there were a few ingredients, hiding between pieces of meat.
There were also some extra salsas served on the side which I gladly added to my torta.
I just had to share this one more photo so you can get the full cross section of meats and layers of ingredients which went into the construction of the Del Rey.
The thin layer of torta bread on either side was merely used for the structuring system – when I took my first bite, I couldn't even taste the bread over the wonderfully flavorful meats within.
The challenge of a sandwich is always picking it up for the first bite. Once you're taken that first bite, things sort of arrange themselves and you have a corner of the sandwich to work from, but that first bite is always the hardest (it's a challenge I'm willing to handle!).
A little squish down, and I sunk my teeth into the Del Rey.
It was absolutely sensational.
Before eating, I thought there might actually be too many flavors going on. So many kinds of meat altogether might be too much.
That was a wrong thinking.
All the layers of meat blended together, complementing each other beautifully. The chorizo and hot dog provided the salt and spice, the breaded meats added a tinge of crispiness, and the chipotle sauce added as somky chili flavor.
The Del Rey torta was worth every bite.
Los Reyes De La Torta
Address: 9230 North 7th Street, Phoenix, AZ 85020
Open hours: Monday – Thursday from 10 am to 9 pm, Friday from 10 am to 10pm, Saturday & Sunday from 9 am to 10 pm
Prices: About $10 per person, but portions are huge
Website: http://losreyesdelatortaaz.com/
How to get there: The restaurant location I went to is on 7th Street and Hatcher, in Phoenix, but there are now two other locations in the Phoenix area. Check their website for more details.
Get exclusive updates
Enter your email and I'll send you the best travel food content.