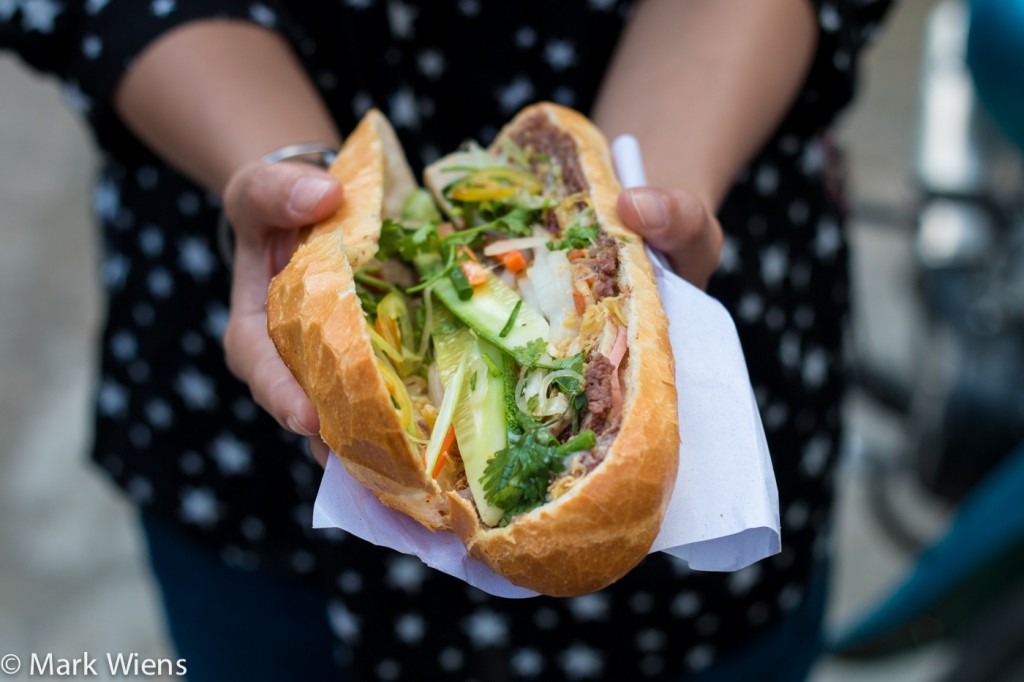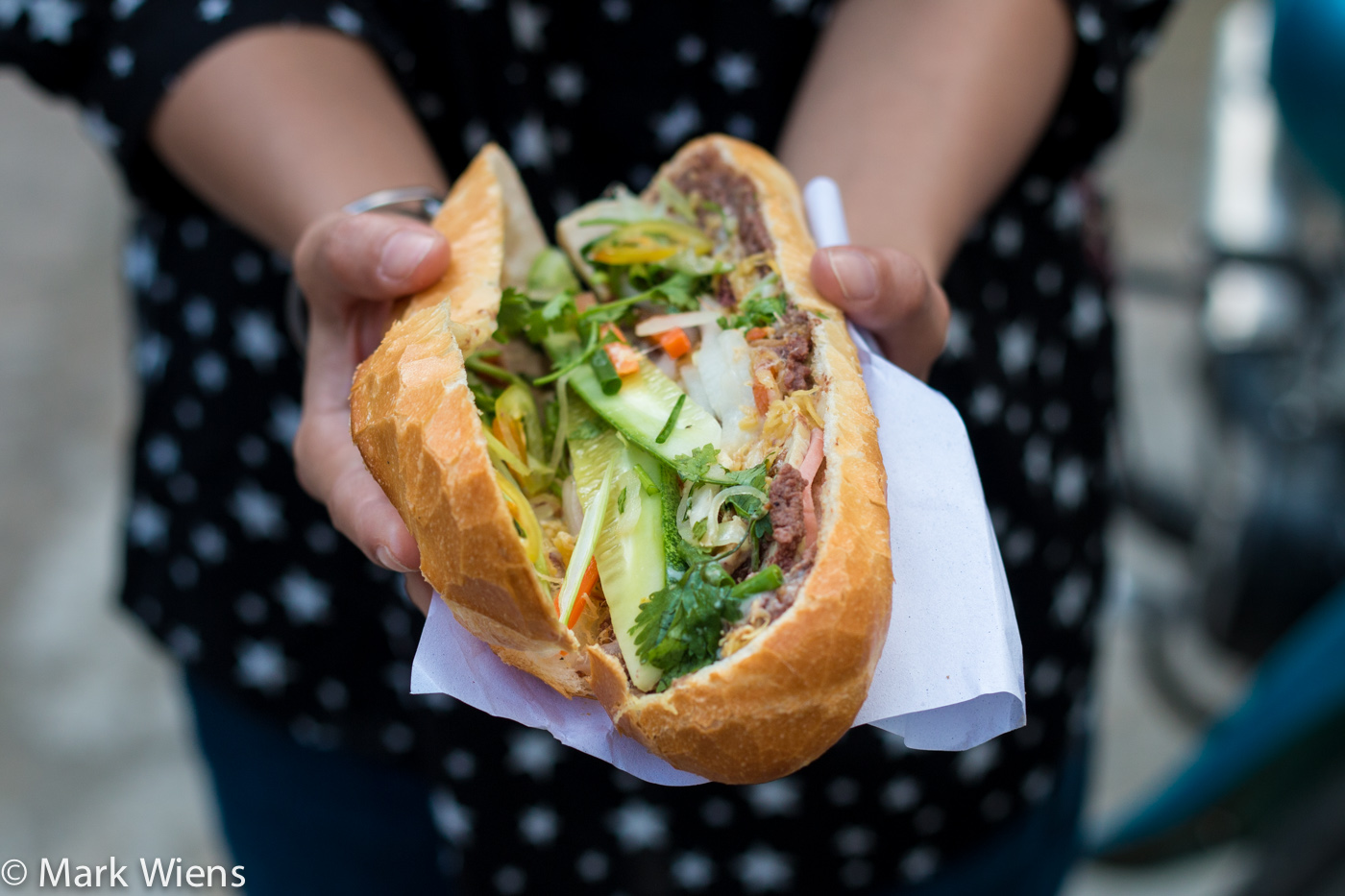 If you're on your way to visit or spend time in Saigon (Ho Chi Minh City), one of the questions you're probably wandering (especially if you love Vietnamese food, like I do) is, "where can I get the best bánh mì (banh mi) sandwich?"
…And if you didn't ask that to yourself, you probably should have!
I definitely asked that exact question to myself when I was on my way to Saigon for the first time.
During my stay in Saigon, along with conquering many other delicious dishes, one of my food missions was to devour some of the best banh mi sandwiches Saigon has to offer.
Banh mi is one of the greatest examples of fusion food done extremely well – a representation of Vietnam and France, all stuffed into a handheld crusty baguette.
Many have called it one of the finest sandwiches in the world, and I can't disagree, it's an absolute gem of a sandwich, fully worth traveling to Vietnam (or Saigon) just to eat.
Note: In this post I'll cover 3 banh mi sandwich stalls / restaurants in central downtown Saigon. The reason I could never say these are "the 3 best," is because I think there are probably hundreds of the best banh mi in Saigon. You literally can't go more than a few steps in the city without bumping into the next banh mi stall, and many are incredibly delicious. So these are just 3 of the hundreds of choices you have when you're in Saigon.
What is banh mi?
I know you already know what banh mi is (and if you didn't, the first photo may have given it away), but just so we're all on the same page here, let's quickly go over the basics of banh mi.
First of all, and I didn't know this before going to Vietnam myself, is that bánh mì (banh mi), in Vietnamese actually just means bread.
However, the word, especially in the Western world, has morphed into referring to a full Vietnamese sandwich – not just the bread itself, but the entire sandwich.
But for the purposes of this article about the best bánh mì (banh mi) in the city, I'll stick to phrase as referring to the Vietnamese sub sandwich, not just bread in general.
Bánh mì (banh mi) sandwiches are normally served in the signature personal sized 3/4 foot long baguettes.
The bread is sliced down the side, filled with a number of different meats, from luncheon meats to grilled pork patties, to pâté, and often complemented with Vietnamese pickles, cucumbers, cilantro, and finally a bit of chili sauce and spicy peppers to top it off.
Jimmy, from Jimmy Eat World, breaks it down nice and simple – the bread, the protein, the pickled and vegetables, the seasonings and garnishes.
There are many different types of meat and ingredients that can make up a banh mi, and if you're interested, here's a pretty extensive list of different banh mi fillings you can try and order.
But really, when you're walking around the streets of Vietnam, and you see that glass cabinet full of baguettes and other ingredients, all you've got to do is stop, smile, and order.
Where to eat the best in Saigon?
Here are a few of the most famous and most well know banh mi stalls in Saigon.
The first two restaurants on this list were recommended to me when I asked on a YouTube video about where to eat the best food in the city, and the third one, I just stumbled into when I was walking around.
Get exclusive updates
Enter your email and I'll send you the best travel food content.
While I haven't even scratched the surface of eating even a fraction of all the best banh mi the city has to offer, here are some places you can try.
All 3 of these places are located within a 5 minute walk of each other, so you can go on a little Vietnamese sandwich marathon if you'd like.
1. Banh Mi Huynh Hoa (Bánh Mì Huỳnh Hoa)
Easily the most praised and most well recognized banh mi sandwich restaurant in all of Saigon, with almost what seems to be a cult following, is Bánh Mì Huỳnh Hoa (Banh Mi Huynh Hoa).
Many people from the YouTube video, and even the great bloggers at Eating Saigon, call it the best in Saigon.
You'll know you've arrived by the scores of motorbikes out front, the bright white fluorescent lights shining in the restaurant, the red shirted sandwich makers, and the insane quantities of pre-sliced cold cut meats – plus a small mountain of pork floss – all stacked and lined up, and ready to be loaded into toasted baguettes.
Their business is so successful, there isn't just one, but two fully loaded glass cabinets, brimming with all the ingredients needed to make monstrous Vietnamese sandwiches.
If you're going to get a sandwich from Bánh Mì Huỳnh Hoa (Banh Mi Huynh Hoa), the first thing you'll have to do is be a bit aggressive – they handle a lot of customers, and there's no real system of a queue.
But just be persistent until someone takes your order, and your money, and you'll eventually come out of the restaurant with your sandwich in hand.
The first thing I noticed is that the banh mi at Bánh Mì Huỳnh Hoa (Banh Mi Huynh Hoa) was extremely heavy – it was probably the most heavy of all the versions I tried… and the weight didn't come from the bread, that's for sure.
After unwrapping my sandwich, and dissecting the insides, I could see they added the most layers of meat of any banh mi I ate in Saigon.
Along with a substantial layer of mayonnaise and pate, there were easily 6 – 8 layers of salty luncheon meats and grilled pork, ranging from pink to white, and quite a generous sprinkle of pork floss tossed in as well. It reminded me of the Vietnamese version of the monstrous Mexican torta.
While it was heavy on the meat, it was light on the vegetables, with just a few slices slices of cucumber, cilantro, and a small amount of thickly cut Vietnamese pickles – daikon and carrots.
The Verdict
Bánh Mì Huỳnh Hoa (Banh Mi Huynh Hoa) is the most well known banh mi in Saigon (and many people's, both locals and foreigners favorite for best sandwich in Saigon) for a reason: it was incredibly good, and incredibly meaty and rich.
However, I thought it was packed with almost too much meat.
I know for meat lovers, like I am myself, that might sound impossible, but with so much salty hot-dog like luncheon meat, and with a thick layer of mayonnaise, it was honestly almost too rich for me.
But perhaps I'm more of a fan of a balance of meat with cucumbers, green onions, cilantro and pickles, and I thought their version was a little lopsided.
Don't get me wrong though, I did thoroughly enjoy all of it (to the final bite), and if you're looking for Saigon's most meat filled banh mi, this would likely be the best you can find.
Address: 26 Lê Thị Riêng, Bến Thành, 1, Hồ Chí Minh, Vietnam
Open hours: 3:30 pm – midnight, daily
Price: 30,000 VND ($1.40) – this is one of the most expensive in Saigon, but it's also one of the most meat packed, so it's easily worth the price
2. Banh Mi 37 Nguyen Trai (Bánh Mì Thịt Nướng Hẻm 39)
Another one of the Vietnamese street food stalls I was recommended to try by numerous people, was a street food cart that goes by the name Banh Mi 37 Nguyen Trai (that's the address where they park, but it's really on Hem 39).
After learning about this spot, and doing a quick search, I found out my friend Kevin also loved the banh mi here.
Instead of serving banh mi pate, she serves Bánh Mì Thịt Nướng, or grilled pork sandwiches.
I arrived on the early side, just as she had opened, and noticed her cart from the signature red design on the bottom and fancy cursive writing, plus a "google search" printed on the side of her cart.
At Banh Mi 37 Nguyen Trai, you simply stand in line, pay, and wait however long it takes before your sandwich is wrapped up and handed to you in a bag.
The sandwich included, I think about 5 or 6 pork patties, all charcoal grilled, flipped with chopsticks, and coated in a sauce that smelled and tasted nearly like a yakitori sauce.
On top of the pork patties was a generous amount of cucumber chunks, strands of cilantro, green onions, Vietnamese pickles, and finally some sweet chili sauce.
The Verdict
I highly enjoyed my banh mi sandwich at Banh Mi 37 Nguyen Trai.
The little pork patties were like slider hamburgers, and they were seasoned, both within the minced pork itself, maybe some garlic and salt, and also that teriyaki like glaze on the outside.
Along with the pork patties, I was overjoyed with the quantity of vegetables packed into the sandwich.
The pork was extremely tasty, and the vegetables and sauces all worked together for an insanely delicious balance of flavors and a wonderful sandwich.
I also liked how she barely kept any extra stock of grilled patties, they were literally plucked right off the grill and into the baguette – so it was fresh and hot when I got it.
Address: 37 Nguyễn Trãi, Ho Chi Minh City, Vietnam (but it's right at Hem 39)
Open hours: Usually from around 5 pm – 7:30 pm or so daily, but I went at about 4:30 pm, and she was open, but just a little ways down the alley. I think at about 5 pm she might roll her cart up to the front of the street. But don't come too late, or she'll be sold out.
Price: 16,000 VND ($0.75)
3. Banh Mi Hong Hoa (Bánh Mì Hồng Hoa)
Bánh Mì Hồng Hoa is just sort of a classic normal, but wonderful, banh mi shophouse in Saigon. In the morning is when their business thrives, with motorbikes rolling in for drive-though takeaway.
The baguettes are baked fresh, and despite selling plenty of sandwiches, when I was there, I noticed they also had quite a business of selling just plain baguettes, which were loaded into big baskets, and whisked away by motorbike delivery men – likely to other smaller banh mi vendors and bread sellers around the area.
I ordered their standard banh mi, which was of the sliced triple pork version, including grilled pork, pork sausage, and some type of luncheon meat.
Along with serving, what I thought, was an extremely well balanced bánh mì (banh mi), the owners were all extremely friendly, and despite being busy and chaotic in the morning, they seemed to really care about taking my order (whereas some other places you need to really be aggressive).
The Verdict
Of these three best banh mi sandwich stalls in Saigon that I covered in this post, Bánh Mì Hồng Hoa was my favorite, even though it's probably the least famous of the three.
For me, this was a perfectly well balanced version of banh mi – there was just the right amount of meat, but not too much, and rich but not overpowering pâté. It was packed with thinly sliced cucumbers, fresh cilantro and green onions, and I think they had the best sweet and sour Vietnamese pickles as well.
Along with all the fresh ingredients, I also think Bánh Mì Hồng Hoa had the freshest bread, which was incredibly crispy and crusty, and fluffy on the inside, and finally, on top of the delicious banh mi, the family was extremely friendly.
Address: 62 Nguyen Van Trang
Open hours: I think they are mostly open during the morning. I arrived at about 8 am, and the banh mi was fresh and delicious, but I think they are closed in the evening
Price: 17,000 VND ($0.80)
Other street food stalls
You'll find literally thousands of banh mi stalls scattered, not more than a block apart, throughout all of Saigon, and you can't walk more than a few meters without your next sight of light brown baguettes basking in a glass cabinet (usually next to a few rounds of happy cow cheese).
All that to say, you'll have the opportunity of eating Vietnamese sandwiches nearly anywhere you go in Saigon – and after trying quite a few, I don't think I ever had a bad one.
Usually the cheaper the sandwich translates to less meat and filling ingredients – which isn't necessarily a bad thing – it just depends on what you're feeling like eating.
I had delicious banh mi sandwiches for 10,000 Vietnamese Dong and also great ones for around the 15,000 – 20,000 Dong price range.
Conclusion
In the end, I'm not so sure there is a best banh mi in Saigon (or if there ever will be)… it sort of depends on what you feel like eating, at the time you feel like eating it.
Let's just say, banh mi is a delicious Vietnamese creation, and it's no wonder it's such a popular snack or light meal.
Perhaps the hunt for Saigon's best banh mi is a never ending search that's impossible to ever come to a complete conclusion or agreement upon, and I'm sure there are hundreds of the best banh mi's you could eat in Saigon.
Listed here are just three of the famous banh mi stalls in Saigon that you can start with, but really, the biggest advice I can give you is to walk around and explore Saigon, and when you see that big glass case filled with baguettes and colorful ingredients, have a banh mi – it will be the best banh mi you have that moment.
Do you have any other recommendations for where to eat banh mi? Leave a comment below, I would love to hear from you.
Get exclusive updates
Enter your email and I'll send you the best travel food content.