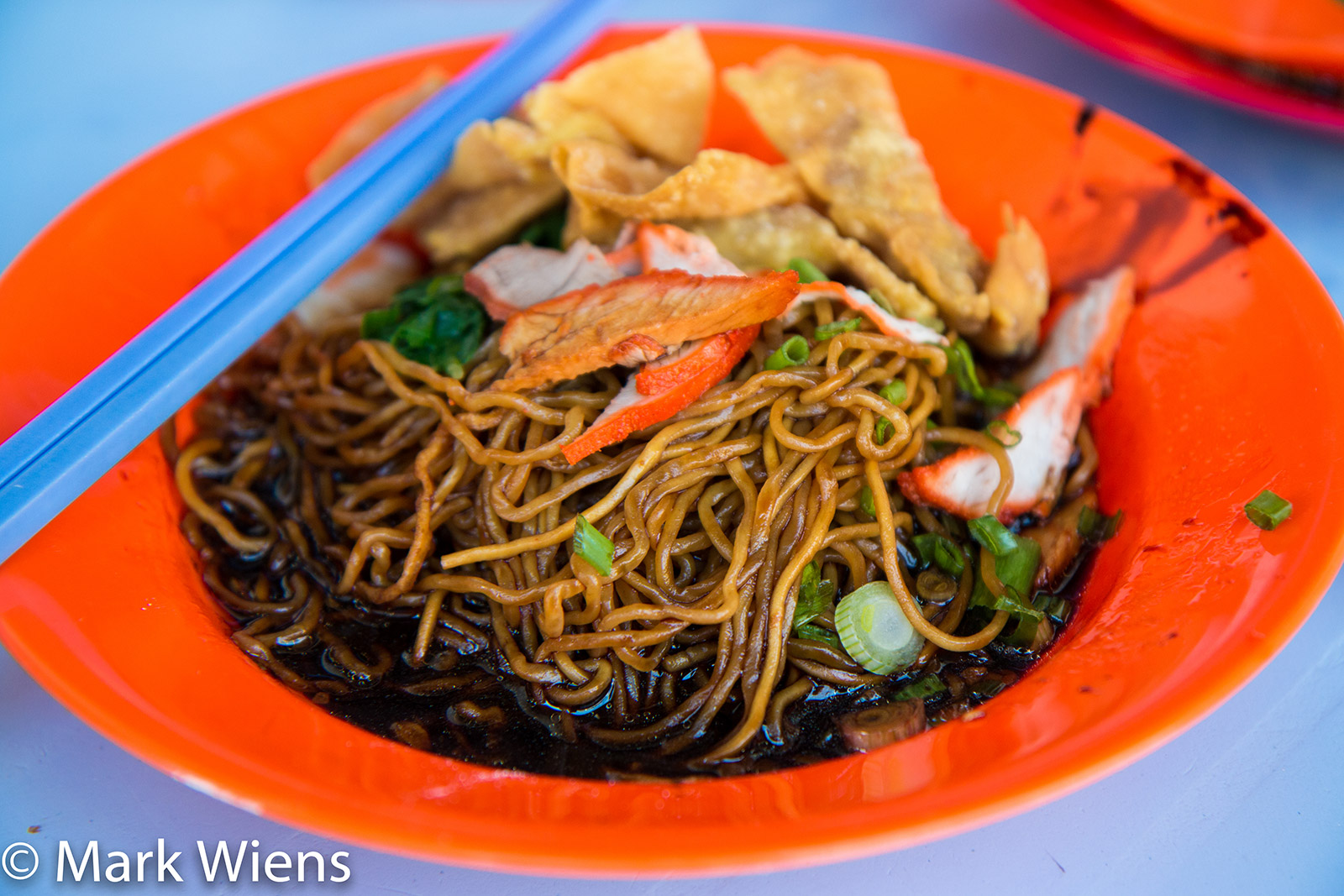 Malaysian style kon lou wantan mee is typically a dish of egg noodles in a black sauce, topped with dumplings, slices of char siu, and boiled choi sum.
When I was in Penang, I went to a food stall right in the heart of George Town called Lebuh Acheh Wantan Mee for a simple, yet pretty tasty bowl of wantan mee.
Note: I would typically spell wantan with "O's" like wonton, but after doing some research it seems in Malaysia it's usually spelled wantan or wan than, so for this post I'll stick with wantan.
After a long and action packed trip to Langkawi (video), my wife arrived in Penang.
On our first day, we were quite tired and didn't have much energy to explore far from where we were staying.
So rather than heading out on a big food adventure, I did a quick search on Foursquare and found a place to eat Malaysian wantan mee for lunch.
The menu at Lebuh Acheh Wantan Mee is pretty simple, the biggest choice you'll have to make is if you'd like pre-fried noodles or fresh egg noodles.
And they also have wantan dumplings, which you can order by the piece.
At first I was thinking the fried noodles would be stir fried instead of boiled, but they are rather pre-fried noodles, sort of like instant ramen noodles in a dry crispy brick.
Instead of having to choose which noodle to order, my wife and I got one of each.
The Uncle and Aunty that own and operate the restaurant are both extremely nice.
They were happy to have us there, and happy to serve us. If you go to eat at Lebuh Acheh Wantan Mee, you're in good hands.
Get exclusive updates
Enter your email and I'll send you the best travel food content.
As soon as I ordered, he swiftly tossed a handful of fresh egg noodles, and a brick of fried noodles into the boiling water section of his pot.
While tossing and blanching the noodles, the Aunty got busy prepping a variety of seasonings and sauces in two plate-bowls.
The noodles finished cooking in just a few minutes and the Uncle rushed them over to one of the bowls, and tossed the noodles into the black sauce, mixing thoroughly.
The noodles were then topped with a couple of fried wantan, a handful of sliced char siu, some choi sum, and diced green onions.
I started with the fried noodles.
And again, they weren't stir fried noodles, but they were deep fried noodles from the start, then boiled, then mixed with the black sauce.
If you can imagine instant ramen noodles, they had a similar texture to that. They were slightly crinkly, and very soft and easy to chew.
The sauce, which according to this recipe over at Rasa Malaysia, included mostly dark soy sauce for its black color, some sugar, and sesame oil.
The sauce was a little sweet, and to me it had almost a slight nutty flavor.
The wantan mee was also served with a red chili sauce (sambal) on the side (that's the Malay touch), which was slightly sweet, and I think it had some shrimp paste mixed in as well.
Next I tried the normal fresh egg noodles, which were cooked and assembled identically to the fried noodles.
The egg noodles had more of a sticky texture, and the same flavor and toppings.
I think overall I preferred the fresh egg noodles, because if I'm going to eat something fried, it may as well be crispy.
The fried wantan dumplings on the side were filled with just a small bit of minced pork, and they provided some nice crunch to the noodles.
The wantan mee was very good, not curry and rice good to me, but a bowl of wantan mee made a nice light lunch in Penang.
While the wantan mee at Lebuh Acheh Wantan Mee was good, I have to admit that I was the most impressed by their wantan dumplings.
As soon as I took my first bite, I started smiling.
The wantan were nice and plump and filled with a wonderful combination of minced pork and minced shrimp, with nice chunks of water chestnut to offer a crisp texture.
The soup was distinctively flavored with both sesame oil and sesame seeds to give it a lovely aroma and taste.
If one thing could have been better it's that the wantan and the soup were a little on the sweet side, but the other flavors, and the ingredients were superb.
I enjoyed eating the wantan just plain, and dipped into the wantan mee sambal chili sauce.
If you have a few minutes, watch the full video of this meal below:
(If you can't see the video, watch it on YouTube: https://www.youtube.com/watch?v=oPPFAyjNRAw)
Conclusion
Lebuh Acheh Wantan Mee is a street food restaurant in George Town, Penang, Malaysia, that serves the Malaysian style of kon lou wantan mee – tossed noodles in a dark soy sauce.
Situated on the picturesque and peaceful street of Lebuh Acheh, the Uncle and Aunty not only serve a simple and delicious bowl of wantan mee, but they are both very friendly as well.
Also, I really liked their wantan dumplings – don't miss them if you go!
Lebuh Acheh Wantan Mee
Address: Located on Lebuh Acheh in George Town, Penang, Malaysia
Open hours: About 7 am – 1 pm daily, so it's a place for breakfast or an early lunch
Prices: Each bowl of wantan mee was 4 MYR ($1.07) and the wantan in the soup were 1 MYR per piece (we had 5)
How to get there: Lebuh Acheh is parallel to the famous Lebuh Armenian. From Canon Street, turn towards the ocean, sort of South, and you'll find the restaurant on the left side of the road.
Get exclusive updates
Enter your email and I'll send you the best travel food content.