This is a guest post by Dwight Turner, founder of In Search of Sanuk.
Have you ever had a layover in Taipei, Taiwan?
I found out pretty late that I had misread the itinerary and had a 10 hour layover in Taipei, Taiwan. Not happy.
I have been in transit in Taipei more than a few times and nothing I could remember made me think being there for that long would be tolerable. Maybe if I could hangout in downtown Taipei for a few hours, but it was the end of my month of vacation and I had exhausted most of my adventuring budget while I was in Japan.
By chance I did happen to come across a forum comment that mentioned something about the airport doing FREE tours, but that person didn't provide any details.
I said my reluctant goodbyes to my family, got all my toiletries thrown away by some nice security people because I didn't have any Yen left to buy the plastic ziplock bag they offered, and hadn't gotten enough sleep the night before. Top that off with the approaching doom of the killer layover and you could safely say I was pretty unhappy.
Despite all of that, when I arrived in Taipei one of the first signs I ran into was the free half day tour sign. I did the tour and enjoyed it and thought it may be helpful for someone else in transit if I wrote up a few tips to keep you sane while in TPE (Taiwan Taoyuan International Airport). I hope they make your longer than normal layover more fun or less unbearable too.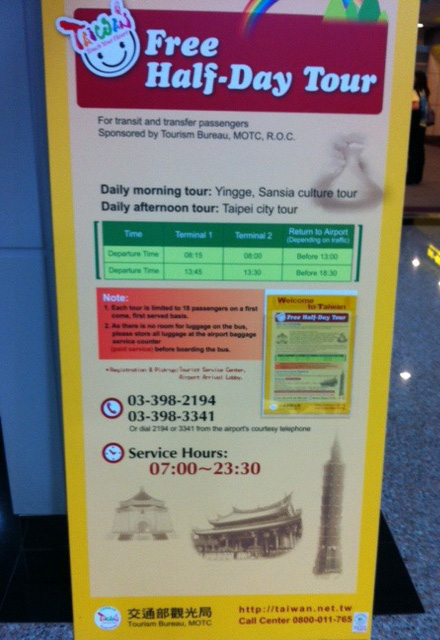 Secret #1 – Free Half-Day Tour
I recommend it. The guide speaks English, Chinese, and Japanese. Tells some corny jokes, but was very friendly and informative. I suggest you jump on it. Plus, it's free. Now there are a few drawbacks like not having a lot of time to explore the sites, but when the tour is over you can hang out on your own if you need to explore or have more time to kill.
Get exclusive updates
Enter your email and I'll send you the best travel food content.
The tour goes by Taipei attractions such as:
Taipei 101
The Longshan Temple
Chiang Kai-Shek Memorial Hall
Martyrs' Shrine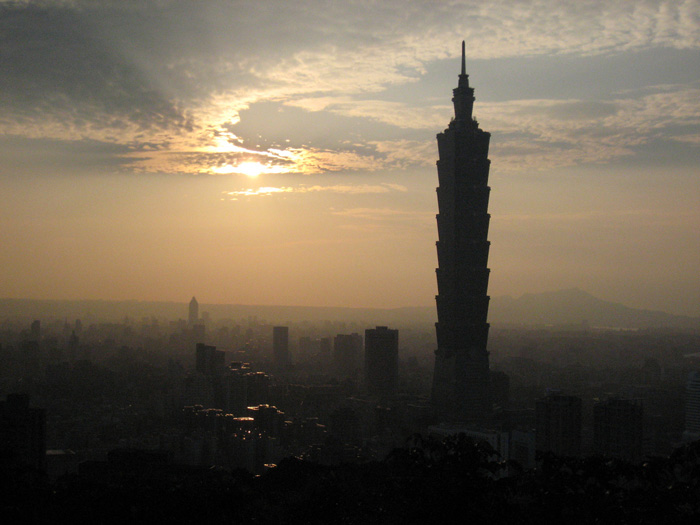 I had actually visited most of them before when I stayed in Taipei for a week in 2006. I still found the tour interesting, but could have been better if there was a food-stop, however brief.
Requirements for taking the tour:
Must have a layover in Taipei from 7 – 24 hours
Sign up at the Tourist Service Center – located right in the main Airport Arrival Lobby
You MUST have your passport (valid for over 6 months), and must fill out the immigration entry/exit Taiwan form
There is a morning tour (starts at 8 am) and an afternoon tour (starts at 1 pm)
For more information and details, click here.
Secret #2 – Great Public Transportation
Taipei has about 6 subway lines and buses going all over. There's more than enough to do just on the main subway lines and plenty of places to get lost.
I suggest hitting a night market before it gets fully crowded, grab some food and escape before the hordes of pushy people fill the place up.
Note: The subway doesn't go back to the airport, so you have to catch a bus back which costs 145 Taiwanese dollars ($5).
Secret #3 – Wi-fi & 3G
There's free wifi in most of the Taipei Airport and in many places around the city. I needed to make some calls and track a few things on my phone so I went ahead and signed up with Taiwan Mobile to use 3G on my iPhone.
The unlimited data package and the SIM together cost about $15 for one day. A cheap way to keep my connectivity addiction appeased.
Secret #4 – TPE Terminal 1 Transit Lounge
This is fairly new and I hadn't read about it anywhere. There are computers you can use, a movie lounge with massage chairs, showers, and some couch like areas for napping or hanging out. Score! The restaurant there has decent food and coffee. This is especially great if you don't qualify for the frequent flyer lounges that take up so much space in this airport.
The catch is it can be hard to find and I'm not sure if there's something similar in the other terminals. If you do end up flying China Air or are in TPE Terminal 1, I'd take advantage of it because the gates don't have any space where you can stretch out or good access to power outlets (Remember it's targeted towards people in transit. If you're coming from the other terminal or checking in after you've been out of the airport you have to go to the A Side and find the elevator down. This can be tricky, but then you walk through the security check backwards and mumble somethings in English while pointing and it should be right outside the doors.)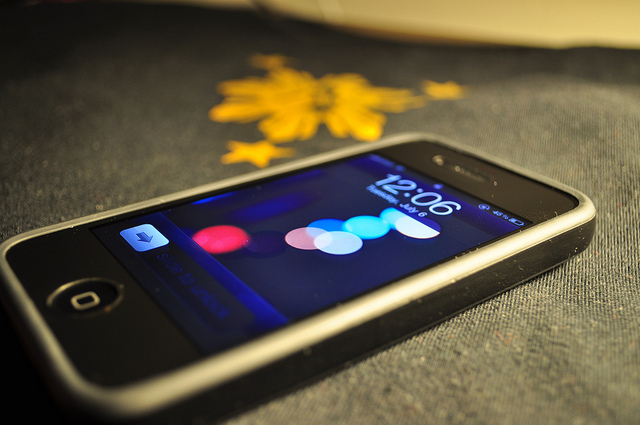 Secrets #5 – Boredom Survival Kit
Of course the regular gear that helps you survive travel boredom is always suggested: a good book, an external hard drive with your downloads of some TV shows you love, music, cute Danish girls and movies to watch with them.
I'm not a hug fan of the Taipei International Airport. It's cold, there's not a lot of selection for food, but the people are nice and there's Wi-Fi. There is occasionally some cool art on the walls and they do have a Hello Kitty themed gate on Terminal 2, but I was pretty sure those attractions would keep me entertained for even half an hour.
It's nice to see the airport and the tourism authority have made improvements to make people's transit here more enjoyable. The city of Taipei is cool if you have time to explore, so I'm glad to be adding TPE to my (extremely short) list of airports I enjoy!
If you have a long layover in Taipei, the hours go by pretty fast with the help of the Free Tour, speedy Wi-Fi and 3G, and the Terminal 1 Transit Lounge!
I hope you found this helpful, if you have more tips be sure to comment below.
About the Author:
Dwight Turner is a social media whiz and founder of a project known as "In Search of Sanuk," — a Bangkok based volunteering project with a philosophy to help others while having fun! It was through a random series of spontaneous events that I happen to meet Dwight Turner, and we almost instantaneously discovered that our stomachs shared an identical voracious appetite for Thai street food. We jointly started Eating Thai Food, because Thai food is made to share!
– Mark Wiens
photo #1 – daymin, photo #2 – markcooz

Get exclusive updates
Enter your email and I'll send you the best travel food content.