For any food lover, La Boqueria in Barcelona is a pilgrimage destination.
In this blog post, I'm going to share with you some tips and information about visiting the amazing food paradise of La Boqueria, and a few of the incredibly delicious foods that you don't want to miss trying.
Mercat de Sant Josep de la Boqueria
Officially known as Mercat de Sant Josep de la Boqueria, but often just referred to as La Boqueria, this covered public market in Barcelona originally dates back to the 1200's.
Labeled as one of the top food markets in the world, La Boqueria is not exactly an off the beaten path food destination in Barcelona. Roads and Kingdoms recently published an article about the history of the market and how, due to masses of tourism, it's changing.
La Boqueria is no doubt one of Barcelona's most famous tourist attractions for some simple reasons: the fresh ingredients and cooked foods available are impressive and it's a culinary icon of Barcelona.
From beautiful fresh seafood to meats and jamon, to fruits and vegetables galore, to spices, nuts, and dry ingredients, you can spend hours browsing through the colorful walkways of La Boqueria.
In addition to all the ingredients available there are dozens of tapas bars, and cafes and restaurants where you can stop for a delicious bite to eat.
Knowing that the market would get very busy around the lunchtime hours, my wife and I decided to arrive at about 8 am in the morning, right as the markets opens, to try and beat the crowds. From our hotel located along Passeig de Gràcia, it took about 10 minutes to walk to the market.
Bar Pinotxo
Before even walking around the market, I saw that there were some empty seats at Bar Pinotxo, one of the many legendary tapas bars within the market, and located near the entrance.
We immediately sat down to have our first bit to eat at La Boqueria. From the beginning I already loved the environment – the fast pace, yet with a personal and friendly feel to it.
They had a stack of different types of omelets and a host of different tapas you could order. Food writer Christopher English had sent me an e-mail recommending I try the garbanzo beans and blood sausage at Bar Pinotxo, saying it was in Barcelona, the "breakfast of champions."
So I ordered the garbanzo beans and blood sausage, plus an eggplant omelet, and a cup of coffee.
Eggplant omelet
The omelet was served with a piece of toast, rubbed with tomato and garlic (a type of toast you'll commonly eat in Barcelona).
It was a bit an oily omelet, but it was delicious, with creamy thin slices of eggplant that melted into the thin and slightly rubbery edges of the egg.
Garbanzo beans and blood sausage
But the definite highlight of eating breakfast at Bar Pinotxo was the plate of garbanzo beans and blood sausage.
Now don't get turned off by blood sausage; The blood sausage was not a big chunk, but it was mostly used to flavor the garbanzo beans and mixed within so it didn't really give the dish any kind of irony or bloody flavor.
The garbanzo beans were creamy and starchy, the blood sausage added so much flavor, and the thick olive oil wrapped it all together.
But the most noticeably ingredient for me was the use of good quality salt, of which you could actually see the salt crystals (I think it was sea salt) sprinkled onto the top in just the right amount.
In Barcelona, the salt used on tapas was so flavorful and enhanced the food incredibly well, and the taste of the garbanzo beans and blood sausage were enhanced from the amazing use of salt.
Finally, I just want to quickly mention that they know how to make some seriously good coffee in Barcelona.
If you love coffee, you can't go wrong. I ordered an Americano, which was strong, with the right amount of frothy coffee foam on the surface.
Total price – 12.80 EUR ($14.04)
Fresh produce and ingredients
Similar to Borough Market in London or Or Tor Kor Market in Bangkok, the quantity and variety of fruits, vegetables, and fresh ingredients can't be understated at La Boqueria.
There's so much of a variety and quantity available that you can keep yourself busy for hours just looking around and admiring. The fruits and vegetables do tend to be pretty expensive at the market, but they do often have the best quality as well as cater to the masses of tourists.
Knowing the market would continue to get busier and busier, I decided to make my way to the next tapas bar located more towards the back of the market.
El Quim De La Boqueria
Another well known legendary tapas bar within La Boqueria is El Quim De La Boqueria.
With humble beginnings as a small tapas bar with a single chef (you can read the full history here), El Quim De La Boqueria has grown into one of the most popular spots in the market.
Something I loved about El Quim De La Boqueria, and about eating at tapas bars in Barcelona in general, is the smallness of the kitchens with plenty of staff, but everyone working together (without getting in each others way) to create incredibly beautiful and delicious dishes.
Again, I knew exactly what I wanted to order at El Quim De La Boqueria: fried eggs with baby squid.
Possibly due to their fame, and also probably using good quality seafood ingredients, El Quim De La Boqueria is far from cheap. And actually I had to hold back from ordering more food because you could easily wind up spending a small fortune.
So I just ordered one main baby squid tapa and plate of fried padron peppers, which I came to love in Barcelona.
Fried eggs with baby squid
I couldn't have even imagined a more beautiful dish.
The fried eggs were completely crispy on the edges and bottom, yet soft and runny on the inside and the yolk. They eggs immediately made me think of my favorite fried egg salad in Bangkok.
Delicately placed on top of the eggs was a good amount of baby squid, sautéed in their own ink, with just a light seasoning. The tapa was served in a skillet like plate.
Just like the garbanzo beans and blood sausage, though it was a simple combination of ingredients, it worked so incredibly well together and was cooked so perfectly.
Again, the eggs were crispy on the edges, while being gooey and runny in the middle and blended together with the ink of the squid.
The baby squid were soft and tender, with a slight garlicky and salty taste, garnished with baby green onions. Although you pay a pretty big price, it was insanely delicious.
Total price – 32.05 EUR ($35.16)
Juice and fruit stalls
By this time on this Barcelona food tour of La Boqueria, I was feeling extremely happy, but my mouth was a little bit on the salty side.
There's something always at the market to the rescue, and I knew it was time to hit up one of the many colorful fruit stands. Dozens of pre-cut cups of fruit and juice fill the bleachers of fruit shops, and you can choose from the huge variety.
I decided to go for one of my favorite types of juice, passion fruit. Apart from it being a little overly sweet for me, it was a dose of refreshment and change of taste from all the salty tapas.
Price – 1.5 EUR
Jamón Ibérico
You'll have dozens of choices for things to eat when you're wandering around La Boqueria, but in addition to all the tapas you try, one thing you don't want to miss is the opportunity to sample some Jamón Ibérico.
The legs of cured ham all hang in a row, glistening in the light, and waiting to be sliced.
While many Barcelona locals would likely order some jamon to go, there are a couple jamon shops that have little cones of jamon ready to grab and eat.
While I'm not usually so much into ice cream cones, this is one type of cone I'm very interested it.
Jamón Ibérico is a spectacular thing. The depth of flavor, and the chewiness that keeps releasing juices and tastes as you continue to chew, is what makes it so good.
I had been waiting for years to try jamón Ibérico in Spain, and it was as good as everyone says it is.
Price – 4 EUR
Watch the video
Press play to watch the video below that includes all the food highlights in this blog post:
(If you can't see the video, watch it on YouTube here)
Conclusion
La Boqueria is a famous public market in Barcelona, and if you're a food lover it's a pilgrimage worthy destination.
Walking around the market, you'll discover an incredibly quantity and variety of fresh meats and produce, ingredients from around Catalonia and throughout Spain, as well as a never ending streams of tapas calling your name.
The garbanzo beans and blood sausage at Bar Pinotxo and the fried eggs and baby squid at El Quim De La Boqueria was the highlight for me. But along with the delicious food, the combination of eating while being surrounded by the market environment gives your senses a complete Barcelona food experience.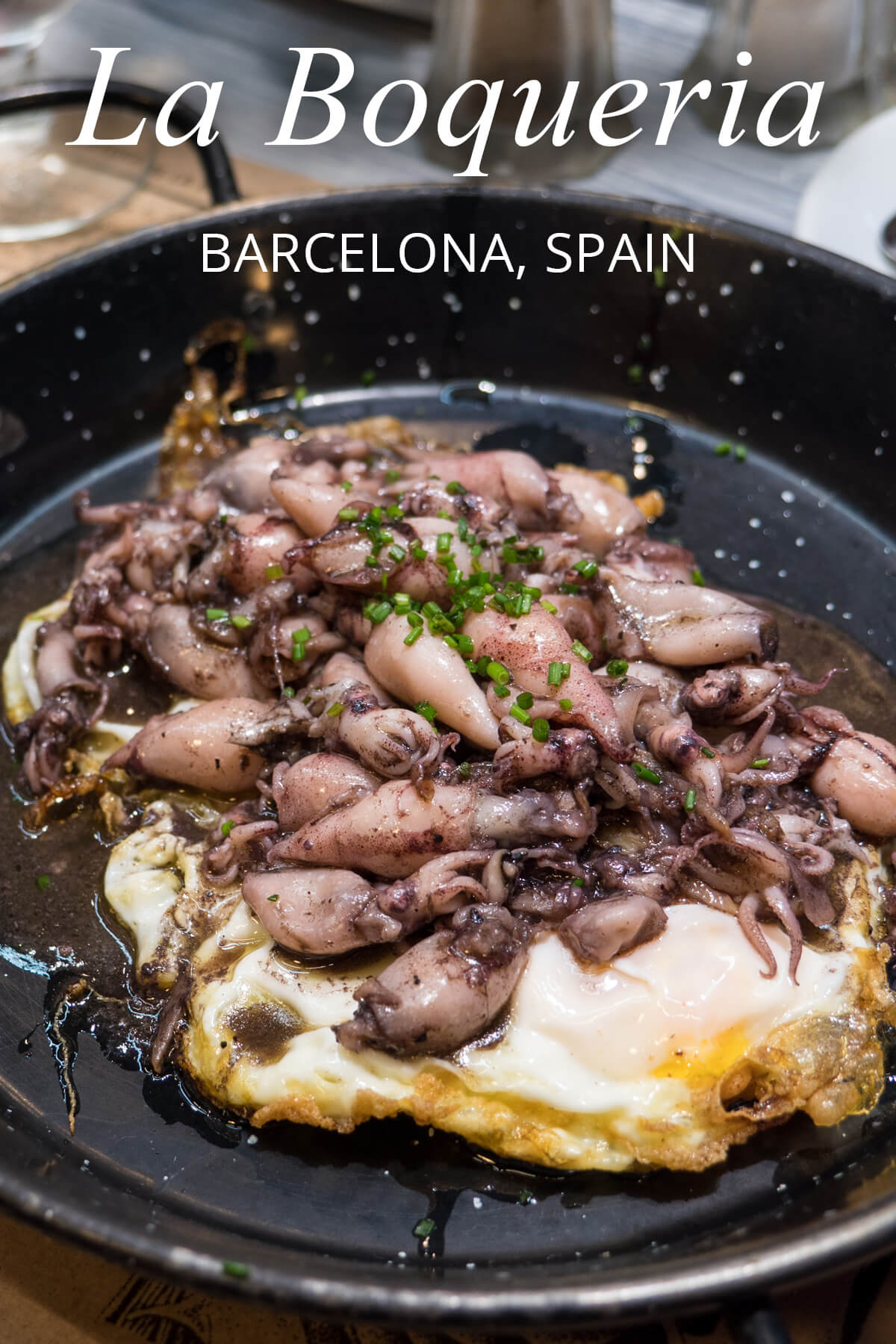 Mercat de Sant Josep de la Boqueria
Address: La Rambla, 91, 08001 Barcelona, Spain
Open hours: 8 am – 8:30 pm from Monday to Saturday (closed on Sunday)
Official website: http://www.boqueria.info/
How to get there: Barcelona is a very walker friendly city, so if you're staying somewhere near the city center, it's likely that you can walk to the market, which is located along the famous pedestrian walking street known as La Rambla. My wife and I stayed at Cotton House Hotel, and it was about a 10 minute walk away. Otherwise, it's located right at Liceu Metro station.
Get exclusive updates
Enter your email and I'll send you the best travel food content.