There's a quote in Jordan and the Middle East that says something along the lines of:
"Even when you're full, you can still always eat 40 more bites of food."
And I believe it's not nearly as shallow as just eating until you are stuffed, and then eating some more. But it's rather a clear reflection on the importance of generosity and hospitality and the significance of food in the Jordanian culture (but let's not get too deep here… it is about eating a lot of food too)!
In this food guide, I'm going to share with you 25 delicious Jordanian foods that you've got to try.
What is Jordanian food?
Jordan, due to its geographical location in the Levant, has culinary influences from North Africa, the Middle East, Persia, and the Mediterranean. So while technically ful medames might be originally from Egypt, it is also extremely common and popular locally in Jordan as well.
So I just want to warn you – this list of Jordanian food, might not be every dish that originates or was discovered in Jordan, but it's a list of food that you'll find commonly throughout Jordan.
Bread, rice, lamb, olives and olive oil, za'atar, yoghurt, tahini, garlic, onions, pickles, sage and mint, are just a few of the distinct tastes and ingredients you'll experience eating in Jordan.
If you're a food lover, this is a list of food you've got to try when you're in Jordan.
Ok, let's get started.
1. Falafel
When I was traveling in Egypt a few years ago, some Egyptian friends of mine mentioned that some of the best falafel in the Middle East was in Jordan. And I had no reason not to believe them, but had no idea when I would ever have the chance to eat Jordanian falafel for myself. So I was more than a little thrilled to have my first taste of falafel in Jordan.
Falafel, a combination of ground chickpeas, mixed with a variety of spices, then deep fried into mini patty like shapes, is one of the most common street food snacks or light meals in Jordan. They can be eaten on their own like veggie nuggets, eaten with bread, or stuffed into sandwiches. The falafel in Jordan was indeed the best I've ever had, light and fluffy on the inside, crispy on the outside, with an aroma of cumin, garlic, and parsley.
Where: Try the amazing falafel sandwich in Amman at Falafel Al-Quds; Address: Al-Rainbow Street, Amman; Open 10 am – 9:30 pm daily. Or get a plate at Hashem Restaurant downtown.
2. Moutabel
Before going to Jordan I always thought of baba ghanoush when I thought of a Middle Eastern roasted eggplant dip – and I loved it. But when I was in Jordan, I discovered that while baba ghanoush is available, by far the more common roasted eggplant dip available is moutabel, which is similar to baba ghanoush, but quite different. One of the main ingredient differences is that moutabel uses yoghurt in its recipe. You can read more about the differences in this well researched post.
I've always loved eggplant in all its forms, especially when it's roasted over fire, to give it a wonderfully smoky taste and a smooth and creamy consistency. For moutabel, the roasted and peeled eggplant is combined with yoghurt, tahini, garlic and lemon juice.
Where: Hashem Restaurant serves an excellent bowl of moutabel. Address: Complex No 4, Prince Mohammad St 4, Amman; Open hours: 24 hours
3. Hummus
Hummus is possibly the most well known Levantine and Middle Eastern food around the world. I've always enjoyed hummus, but I never grew up eating hummus or eating it on a continual basis until visiting Jordan. And I Jordan I ate hummus at least 2 – 3 times per day. When I left Jordan I had hummus withdrawals. I was almost scared about where my next helping of hummus would come from.
The hummus in Jordan was fantastic, and despite containing just about the same ingredient make-up at every restaurant you order it from, it's amazing how each version tasted just slightly different – the amount of lemon juice, and ratio of garbanzo beans to tahini, the texture, and also, very importantly, the olive oil.
Where: Just about every Jordan food restaurant
4. Fattet Hummus
I had eaten plenty of hummus before ever visiting Jordan (granted some of the best hummus I ever tried was in Jordan), but I had never even heard of fattet hummus before going to Jordan. Fattet hummus is the combination of bread, which has been soaked in broth to make it completely dissolvable, mixed with hummus, tahini, and lemon juice. Most of the versions of fattet hummus I had in Jordan included regular white bread in the recipe, but you can also make it with pita type of bread.
Fattet hummus is a complete twist on regular hummus. While it has that similar garbanzo bean taste, with a hint of lemon juice and olive oil, the texture is totally different – it kind of feels like whipped hummus. It's fluffy and airy like whipped cream, not nearly as dense or thick as regular hummus.
Where: In Amman, try the fattet hummus at Al Osrah Restaurant. Located in the Abdoun neighborhood of Amman; Open hours: about 10 am – 11 pm daily
5. Labneh
Labneh, which is also known as strained yoghurt, is a very thick, creamy yoghurt, that's served at just about every breakfast table in Jordan. It's not typically eaten like a bowl of yoghurt because it's so rich, but instead it's used as a spread for bread, or a dip for vegetables. The taste is sour and creamy, but usually not salty, very similar to sour cream.
Labneh can be served in a bowl plain, or drizzled with olive oil, or combined with different herbs or leaves to give it more flavor. I particularly enjoyed some versions of labneh that included local herbs. I'm not sure of the name of the herb, but there was one I tried that had a mild horseradish taste, which went very well with the sour creamy labneh.
Where: If you visit Amman, Shams El Balad Cafe serves delicious labneh with seasonal herbs. Address: 69 Mu'Ath Bin Jabal Street, Amman; Open hours: 8 am – 10 pm daily.
6. Galayet Bandora
One of the other common dishes I ate frequently in Jordan was galayet bandora, also known just as galayet. This dish includes tomatoes which are stewed until soft and pureed, with a few seasonings like garlic, olive oil, and salt. The tartness and sweetness of the tomatoes is what really shines, and it tastes great scooped up with bread ore eaten with rice.
While I was at Wadi Rum I also had a type of galayet with meat, so it was chunky tomato sauce with cubes of beef, eaten with rice. It was really good, like a Jordanian tasting spaghetti sauce with cubes of meat and rice.
Get exclusive updates
Enter your email and I'll send you the best travel food content.
7. Warak Enab and Kousa Mahshi
Warak enab, or stuffed grape leaves, and kousa mahshi, which are stuffed zucchini, can sometimes be served together, and they are another fantastic addition to Jordanian cuisine. Versions of this dish are commonly eaten throughout the Middle East and Mediterranean.
Both the grape leaves and the zucchini are stuffed with a combination of rice and ground meat, onions, and light seasonings, then wrapped up, and slow cooked. When I was in Jordan I had warak enab a number of times as a mezze dish, usually served cold and with a sour taste from pickled grape leaves. But the best version I had was a home-made meal, where both the grape leaf rolls and stuffed zucchini were cooked with lamb ribs and fat. The rolls were melt-in-your-mouth soft, and had soaked up all the lamb juices.
Where: I had this dish home-cooked, but you'll find it at most Jordanian sit down restaurants. Sufra Restaurant might be a good choice. Address: Al Rainbow Street 26, Amman; Open hours: 1 pm – 11:30 pm.
8. Tabbouleh
Another Levantine dish, often a starter or salad, tabbouleh is a mixture of finely minced parsley, tomatoes, garlic, and bulgar wheat, all dressed in lemon juice, salt, and olive oil. As I learned in Jordan, tabbouleh is not typically scooped up with bread like hummus or moutabel, but it's typically eaten plain with a spoon.
For myself, tabbouleh is one of my personal mezze favorites. I love the freshness and crispness of the parsley, the garlicky taste, and the contrast of sour lemon juice and saltiness.
Where: You'll find tabbouleh all over Jordan and at restaurants in Amman, but one of my favorite versions was at Rakwet Arab Cafe, because it was extra garlicky tasting. Address: Al Daraghmeh Commercial Complex, Al Baouniyah St 4, Amman.
9. Arabic salad
Similar in dressing taste to tabbouleh, but with a different vegetable make-up, Jordanian, or Arabic salad, usually includes finely diced up cucumber, tomatoes, and bell peppers, dressed in lemon juice and lots of olive oil.
Arabic salad makes an excellent refreshing starter dish, or I also particularly enjoyed it with main dishes like maqluba (rice and meat) and with grilled dishes like shish kebabs – to give the meal a nice balance. Fattoush is another common salad you can eat in Jordan.
Where: Nearly every restaurant in Jordan
10. Ful Medames
When I visited Egypt, ful medames on the streets of Cairo was my go-to street food – I enjoyed ful immensely. And while ful medames might be originally from Egypt, this dish of mashed fava beans and olive oil, is also widely available and commonly eaten throughout Jordan. You'll find ful at most restaurants that serve hummus and falafel.
My favorite way to eat ful is sprinkled with some powdered cumin and chili powder, drizzled in olive oil, and scooped up with either bites of bread or with wedges of onion. The fava beans taste very similar to Mexican refried beans. When I was in Jordan I loved eating ful medames for breakfast, along with some hummus and fresh raw vegetables.
Where: Al Osrah Restaurant in the Abdoun neighborhood of Amman; Open hours: about 10 am – 11 pm daily.
11. Chicken Liver
Commonly served as a mezze dish, along with dishes like hummus and moutabel, chicken livers is another fantastic Jordanian dish to complement your meal. The chicken livers are typically sautéed in olive oil with just a few simple seasonings like garlic, parsley, and salt, and then sprinkled with some lemon juice.
Liver is not everyone's favorite part of the chicken, but I would say that you've got to give them a chance. When I was a kid, I wasn't a huge fan of chicken liver, but I kept trying them, and today, chicken liver is something I love and crave. The plates of chicken liver I had in Jordan were delicious, light on the seasoning but nice and creamy liver. A piece of bread, with a liver, and some hummus, is an wonderful combination bite.
Where: Along with fattet hummus, I also enjoyed the chicken liver at Al Osrah Restaurant in Abdoun; Open hours: about 10 am – 11 pm daily.
12. Manakish
Sometimes called Arabic pizza, and spelled in all sorts of different letter combinations (manakish, manaeesh), manakish is essentially a round of dough, topped with za'atar (an herb thyme spice mixture), olive oil, and can then optionally include toppings like white cheese (halloumi), eggs, or ground meat. It's then baked in a brick oven.
When manakish is hot and fresh, right out of the oven, it's incredibly delicious – the crusty bread with a fluffy inside, and that wonderful herb taste. I liked manakish especially just plain with za'atar, and I also really enjoyed the version with white cheese (halloumi cheese).
Where: The best manakish I had in Amman, was down one of the side streets from Paris Circle, on Niqola Ghanma Street, at a small hole in the wall family run bakery.
13. Kaek Bread Sandwich
One of the most popular Jordanian street food snacks, especially common in the morning, is a kaek bread sandwich. The bread, which is in the shape of a mini personal loaf, is topped in a crust of sesame seeds, and can be filled with Happy Cow like triangles of cheese, hard baked eggs, za'atar, and chili sauce. It's simple, tasty, and very common.
Kaek sandwiches taste the best when they are piping hot – when the bread is cooked fresh. If you visit Amman, there's a legendary bakery, known as Salaheddin Bakery (مخبز صلاح الدين), which is not only one of the oldest bakeries in Amman, but it serves one of the best sesame bread sandwiches in the city. Grab a fresh loaf, add all the toppings your self, and take a bite of one of the most incredible loaves of kaek in Jordan.
Where: Salaheddin Bakery is located at the cross road of King Al-Husseim Street and Umayah Bin Abd Shams Street.
14. Mujadara
A typical everyday Jordanian food is mujadara, a mixture of rice, lentils, and a seasoning that includes cumin. It's something that nearly everyone knows the recipe for how to cook it at home, and it's commonly eaten as a dish that's quick and easy. It's also a favorite main dish for vegetarians in Jordan as well, as it's filling and tastes delicious.
What I really liked about the Jordanian style of mujadara is that the raw rice was cooked with the raw lentils altogether (rather than being cooked separately), so the flavors all melted and blended together. Additionally, deep fried caramelized onions and fried fragrant pine nuts sprinkled on top, are the two ingredients that take mujadara to the next level.
Where: This is often a home-cooked meal because it's such a simple recipe.
15. Shawarma
A meat lovers favorite from Europe to the Middle East, shawarma is common in Jordan and you'll find restaurants that serve lamb, beef, and chicken versions. The signature method of cooking shawarma – layers of thin meat stacked on a sword like spit and revolving either vertically or horizontally over a source of heat – is part of what gives the meat its unique taste. When the outer layer of meat is cooked, it's shaved off with a sharp knife, and usually wrapped in bread with either garlic sauce or tahini and a few pickled vegetables.
Being the meat lover I am, shawarma is something I can never pass up. There's an entire shawarma street in Amman, where you'll find a number of different types of shawarma.
Where: My two favorite shawarmas were the shawarma from Shawarma Reem (here's a good article about them in the New York Times) and Shawarma Bashka, for their chicken shawarma cooked on a horizontal spit.
16. Ara'yes
If you didn't know that ara'yes was grilled, you might actually think it's deep fried, because it's so crispy. At least that's what happened when I tried it for the first time. Ara'yes, which translates directly to the bride, is essentially two layers of pita bread, filled in the middle with minced lamb, onions, parsley, and with a fragrant allspice seasoning.
The quesadilla shaped ara'yes is then brushed with olive oil and grilled over hot charcoal so that it turns golden brown and crispy on the outside. The combination of that roasted olive oil bread and the oil of the minced lamb seeping into the bread, makes it irresistible.
Where: Ara'yes is commonly available at Jordanian food restaurants that serve grilled meat like shish kebabs or as a Jordanian street food.
17. Shish Kebabs
As much as I love vegetables and seafood, and as much as I loved eating hummus three times a day in Jordan, I'm a huge fan of meat, and the good news is, Jordanian food contains lots of meat, especially lamb. I should also quickly mention that some of the dishes mentioned on this list are vegetarian, but definitely not shish kebabs.
Popular across the Middle East and the Levantine, shish kebabs in Jordan are typically made from minced lamb, which is mixed with parsley and lots of salt, then molded onto big sword like skewers, and grilled over hot charcoal. The saltiness of the meat, and the ratio of meat to fat, ensures the maximum of grilled flavor gets packed into the kebabs.
Where: Tawaheen Al Hawa, along with mansaf, serves Jordanian bbq; Address: Wasfi al-Tal Road, Jubilee Gardens, Amman; Open hours: 6 am – 2 am daily.
18. Kofta Bi Tahini
Kind of similar to shish kebabs, just in a completely different form, kofta bi tahini is a dish that includes a bottom base layer of minced kebab (or kofta) meat, flattened out into a patty, topped with thin slices of potato, doused in a thick tahini sauce, and then baked.
The meat on the bottom is like a base of sausage, that wonderful parsley flavored minced meat. If I didn't know the white thick sauce all over kofta bi tahini was tahini, I might think it was some kind of milk based cream white gravy, because it was so rich and creamy. But instead it had a slightly nutty taste, and it wasn't nearly as heavy as a dairy based sauce.
Where: In Amman, Sufra Restaurant serves an excellent version of Kofta Bi Tahini. Address: Al Rainbow St 26, Amman 11181; Open hours: 1 pm – 11:30 pm daily.
19. Musakhan
Musakhan is a Jordanian and Palestinian dish of slices of bread, chicken, heaps of onions, fragrant spices like allspice and cinnamon, and lots of olive oil. The ingredients are stewed together until the onion, chicken, olives, and bread are fall apart tender and the spices have blended and harmonized. While the spices have a sweet tinge to them, the actual dish is not sweet.
What I couldn't' get over while trying musakhan for the first time were the onions. They were fall apart tender, they dissolved upon taking a bite, and they were just filled with olive oil and that wonderful sweet dry spice mixture.
Where: I tried this dish for the first time at a hotel, and didn't have a chance to try a better version at a restaurant – though I would have loved to. Do you have any recommendations?
20. Kibbeh Bi Laban
Kibbeh are little deep fried nuggets of minced meat, onions, and spices, wrapped in a crust of bulgar wheat, and deep fried until golden crispy on the outside. The dish is commonly eaten on its own, or as a mezze dish or snack, along with a variety of different dishes like hummus or moutabel.
But for kibbeh bi laban, after the kibbeh are done being prepared, they are then cooked in a yoghurt sauce, which not only transforms their taste and texture, but also turns them more into a main dish as opposed to a snack. I enjoyed kibbeh while I was in Jordan in all its forms, both plain, and cooked with laban yoghurt sauce.
I also loved raw kibbeh, known as kibbeh nayeh.
Where: You'll find kibbeh bi laban at most sit down, higher end, Jordanian restaurants in Amman. I know you can get it at Sufra Restaurant. Address: Al Rainbow St 26, Amman 11181; Open hours: 1 pm – 11:30 pm.
21. Mansaf
There's one Jordanian food that is without question one of the most beloved dishes in the Kingdom – a dish that has known to bring people together in harmony and has even been at the center of resolving conflict. That dish is none other than Jordanian mansaf, widely considered to be the national dish of Jordan. After trying it, I can verify and agree with the Jordanian love for mansaf, it's absolutely an amazing dish, and something so unique it was unlike any dish I had ever eaten.
There are three main components to mansaf: rice, lamb, and jameed. The jameed, which is a hard dried out and fermented goats milk yoghurt, is re-hydrated into a gravy, and used to pour over the rice and lamb. The rice and lamb are fantastic, but mansaf really shines because of the jameed, which has a sour and salty taste, and an undeniable goat flavor. When you eat a ball of mansaf, you can literally taste the land of Jordan in your bite – it's amazing.
Where: I enjoyed the mansaf from Tawa Al Hawa Restaurant in Amman. Address: Wasfi al-Tal Road, Jubilee Gardens, Amman; Open hours: 6 am – 2 am daily.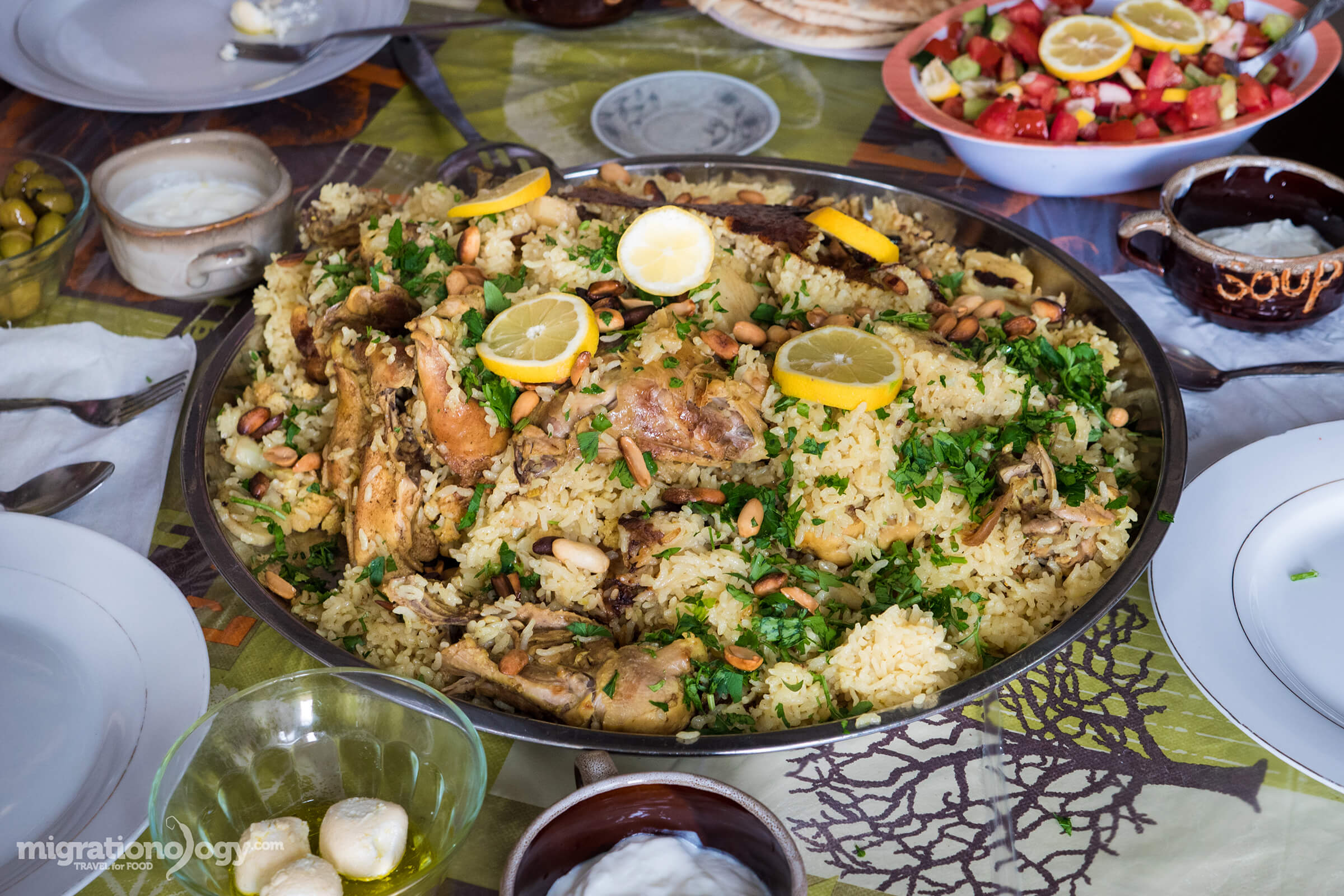 22. Maqluba
Along with mansaf, maqluba was another one of my personal favorite Jordanian dishes I ate during my trip. Literally translated at upside down, maqluba includes meat or chicken on the bottom, rice, and spices, all cooked together in one pot. Once the dish is ready, the pot is flipped over onto a big plate or communal tray, so the rice stays on the bottom, and the meat or chicken is left on the top. Maqluba can be garnished with parsley, fried pine nuts or other types of nuts, and slices of lemon.
The rice, since it's cooked with meat or chicken, takes on a lovely broth flavor kind of like chicken rice (if you eat chicken maqluba), and the meat or chicken becomes fall apart tender from the long cooking process. In Jordan, I had a home cooked meal of maqluba at the village. I really enjoyed eating it together with Arabic salad, the freshness of the cucumber and tomatoes really complemented the rice and chicken.
Where: I had maqluba as a home-cooked meal, but you'll find it at many sit down Jordanian restaurants.
23. Zarb
Similar to a Polynesian underground meat roast, the Jordanian Bedouin version of an underground oven is known as zarb. A mix of meat like lamb and chicken, rice, onions and carrots, are placed in a square hole in the ground, which is filled with flaming hot coals. The hole is then covered with a few layers of blankets to hold in the heat and finally sand is covered over the oven.
After a few hours, the meat and rice are all smoked, steamed, and grilled, all at the same time. The result is meat that's fall apart tender. I had zarb for dinner while visiting the incredible Wadi Rum desert. Just like a few other dishes, it was served on a giant communal tray, rice at the bottom, a shoulder of lamb and all the vegetables on top. The lamb was so succulent it was unbelievable.
Where: Zarb is traditionally a Bedouin dish, eaten in the desert of Jordan. One of the popular places to eat zarb is at Wadi Rum, and I had it at Captain's Desert Camp.
24. Hareeseh
While I'm personally not a huge desserts or sweets eater, I tasted quite a few Jordanian sweets. A huge variety of Arabic, Levantine, and Mediterranean desserts are a big part of the cuisine in Jordan, and there are huge shops dedicated to just serving desserts.
One of the many common and widely available Arabic desserts in Jordan is hareeseh, a sweet made with semolina, coconut, cream, sugar, yoghurt, and almonds, all baked until golden brown. Hareeseh is prepared in bar form, kind of like the size and density of a brownie (although nothing like it in taste). It's a very sweet dessert, and has a slight floral taste to go with the grainy texture of the semolina.
Where: Salaheddin Bakery has a sweets shop where you'll find hareeseh. Located at the cross road of King Al-Husseim Street and Umayah Bin Abd Shams Street. If you visit As-Salt, check out the famous Anabtawi Sweets.
25. Kanafeh
Of all the Jordanian sweets I tried, kanafeh was one of my favorites because it was so unique and included an interesting combination of ingredients and textures. This dessert is popular throughout the Levant, especially known in Palestine and Jordan.
Cheese is the most noticeable of ingredients in kanafeh, which is paired with either noodles or semolina, drenched in a sticky rose scented syrup, and topped with a pinch of ground pistachios. The cheese on the bottom tastes similar to mozzarella, while the top crust is crunchy and gooey.
Where: When you're in Amman, visiting Habibah Sweets for their kanafeh is nearly a right of passage. Address: Marwan Madi Complex, Al Hazar St 2, Amman; Open hours: major business hours.
Coffee / Mint tea
Finally, this is not part of the 25 Jordanian food guide list, but I couldn't end this list without mentioning Turkish coffee and mint tea. These two beverages, which I enjoyed countless cups of each during my trip to Jordan, made my visit even more enjoyable.
Turkish coffee, which is served thick and muddy, is spiced with cardamom and you'll find it at restaurants, street food stalls, and gas stations. There's also Arabic coffee, but Turkish style coffee seems more common, and I liked it better because it's stronger. Mint tea, which is often just black tea poured into a cup with a few fresh mint leaves in the bottom, is a typical after meal drink.
When you're leaning back in your chair, massaging your stomach full of rice, lamb, and jameed, sipping on a cup of mint tea is hard to beat.
A few more things I loved:
Lastly, here are a few more of the things I really loved about eating in Jordan:
Olives (zetun) – Olives are such a huge part of Jordanian cuisine and culture that my friend Fadi referred to them as the Prince of the Table. You'll find olives everywhere you eat.
Olive oil – Additionally olive oil is extremely important in Jordanian food, and it's some of the most fragrant olive oil I've tasted.
Za'atar – During my trip to Jordan I fell in love with za'atar, a thyme and sesame seed mix of herbs. Za'atar can be mixed with olive oil and sopped up with bread, and I also enjoyed eating it with raw vegetables, and really you can eat it with many things.
Lamb – One of the top reasons why Jordanian lamb is so good is because lambs still graze and nibble up the herbs and shrubs of the land. The lamb in Jordan is so incredibly flavorful.
Communal eating / sharing – Finally, I also loved the sharing and communal aspect of dining in Jordan. Food plays a huge role in family and cultural life.
Importance of bread
Bread is very important in Jordanian cuisine and you'll be served bread with just about anything you eat or order in Jordan. It's commonly used to scoop up the different dips, and eaten as one of the main filler carbohydrates in the Jordanian diet. The fresh bread in Jordan is delicious, especially right out of the oven.
What I also liked though, is that in addition to bread you'll be served lots of raw vegetables, which you can also use to scoop up dips, in place of eating so much bread.
Conclusion
Jordanian food is as diverse and varied as its culture, history, and landscapes.
Due to its central geographical location, within the Levant, but surrounded by North Africa, the Middle East, and the Mediterranean, the food you'll enjoy is a fascinating mix of cultures and civilizations.
When you're in Jordan you can enjoy platters of fresh bread, spiced rice, and hunks of fall apart tender lamb, but at the same time you can enjoy deliciously refreshing dishes like Arabic salad, tabbouleh, and restaurants that will serve you all you can eat raw vegetables, and creamy plates of hummus.
Food is such an integral part of Jordanian culture, and when you start eating, you're almost certain to meet and mingle with some of the most hospitable and friendly people you've ever met.
RELATED: You might be interested in my Amman travel guide – Get information on where I stayed, things I did, and safety information.
What is your favorite Jordanian food?
Leave a comment below, I'd love to hear from you!
Disclosure: I was invited to visit Jordan by the Jordan Tourism Board. However, I chose to write this article about the food I ate, and all thoughts and opinions in this food guide are my own.
Get exclusive updates
Enter your email and I'll send you the best travel food content.