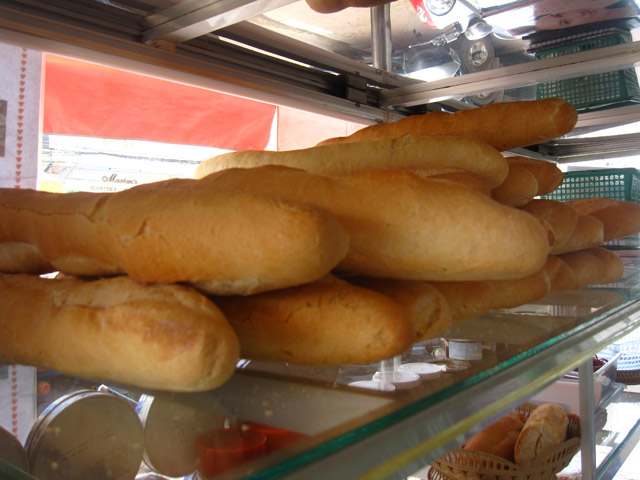 Subway take note:
In Vientiane, Laos, local street stalls set up in the morning with glass cabinets filled with fresh baguettes, cured meats and pate, green herbs, and an array of dazzling sauces and serve a Laos sandwich known as "khao jji paa-te."  While walking down the street, I had another Asian golden stumble upon.
I am not one to overly rave about sandwiches, but the "khao jji paa-te," that I partook of in Laos, definitely changed my perspective and deserves the respect I have been neglecting for years to the sandwich family.  They were indeed so delicious that I actually skipped my beloved rice a number of meals in a row to have 5 sandwiches within a 1.5 day period while in Vientiane.
Note: You must get this in Vientiane, the one I attempted to have in Luang Prabang was not nearly as tasty.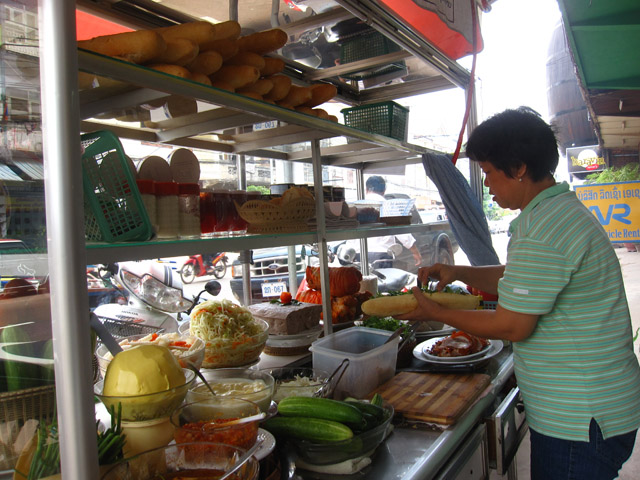 Get exclusive updates
Enter your email and I'll send you the best travel food content.
The creator (lady) began with the crustiest of all baguettes toasted for a few moments over a charcoal fire before slicing it's belly open.  Next a thick layer of pate was applied on the interior along with a healthy portion of sweet chili sauce and spicy hot sauce.
A layer of cucumber and layer of red cured pork and bologne-ish meat were added to the gleaming medley.  Two kinds of pickles, one I guessed of radish descent and the other of pickled green papaya were generously inserted into the center of the sandwich.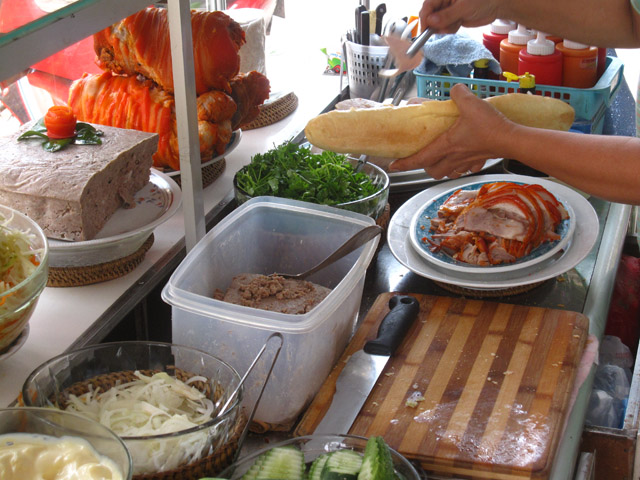 By this particular time the belly of the sandwich was bulging out of control and the creator was forced to squish its insides back inside using a knife, because there was yet more freshness to be inserted.
A combination of assorted sauces, salt, pepper, cilantro, and spring onions were implanted at the top for the finishing touch.
The result is the
Insanewich

: A sandwich amalgamation that generates dreams and fosters life changing ideas (at least it did in my case).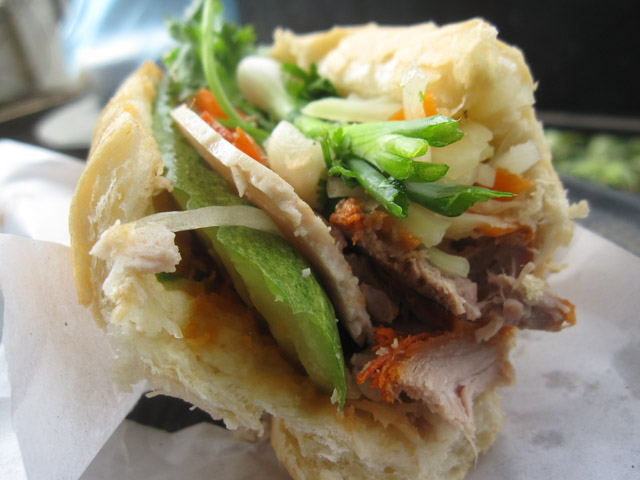 A sixteen incher will set you back a grand total of 16,000 kip or about USD 1.88.
Just like after eating the Sonny Boy from Pizzeria Bianco, the best pizza in America it is hard to imagine the likes of Dominoes, so after eating the Insanewich not much else will cut it by way of loaf and cold cuts.  It was by far the best sandwich I have partaken of since taking up migrationology.
Next time you need a sandwich, don't go to Subway, go to Vientiane.
Related
Get exclusive updates
Enter your email and I'll send you the best travel food content.