There is absolutely nothing that will prepare you for the gastronomic wonders that welcome you upon entering Medan Ikan Bakar Gerai No. 3 in Kuala Lumpur, Malaysia.
Even if I returned frequently, I'd still be in awe of the mass of seafood slowly smoldering away on the griddle every single time.
Food intoxication is unavoidable.
The restaurant is located on a quiet hillside near the National Palace in Kuala Lumpur (video).
Not knowing exactly how to get there, it was a bit of a local food adventure that required me to sprint across a number of highways, and hop over a couple of fences, until I finally arrived.
And I was hungry!
What greeted me was an utterly organized hot mess of cuisine, billowing smoke like a forest fire, and bubbling luscious chili filled steam.
It may sound a little overboard, but I can honestly say I wanted to bathe in a sauna of the fumes produced from the grill.
What is Ikan Bakar?
In Malay, bakar means roast or burnt while ikan means fish. Put the two together and you've got burnt roasted fish.
The seafood is marinated and grilled, often splashed with bright orange chili sauce as it roasts. Mackerel or squid may be roasted directly on the heat while items like stingray are normally wrapped in a banana leaf before being cooked.
Get exclusive updates
Enter your email and I'll send you the best travel food content.
The chilies packed marinade is extremely flavorful, but not overly spicy.
Medan Ikan Bakar Gerai No. 3
As you can imagine, after about an hour walk and seeing the unbelievable grill, I was more than than a little excited.
Along with the fresh seafood, they had a full nasi campur buffet near the rice stand. I didn't go for any curries as I ordered from the grill, but I did top my rice with a few salads and some tempeh soybean cake.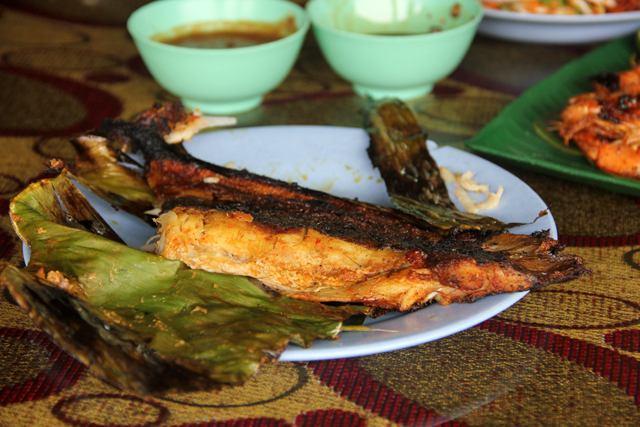 The stringray steak (ikan pari bakar) was what I was most thrilled about.
Its flesh, which had a similar texture and feel to chicken, easily pulled away in stringy yet ever so tender pieces. The char-grilled exterior of the fish was heavenly.
Due to how beautiful it looked on the grill, I couldn't resist the squid either.
Not overly chewy, not overly soft, but it was that sweet spot right in between and included the same wonderful sambal flavoring.
After the owners of the restaurant saw me photographing and shooting a self video (which you can watch by clicking here), they graciously brought me a free platter of sambal roasted prawns. Wonderful!
Two different, equally marvelous, sauces accompanied the fish.
One was a chili garlic sauce similar to Thai style roasted fish sauce, while the other was a combination of onions, chilies, garlic and calamansi juice all swimming in dark sweet soy sauce (Kicap Lemak).
It was one of the most satisfying meals I've had in my entire life.
While I'm normally a pretty good money saver, this was one of those meals that I would have gladly exchanged for the entire contents of my wallet.
I had to waddle out of the ikan bakar restaurant, very top heavy, not having a clue where I was going, but beyond satisfied.
How to Get to Medan Ikan Bakar
The easiest way would be a car, but after completing the feast, I discovered a pretty easy way to get there by foot.
Take the Monorail to Tun Sambanthan station (you can also walk from KL Sentral). Walk towards the river and cross over the river and highway on the foot bridge. You'll exit near a big school and to the left side you'll see a paved path heading through the forest. Follow the path until it turns to a road which is Jalan Bellamy. Walk up the hill and you'll see the series of Ikan Bakar restaurants.
Believe me, it's worth the trek!
Open: 11 am – 11 pm on Monday – Friday (I arrived at 11 am and things were just getting started but not yet busy)
Price: Came to 25 MYR (including 2 teas) – that's $8.20 (but remember they did give me the prawns for free).
Address: Jalan Bellamy, Bukit Petaling, Kuala Lumpur 50480, Malaysia

View Migrationology World Map in a larger map
Get exclusive updates
Enter your email and I'll send you the best travel food content.