Latest Update May 2014 (Thank you to all who have left feedback and latest updates)
Getting a China Visa in Bangkok, Thailand, can be straightforward or it can be extremely challenging. However, one thing is certain, you'll need to come fully prepared and have all of your documents in order.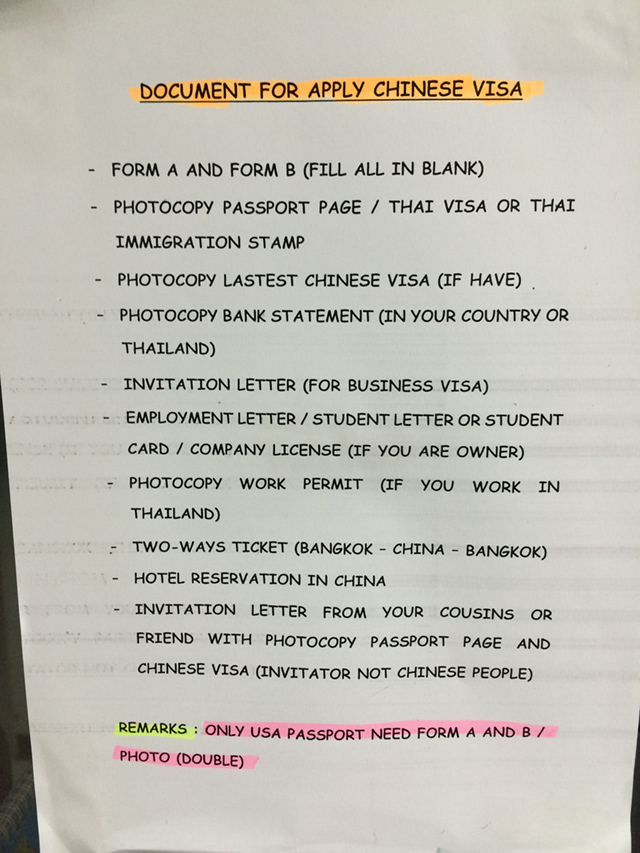 Here's what you will need for a visa for China:
Passport
Filled out visa application form – A and B Form
Photocopy of passport page and Thai visa or Immigration stamp
Photocopy of your latest China visa (if you have been to China previously)
Photocopy of your bank statement (in either your own country or Thailand)
Invitation letter (this goes mostly for business visas)
Employment letter, student letter or student card, company license (if applicable to your type of visa)
Photocopy of work permit (if you live and work in Thailand)
Two way (roundtrip) plane tickets from Bangkok to China back to Bangkok
Hotel reservations in China
Invitation letter from you cousins or friend with a photocopy of their passport page and Chinese visa (I think that means only if the person invited you in not Chinese?)
Americans: If you are American, you will need to fill out 2 of each forms, and have 2 passport photos – A and B and 2 photos.
Itinerary: Some people have recommended that you put together and print off a detailed itinerary of exactly where you'll be going and what you'll be doing – they might ask as well.
These are the official documents required for getting a China visa in Bangkok. Basically what this is saying, is come well prepared with just about every legal document and its photocopy that you possess.
People have told me recently that they are strict with the employment letter, so if you do have a job, be sure to get a letter officially stating that you're employed. If you're a freelancer like I am, or not working at the moment, you'll probably need to do some persuading.
You can try to pre-download and fill in the forms, but I wouldn't recommend it as the forms seemed to be different. Not sure if they would accept it, so I didn't take the risk. It was pretty easy to just show up and fill in the applications there.
Apply for China Visa:
You must apply for your China Visa in Bangkok on a weekday from 9:00 am – 11: 30 am at the visa application office – different from the Chinese embassy (directions below).
I arrived at about 9: 30 am and though there were a lot of people there, the whole process ran smoothly and went pretty fast.
Get exclusive updates
Enter your email and I'll send you the best travel food content.
(My friend Tim Ong, who recently got his China Visa told me that it's probably best to arrive nowadays about 8 am – 8:30 am to claim a good position in line.)
After walking in, you'll be greeted by a man with all kinds of application forms. Tell him where you are from and what you want to apply for and he'll pick the correct application forms out for you.
Here are a few things you'll need to answer on the application form:
Current occupation
Residences and phone number of where you'll stay in China
Medical insurance and number
Contact in China (if any)
Major family members
Other countries you've visited in the last 12 months
Dates of entering and leaving China
I guess depending on what type of visa you are applying for, they will be more strict about the information. I just applied for a single entry 30 day visa and didn't have most of this information – and I got the visa.
After filling out your application forms and getting together all of your information for the visa, you grab a ticket number (at the door of the office) and wait for your turn.
It went really fast for me, I only waited about 5 minutes.
You hand in your applications along with your passport. The person at the desk will make sure you filled in everything correctly and then hand you a little pink slip of paper (which you bring back for your passport and visa).
Pick up China Visa:
However fast you decide to get your visa, the pick-up time is at the same location in the afternoon from 3:00 pm – 4:00 pm. You will pay the fee when you go to pick up your visa.
How much will the China Visa in Bangkok cost?
That depends quite a bit on where you are from and how quickly you want your visa. Take a look at the chart above to see the prices (as of July 2011).
Single Entry L visas which are usually good for 30 days are the least expensive and the cheapest way to get it is to take 4 days. If you are in a rush, you can choose a faster option, but you pay more.
I'm American and I got a 30 day Tourist L China Visa in 4 days and paid the big 4560 THB ($153.51) fee.
NOTE: You do NOT pay until picking up your visa.
Where is the China Visa office in Bangkok?
Update: May 18, 2016. 
The current location for applying for your China visa in Bangkok is at the Chinese Visa Application Service Centre on the 5th Floor of the Thanapoom Tower. You can get there from Petchaburi MRT station, or from Makasan Airport Rail link station.
Thananpoom Tower
1550 New petchaburi road
Makkasan
Here's a map to make it easier:

View China Visa in Bangkok in a larger map
Final note…
Please be aware that there are so many variables and nearly everyone has a different story when it comes to applying for a China visa in Bangkok (some people have no problems, others have many). My advice is to come prepared with all the documents you can come up with, and just go for it.
All the best for getting your visa.
If you have any extra tips / recommendations about your experience, please share them in a comment below, so we can all benefit.
Thank you.
Get exclusive updates
Enter your email and I'll send you the best travel food content.