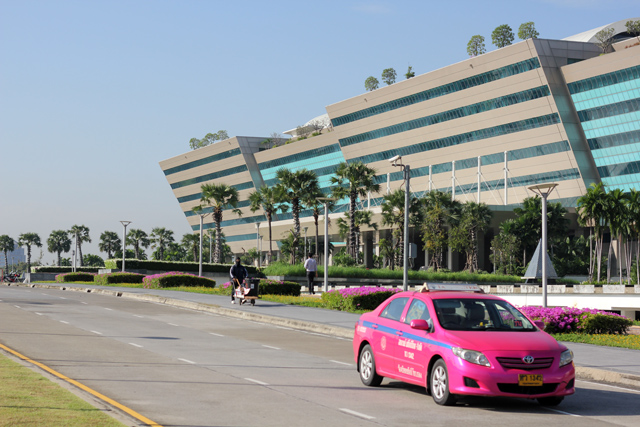 Note: The information in this article is for those that are in Thailand on a tourist visa which was applied for outside of Thailand (example: If you got a 2 month Thai tourist visa in Kuala Lumpur and want to extend it), and not for those who have just landed or crossed into the country and received a visa upon arrival.
You're in Bangkok and your 2 month Thai tourist visa is just about to expire but you want to extend your Thai visa by 30 days to stay longer. What do you do?
The process is actually not too difficult and I think the most painful part is saying goodbye to 1,900 Thai Baht.
Here's What You Need:
Your passport
1,900 Thai Baht
1 filled in application (get it at the immigration office)
1 passport photo (3.5 cm x 4.5 cm, they aren't too picky like some places)
1 photocopy of your passport, you current Thai visa, and your stamps into the country
Unlike other inconvenient visa procedure offices around the world, the Thai immigration is remarkably convenient.
You can get all your photocopies done once you're there for just 1 Baht per page. Just walk to the photocopy center, tell them what you're applying for and they will make the exact photocopies you need.
Get exclusive updates
Enter your email and I'll send you the best travel food content.
Note: You need to have a valid phone number and Thai address to extend your Thai visa – you will be asked!
Steps to Extending Your Thai Visa
The Thai Immigration office in Bangkok opens at 8:30 am. I normally just show up at about 9 am or so.
Go to the Immigration Division 1 room, go to the counter, and tell them you want to extend your Thai visa by 30 days. They will look at your passport and give you the necessary form.
Fill out the form, make your photocopies as needed, attach your passport photo, and then go back to the counter. They will let you proceed to the next room.
Get a waiting number, which will take you to section J2.
Once your number is called you walk into the office, the immigration officer will look over your application, ask you a question or two, and then accept your 1,900 THB.
You'll go back to wait for a few minutes (normally has taken me anywhere from 10 – 30 minutes) and wait to hear your number again.
Once your number is called the second time, walk back in and simply pick up your passport with you extended Thai visa.
The process at Thai immigration normally takes me about 1 hour.
You'll get 30 more days.
How To Get To Thai Immigration in Bangkok
Located way out on Chaeng Watthana Road and not too far from Bangkok's Don Mueng Airport, it's not the most convenient of locations.
Of course, you could easily take a taxi all the way there, but here's how I get there by local transportation.
Take the BTS Skytrain to Mo Chit Station. Get out towards Chatuchak Weekend Market and get on bus #29 (about 8 Baht) heading north. Get off the bus at IT Square shopping center. From there you have to walk down Chaeng Watthana Road to the west, heading towards Pak Kret, then cross over the street and take bus #356 (9 THB) to Cat Telecom.
At Cat Telecom make a left onto the street, and the easiest thing to do is take a motorcycle for 20 Baht to the entrance of the immigration office.
Address: No. 120 Mu 3 Chaeng Watthana Soi 7 Thung Song Hong, Laksi Bangkok 10210
Hours: Monday – Friday from 8:30 am – 4:30 pm but closed for lunch break form 12 noon – 1 pm. Office closed on weekends and holidays.
If you're looking for awesome things to do in Bangkok, be sure to check out my guide!
View Migrationology World Map in a larger map
Get exclusive updates
Enter your email and I'll send you the best travel food content.