Along with eating, one of my favorite activities to do when I travel is visit local fresh markets, and I think fresh seafood fish markets are some of the most interesting.
But, in the United States, it's not quite as easy to visit a local fresh market, as it is to do so in a place like Krabi, Thailand, or Kota Kinabalu, Malaysia.
So when my Uncle mentioned heading over to the Honolulu fish auction one morning, I was excited.
At the Honolulu fish auction you can see a number of different fish, but the majority are yellowfin tuna – a common fish used in sashimi and sushi, and poke in Hawaii.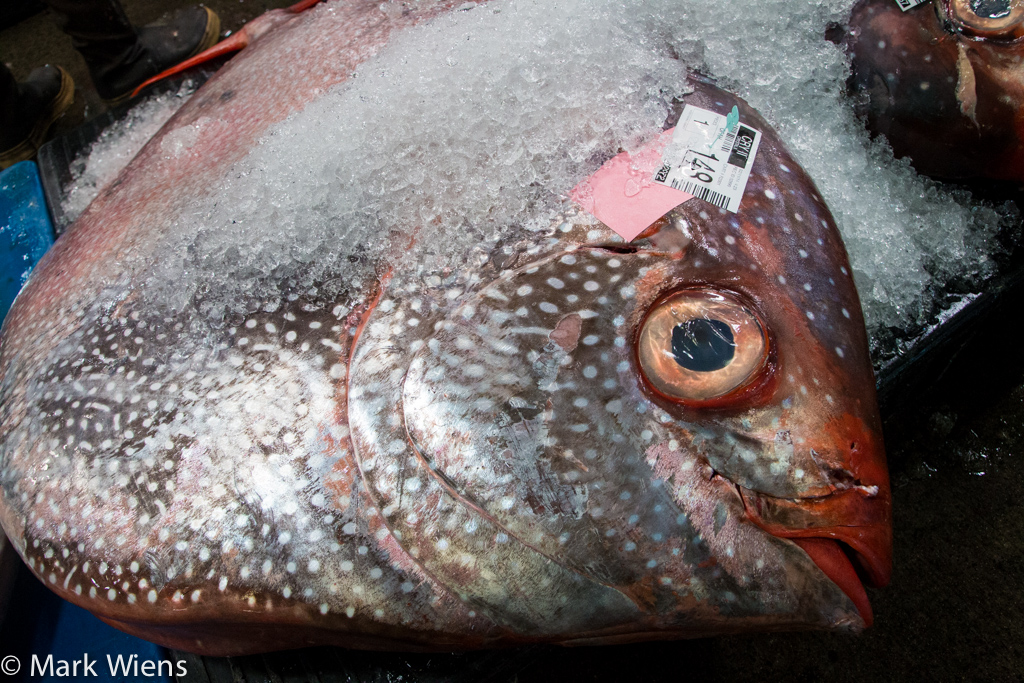 There were also a few palettes of opah fish, or moonfish, which one of the exporters at the auction told me was the fish with the highest amount of omega 3 oils per bite.
I wanted to eat some of that right then and there!
Mahi mahi, also known as a dolphin fish, is a Hawaiian favorite too.
The fish is usually cut into fillets, and either grilled as is, or breaded and deep fried. Mahi mahi is a common fish included on local Hawaiian plate lunches, and it's mild in flavor, with excellent texture.
There were also some other giant fish and smaller fish at the auction as well, but those three seemed to be the top fish everyone at the auction were pursuing.
Get exclusive updates
Enter your email and I'll send you the best travel food content.
Ok, let's get back to the actual auction part of the fish market.
The Honolulu fish auction is the only live fresh tuna auction in the United States.
Starting early in the morning, 1 am to be exact says the official website, boats dock at Pier 38 in Honolulu, and start to unload their catch next to the auction warehouse.
Directly from the boat, the fish are placed on palettes and immediately rolled into the refrigerated auction warehouse.
When I was in Tokyo (video), I wanted to go to the tuna auction at the Tsukiji fish market, but they only allow 120 tourists into the auction each morning at 5 am, and you have to be in line by 4 am, meaning you have to take a very expensive taxi ride to get there – so I didn't end up making it to the auction part of the market.
On the contrary, the Honolulu fish auction is open to the public, not only to come and see the auction, but also to buy fish from the auction.
All that to say, it's much easier to get into the Honolulu fish auction than the Tokyo auction.
We arrived right at around 7 am.
The tuna auctions were taking place, and a group of about 15 or 20 men were quickly going from fish to fish, spending just a few moments at each tuna until the auctioneer sold it. It moved quickly.
Many of the people participating in the auction were seafood distributors, sort of the middle men between restaurants and stores and the fishermen.
Like I already mentioned, ahi, or yellowfin tuna, dominated the Honolulu fish market.
Much of the ahi was either purchased to consume locally in Hawaii, or shipped immediately to the mainland of the US, mostly to Japanese restaurants serving fresh sashimi.
The auction moved quickly, down the rows of the fish.
However, unlike in Tokyo where you've got to watch out that you don't get hit by a speeding seafood forklift truck, the Honolulu fish auction is nice and calm, with no motor vehicles, and only hand palette jacks.
On most of the ahi tunas, a piece of the tail was cut out in order to judge the quality of the meat.
I don't begin to know too much about grading tuna, though it is something I would love to learn more about (considering my love affair with eating sashimi and poke), but I think it's often the darker maroon colored tuna that is a higher grade from the lighter flesh, but it also has to do with texture.
After the fish were sold and done, they would get priced and marked as sold by a crew of staff.
After spending about an hour at the auction, I started to get extremely hungry for sashimi.
I wanted to pick up one of the samples right then and there, pour on a bit of shoyu and wasabi and just let it melt on my tongue… I resisted the temptation!
The Honolulu fish auction is a great place to visit when you're in Honolulu.
Very few visitors actually take advantage of this fantastic seafood market, but if you enjoy fish and eating sushi, it's really worth adding to your morning itinerary.
Honolulu Fish Auction
Address: Located at Pier 38. Official website here.
Open hours: It's a good idea to visit from about 6 am – 8 am
Entrance fee: Free
Tip: It's pretty cold inside the fish auction as it's a refrigerated building, so you might want to bring a light jacket
Do you like fish markets?
Get exclusive updates
Enter your email and I'll send you the best travel food content.