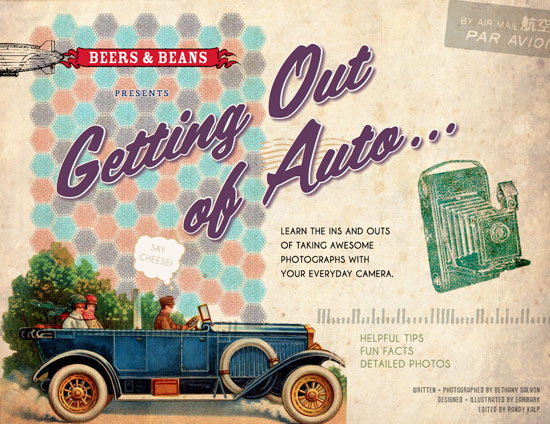 As you can probably notice, Migrationology is heavy on photos.
I simply enjoy taking photos and love to look at them.
For years I dreamed about getting my very own full size DSLR.
Just about 2 months ago I finally found a good deal on an 18 megapixel Canon 550D and took advantage of it!
So far it has been like a son to me, I carry it around and feed it with information – but I'm still struggling to fully figure it out (as there are so many cool options and features)!
A couple weeks ago, I picked up a copy of  "Getting Out of Auto," a photography e-guide dedicated to improving all aspects of taking photos – no matter if you shoot with a DSLR or a normal point and shoot camera.
Get exclusive updates
Enter your email and I'll send you the best travel food content.
The book is loaded with practical tips on composition, how to take tricky shots, using natural light to your advantage, and mastering depth of field.
If you love to take photos and want to get better, Getting Out of Auto is a real helpful guide to learning the ins and outs of photography.
The Author
One of my favorite photography bloggers is Bethany from Beers and Beans – a professional photographer and the expertise behind Getting Out of Auto.
Her acute sense of composition, her keen eye to seeing things that wouldn't normally be seen and her amazing artistic talent is what makes her photos really stand out.
My Thoughts
Ever since I picked up her guide I've been practicing and I can notice a dramatic difference in getting the exact photos that I wanted to take.
In the guide, she precisely explains all components of photography using easy to understand examples. I'm now making fewer guesses when it comes to balancing out the aperture, shutter speed and ISO – and I know what combination I need for the shot.
I'm still learning about photography and trying to get better, but after reading Getting Out of Auto, I came away with a real boost of helpful tips and improvements. At just $9.99, Getting Out of Auto is definitely worth Bethany's expert photography tips.
Click here to read more about Getting Out of Auto!
I'm writing this to recommend Getting Out of Auto to anyone who wants to improve their photography. The guide is not only great for DSLR camera owners, but also for learning to take better photos with a point and shoot camera.
*Note: I will receive a small commission from purchases on this recommendation, but I wrote about it only because I truly learned a lot from Getting Out of Auto and I think it is a wonderful photography guide.
Get exclusive updates
Enter your email and I'll send you the best travel food content.