Getting a Thai tourist visa in Kathmandu, Nepal, is a fairly easy process.
The Thai embassy is located in a quiet neighborhood, and is one of the calmest and most relaxed offices I've yet to visit – similar to the Thai embassy in Seoul.
I've read contradicting stories online about the challenges of getting a Thai visa in Kathmandu, but I personally (I carry a US passport) had no problems.
Though I only applied for a 2 month single entry Thai tourist visa, double entry is an option (unlike getting a Thai visa in Yangon where you are only allowed a single entry).
For applying for a Thai visa at the Thai embassy in Kathmandu, there are a few things that are very different from applying for a Thai visa in other locations – so please do read the following information clearly – especially the things you'll need and the process of making the payment (#2).
Things you'll need:
Passport (with at least 6 months of validity)
1 Photocopy of your passport
3 Passport photos – 3.5 x 4.5 cm version
3 Thai visa applications – Yes, you'll need 3 copies of this. I personally filled out 1 application and made 2 copies (you can print out the visa application here)
Printed plane ticket and a photo copy of it (application states that you need a roundtrip ticket, but I only printed my one-way flight into Bangkok and had no problem)
Printed bank statement (application states that you need 6 months evidence, but I printed just my last one month bank statement and had no problem)
3,000 Nepal Rupees per entrance (plus 50 NPR for bank fee)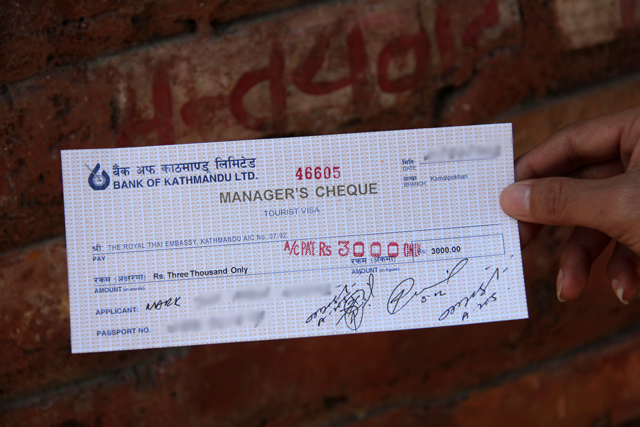 Step 1
Before getting your Thai visa in Kathmandu, be sure to gather all your documents and have everything prepared and filled out.
Step 2
IMPORTANT: Unlike getting a Thai visa in Seoul or anywhere else, instead of paying cash directly at the embassy, you have to pay at Bank of Kathmandu. There's a location about a 10 minute walk from the Thai embassy in Kathmandu. I walked there, paid my fee which is really 3,050 rupees as the bank takes 50, and was given a bank check.
Note: In order to make sure I didn't pay the fee without being eligible for the visa (or something odd like that, just in case), I first went to the embassy, where the employee checked all my documents, and after getting confirmation that everything was alright, I then went to pay the fee. I guess if you're certain you have everything in order, you could stop by Bank of Kathmandu and pay before going to the embassy, saving a few minutes.
Step 3
Go to the Thai embassy and drop off all your documents. A nice lady will ensure you have everything in order and then you'll be handed a receipt and told when to come back to pick up your Thai visa and passport.
Official opening for visa applications is at 9:30 am, and because the embassy is quite small and relaxed, I showed up at around 10 am and waited for just 1 other person in line before me – nice and hassle free.
Step 4
Come back to the Thai embassy, hand in your receipt, and pick up your passport. Confirm the visa is alright.
Your Thai visa will take 2 working days. Meaning if you apply on Monday, you'll pick up on Wednesday.
Visa drop off time: 9:30 am – 12 pm
Visa pick up time: 2 pm – 4 pm
Also, remember to check the holiday calendar as the Thai embassy is closed on both Thai and Nepalese holidays.
How to Get to the Thai Embassy in Kathmandu
The Thai embassy in Kathmandu is located on a quiet neighborhood street in northern Kathmandu, just north of Ring Road. The easiest way to get there is by taxi, and I paid 250 NPR from the Thamel area. It's just a short distance from the Australian embassy.
Address: Royal Thai Embassy, Kathmandu, 167/4 Ward No. 3, Maharajgunj-Bansbari Road, P.O. Box. 3333, Kathmandu, Nepal

View Thai Embassy in Kathmandu, Nepal in a larger map