One of my personal traditions when I'm in Honolulu is to go to the legendary hole-in-the-wall known as Mitsu-Ken.
Throughout the many years of visiting Honolulu, my family and I have always gone to Mitsu Ken, mainly for their famous and marvelous garlic fried chicken.
The garlic chicken is a splendid display of the knowledge of frying boneless, bite size chunks of chicken and splashing them with a sweet garlic sauce, coating them in deliciousness.
They recently changed location from the original place I used to go when I was a kid.
Now Mitsu Ken is located in Kalihi on King Street, and it's a nicer, bit of a cleaner environment from the previous location – though the old location had a bit more character to it – as this new spot is in a strip mall.
The menu at Mitsu Ken remains the same, a bunch of different local combo plates and bentos, and then of course the famous garlic chicken.
The breakfast specials are actually quite tasty, but I decided to go for the Mitsu Ken bento this time, to get a range of their best items on top of rice.
Get exclusive updates
Enter your email and I'll send you the best travel food content.
Since the restaurant is so small, and since the inside area is so compact, you actually have to wait your turn outside before entering to make your order.
They only do takeaway (or catering), so there's no eating inside.
It is important to arrive at Mitsu-Ken early as they often sell out of garlic chicken. You can it in the morning and take it aways for a wonderful lunch lunch, but you'll probably eat it before lunch!
Few things are more attractive in life than a fresh bento box, making the entire car smell of delicious garlic chicken. It's hard to resist, and you'll probably grab a quick sample before reaching home (or wherever you're going to eat).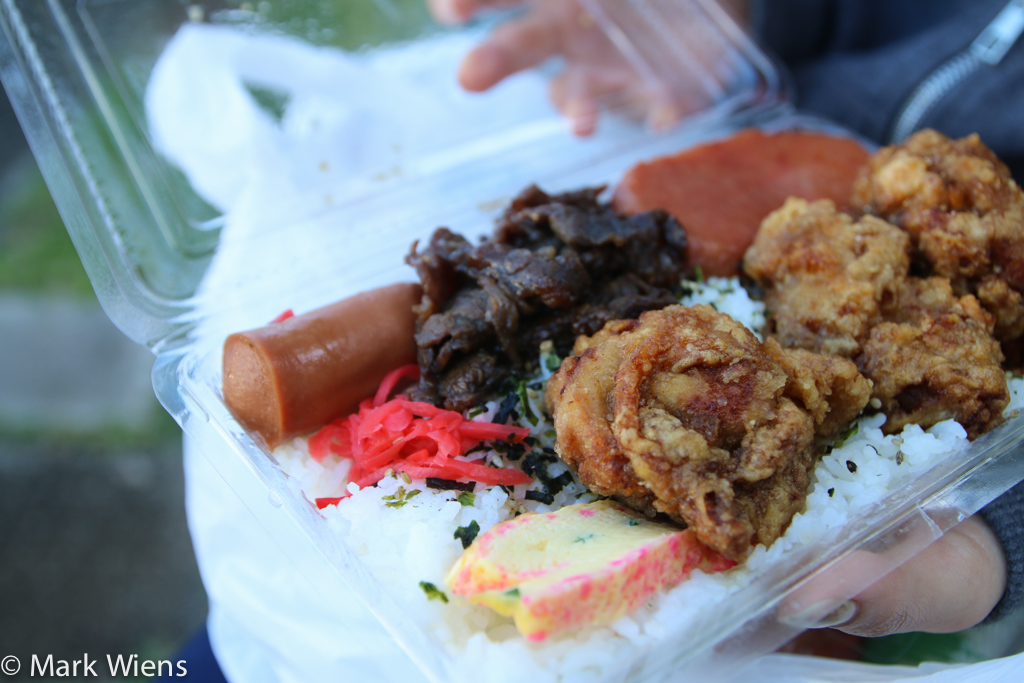 I decided to order the eat the Mitsu Ken bento, a plastic container filled with rice on the bottom, topped with teri beef, hot dog, SPAM, a piece of egg, and finally three pieces of garlic chicken.
There was also a small garnish of pickled ginger and seaweed furikake sprinkled on top for extra flavoring.
The hot dog was so-so, the SPAM was good because it's SPAM, the teri beef was a little on the sweet side for me, but the real winner is just what they do best: garlic chicken.
The chicken is incredibly crispy all around, and coated in a sweet garlicky tanginess.
Price – $6.50
My wife got the fried fried saimin bento, a small bit of rice, fried saimin, a few slices of Portuguese sausage, omelet, and finally two pieces of garlic fried chicken.
I actually thought this combo was a bit better than the original Mitsu Ken bento, mainly because of the Portuguese sausage over the hot dog, and for the fried saimin.
Price – $6.25
Fried chicken is good, garlic fried chicken is even better, and Mitsu-Ken's garlic chicken in Honolulu Hawaii, is pretty tasty.
I think the garlic chicken is a little too sweet and oily for me to eat very often, but it definitely is pretty tasty. If you are in the Kalihi area and want garlic chicken, head over to Mitsu Ken.
Also, check out Alicia's Market, in Kalihi not too far away – it's one of my go-to spot in Honolulu.
Mitsu Ken – For Garlic Chicken
Address: 2300 N King St Honolulu, HI 96819 Kalihi
Get exclusive updates
Enter your email and I'll send you the best travel food content.