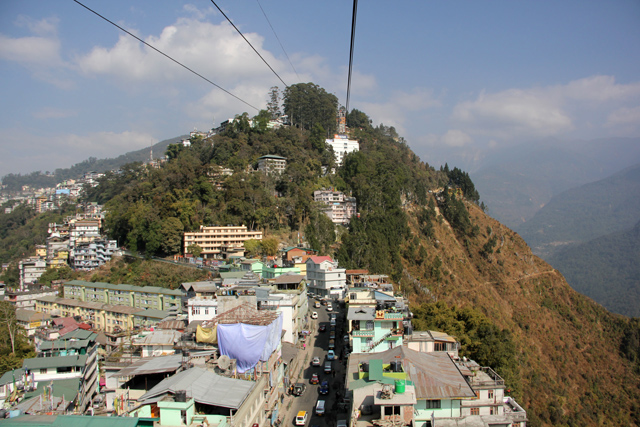 Gangtok, situated in the Sikkim state of India, hardly feels like you're in India at all. It's clean, peaceful, quiet orderly, and even its population is Nepali in majority.
Sitting on top of a mountain and surrounded by the Himalayas, it's a beautiful place to spend some time when you're in India.
Below you'll find my Gangtok travel guide, packed with lots of useful tips from my  visit. Here's what is included:
Arriving and Leaving
Where to Stay in Gangtok
How to Get Around
Things To Do
Food and Restaurants
Enjoy your visit!
1. Arriving and Leaving
Just like Darjeeling, the closest train station to Gangtok is New Jalpaiguri (known better as just NJP). It's pretty easy to get to NJP from either Kolkata or New Delhi.
It's possible to catch a jeep directly to Gangtok from outside the NJP railroad station, or you can go to Siliguri where there are many more options.
Jeep Tata Sumo – When I visited Gangtok, I actually came from Darjeeling and took a jeep that cost 200 INR. The ride took about 4 hours, and included some nice scenery, and a couple tea / bathroom breaks along the way. The Gangtok jeep station is a few kilometers from the city center, and though you could walk in about 45 minutes or so, it's convenient to grab a taxi.
When I left Gangtok to go back to the NJP train station, I had to take a jeep to Siliguri (a town about 8 kilometers from NJP), and from Siliguri I took a shared tri-wheeled tuk tuk for 25 Rupees to the station.
Note: If you're looking for an agency to book train tickets away from NJP, I got mine at Matrix Travels and they did a good job of finding me last minute tickets to Varanasi.
Get exclusive updates
Enter your email and I'll send you the best travel food content.
Buses – You can also get a bus to and from Siliguri, though I think the jeep is a lot more comfortable.
2. Where to Stay in Gangtok
Hotel Sagorika – For my entire six night stay in Gangtok, I stayed at Hotel Sagorika. It was just about everything I needed after a crazy few weeks in hectic Kolkata. The bed was clean and comfortable and the room was spacious and spic-and-span. As it was winter when I visited and freezing cold, I was thrilled to have good hot water, and also I ended renting a portable heater too. The staff were all very nice, and I would highly recommend Hotel Sagorika if you're going to Gangtok.
Click here to check out many more accommodation options in Gangtok.
3. How to Get Around
Walk – Gangtok is a very small town, and for just about everything you'll want to do in the city, you can just walk. The walking street (MG Marg) is extremely nice, well kept, and is a nice relief to the honking chaos of normal parts of India.
Tata Sumo Jeep – If you're going on a any day trips to attractions a little outside of central Gangtok, the easiest way to get around is by shared Tata Sumo jeep. Right next to the Police Headquarters and to the right side of Dominoes Pizza is a jeep station where you can find shared jeeps to a number of towns and destinations in the nearby vicinity.
4. Things To Do in Gangtok
Just like in Darjeeling, but unlike the countless things to do in Delhi, there's not that many actual attractions in Gangtok. The attraction is just being there and also taking day trip (or longer) tours to the mountains or to monasteries in the area.
I had a great few days just walking through Gangtok, hanging out on the walking street, and exploring the market. Gangtok makes a good location to explore the Himalaya mountains and do other activities, or it's just a quiet place to relax and browse.
MG Marg (Road) – Within the heart of Gangtok is MG Marg, a pleasant walking street. Without rowdy traffic, touts, or garbage, it hardly feels like you're in India, but rather somewhere in the European Alps. The walking street is filled with all sorts of shops, both local and touristy, and restaurants where you can grab a bite to eat. MG Marg is a Gangtok hangout, and they also often have events and concerts along the street.
Gangtok Ropeway – Gangtok is a mountainous city, and there's a ropeway cable car that goes from the top of the hill to the bottom near the Dro-dul Chorten Buddhist stupa. It's 70 INR for a roundtrip ticket on the Gangtok Ropeway and it's worth the ride. The cable car takes 7 minutes and halts in the middle for a few seconds giving passengers a chance to see the incredible view and take some photos. If you're afraid of heights, the Gangtok Ropeway might freak you out, it definitely is a little scary!
Dro-dul Chorten Stupa – After taking the ropeway down to the bottom, you just walk down the street for about 10 minutes and you'll reach the Dro-dul Chorten Stupa. There's not a lot to see here, but it's a glimpse into a Tibetan Buddhist monastery. When we visited, they were lighting hundreds of candles, so we watched for a while. After visiting the stupa, you can then walk back to the ropeway and take it back up the hill to central Gangtok.
Rumtek Monastery – Built in the 16th century, the Rumtek Monastery is one of the most well known Tibetan Buddhist centers in Sikkim. It's located about 24 kilometers from central Gangtok, and you can get there by taking a shared jeep from just outide the police headquarters.
Ranka Monastery – One day, I decided to take a day trip to explore the Ranka Monastery. Again, I took a shared jeep that left from the police headquarters in Gangtok and it cost 30 INR each way for the ride. You have to tell the driver to drop you off, and from the drop off point, it's about a 20 minute walk to the monastery. The Ranka Monastery is extremely peaceful and a real work of art. The paintings and decorations were really cool to see. I also had a great lunch and the Green Tara Restaurant (more info below) before heading back to Gangtok.
Tsomogo Lake and Nathula Pass – I didn't go to see either of these attractions, to be honest I just didn't want to spend for an entire tour, and wasn't prepared; So I ended up just going to a few Tibetan monasteries and then hanging around Gangtok. However, along MG Marg walking street, if you're interested in these attractions, you'll find lots and lots of tour agencies that can arrange everything you need (I'm pretty sure the pass is only open to Indian nationals).
5. Food and Restaurants
Taste of Tibet (Gangtok walking street) – Along MG Marg walking street is an upstairs restaurant known as Taste of Tibet. Though at first I thought it was a bit touristy, after eating there a few times, I actually realized it was quite a popular local restaurant where Sikkimese and Tibetan families often eat lunch. The food is mostly Tibetan and some Nepalese food. I ate here a number of times and tried quite a few dishes. The chilly chicken (140 INR) was excellent, as were the meat pie shyaphale (90 – 120 INR). Momos of all varieties and Tibetan noodle soups like thenthuk and thukpa area also available on the menu for reasonable rates.
Cafe Culture – Another day I decided to check out Cafe Culture, a restaurant serving fresh Himalayan cuisine. The menu is quite similar to Taste of Tibet, and it's quite a home style restaurant. Overall, I preferred Taste of Tibet.
Green Tara Restaurant – If you happen to visit the Ranka Monastery, be sure to eat at the adjacent restaurant known as Green Tara Restaurant. They serve Tibetan food and Sikkimese food and everything I ordered was delicious and affordable. Momos were good and the chicken thukpa was excellent.
Gangtalk – On our last day in Gangtok, we decided to treat ourselves to a rather fancy Indian restaurant known as Gangtalk. It's located right along MG Marg and they serve mostly North Indian food. We ordered the palak paneer (185 INR) and the chicken curry (225 INR). Though prices were high, I was glad the portion size was pretty generous, and the food was really good.
Come to Gangtok when you're looking for a relaxing break. It's a nice town to spend a few days walking around, taking jeeps to other villages, and viewing the incredible mountains.
Hope you find this Gangtok travel guide useful and enjoy your stay!
Get exclusive updates
Enter your email and I'll send you the best travel food content.